We're traveling back in time today to learn how to cook dried beans the traditional Southern way. Then we're gonna take those beans and make this scrumptiously tender Southern pinto beans and ham recipe.
I'm not kidding when I call pintos (or pinto beans as you might know them), beloved in the south. A bowl of pintos, seasoned with ham, topped with onion, and served with a big old wedge of hot cornbread – that's just good old Southern soul food in my neck of the woods. For many Southerners these days, this pinto beans and ham recipe is the food of nostalgia. Mention them to my grandmother and you'll hear "Mmmmm, mmm, I just love me a bowl of pintos in the fall!".
Originally, this meal came about as a staple in the diet of "po folks" down south. Dried beans were affordable, stored well, full of much-needed protein, carbs, and fiber, and were filling enough to provide a stick-to-your-ribs meal that was greatly appreciated by people who had spent their day working the fields or other backbreaking labor.
Why I love to cook dried beans
Now there are several great things about dried beans. First is their shelf life. Dried beans can keep almost indefinitely (my mother says they do keep indefinitely but I have never seen them last very long at my house because they are gobbled up). They can also be an excellent source of protein, take very little to prepare, and are filling, to boot! Toss in how inexpensive they are and it's easy to see why they were a depression-era favorite.
Nowadays, I've seen several movements encouraging people to have a "meatless meal" night in their homes, both for health and economical purposes. Well, folks, Southerners have been having meatless meals ever since the war between the states!
This method of soaking and cooking dried beans will work for any type of dried bean, not just pintos. Some of my favorite dried beans are lima beans (any variety of lima beans), navy beans, and of course black eyed peas! Cooked beans also keep very well in the fridge with no difference in quality or taste when reheated. I often make a big pot of beans and eat them as a meal one night before serving them as sides another night or two that week!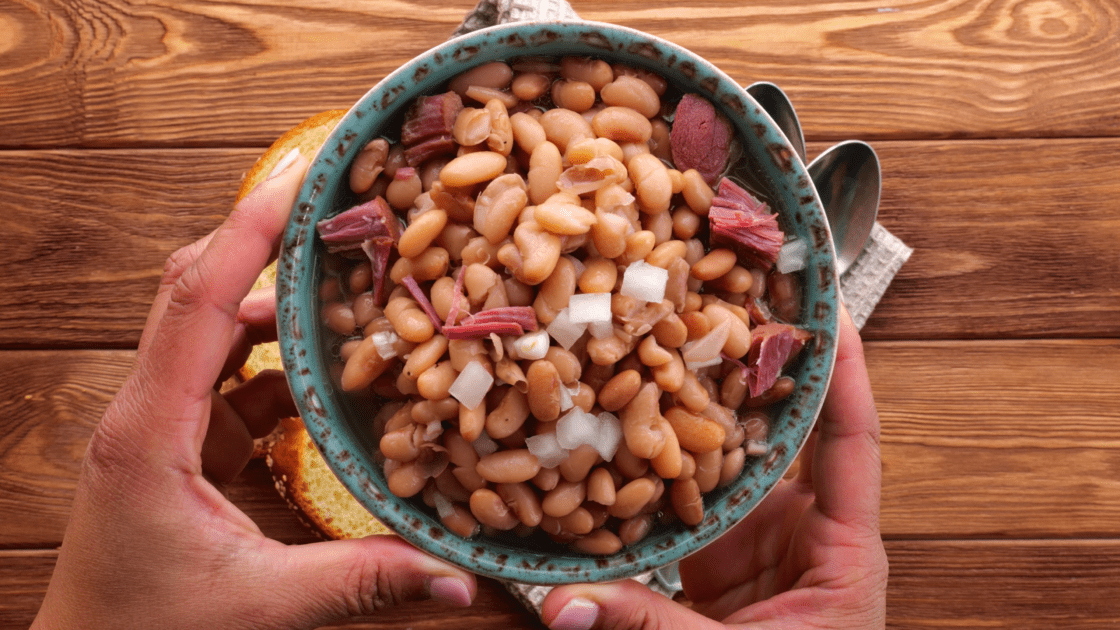 My pinto beans and ham recipe
Today, as well as showing you how to cook dried beans the traditional way, I'm gonna show you how to turn dried beans into this delicious pinto bean and smoked ham hock recipe. If you want to make beans like the Southerners do, you're going to need some meat to season your beans. If you've ever eaten a whole ham at a Southerner's house you've probably noticed them saving the hambone and wrapping it in foil to place in the freezer. We are notorious for saving bits of ham and bones from here and there so that we always have something to season our beans with.
Another great thing about seasoning your beans with ham hocks or a ham bone with ham still on it is that after your beans are cooked all the way, we take out the hocks and pick the tender meat off of them to put back into the pot. Oh my! Bits of savory and tender cooked ham in with this pinto beans recipe… oh lawd, we're eatin' good now! If you're looking for other recipes to make with leftover ham, you're gonna want to check out this post. Okay, let's get cookin'!

Recipe Ingredients
Pinto beans
Ham hocks, sliced ham, or bacon
Sugar
Salt
Pepper
Vegetable oil
How to Cook Dried Beans & Make Pinto Beans and Ham
Sort your beans. Sometimes, tiny little stones make their way into your bag of dried beans. What we want to do is carefully pour a handful at a time and look through them. I just do this as I am putting them in my pot.
Fill your pot completely with water. These dried pinto beans need to be soaked overnight before we cook them. You want plenty of water because you'll be surprised at how much your beans soak up.
I have filled a bowl to the brim with water before and woke to find the beans dry again and expanded to the top of the bowl!
Quick Soak Method
There are methods of quick soaking on the package which involve sorting beans, covering them with water, and bringing them to a boil as a replacement for the overnight soak. While these methods work in a pinch, I find that my beans taste the absolute best when I just think ahead and soak them overnight. After using the quick soak method a few times, I've found that it's just not worth it for me. But if you would like a recipe for the quick soak method, click here.
The next morning, drain off that water and cover the soaked beans in new water. Fill your pot as high as you can because they are going to cook down often and you want them to remain at least covered in water.
Making Pinto Beans and Ham
Now we're going to season our dried beans to make pinto beans and ham. First, I add one tablespoon of sugar, because my great-grandmother always did like to add a "lil bit of sugar in thangs".
Next, add two tablespoons of salt. You will likely end up adding more but two is a good starting point.
Then 1 tablespoon of pepper…
And about three tablespoons of vegetable oil.
Now toss in your ham hock or bone or whatever you are going to use for the meat seasoning. You can do without that if you are a vegetarian… just pretend you put the ham in.
Now just stir that up and bring it to a boil.
Once it is brought to a boil, turn it down to a simmer and simmer for several hours.
I get mine on in the morning right after my son goes to school and then let it simmer all day, eating it at supper. By supper time that juice in the pot is every bit as good as the beans.
Tada! How good do these pintos and ham look?
I serve mine with chopped onions, bits of cooked ham from the ham hocks I used, and a big old wedge of cornbread.
Storage
Store leftovers in an airtight container in the fridge for up to 4 days. Reheat in the microwave or on the stovetop.
You can also freeze cooked dried beans for months. Thaw overnight in the fridge before reheating as above.
Recipe Notes
If you want to boost the veggie intake, add 1 cup of chopped celery and 1 chopped onion to the saucepot.
Want to add some heat? Go ahead and add 1/2 teaspoon of cayenne pepper, red pepper flakes, or chili powder when you throw in the other seasonings.
You can use so many different types of meat in this recipe. Substitute the ham hock for leftover ham slices, bacon, smoked turkey legs or wings, browned smoked sausage, or even chicken if you like.
Some other seasoning suggestions: 1/2 teaspoon of dried or fresh thyme and 2 sprigs of fresh rosemary, 3 cloves of minced garlic or 1/2 teaspoon of garlic powder, or 2 bay leaves.
Recipe FAQs
Can I cook pinto beans and ham hock in the slow cooker?
Absolutely! Crock pot pinto beans are a popular dish. So once you drain the beans, place them in the slow cooker and continue with the instructions. Instead of simmering for several hours, you can get the same effect by cooking it on low for 6 to 8 hours. The end result will be just as flavorful and tender.
You may also enjoy these recipes:
Red Beans and Rice Recipe Louisiana Style from Hello Fresh
Red Beans and Cornbread Online Potluck of Recipes!
Ingredients
1

package

dried beans

1

tbsp

sugar

1

tbsp

salt

1

tbsp

pepper

3

tbsp

vegetable oil

1

package

ham hocks, sliced ham, or bacon

Optional and use as much as you like. Adds a nice flavor to the beans.
Instructions
Sort your beans and place them in a large pot, covering them with water. Let the dried beans soak overnight.

Drain the soak water and cover your beans with new water. Add the following according to taste: salt, pepper, sugar, and oil. A good rule of thumb is to start with a tablespoon of each and then taste it several hours later and add more if you think it needs it. Add one of the following for additional seasoning: ham hock, ham bone, or slices of country ham. In a pinch, I have actually seasoned my beans with bacon before.

1 tbsp sugar,

1 tbsp salt,

1 tbsp pepper,

3 tbsp vegetable oil,

1 package ham hocks, sliced ham, or bacon

Bring water to a simmer over medium-high heat. Cover and reduce heat to low. Stir the beans occasionally to make sure they don't stick to the bottom of the pot, about every 30 minutes. Gently cook beans over low heat until tender and the consistency that you want, 60 to 90 minutes (may take more time depending on how you like them).
Nutrition