I just love Texas, you'd think I'd been there more than once. But I got this King Ranch Casserole recipe idea from the trip so whenever I eat it, it's like visiting time and time again.
The fact is, I've spent a grand total of three days in Dallas in 2004, riding a bus for twelve hours to get there. It was the farthest I'd ever traveled from home and it was a grand adventure for me. I couldn't wait to see my personal version of a foreign land and it was all I could do to wait on getting my luggage off the bus before setting off to meet a real live Texan!
Christy's Visit To Texas
My first real live Texan was a young man who held open the door for me as I entered the hotel. I greeted him with a BIG grin "Hey, how are you?"
"Good ma'am, and yourself?"
My heart sank in disappointment "Well shoot" I thought, "They talk just like we do."
Y'all gotta keep in mind that I don't get out much here, I can fully see how me expecting Texas to be a foreign land is a bit unreasonable but in over thirty years it was the furthest I'd traveled (I hadn't even flown at that point) so I had three decades of expectations riding on this.
I'm not sure what I expected out of the great State of Texas, but my disappointment at the similar (pretty much identical) accent was quickly replace with a marvel at how similar this massive place was to my home. Texas must be Alabama's big brother, I decided after that first day, and then spent the rest of the time grinning happily in contentment at finding the world twelve hours from home every bit as warm and welcoming as it was in my neck of the woods.
So when Jacqueline emailed me about putting a King Ranch Chicken Casserole recipe on the site, I wanted to do it sooner rather than later as homage to the great state it originated from. Enjoy this gooey, cheesy, chickeny concoction all spiced up with the best of seasonings. This is a great casserole because you can make it the night ahead of time and store it in your fridge to pop in the oven right before supper.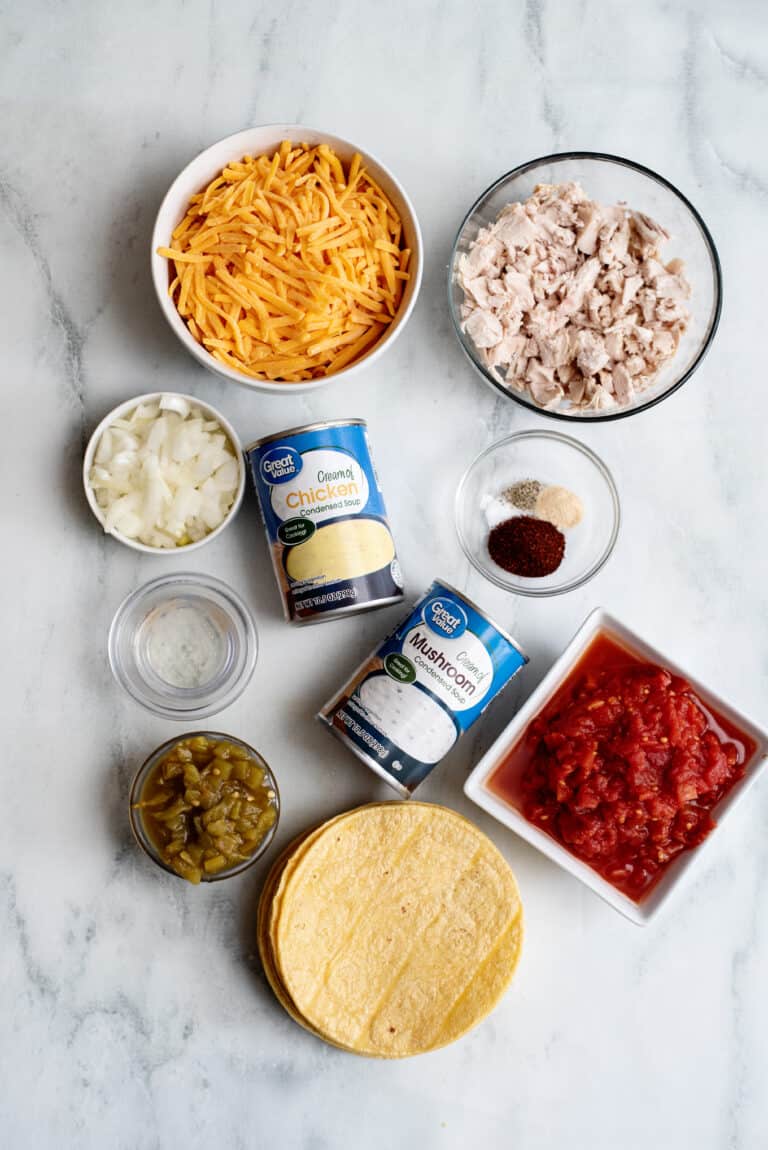 Recipe Ingredients:
Chicken
Diced Tomatoes
Chopped Green chilies
Cream of Chicken
Cream of Mushroom
Cheese
Corn Tortillas
Chopped onions
Spices: See Below
And remember the printable recipe card with all ingredients and instructions are at the bottom of the post.
Do you use Rotisserie Chicken for This Recipe?
*There are several ways to get your chicken for this, my favorite is leftovers. I also like to buy a ten pound bag of leg quarters and boil them until done, then shred all of the chicken and freeze in small portions to toss in casseroles, dumplings, and stews. Today we used rotisserie chicken and it was fantastic.
Can I Use Fat Free Cream of Chicken and Cream of Mushroom?
You sure can and you are watching your fat intake for health reasons I strongly recommend it. Just always check with your health professionals if you are making any substitutes due to health.
What Spices Do You Use for King Ranch Casserole?
Chili powder, pepper, salt, and garlic powder.
Because everything tastes better with chili and garlic powder, right?
Most folks don't have to think about making salt and pepper shakers camera ready but mine got a little bath for this photo.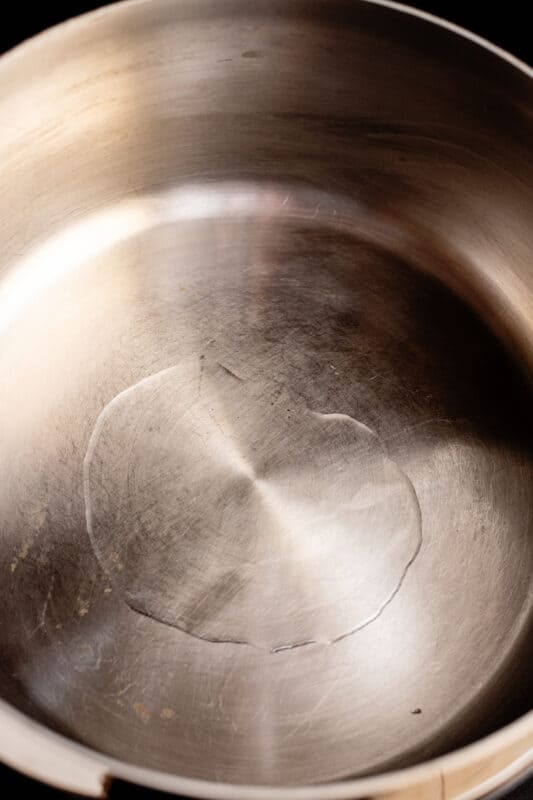 Pour a little bit of oil in a large skillet, about two tablespoons.
Add in your onions
and saute those, stirring often, until browned a bit.
Then dump in your chilies, cream soups, drained tomatoes, and chicken.
Add salt
Pepper
Garlic powder
Chili powder
and stir.
Cook this on medium heat until heated through and bubbly, just a few minutes.
Tear half of your corn tortillas up into little pieces and layer them in the bottom of a 9×13 dish.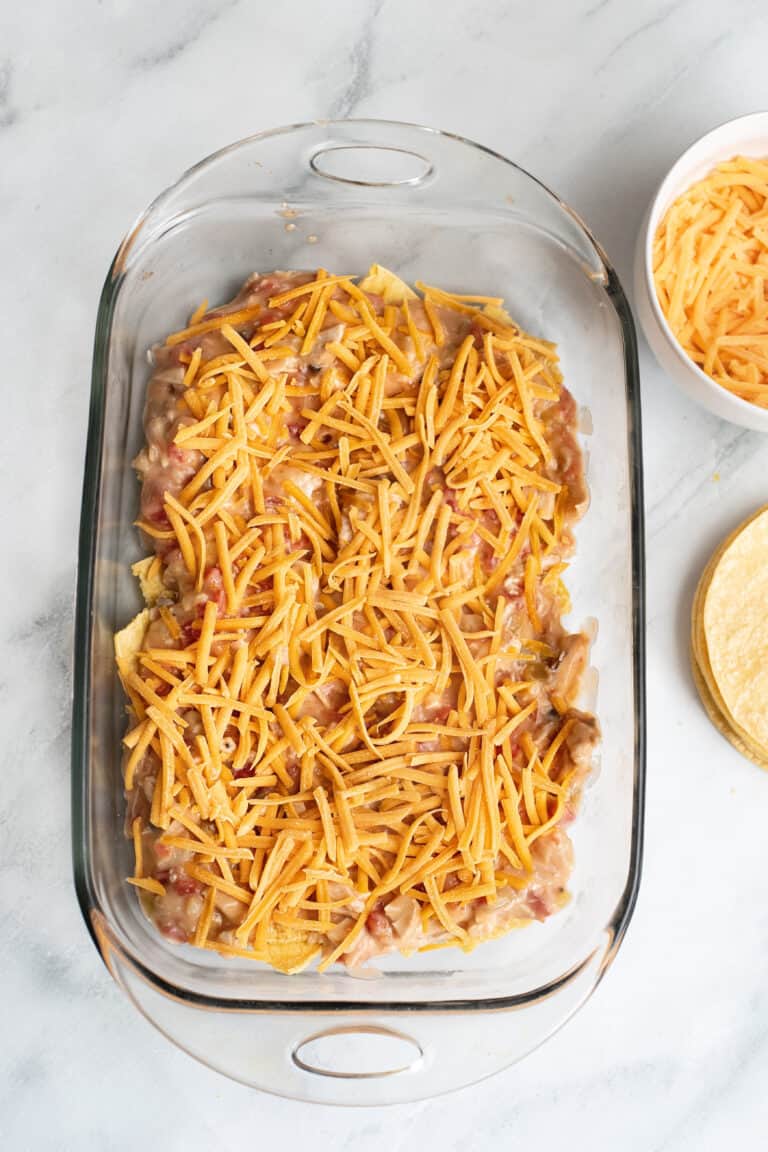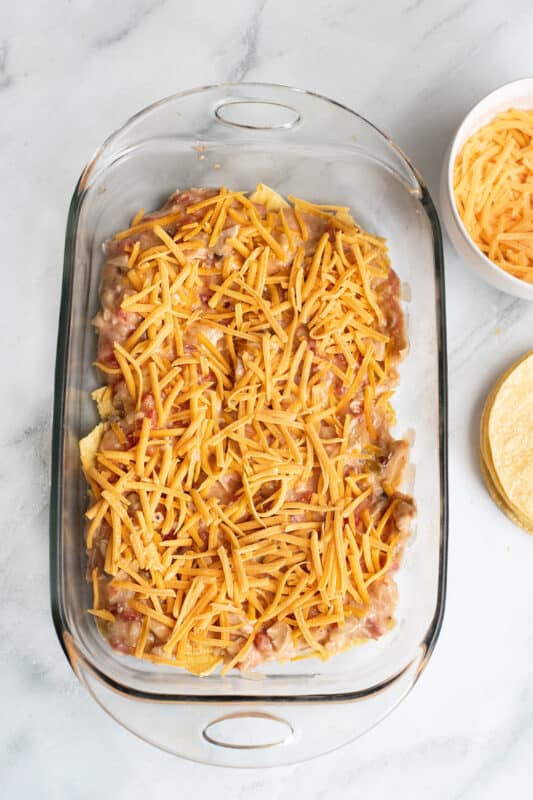 Spread half of your chicken mixture over that.
and sprinkle with half your cheese
Add the rest of your corn tortillas, all torn up
Then glob the rest of your chicken mixture over that
Smear it around…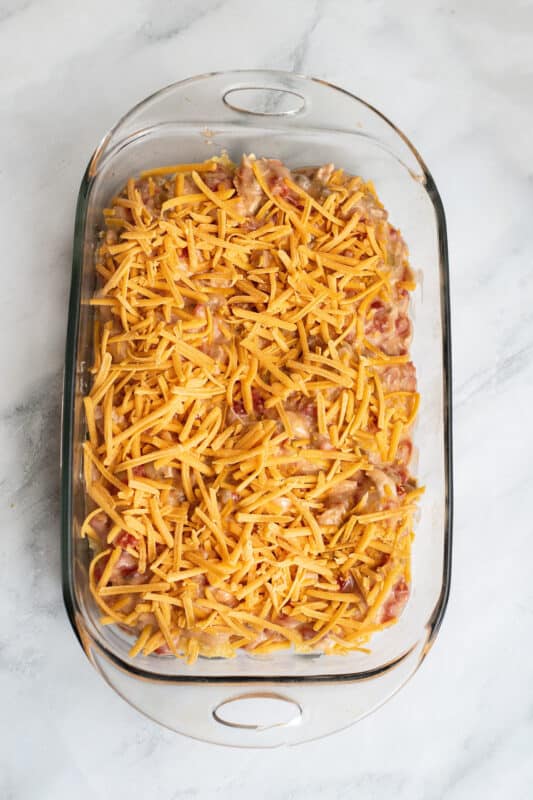 and more cheese!
Lots of folks make their King Ranch casseroles in three layers, but I just do two.
If you wanna do three go right ahead. Whatever cranks yer tractor.
Two does it for me 🙂
Bake in a 350 degree oven for about thirty minutes, until lightly browned around the edges and your stomach is growling from the smell.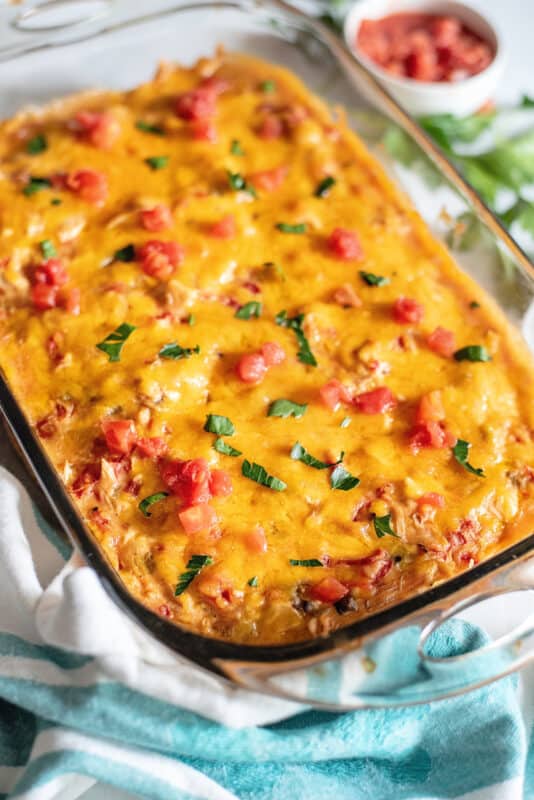 HELLO DINNER!
Yum di di dum dum yum yum yum!!
Ingredients
1

onion

chopped

2

tablespoons

vegetable oil

2

cups

shredded cooked chicken

1

can cream of chicken soup*

1

can cream of mushroom soup*

4

ounce

can diced green chilies

15

ounce

can diced tomatoes

drained

1

teaspoon

chili powder

1/4

teaspoon

salt

1/4

teaspoon

garlic powder

1/4

teaspoon

pepper

12 - 14

corn tortillas

six inch

2

cups

shredded cheddar cheese
Instructions
Place oil in large skillet. Add onions and saute over medium heat until onions are lightly browned. Add chicken, cream soups, chilies, tomatoes, and all seasonings. Stir and cook over medium heat until bubbly.

Tear tortillas into small pieces. Place half of pieces in 9x13 inch dish. Top with 1/2 of chicken mixture and 1/2 of cheese. Top with remaining tortilla pieces, remaining chicken mixture, and remaining cheese. bake at 350 for thirty minutes, or until bubbly and lightly browned around the edges.
Can I Make This Casserole The Night Before?
Yes, You can assemble this the night before, store in the fridge, and bake when you get home!
Here are other casserole recipes you may enjoy:
Cabbage Casserole Recipe Oven or Slow Cooker
Cornbread Casserole Recipe Simple and Savory
Sloppy Joes Casserole Deep Dish Recipe
The stars at night, are big and bright.. ~clap clap clap clap~ ….
I still find each day too short for all the thoughts I want to think,

all the walks I want to take, all the books I want to read,

and all the friends I want to see.

– John Burroughs

Submitted by Steaksmom Submit your quote here!