Let me introduce you to the perfect summer salad: my summer corn salad recipe. It's quick and easy to make, cool and refreshing, and includes the perfect blend of fresh vegetables and zesty Italian dressing.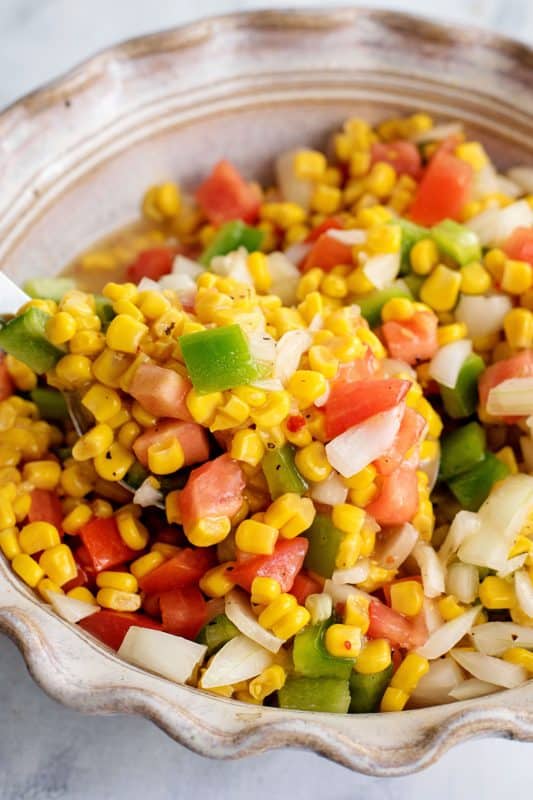 Today I'm bringing you what is, in my mind, the perfect summer salad for a picnic or barbecue. It's cool, refreshing, has a blend of great flavors that work together perfectly, and is a cinch to make. Don't you just love recipes like that? I sure do!
My summer corn salad recipe includes lots of fresh vegetables (the more the better when summer comes around, I say). We're talking fresh corn, fresh tomatoes, onion, and green bell pepper. These crunchy vegetables are tossed in zesty Italian dressing and then refrigerated for several hours, so they can really marinate and soak up all that delicious dressing flavor.
That's all there is to it! A couple of steps and your summer corn salad is ready to serve to family and friends. I love that I can make it in advance because we all know summer weekends can be just a little bit busy!
At the bottom of the post, I've included lots of serving suggestions, but this summer salad truly pairs well with any barbecue or grilled meat. Enjoy!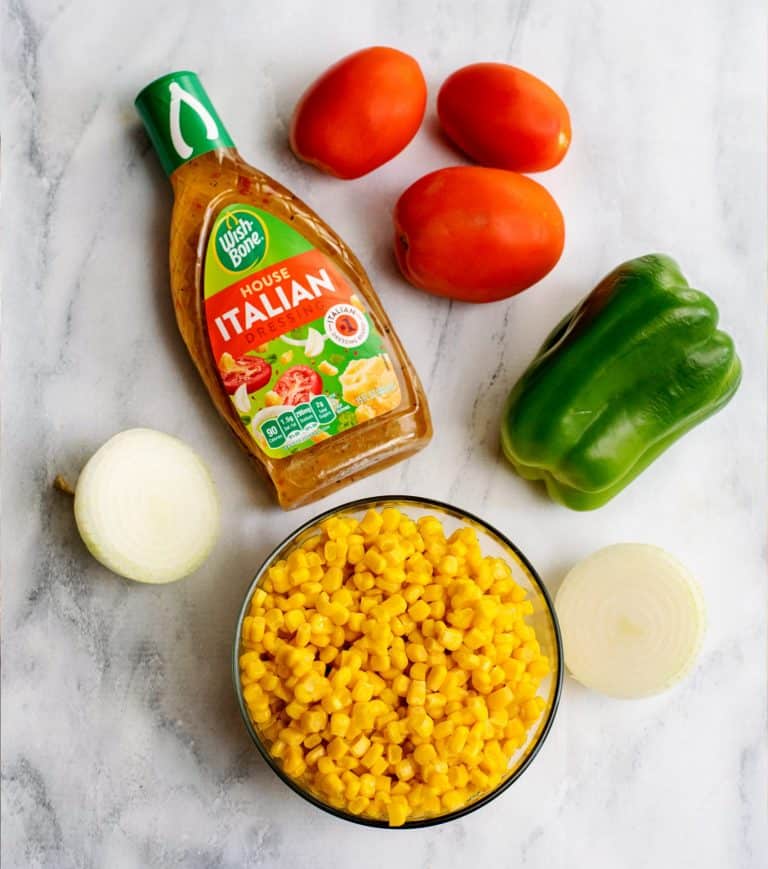 Recipe Ingredients
Italian dressing
Whole kernel corn
Onion
Bell pepper
Tomato
How to Make Summer Corn Salad
Chop up your fresh veggies and drain the cans of corn.
Place all of the veggies in a large bowl.
Add in Italian dressing and stir well.
Cover and refrigerate your summer corn salad for several hours before serving to allow flavors to blend.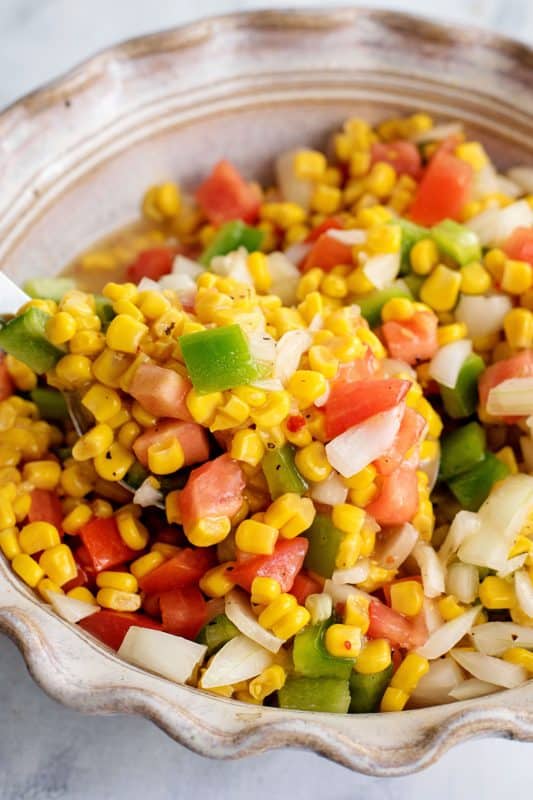 Enjoy! This can be made up to two days ahead of time to keep life simple.
Storage
Store leftover salad in an airtight container in the fridge for up to 4 days.
Recipe Notes
You can use fresh corn, frozen corn, or canned corn kernels. For fresh and frozen corn, you'll want to cook it quickly in water on the stovetop or in the microwave so it's nice and tender before adding it to the recipe. Another option is to grill the fresh corn for a few minutes on each side before adding the grilled corn to the salad. It will add a delicious smoky flavor.
Use either regular or zesty Italian dressing.
Make this summer corn salad recipe your own with these variations:

Add different vegetables, like diced cucumber, red onion, chopped avocado for creaminess, or grilled zucchini to complement the grilled corn.
Add black beans or edamame.
Use chopped cherry tomato instead.
Substitute the green bell pepper for red bell pepper.
Add some fresh herbs, like chopped fresh parsley, fresh basil, dill, mint, or fresh cilantro.
Before serving, sprinkle it with crumbled feta cheese.
Recipe FAQs
What do you serve with summer corn salad?
Basically, everything goes with summer sweet corn salad. Serve it with your favorite summer main dish, like burgers, pulled pork or pulled chicken, grilled chicken tenders, crockpot beef ribs, or even Southern fried catfish.
You may also enjoy these sensational summer salads:
Recipe for Caprese Salad with Chicken and Avocado
Tomato Onion and Cucumber Salad
Ingredients

2

cans

whole kernel corn, drained

2

medium diced tomatoes

1

bell pepper, seeded and diced

1

diced small onion

1

cup

Italian dressing

Instructions

Combine all ingredients in a large bowl. Stir well to combine. Cover and refrigerate for several hours.

2 cans whole kernel corn, drained,

2 medium diced tomatoes,

1 bell pepper, seeded and diced,

1 diced small onion,

1 cup Italian dressing

Can be made up to two days ahead of time. This is delicious and the perfect side for a barbecue!

Nutrition
"Be the change you wish to see in the world."
Ghandi