3 Bean Salad With Dressing
Loaded with chickpeas, red kidney beans, and green beans and served with a tangy yet sweet apple cider vinegar dressing, this flavorful Southern 3 bean salad recipe is a personal favorite.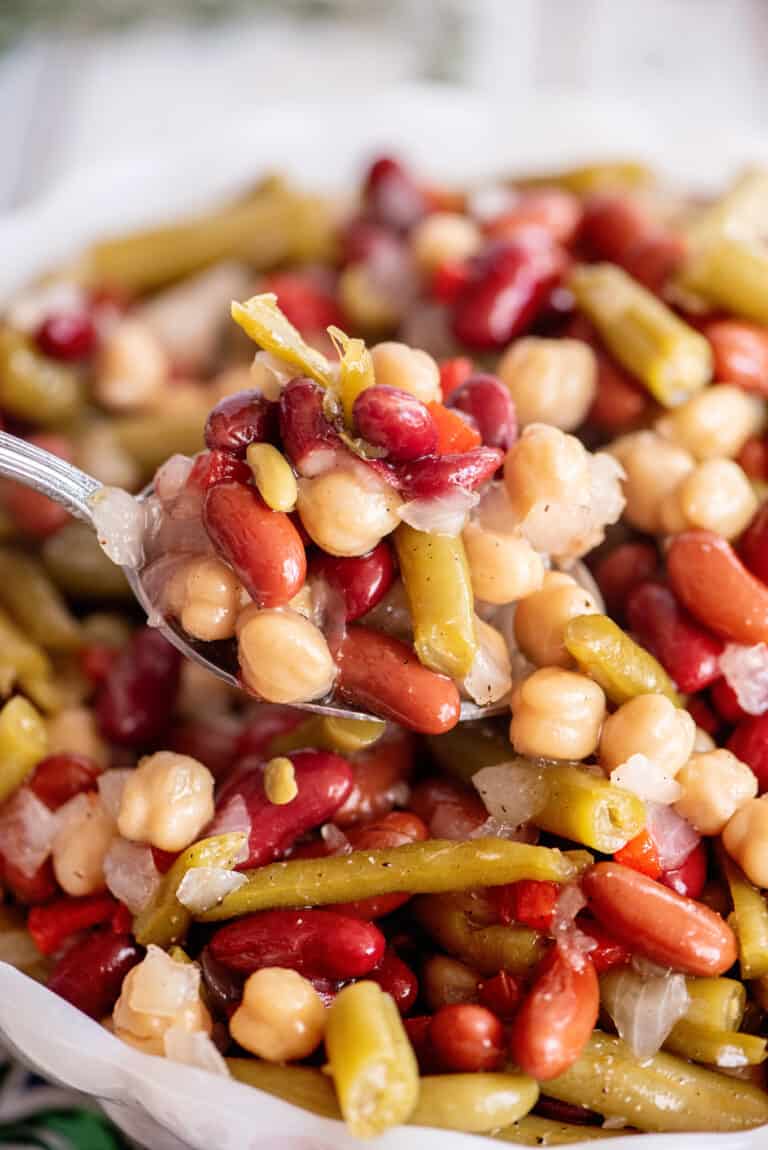 Classic three-bean salad is one of my favorite snacks, sides, and meals. I could pretty much live on this stuff… and sometimes do! In fact, when meal planning, I like to make a big batch of this 3 bean salad recipe on the weekends and then have it at the ready all week long whenever I get a hankering. This is also a wonderful salad to take to cookouts, church dinners, and family reunions.
The best thing is, it's so easy to make. Simply drain the beans, combine them with the chopped onion and diced pimentos, then add the dressing. Because spoiler: it's not a Southern three-bean salad without dressing. Our salad dressing is sweet, tangy, and so irresistible, thanks to a combination of cider vinegar, sugar, minced garlic, salt and pepper, and olive oil. The hardest part about this recipe is you need to let it marinate for several hours so that the dressing soaks into each bite. I make mine the night before and it's ready for me the next lunchtime. Trust me, it's worth the wait.
Plus, the beans stay nice and firm so the salad will easily keep for a week or more in your fridge. With a sweet tang and lots of flavors, once you try this recipe you may find yourself eating it as often as I do! If you do, let me know and we'll form a support group that has regular meetings… around bowls of 3 bean salad 😉.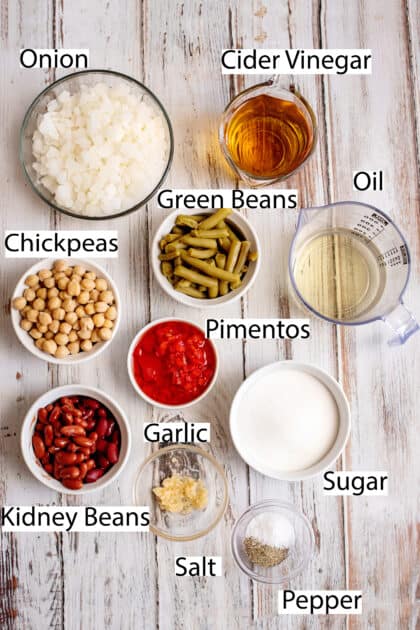 Recipe Ingredients
Apple cider vinegar
Chickpeas
Green beans
Kidney beans
Onions
Sugar
Oil
Minced garlic
Pimentos
Salt and pepper
How to Make a Recipe for 3 Bean Salad
To start with, dump all of your canned beans in a colander and rinse them really well under cold water.
We want to get all of their little can juices gone so we can replace them with the flavors of our 3 bean salad dressing recipe.
Note: You are only draining the beans, not the pimentos. We want to keep that pimento juice in the salad for more flavor.
Place sugar, cider vinegar, oil, minced garlic, salt, and pepper in a mason jar.
Screw the lid on tight and shake the mess out of that.
Or you can just give it a good shake for about 10 seconds.
But where is the fun in that?
It will look like this when it all comes together.
Place your drained and rinsed bean mixture, chopped onion, and pimentos along with their jar juices in a large bowl.
Pour the dressing over.
Give it a big old stir.
Refrigerate Overnight
Now, don't go eating this now because it isn't 3 bean salad yet. Put this in the fridge for several hours (I prefer overnight).
After that, give it another really good stir and return it to the fridge for several more hours.
I let mine refrigerate overnight and then stir it up really well again in the morning.
It will be ready by lunch.
If you eat it before letting it marinate, stirring it real good, and then letting it marinate again, you're going to be missing out on that punch of flavor in every bite that you really want. So trust me on this and make it the night before.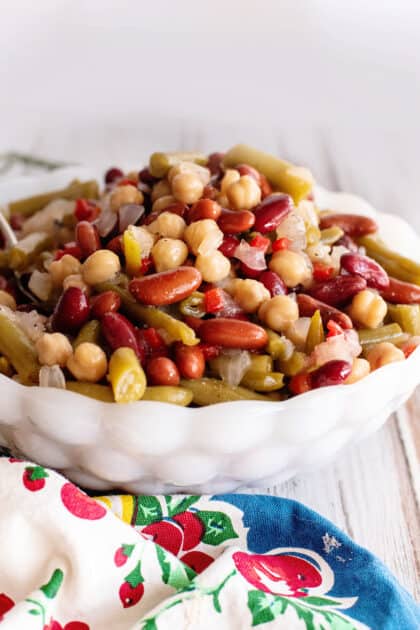 Then, if you really want to do it how I do, get a big old bowl of this for your lunch.
AWWWW YEAH!
As a matter of fact, I'm typing this in between bites!
Storage
Leftover salad will last in an airtight container in the fridge for up to 5 days.
Recipe Notes
If you don't want a big salad, simply half the ingredients.
You can use any beans you like, including garbanzo beans, pinto beans, navy beans, or cannellini beans.
For extra flavor, add some chopped fresh herbs to the salad, like fresh parsley, basil, mint, tarragon, dill, or cilantro. Another option is chopped green onion.
Speaking of extra flavor… you can also add a teaspoon of Dijon mustard to the salad dressing.
Add some crunch via diced celery stalks, green or red bell pepper, and/or cucumber.
Substitute white onion for red onion if you prefer.
You can use fresh green beans in this three-bean salad

instead of

. However, you'll need to cook them in boiling water until tender first and then let them cool before adding them to the salad.
Recipe FAQs
What kind of vinegar should I use?
I recommend apple cider vinegar. You can certainly use white vinegar if you prefer or if that is what you have. Cider vinegar has a wonderfully unique flavor, but white vinegar would be good as well.
What kind of oil do I use?
I am using olive oil but you do not have to. Vegetable oil, canola oil, sunflower oil, etc would work just as well. I am using olive oil because this bottle has started collecting dust and I'd like to be done with it. I literally had to wipe the dust off of the top with a damp towel before I put it in this picture.
What does 3 bean salad go with?
To make this into the perfect main meal this summer, serve your 3 bean salad with chicken. Whether that's roast chicken, fried chicken, pulled BBQ chicken, or grilled chicken tenders.
You may also enjoy these recipes:
Aunt Charlotte's Frito Bean Salad
Ingredients
2

15-ounce cans

chickpeas

2

15-ounce cans

dark or light red kidney beans

2

15-ounce cans

cut green beans

1

4-ounce jar

diced pimentos with juice

2

diced onions
Dressing
1

cup

cider vinegar

1

cup

white sugar

2/3

cup

olive oil

or oil of your choice, vegetable is fine

1

teaspoon

minced garlic

1

teaspoon

salt

1

teaspoon

pepper
Instructions
Place all canned beans in a colander and rinse well.

2 15-ounce cans chickpeas,

2 15-ounce cans dark or light red kidney beans,

2 15-ounce cans cut green beans

In a mason jar (or bowl), place sugar, vinegar, oil, minced garlic, salt, and pepper. Place the lid on and shake well to mix.

1 cup cider vinegar,

1 cup white sugar,

2/3 cup olive oil,

1 teaspoon minced garlic,

1 teaspoon salt,

1 teaspoon pepper

Place beans in a large bowl. Add chopped onion and pimentos with juice. Pour dressing over all and stir well to coat. Cover and refrigerate for several hours (preferably overnight).

2 diced onions,

1 4-ounce jar diced pimentos with juice

Important: A few hours before serving, stir again really well and return to the fridge to continue marinating.
Nutrition
God never promised life would be easy, but He did promise to be with us always.
~ Submitted by Carol. Click here to submit your own.