If you want those delicious sloppy joe flavors without the extra carbs, you need this rib-sticking, family-pleasing sloppy joes casserole recipe in your life.
I'm not lying when I say this sloppy joe casserole recipe is a family favorite. It's definitely become one of my favorite casseroles because it's so easy to make and so delicious. Plus, it has all the flavors of your normal sloppy joes but without the bread to keep the carbs lower than usual, and what the heck, it's fun to try something different.
This casserole requires minimal prep, which is why I love to whip it together on a busy weeknight. Once you brown the ground beef (I have cooked beef stored in my freezer for moments like this), you just combine it with the Manwich sloppy joe sauce and french fried onions and place them in the casserole dish with lots of gooey cheese goodness. Then you simply need to whisk together flour, milk, and eggs and pour that over the casserole to make that scrumptious topping. In under an hour, your casserole will be ready to pull out of the oven and serve to your hungry family.
It's a hearty, filling, and scrumptious comfort food dish I just love and I hope you do too! When you're in the mood to make normal sloppy joes, check out my easy slow cooker recipe.
Recipe Ingredients
All-purpose flour
Milk
Eggs
Shredded cheddar cheese
Cooked ground beef
Vegetable oil
Sloppy joe sauce, either store-bought or homemade (if you want to make your own sloppy joe sauce check out the ingredients I use to make it HERE).
French fried onions
Salt
How to Make Sloppy Joes Casserole
Cook your ground beef, then stir your sloppy joe sauce and fried onions into the meat until it's well coated.
Spray a 9×13 baking dish with cooking spray.
Add a layer of shredded cheese.
Spread the meat mixture over the top of the cheese.
Top with the remaining cheese.
Place eggs, milk, flour, salt, and oil in a bowl.
So all you have to do is stir these ingredients together with a spoon until it's well blended. It just takes a minute.
Pour over the top of the beef mixture and cheese.
Bake this at 350 for 30 minutes or until it is just a wee bit brown on top.
Like this! Time to serve it up.
This is great when served with green beans and iced tea (of course)!
Storage
Store casserole leftovers in an airtight container in the fridge for up to 4 days. You can also freeze leftovers for up to 3 months. Thaw overnight in the fridge before reheating in the microwave.
Recipe Notes
I only use Manwich when it comes to buying pre-made sloppy joe sauce. I normally like generics but find generic sloppy joe sauce to be really bad.

Want to bulk up your casserole with vegetables? Before you cook your lean ground beef, quickly saute your vegetables, like 1 diced onion, 1 diced green bell pepper, a cup of grated carrot, and a can of corn kernels (or a cup of frozen corn).
If you're not watching your carbs, you can mix a cup of cooked penne or farfalle pasta with the meat before spreading it in your casserole dish.
Instead of ground beef, try pork sausage or ground turkey.
If your family doesn't mind a little heat, add a 1/4 teaspoon of crushed red pepper flakes to your meat mixture.
Recipe FAQs
Can I make this sloppy joes casserole ahead of time?
Yes, you can make this casserole recipe in advance. It will last up to 4 days in the fridge. Alternatively, partly assemble the casserole and then top with the flour mixture before baking.
What do you serve with sloppy joes casserole?
This casserole is a main dish, but I recommend serving it with a side of vegetables. This might be a green bean casserole, some grilled asparagus, coleslaw, or a simple salad.
Check out these other tasty casserole recipes:
Taco Tater Tot Casserole Recipe
Stuffed Pepper Casserole Recipe (Easy and Delicious)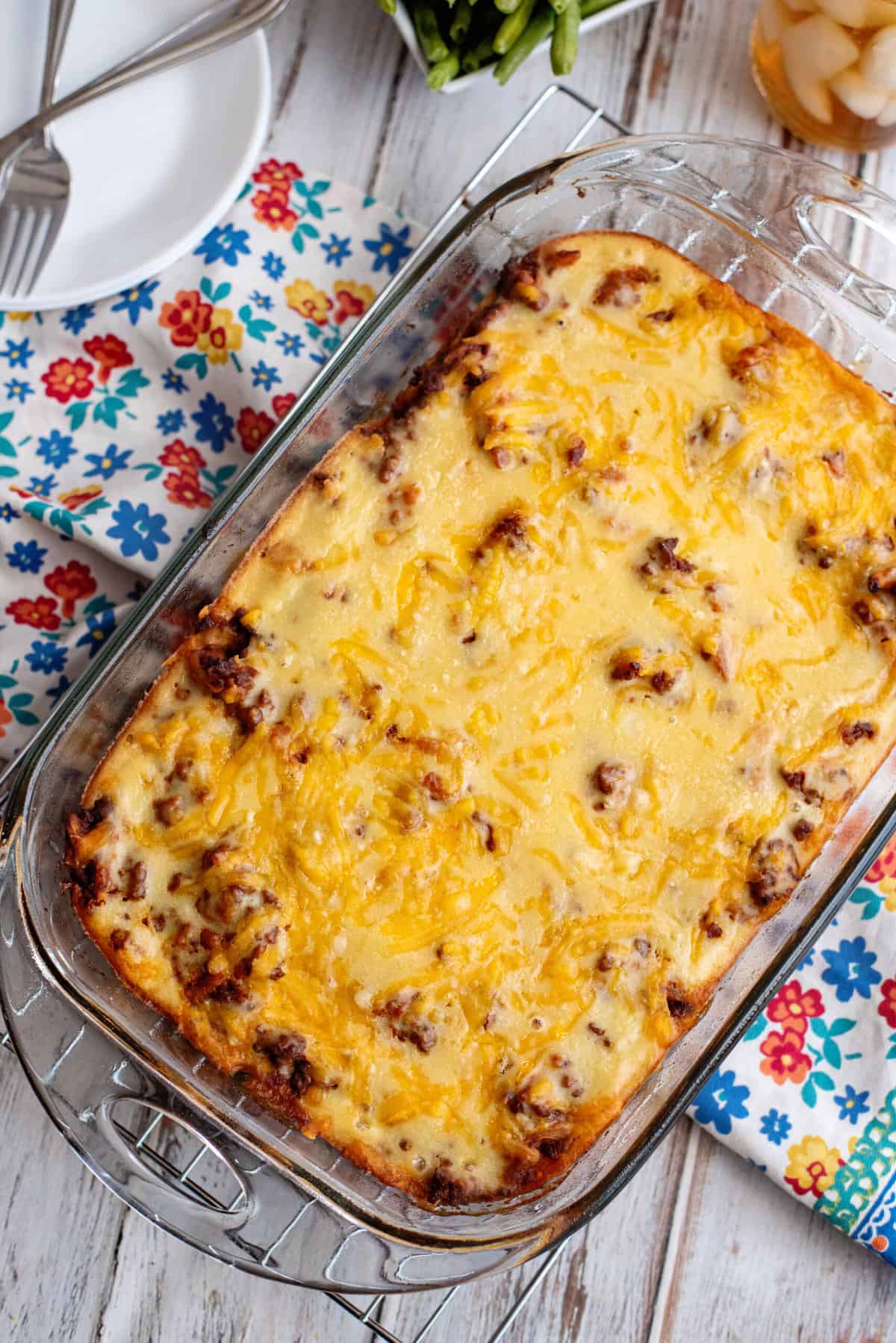 Ingredients
Note: This recipe can be made using half of the beef and sloppy joe sauce but still with the same amount of crust and in a 9x13 pan with no loss of deliciousness.
1-2

pounds

ground beef

cooked and drained

1-2

cans

sloppy joe sauce

1

cup

french fried onions

2

cups

shredded cheddar cheese

mild, sharp, whatever you like

1

cup

all-purpose flour

1

cup

milk

2

eggs

1

tablespoon

vegetable oil

1/2

teaspoon

salt
Instructions
In a large bowl, stir together the ground beef, sloppy joe sauce, and french fried onions until well blended.

1-2 pounds ground beef,

1-2 cans sloppy joe sauce,

1 cup french fried onions

Spray the bottom of a 9x13 pan with cooking spray. Sprinkle half of the cheese on the bottom and top with the meat mixture, spreading to the sides. Top meat mixture with the remaining cheese.

2 cups shredded cheddar cheese

In a medium bowl, combine the flour, milk, oil, eggs, and salt. Stir until well blended. Pour over the top of the sloppy joe mixture and cheese in the casserole dish.

1 cup all-purpose flour,

1 cup milk,

2 eggs,

1 tablespoon vegetable oil,

1/2 teaspoon salt

Bake at 350 for about 30 minutes, or until the crust is set and very lightly browned.
Nutrition
"Time is more valuable than money.
You can get more money, but you cannot get more time."
~Jim Rohn
Submitted by Dianne. Click here to submit your own!