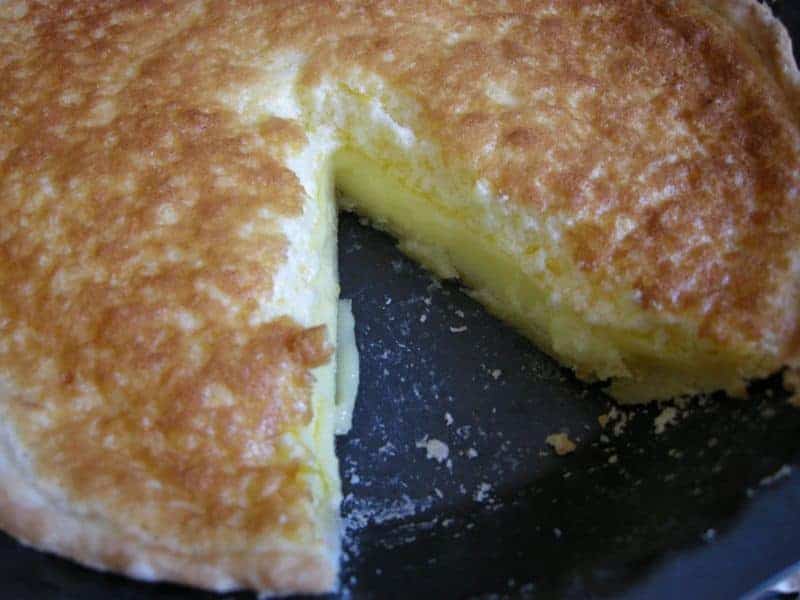 The first time I remember hearing of a chess pie was as a little girl at my grandmother's house. There was this pie on their dining room table and my grandparents and their friends had practically swarmed it until there was only a tiny piece left. Fortuantely, that piece went to me.
A thick, custardy textured pie, chess pie has long been associated with southern cuisine. No one quite agrees on the actual origins of the name except for the fact that it has absolutely nothing to do with the game of chess (We've always been more checkers type folks down here anyway). One theory is that since this pie kept so well in a common piece of furniture known as a pie safe or pie chest, they simply named it after that (we do have a tendency to drop our T's – gotta love the drawl!). Another theory is around the time the pie was invented, it did not have a name and when the cook was asked what kind it was, she simply replied "Its 'ches pie" (which is southern for "It's just pie").
Either way, chess pie is just a good old fashioned dessert. Lemon chess pie is my personal favorite. I like to make it with my mix in the pan pie crust for a total old fashioned, simple but good experience.
Lets hear it for simplicity! All you need is margarine, eggs, lemons, and sugar! I have used lemon juice on occasion when I didn't want to fuss with lemons or didn't have them on hand.
Zesting is not my strong suit. Still, I put up a valiant effort for this pie. Zest your lemons.
I ended up just using two because I decided after I got started that my lemons were, in fact, large. Beforehand, I had thought they were small, which meant I needed three. I refuse to comment on whether or not I decided these were large when I got tired of zesting after two of them.
My lemon zestings were kinda big so I chopped them up a bit.
Put your lemon zestings and your lemon juice in a bowl.
Place butter and sugar in mixing bowl. Beat until light and fluffy.
Separate eggs. This is separating the clear part (egg white) from the yellow part (yolk). You can just buy an egg separator to do this but I just kind of crack my egg in half and hold the part with the yolk in it steady, then if you tilt it just a little the white will just plop right off into your bowl or cup. You need to be careful here, though. We are going to be whipping these egg whites and if you have any of the yellow part in them, they won't whip up right.
There you go, I have a cup of yolks and a cup of whites.
Add yolks to sugar and butter mixture. Mix well.
Scrape down the sides with a rubber spatula and pour in lemon juice and zest.
I am using my little spatula with the hearts on it that I bought on Valentine's Day. I love my rubber spatulas…if I ever get famous or anything, I want folks to throw spatulas at my feet instead of roses!
A bouquet of spatulas! A SWARM of spatulas!
The spatula industry would love and adore me!! I just umm…doubt I'll get famous when my only motivation to do so is just to get free spatulas. ~sigh~
In a separate bowl, add egg whites. Using clean beaters, mix them on medium to high speed until almost stiff…
hang on because you know I'm about to show you what that looks like.
And we're off!
There, these are "almost stiff". Another way to say that is until "soft peaks form". Here is how you tell…pull you beaters straight up. Little points will come up with them. If they fall back down like they do in this photograph, those are soft peaks. If you were going for stiff peaks, they would remain standing up straight when you pulled your beaters out.
(I just re-read the recipe and it actually said to beat them until stiff, not almost stiff. I've had a headache all day and am going to blame that for "selective reading". Good news is, almost stiff worked out just fine!)
Pour your egg whites into the mixing bowl with the batter. They will just slip right on in.
Fold them in with your spatula until well incorporated.
Pour that into your baked pie crust.
Like this! Now bake that at 350 until golden and set, twenty five to thirty minutes.
Thanks for reading Southern Plate!!!!
~Christy
Yum