Chocolate fans, this old-fashioned chocolate chess pie recipe is for you! It's rich, fudgy, and so simple to make!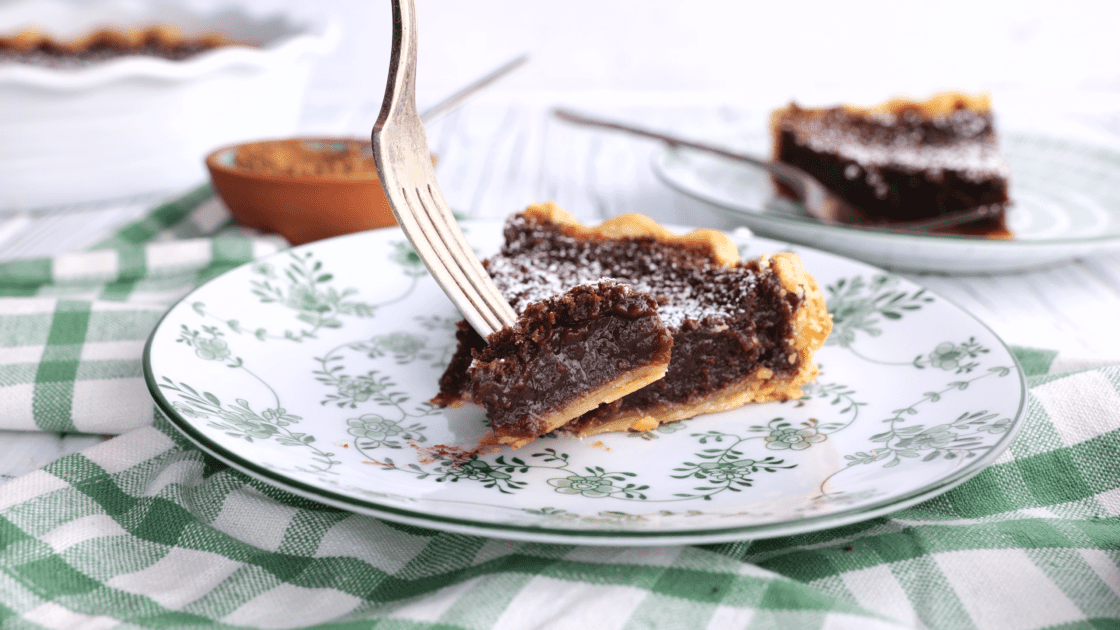 Today I'm sharing one of my grandmother's recipes with you. If you have a copy of my latest book, Sweetness, you can see this recipe on page 147 with a beautiful photograph on page 148. Grandmama was one of those people who always lifted the mood in a room whenever she was around. When she passed away, I inherited her cookbooks. This recipe was written in her beautiful handwriting on a piece of paper that had been stained and worn from generations of use.
Therefore, this Southern chocolate chess pie recipe is an old-fashioned one. As such, it is pretty simple, straightforward, and absolutely delicious. It's made from simple ingredients like eggs, butter, milk, and sugar, with the added bonus of cocoa powder. It also only takes 15 minutes to prep, so is a great option for beginner bakers.
This Southern chocolate pie is so sweet and decadent with a fudgy chocolate flavor wrapped in a flaky pie crust. The filling tastes like brownies, with a smooth and creamy custard texture and a crust on top. My daughter says it is like eating brownie batter in pie form – a glowing recommendation if ever I heard one!
Speaking of other indulgent chocolate desserts, if you have a sweet tooth you need to check out these recipes: triple chocolate brownie pie, chocolate chocolate chip cookies, chocolate fried pies, chocolate depression cake, and chocolate cobbler.
A quintessential Southern dessert, this easy chocolate chess pie recipe contains lots of hints and tips for making this wonderful heritage pie. Let's get baking!
Recipe Ingredients
Deep-dish pie crust
Evaporated milk
Cocoa powder
Butter
Eggs
Vanilla extract
Granulated sugar
How to Make Chocolate Chess Pie
Firstly, don't pre-bake your pie crust (we love not using pie weights, right?).
All you have to do is dump all of your ingredients in a large bowl. Starting with the sugar…
The melted butter…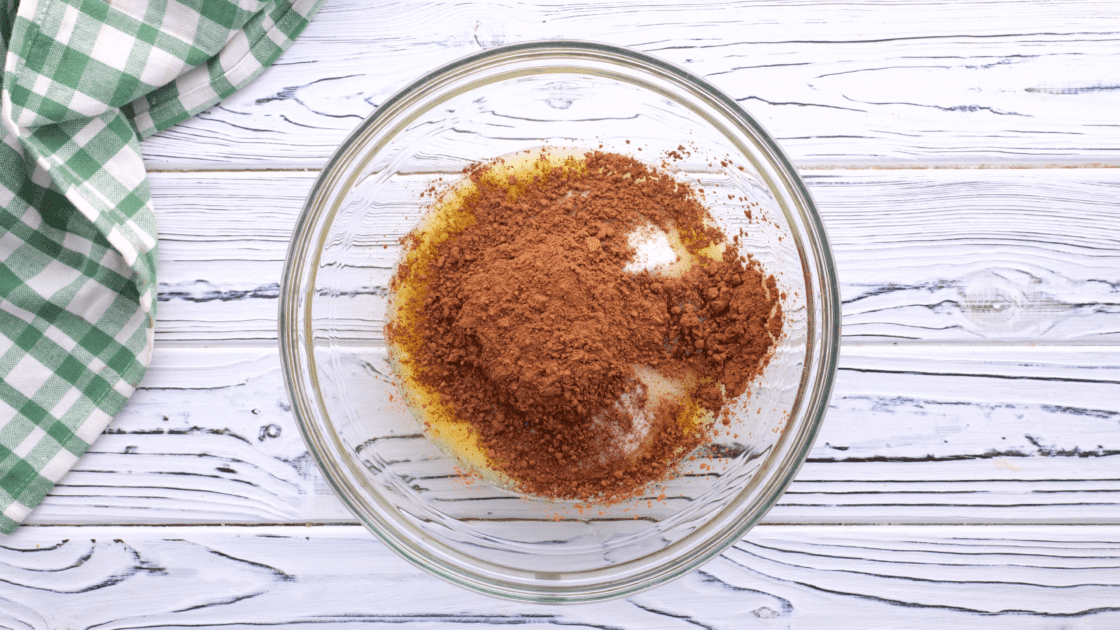 The cocoa powder…
The eggs…
The vanilla extract…
And the evaporated milk.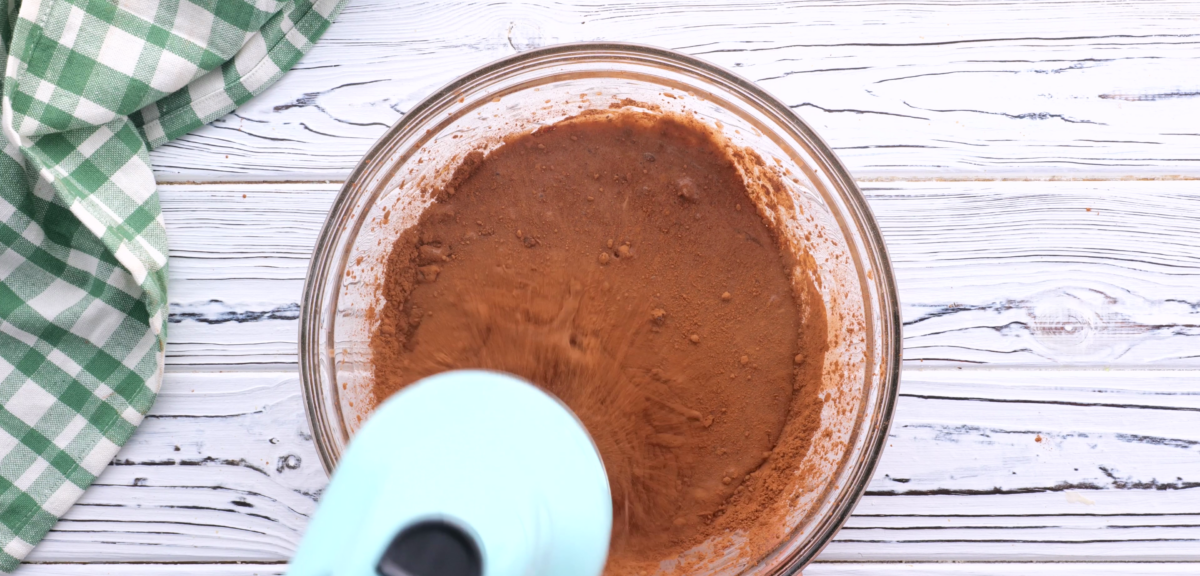 Mix them with an electric mixer until well combined and fully blended.
Then pour the pie filling into the store-bought unbaked pie shell in the deep dish pie dish.
Your prepared pie crust does not have to be pretty. The homier it looks, the better it will taste. You can do it as I did here, use a fork, or just fold down the edge a bit and call it rustic. In some cities "rustic" sells for double the price ~winks~.
Bake this at 350 for 35 to 40 minutes or until set in the center.
Remove from oven and allow to cool completely before cutting.
Dust with confectioner's sugar if you like.
ENJOY this old Southern chocolate pie!
It tastes great either at room temperature or chilled, with a nice big dollop of whipped cream.
Storage
This pie will last about one week. I recommend storing it for only two days in a cake dome at room temperature and then placing it, covered, in the fridge for up to five days. In saying that though, I think it tastes best within the first two days of baking.
You can also freeze the baked chocolate chess pie for up to three months. Thaw in the fridge and then reheat the whole pie in the oven for about 20 minutes before serving.
Recipe Notes
Pie crust: I am using the roll-out pie crust. You can use a frozen pie crust in the pan or even make it from scratch, whatever cranks your tractor. I've made more in my life than I can count and I'm cool with using store-bought crust and saving the mess. But here's my homemade pie crust recipe that you just mix directly in the deep-dish pie plate, it's so easy!
Evaporated milk: In old recipes, this is usually referred to as "pet milk" because PET was a popular brand in the south. A 5-ounce can of evaporated milk is just a smidge more than the amount you need, but it's okay to use the entire can or do like I do and take a little swig out of it because it is stinking delicious! Another option is to substitute the evaporated milk for heavy cream.
Chocolate flavor: There are two easy ways to enhance the chocolate flavor. First, melt 2 ounces of finely chopped dark or semi-sweet chocolate along with the butter. Alternatively, add 1 teaspoon of espresso powder to the pie filling.
Speaking of, you want to use either naturally unsweetened or Dutch-processed cocoa powder in your chocolate chess pie.
If you find the pie is a little runny after cooling, just place it in the fridge for a few hours to set.
Recipe FAQs
What is chocolate chess pie made of?
Chess pie is known for having a custard pie texture and chocolate chess pie is no exception. It's typically made with a combination of eggs, sugar, milk, and butter with flavorings. In this instance, we're using cocoa powder and vanilla extract.
What does chess pie taste like?
Chess pie has a sweet custard-like taste and texture. But for chocolate chess pie, this custard texture is enhanced with the taste of rich chocolate in every bite.
What state is known for chess pie?
The chocolate chess pie is THE pie of North Carolina.
Why is it called chocolate chess pie?
See my lemon chess pie post to learn the many rumors behind the name chess pie (and choose your favorite).
What do you serve with chocolate chess pie?
You can serve your pie with a dollop of whipped cream (here's my homemade whipped cream recipe) or a scoop of vanilla ice cream if you like. You could also sprinkle the pie with chocolate shavings instead of powdered sugar or serve it with some fudge sauce or fresh berries.
Can I make chocolate chess pie in advance?
Yes, you can definitely make this pie ahead of time. Make it the day before and store it either in the fridge or at room temperature overnight.
Should chocolate chess pie be refrigerated?
Not necessarily, as this pie tastes great at room temperature and chilled.
You might also enjoy these delicious pie recipes:
Peanut Butter Pie Recipe: Made the Old Fashioned Way
Ingredients
1.5

cups

white sugar

1/4

cup

melted butter

1/2 stick

3.5

tbsp

naturally unsweetened cocoa powder

2

large eggs

1

tsp

vanilla extract

1/2

cup

evaporated milk

1

unbaked 9-inch deep-dish pie crust

confectioner's sugar for dusting (optional)
Instructions
Combine sugar, melted butter, cocoa powder, eggs, vanilla, and evaporated milk in a large mixing bowl. Beat this chocolate mixture with an electric mixer at medium speed until well combined (about 1 to 2 minutes).

1.5 cups white sugar,

1/4 cup melted butter,

3.5 tbsp naturally unsweetened cocoa powder,

2 large eggs,

1 tsp vanilla extract,

1/2 cup evaporated milk

Pour the chocolate mixture into the unbaked pie shell and bake until set in the center (about 35 to 40 minutes). Allow the pie to cool completely before dusting it with confectioner's sugar if desired.

1 unbaked 9-inch deep-dish pie crust,

confectioner's sugar for dusting (optional)

Chocolate pie is excellent served at room temperature or chilled. Store covered in the refrigerator.
Video
Nutrition