A classic Southern dessert, this buttermilk pie recipe creates a creamy, dreamy, and delicious pie that has a perfectly sweet yet rich taste.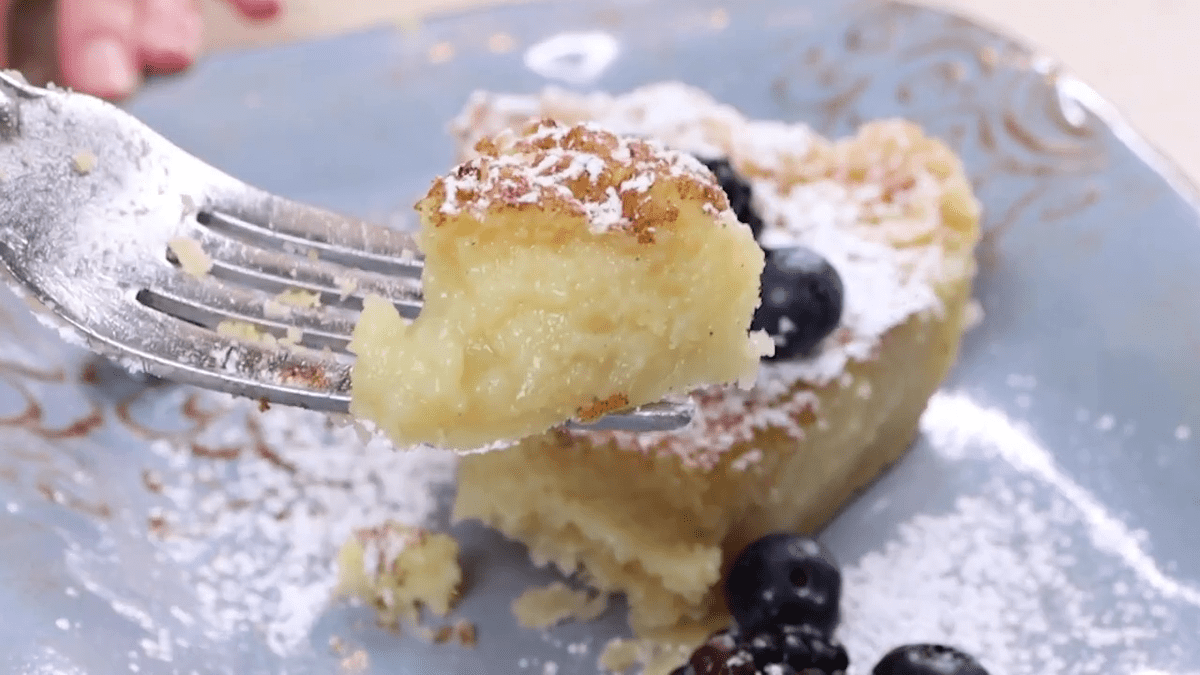 Here is a classic Southern recipe for you. This buttermilk pie recipe is simple yet delicious, with our beloved buttermilk as the headlining ingredient. I'll save a slice for y'all 😉.
Buttermilk pie origins are believed to have come from Europe and were brought over as people settled in the South, specifically in Texas where buttermilk tended to be inexpensive. Made with basic ingredients, it was made popular in times when money was scarce. It was common in the Great Depression, similar to our water pie.
Those basic ingredients mentioned include pantry essentials like flour, sugar, and vanilla extract, plus some eggs, buttermilk, and butter. Fortunately, it's a relatively easy Southern dessert to bake. You just need to slowly mix the ingredients together, place them in a pie crust, and wait for them to bake.
This old-fashioned buttermilk chess pie recipe has a creamy and light custard-like texture with a slightly smooth tangy flavor that just melts in your mouth. Enjoy a slice of your buttermilk pie with some fresh berries, whipped cream, or even ice cream if you're feeling indulgent. There's nothing better than a slice served with a cup of coffee or a glass of sweet tea.
Okay, let's bake a pie that's a true Southern tradition. Enjoy this creamy dreamy pie as soon as you can and you will grinnin' like a possum eatin' a sweet tater!
Recipe Ingredients
Sugar
Buttermilk
Vanilla
Eggs
All-purpose flour
Unsalted butter (softened at room temperature)
Lemon juice
Cinnamon (not required if you don't like or don't have cinnamon)
Unbaked pie shell (I am using my mix-in-the-pan pie crust recipe here but you can just buy one if you like).
How To Make Buttermilk Pie
First, place either your store-bought pie shell or your homemade pie crust in a pie dish/pie pan.
Then, it's time to make this buttermilk pie recipe.
Place your butter or margarine in a large bowl with the sugar.
Beat until light and fluffy.
Add in your buttermilk (and lemon juice if you have it).
Next, add your flour.
And in go the eggs and vanilla extract.

Mix that up well.
Pour this buttermilk mixture into your unbaked pie crust (or pie shell).
Sprinkle with cinnamon.
Bake for about 40 minutes, or until golden brown.
Remove from the oven and allow the pie to cool completely before transferring it from the pie plate to a wire rack.
Note: This buttermilk pie will be a little jiggly in the middle but as it cools it will set.
I prefer to serve mine cold.
This has a very simple and light taste, so it's perfect to serve with berries or fruit.
It's also pretty if you sprinkle each slice with a little confectioner's sugar as I did in this photo.
Storage
Store leftover buttermilk chess pie in an airtight container in the fridge for up to 3 days. I like mine cold, but if you'd prefer you can reheat it in the oven or the air fryer.
Southern buttermilk pie also freezes wonderfully. Store in a freezer-safe container for up to 2 months. Thaw in the fridge before enjoying.
Recipe Notes
I've never made this pie with Swerve but you can substitute that for the sugar.
Substitute the cinnamon for nutmeg or use a pinch of both to add extra flavor to your pie.
If you want to increase the lemon flavor, add a tablespoon of lemon zest as well.
You can also spike your custard pie with two tablespoons of the whiskey of your choice if you like, such as bourbon or rum. It isn't traditional but it IS delicious.
Recipe FAQs
What do you serve with buttermilk pie?
Serve a slice of Southern buttermilk pie with a simple dusting of confectioner's sugar and fresh berries like blackberries, blueberries, strawberries, or raspberries. Alternatively, drizzle with raspberry or blackberry syrup or substitute the berries for chopped nuts like pecans. You can also serve it with a dollop of homemade whipped cream or a scoop of vanilla ice cream with chocolate sauce drizzle. YUM
What is the difference between chess pie vs buttermilk pie?
Here's the thing… all buttermilk pies are chess pies, but you can't classify every chess pie as a buttermilk pie. Confused? I got you! Southern chess pie has been around for eons and uses simple ingredients like flour, butter, sugar, and eggs, as well as cornmeal on occasion, which acts as a stabilizer.
So based on this description, this is a Southern buttermilk chess pie recipe. However, the main ingredient that differentiates the two pies is the addition of buttermilk. That acidic touch decreases the pie's sweetness and changes its consistency.
What is the difference between chess pie and regular pie?
The main difference between a Southern chess pie and a regular pie is that it has a custard filling made with flour, butter, sugar, and eggs. Regular pie fillings can be made with a variety of ingredients. Take fan favorite, pecan pie for example, which is made with eggs, butter, sugar, corn syrup, and chopped pecans.
What does buttermilk chess pie taste like?
This chess pie with buttermilk has a kind of light custard filling that's sweet, creamy, buttery, and delicate.
Does buttermilk chess pie need to be refrigerated?
Yes, store your leftover butter chess pie in the fridge. If you don't want to eat it cold, you can easily reheat it in the oven or air fryer.
You may also like these buttermilk recipes:
How To Make Buttermilk Biscuits
Ingredients
1

unbaked 9-inch pie shell

or make your own with this recipe

1/2

cup

butter

softened

1 1/2

cups

sugar

can use Swerve

3

tablespoons

all-purpose flour

3

eggs

1

cup

buttermilk

1

tablespoon

lemon juice

1

tablespoon

vanilla extract

cinnamon for sprinkling over the top

if desired
Instructions
In a mixing bowl, cream the sugar and butter together until light and fluffy.

1/2 cup butter,

1 1/2 cups sugar

Add in all remaining ingredients and mix your pie batter together until combined.

3 tablespoons all-purpose flour,

3 eggs,

1 cup buttermilk,

1 tablespoon lemon juice,

1 tablespoon vanilla extract

Pour this custard pie mixture into the unbaked pie crust or pie shell. Sprinkle cinnamon over the top, if desired. Bake at 350 for 40 minutes. Let cool and then store in the refrigerator.

1 unbaked 9-inch pie shell,

cinnamon for sprinkling over the top
Nutrition