Take a trip to the tropics without leaving the house with these Paradise Pancakes!
If you've ever been to the Smoky Mountains, you've no doubt been tempted by countless pancake houses with the most delicious smells and promises of a rib sticking comfort meal. There is one in particular that we make it a point to eat at each year, on the main strip in Pigeon Forge, called the Log Cabin Pancake House. There, I get the Caribbean pancakes, which are the inspiration for this post today. While their pancakes are buckwheat, mine are made with a hearty oat baking mix (I'm also sharing that recipe today – it makes AMAZING pancakes) and topped with toasted coconut, pecans, and a variety of my favorite fruits. A light drizzling of pancake syrup and I am most definitely in paradise!
My husband never orders his pancakes with fruit on them but I made him try these a while back and now he asks for them by saying "Can you make some of those really good pancakes with all that fruit on them?" He says they are the best pancakes he has ever had. I hope you will love them as much as we do!
For the toppings you'll need: Mandarin Oranges, Pecans, Coconut, Banana, and Cherries – or any type of fruit that you prefer. But do try it this way just once if you can because it is stinking awesome.
Coconut haters: I know you're there, reading this now, wondering if it will be the same without coconut. For me, no, but that is because I love coconut. For you who hate it, it will be better. Go for it, knock yourself out. Be happy and coconut free :).
For the pancakes, you'll need: Hearty Oat Baking Mix (recipe here), egg, and milk. 
This recipe is easily doubled but I am using enough to make about 4 pancakes.
If you don't feel like making your own baking mix from scratch, just make pancakes however you are in the mood to make pancakes. They won't be exactly the same but you'll still have pancakes when you're done so it's all good.
Stir your batter ingredients together until well blended.
Place a tablespoon or so of butter in a large skillet over medium high heat to melt. Pour in enough batter for one pancake and allow to sit until bubbly on top and dry around the edges.
Flip pancake over and cook for one more minute or so until lightly browned on bottom.
Once your pancakes are done, place coconut and pecans in the same skillet you cooked pancakes in, no need to add more butter. Stir this often over medium heat until coconut is toasted, just a few minutes at most. Remove as soon as it is lightly browned to avoid burning.
Top each pancake with a generous sprinkling of toasted coconut and pecans along with mandarin oranges, bananas, and more coconut/pecans. Garnish with a generous dollop of whipped cream and a cherry and serve alongside your favorite pancake syrup.
Enjoy a paradise pancake experience!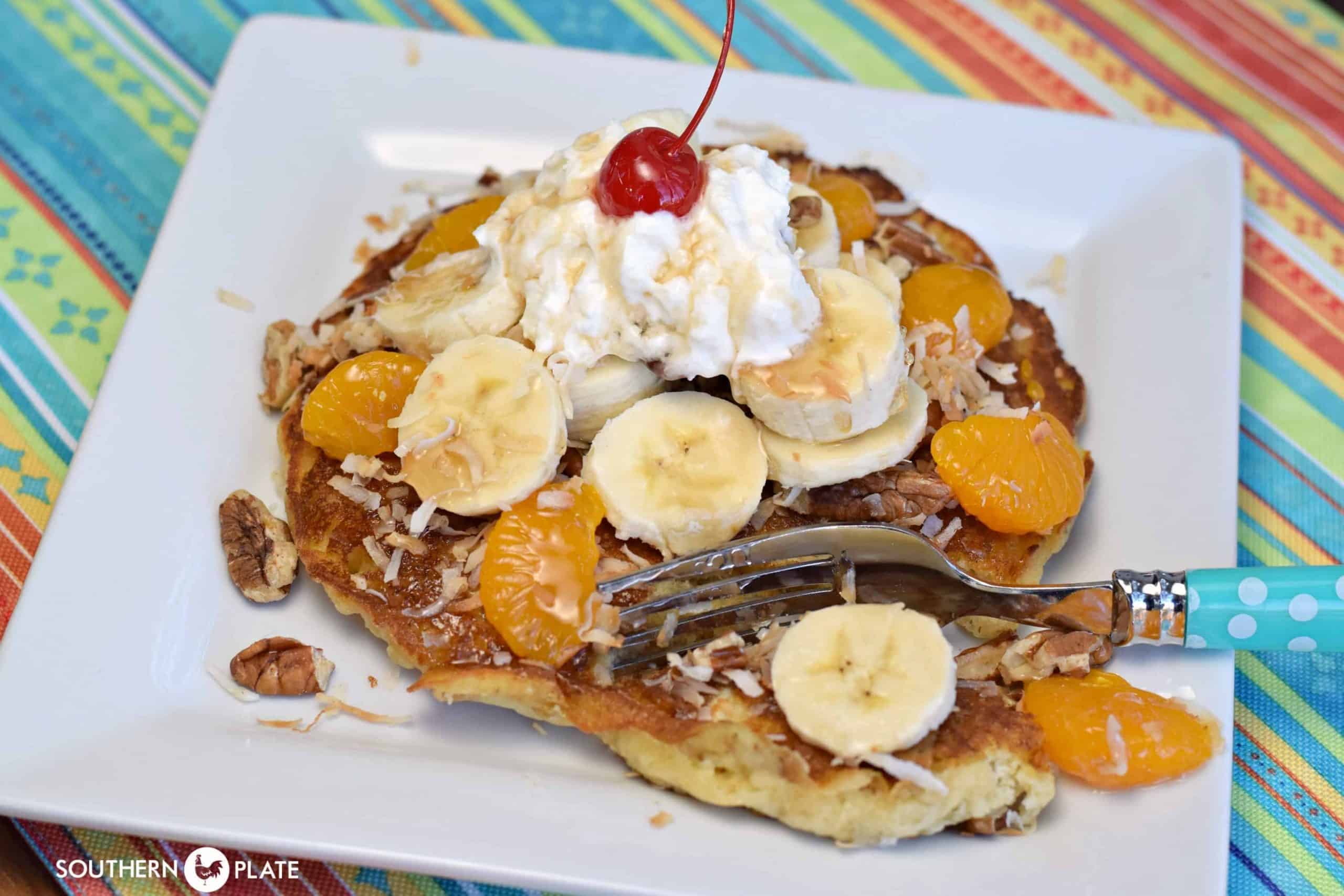 Servings:
4
medium pancakes. For large pancakes, double batter
Ingredients
Toppings
1

cup

shredded unsweetened coconut

1/2

cup

pecans

Small can mandarin oranges

drained

banana

whipped topping

cherry
Instructions
Stir together baking mix, egg, and milk in a medium bowl. If using another baking mix for pancakes, mix up according to package directions.

Melt butter in large hot skillet over medium high heat. Pour a small amount of batter. Allow to cook until bubbly all over the top and the edges appear dry. Carefully flip and cook for another minute on the bottom until just lightly browned. Remove to plate. Repeat with remaining batter.

Once pancakes are cooked, place coconut and pecan pieces in the same skillet and cook, stirring often, over medium high heat until just toasted. This will only take a minute or two.

Assemble pancakes by placing each one on it's own plate and shrinking the top with toasted coconut and pecans. Top generously with sliced bananas, mandarin oranges, and more coconut and pecans if desired. Garnish with a generous dollop of whipped cream and a cherry. Serve alongside your favorite pancake syrup.
Nutrition
Get my recipe for Hearty Oat Baking Mix by clicking here.
This recipe is part of the Weekend Potluck over at The Country Cook!