Easy Chicken and Rice Soup
This flavorful and easy chicken and rice soup recipe includes tender chicken cooked in creamy broth with Italian seasoning. It's a quick, easy, hearty, and oh-so-filling comfort food dish.
This easy chicken and rice soup recipe is simple to make and absolutely delicious. It's one of those comforting meals you can throw together in the time it takes to cook your rice. It's perfect for a sick day, a hard day, a long day, or a lovely day that just needs a light and lovely finish.
The ingredients are few, but they are enough to give it a wonderful flavor that will have 'em coming back for more. You're going to need shredded rotisserie chicken, chicken broth, heavy cream, Italian dressing mix, dried parsley, white rice, and instant potato flakes.
The instructions are as simple as combining the chicken broth with the seasonings, adding the shredded chicken, bringing the ingredients to a boil then simmering. Then we stir in the cream and potato flakes (the best soup thickener), and your creamy chicken soup is done! Pop a bed of cooked white rice into your serving bowl and ladle the soup on top. Now that's what you call a quick and easy chicken and rice soup.
I like to serve it with a side of warm crusty bread to soak up that creamy and flavorful soup broth, but there are more serving suggestions below. It's also important to note that I'm making enough for 6 to 8 servings because I love soup leftovers. Meal prep, anyone? But feel free to half this recipe if you'd like to feed only 4.
Now let me show you how easy it is to make this delicious homemade chicken soup.
Recipe Ingredients
Chicken broth
Rice
Heavy cream
Italian dressing mix
Rotisserie chicken
Dried parsley flakes
Instant potato flakes
How to Make My Easy Chicken and Rice Soup Recipe
First of all, get your rice cooking. Cook two cups of dry rice according to the packet directions.
If you want to have a heartier soup, make more. If you want a lighter soup, cook less.
While the rice is cooking, pour the chicken stock into a large stockpot.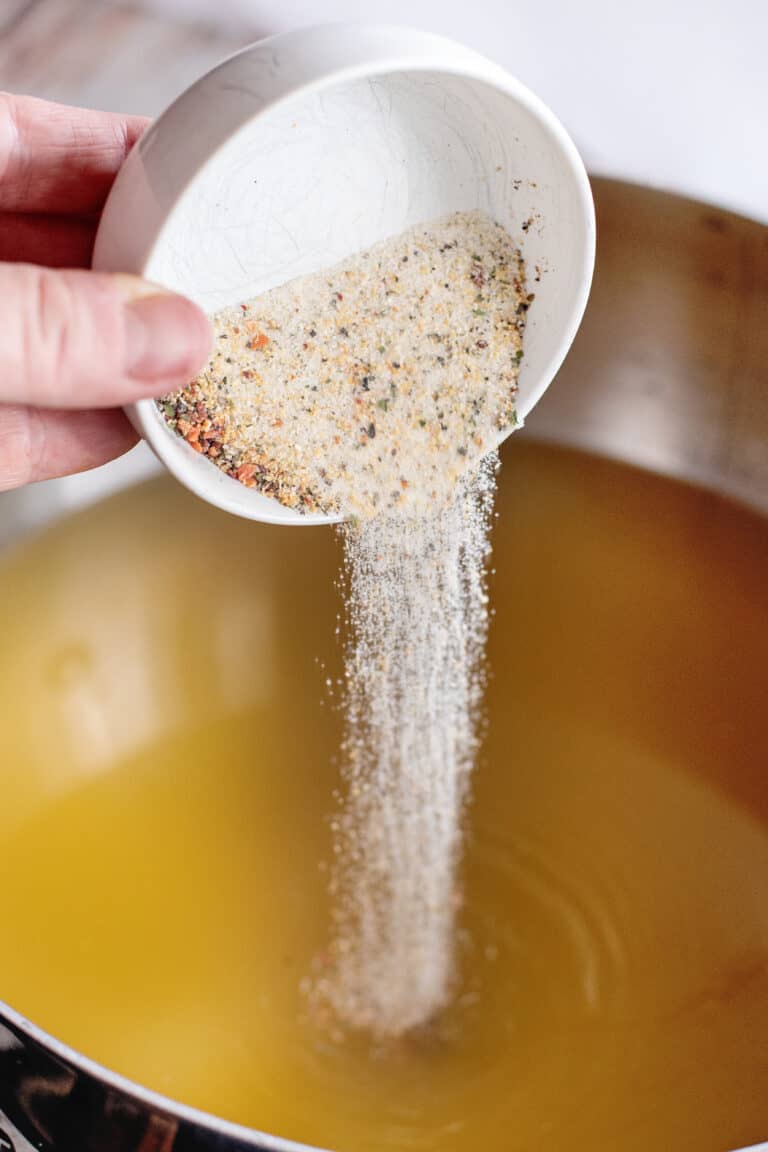 Add in your packet of dry Italian dressing mix.
And the dried parsley.
Give those ingredients a good stir together.
Take your cooked chicken off the bone and shred it, then add it to the pot.
Place this over medium heat and bring just to a boil, stirring every so often.
Then, reduce heat to a simmer.
Add cream.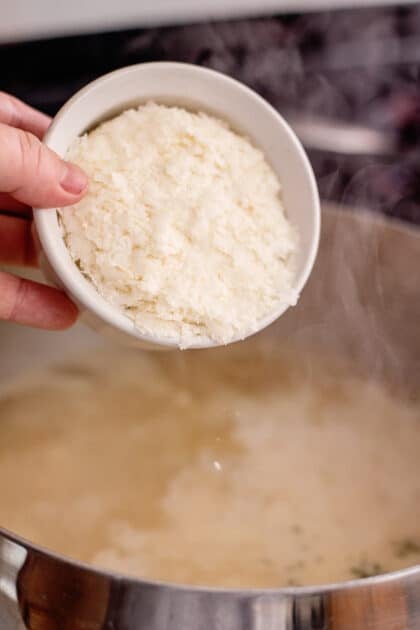 If you like, you can also add instant potato flakes at this point.
Stir that all up well until your chicken soup looks a little bit like this.
Place about 1/2 cup of cooked rice in a bowl.
Ladle servings of soup over the rice and stir.
Serve with warm crusty bread or whatever you're in the mood to serve it with.
Enjoy!
Storage
Store the rice and soup in separate airtight containers in the fridge for up to 4 days. Reheat either in the microwave or on the stovetop until heated through.
You can also freeze them in separate containers for up to 3 months. Thaw overnight in the fridge before reheating as above.
Recipe Notes
You can use half and half or even milk in place of the cream. It won't add the rich buttery flavor that cream does.

If you're choosing to cook a whole chicken yourself, here's what you need to do. Cover a whole fryer with water in a stockpot. Bring to a boil, reduce heat and simmer for an hour, or until chicken is done and broth is rich. Remove chicken. Proceed with step 2. Be sure to add salt to taste if you make your own broth.

This recipe works great with any kind of leftover chicken breast, leftover roast chicken, or even leftover turkey during the holidays. You just want roughly 2 cups of shredded chicken in total.
Want to add some veggies to your chicken rice soup? You'll want to saute them in the stockpot with oil before adding the chicken stock and proceeding with the instructions as directed. Popular soup veggie options include chopped onion, a couple of chopped carrots, a chopped zucchini, and/or a couple of chopped celery ribs.
If you don't want a creamy chicken and rice soup, feel free to just omit the cream. The soup will still taste flavorful and delicious.
Instead of adding dried parsley to the soup, you can garnish individual servings with chopped fresh parsley.
Recipe FAQs
How do you thicken chicken soup?
I love to use instant potato flakes as a soup thickener. I find they give my soup a little more body without altering the flavor.
Should I cook rice before adding it to the soup?
Now, I don't personally stir the rice directly into the soup. If we did and were planning on having leftovers, the next day that rice would be all bloated up, and the soup would look more like a weird rice pudding. So just keep them separate until serving. Cooked rice refrigerates and even freezes well anyway.
What is the best rice to use in soup?
White rice is the best rice to serve with soup, like long grain white rice, jasmine rice, or basmati rice. But other options include wild rice for chicken wild rice soup and brown rice.
What do you serve with chicken and rice soup?
Serve your chicken rice soup with some sort of bread side dish to soak up the broth, like crusty bread, cornbread, garlic bread, or a soft buttermilk biscuit.
You may also like these sensational soup recipes:
Homemade Cream of Chicken Soup Recipe
How To Make Chicken Noodle Soup
Ingredients
64

ounces

chicken broth

1

shredded rotisserie chicken

2

cups

uncooked white rice

1

cup

heavy cream

1

0.7-ounce packet

Italian dressing mix

1

cup

instant potato flakes (optional)

1

tablespoon

dried parsley (optional)
Instructions
Pour broth into a large stockpot. Stir in Italian dressing mix and parsley if using.

64 ounces chicken broth,

1 tablespoon dried parsley (optional),

1 0.7-ounce packet Italian dressing mix

Debone and shred chicken then add it to the pot. Place over medium heat and bring just to a boil. Reduce heat and allow to simmer while rice cooks.

1 shredded rotisserie chicken

Cook rice according to package directions.

2 cups uncooked white rice

When the rice is done, stir cream and potato flakes into the soup.

1 cup heavy cream,

1 cup instant potato flakes (optional)

Fill each individual bowl with 1/2 cup of cooked rice. Top with soup and stir to combine. Enjoy!
Nutrition
Serving:
6
g
|
Calories:
332
kcal
"No one ever injured their eyesight by looking
on the bright side of things."
~Unknown
Submitted by Jenny.