There is nothing like a homemade fresh strawberry pie!
If any of you have ever had the strawberry pie at Shoney's or Big Boy restaurants, this is likely looking pretty darn familiar. As well it should because it is very similar to that pie – only better. Using my quick and easy mix in the pan pie crust, you can throw together this gorgeous pie quick as a wink! This would be a beautiful dessert on any table – especially at family gatherings such as reunions, Mother's day, or cook outs!
Recipe Ingredients:
Fresh strawberries
Strawberry gelatin powder (I use Jell-O)
Cornstarch
Sugar
Pie Crust Cooked and Cooled
What Pie Crust Do You Use?
You'll also need a cooked and cooled crust. You can purchase one ready made or make my mix in the pan pie crust, which is what I did. It works out wonderfully with this pie! I wanted a bit thicker crust so I made a double and then had room to play with it a bit at the top edges and make it prettier 🙂
Rinse your strawberries and cut the tops off. Also remove any bottoms that are on the un-pretty side :).
Slice each strawberry in half.
In a sauce pot, place your sugar, strawberry gelatin mix, three heaping tablespoonfuls of cornstarch. Stir that up.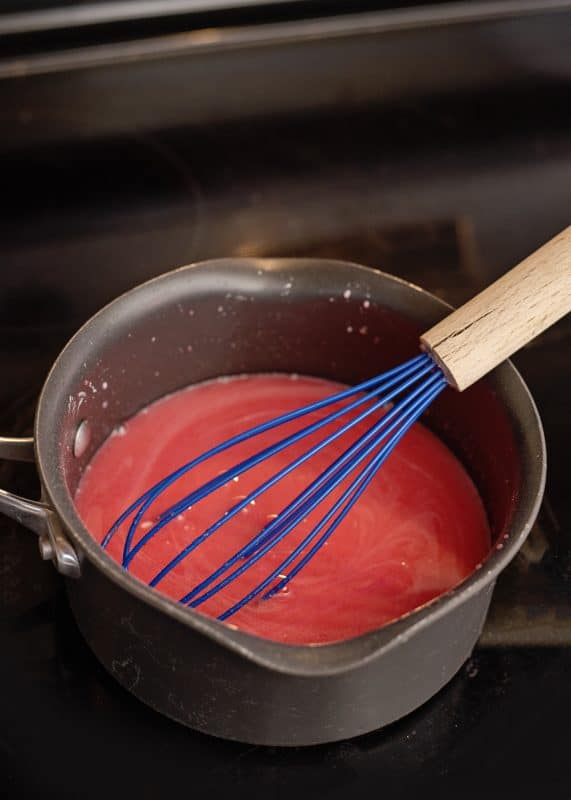 Add water and place over medium to medium high heat, stirring constantly.
Yes, this means you're going to have to stand there for a minute. I like to take this time to close my eyes and have a little mental recollection session as I go over all of the thoughts I haven't been able to complete on that particular day because they were interrupted by family members.
Continue cooking and stirring this until it becomes clear and translucent as you'll see in the next photo.
Remove this from the heat and allow to cool to room temp. If you want to do this quicker, you can always fill a bowl with ice water and dip the bottom of your sauce pan down in it while you stir. You can also stick it in the fridge for a little bit.
Layer your strawberries in the pie crust. Again, this is my homemade mix in the pan pie crust and its easy as…well, easy as pie, of course.
Yes, I'm corny sometimes but in this day and age, corny can be refreshing. Don't you think?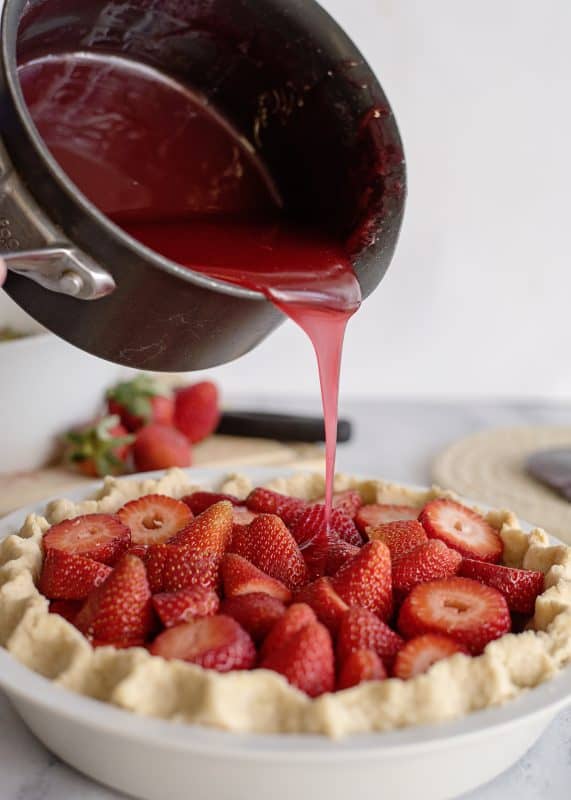 When your liquid has cooled (room temp is fine), pour over the strawberries, making sure to cover them all.
I couldn't leave out this photo, either. Isn't this a beautiful pie?
I cover this and refrigerate it for several hours before serving. In fact, it works beautifully if you make it the day before. Right before serving, you can top with dollops of whipped cream, if you like. Nothing wrong with gilding the lily!
This is my piece. But if you really want…
I'll share. 🙂
Ingredients
1

cup

sugar

1

cup

Water

3

Tablespoon

strawberry gelatin mix

1

Pint

Fresh Strawberries

3

Heaping Tablespoons Cornstarch

1

pie crust

cooked and cooled (The recipe for my crust may be found here. I made a double recipe for a thicker, fluted crust.
Instructions
Combine sugar, cornstarch, and dry gelatin mix in a sauce pot and stir together. Add water and cook until thick and clear over medium high heat, stirring constantly to prevent scorching.

Set aside and let cool.

Wash and hull strawberries, cut in half and arrange in pie crust. When filling is cool, pour over strawberries. Cover and chill pie in fridge until ready to serve. Serve with whipped cream. Think of me when you eat a piece 🙂
Nutrition
You may also like these recipes with strawberries:
How To Make Strawberry Jam; No Cooking, No Canning!
Strawberry Cobbler Recipe by Mama
Cream Cheese Strawberry Cobbler