Symphony Brownies are the showstopper brownie recipe you need in your life.

I have never met a brownie I didn't like but I have to admit that these Symphony brownies, even though they are crazy easy to make, are the most delicious ones I've ever had. Scroll on down if you'd like to jump right to the recipe.
These are the brownies my friend Carol told me about on one of our bus trips to a little village outside of Quito, Ecuador. "Oh! Have you ever made Symphony Brownies? Everyone just loves them!" she began, and I was already writing this post in my head as soon as she said the word "brownie".
This is one of those super easy recipes that your kids will remember growing up with. I can hear our children now "My Mama was always pulling things to get me to laugh…Oh and she made these brownies! Everyone loved them…"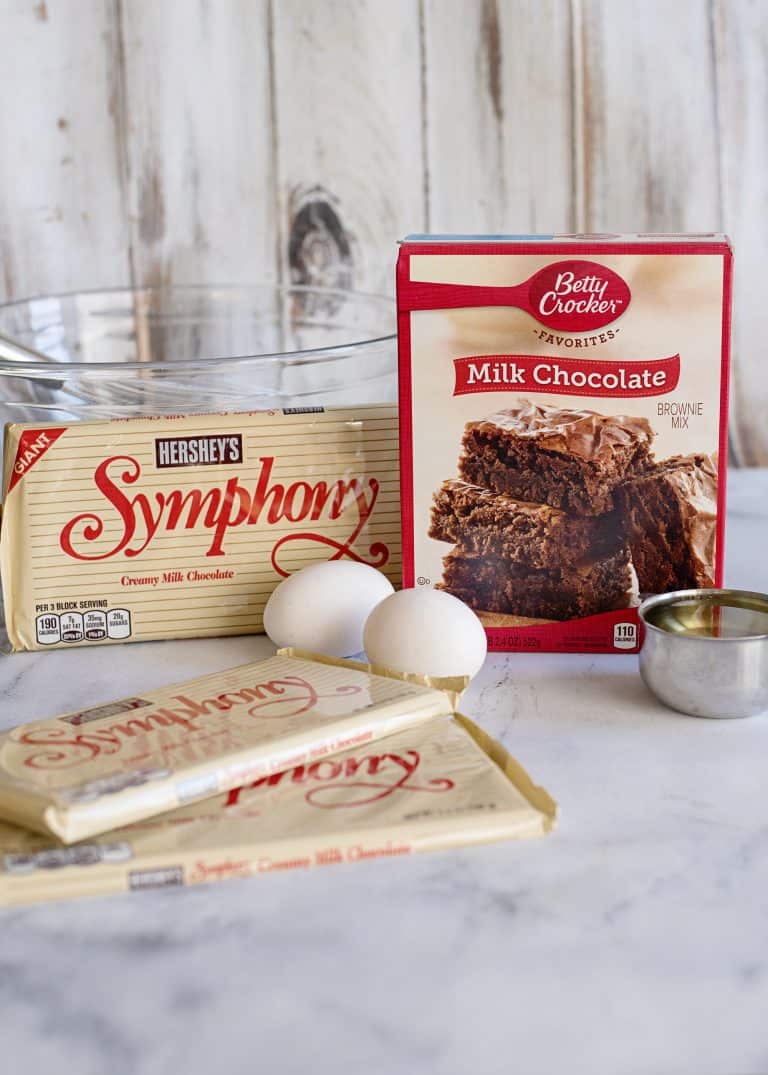 You'll need these ingredients for Symphony Brownies:
Brownie Mix (the box that makes a 9×13 pan)
Two symphony bars.
You'll also need whatever ingredients your brownie mix calls for 🙂
The symphony bars I got are the large 8 ounce ones. You can use any type of chocolate bar you like or even individual chocolates (the mini bars).
Prepare your pan by spraying with cooking spray or by lining with foil and then spraying with cooking spray. If I'm making these to take somewhere and I want to make sure they're all cut pretty, I line it with foil and spray. For us, I just use cooking spray.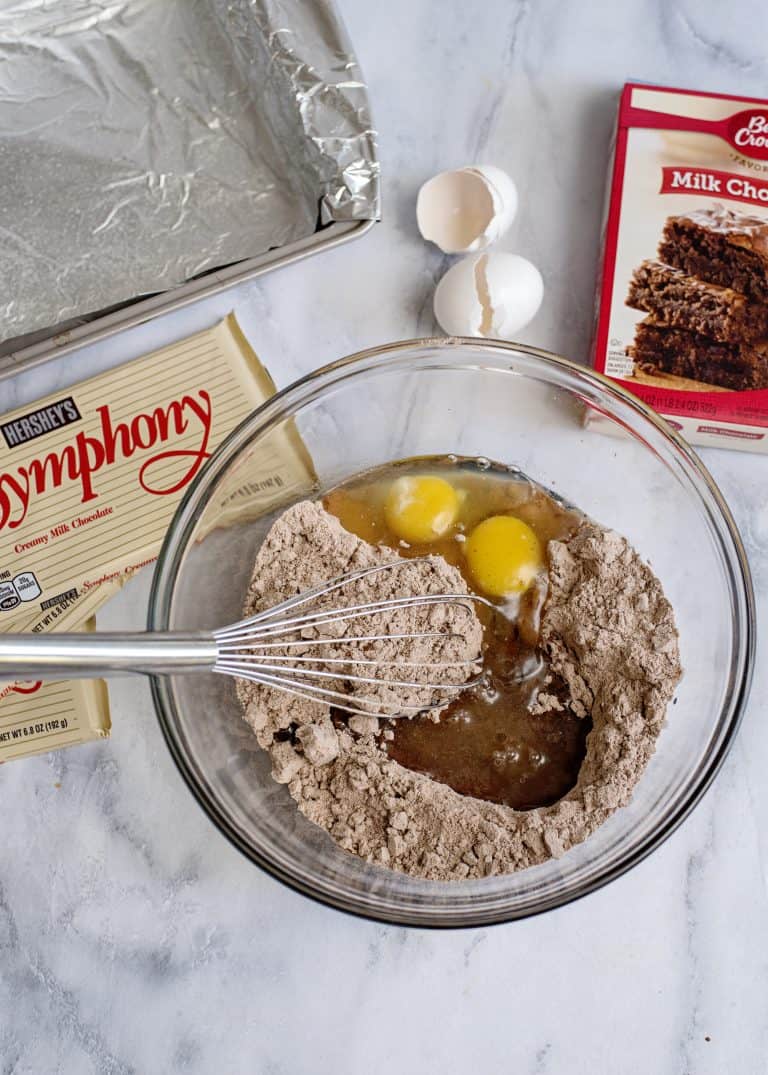 Mix up your brownie mix according to package directions.

Yum! I love me some brownie batter!
Spread 1/2 of your brownie batter into the bottom of your baking dish.
Place chocolate bars on top of the brownie batter. You may have to break it up a little bit to get it to fit but it'll work.
And in the end you'll have brownies…so it's all good 🙂
Pour the rest of your brownie batter on top of the chocolate.
Bake at 325 for 45-50 minutes.
Remove and allow to cool completely.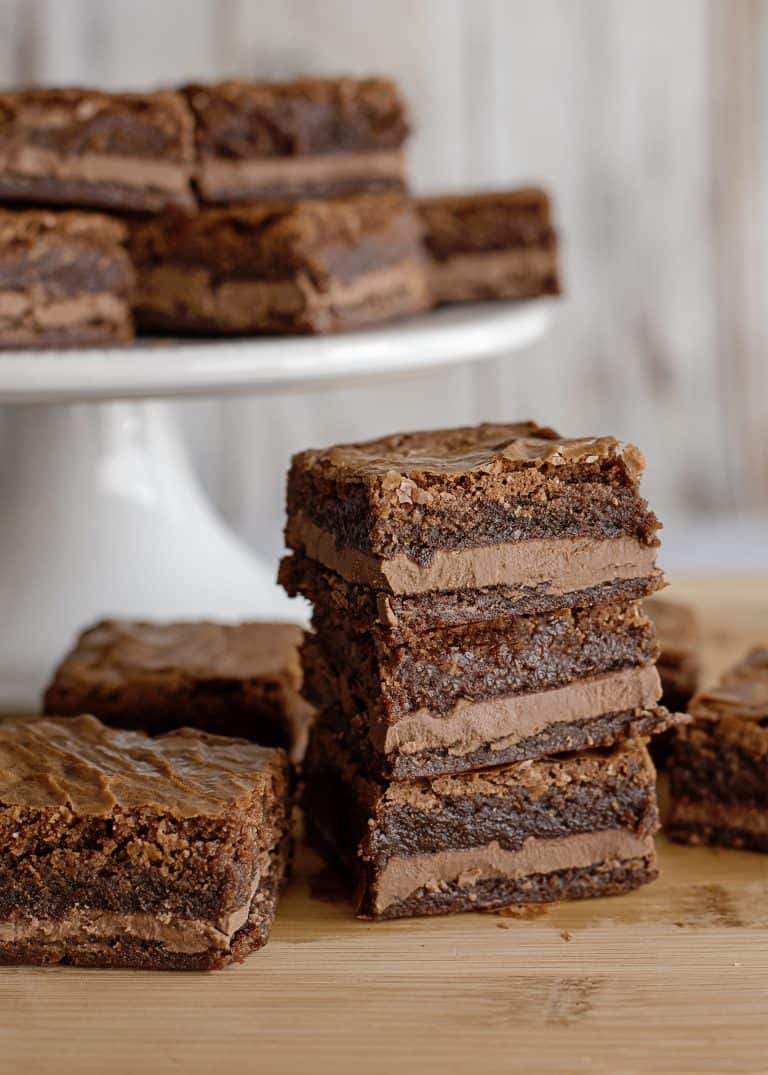 Prepare for well deserved oohs and ahhhs! I think I need to make some of these today, how about you? If you end up making them, share a pic on Instagram and tag @southernplate or post it on my Facebook wall!
Ingredients
1

9x13 size Box Brownie Mix

prepared according to package directions

2

8 ounce

Symphony Bars

can use other milk chocolate bar
Instructions
Spray an 8x8 baking dish lightly with cooking spray. Prepare brownie mix according to package directions.

Spread half of brownie batter in bottom of pan. Top with a layer of chocolate bars. Pour remaining brownie batter over top of chocolate bars and gently spread to cover.

Place in 325 degree oven and bake for 45-50 minutes. Allow to cool completely before cutting. ENJOY! (and believe me, you will!)
Notes
*We want to lower our oven temperature just a bit since these brownies are the amount for a 9x13 pan but we're baking them really thick in an 8x8 pan. Lowering our temperature will help them cook evenly instead of the outside getting done before the middle does.
Nutrition
You might enjoy these brownie recipes as well:
Peanut Butter Brownies with Peanut Butter Fudge Icing