My kids BEG for this Tiger Butter every year! Fortunately, this recipe is as easy as they come!
Today's recipe for Tiger Butter is a form of almond bark that my children absolutely love. We first had it at Swiss Pantry in Belvedere, Tennessee. If you're ever near there, stop and buy anything at all and it will taste wonderful!. This bark isn't quite as sweet as regular bark and really ends up with a peanut butter infused flavor that my entire family gets excited about. You can make this for gifts in easily less than five minutes, too, so it's great for this time of year! Before we dive into that, I wanted to share my heart with you a bit. Thank you in advance for indulging me.
We're in the home stretch leading up to Christmas and I know this is a time where anxieties grow more anxious, tempers have tendencies to flare, and a lot of folks begin to feel like a string stretched so tight you could pluck it and play a tune.
Been there, done that, and start down that road every year but manage to stop and turn around before it's too late 🙂
I've been thinking about this a lot lately, how this year is even more stressful than normal for our country. With many people out of work (I imagine if you are blessed to have a job you still know folks who don't and simply can't find one) and the prices of everything skyrocketing, it's disheartening to say the least to try to come up with additional money to purchase gifts. We've all cut corners. Most everyone I know isn't sending Christmas Cards in order to save that money. My mother and I have made a lot of gifts together this year. We usually do that for friends and staff at the kid's schools but this year we've made many gifts for the kids and grandkids as well.
Mama and I have talked about how Christmas used to be versus how it has become and we've worked to bring it back to a happy medium once more. Still, I know there is a great deal of anxiety and worry. I know a lot of parents will be concerned that Santa might not bring enough.
But you know what? There is nothing new under the sun. We're not the first people to feel this anxiety and we certainly won't be the last.
My parents struggled all year long when we were little, just to be able to provide Christmas for us. Back then, "refunding" was common. Mama would save UPC codes and receipts all year long, scouring newspaper inserts for offers to send them in in exchange for items she could use as gifts. She'd get us dolls, clothes, even a calculator once that we all shared after opening it on Christmas morning. Daddy always worked at least one or two extra jobs but when the holidays rolled around he'd add an additional one, barely leaving time to sleep. They scraped, worked harder, and fretted.  Then, they hoped we'd not be disappointed come Christmas morning.
You know what's crazy though? Knowing how hard they worked and how much they worried, I only remember three of the Christmas gifts from my childhood – and one of those was Dr Pepper flavored Chapstick! Oh, rest assured I got far more than that, but what I'm saying is that with all of their fretting, it's not the gifts that stand out in my memories.
It's the things we did together as a family that I remember when I look back. Mama let us help her make Christmas cookies. Decorating the tree together. Driving around looking at Christmas lights. Special dinners at our grandparents houses. Learning to wrap presents all by myself. Singing Christmas songs at school. Making ornaments out of construction paper and glitter and glue to give our mother.
Christmas has always held a magical quality, but if you think about it, what do you remember most? The gift of Christmas itself, the memories that remain long after the paper and ribbons have been thrown away.
This is the time of year where we're all searching for just the right gift. Where we're budgeting and shopping sales and trying to come up with just one more little thing to make the picture underneath the tree seem perfect.
But we already have so much.
I always wanted a family, for as long as I can remember. I wanted to get married and be a Mama. It seems like yesterday when I was a teenager thinking "I wonder if I'll ever have my own house?" and here I sit, in my own chair in my living room, looking at the tree that my husband and I decorated with our son and daughter. I wondered if I'd ever have someone love me unconditionally, and here it is Christmas, the birth of someone who loved me enough to die for me.
Just thinking about it all in that perspective fills me with so much joy my heart aches close to bursting.
This year there will be fewer presents under a lot of trees. Honestly, those won't be remembered anyway. I've grown weary of spending more money on the gifts that fade. Instead, I'm going to spend more time on the gifts that will stay clear and warm in the hearts of my family for the rest of their lives.
You know, I can honestly walk into a store and not need a single thing on the shelves because everything I could ever hope for is right here around me.
I've already have my Christmas.
 I hope you took a moment to let that sink in before diving into tiger butter because I'm ADHD so I go from life changing moment to "OH LOOK! A SQUIRREL" faster than you can blink.
I made my point, I shared my heart, and now I'm digging in the pantry wanting to cook something with you.
You'll need: vanilla almond bark*, Crunchy peanut butter, and chocolate chips.
*Almond bark doesn't have any nuts in it, that is just a generic name for a chocolate-like candy coating that is commonly used in candymaking.   I say this because I always get several folks asking each year and I like to try to answer questions before folks have to ask them :). However, if you have a nut allergy in your family, the peanut butter is going to be a problem of course. I suggest trying SunButter, which is a substitute that my friend HodgePodge Mom uses a lot.
 Oh! Did I mention you're going to need a rimmed baking sheet lined in waxed paper?
Well now ya know 🙂
I have these wonderful baking sheets I love that I got from Sam's Club. When we were doing photos for my book a few weeks ago, the food stylist came bearing a whole passel of the same ones and we talked about how much we loved them.
Break up your almond bark into a large mixing bowl.
Breaking it up is optional and dependent on my mood. Sometimes I just throw the whole thing in there.
It's gonna melt either way so just do whatever cranks your tractor.
 Place bowl in microwave for about one minute. Stir well.
Microwave at 30-45 second intervals, stirring after each, until bark is melted and smooth.
Add in peanut butter.
Stir until peanut butter is melted and well blended.
Spread onto waxed paper lined sheet.
Place chocolate chips in a small bowl and melt the same way you did the almond bark.
Drop dollops onto your peanut butter mixture.
Kinda swirl it a little bit with a butter knife until it looks good from ten yards on a galloping horse.
My standards of perfection are pretty low 🙂 but I stay a whole lot happier a whole lot longer that way!
Place in the refrigerator to harden or, if you're one of those patient people I've heard folks speak of in legends, allow it to sit out on your countertop at room temperature until fully hardened. If it's cold where you live, you can also just put it outside 🙂
Once it's hardened, break into pieces and store in an airtight container.
ENJOY!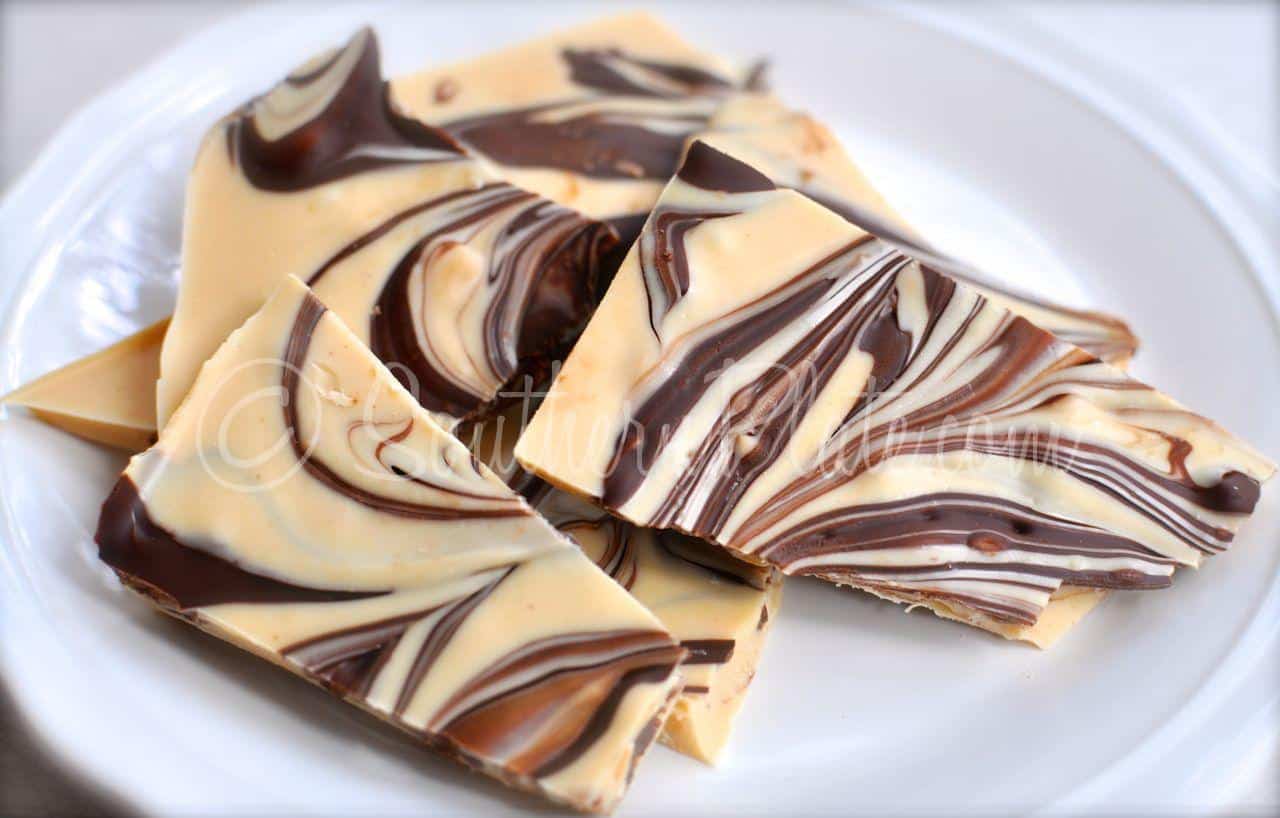 Ingredients
1

package

24 ounces white almond bark

1/2

cup

crunchy peanut butter

1

cup

semi sweet chocolate chips

Milk chocolate will work fine too
Instructions
Line a rimmed baking sheet with waxed paper. Set aside

In large mixing bowl, break up almond bark as best you can (or you can just toss the whole thing in). Place bowl in microwave for about one minute. Stir well. Microwave at 30-45 second intervals, stirring after each, until bark is melted and smooth.

Stir in peanut butter until melted and well blended.

Spread out onto waxed paper lined baking pan.

Place chocolate chips in a small bowl and microwave at 30-45 second intervals, stirring after each, until smooth and melted.

Drop dollops of chocolate onto peanut butter mixture in pan. Swirl with a knife.

Place baking sheet in refrigerator until hardened or allow to harden completely at room temp.

Break into pieces and store in an airtight container.
For more quick and easy recipes using almond bark, see below.
Holly Jollies – with endless variations, this is one of the most popular recipes on Southern Plate and a must do for Christmas gifts!
Double Layer Peppermint Bark – this beautiful bark sells in stores for a small fortune, but you can make it at home for just a few dollars.
"Never worry about the size of your Christmas tree.

In the eyes of children, they are all 30 feet tall." 

~Larry Wilde
Yum