Top to Bottom Turkey and Cheese Bread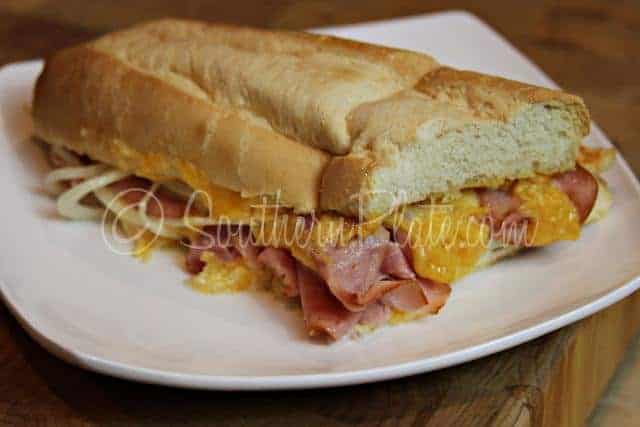 Today I'm excited to bring you a guest post by the guy who I'm pretty sure is my long lost twin. Except for the fact that we look nothing alike, have never lived in the same town, have about ten years or so between us age wise (I'm not saying who is the oldest) and we don't even have the same blood type (hey, I'm thorough), if you were around us, you'd swear we were twins too.
Stacey has been part of the Southern Plate Family for quite some time but I had the pleasure of meeting him and his wife back in October on my book tour when they showed up with a basket of cookies so divine that I'm not going to tell you what they are called because I'm going to make him do another guest post on them soon (oh yeah, Stacey, I meant to tell you that). I then got to hang out with Stacey again at Food Blog South, where we were both speakers.
We got along like peas and carrots the whole weekend. My friend Jyl said he's the first person she's met who talks as much as I do (he really does, I was impressed! I think we speak the same number of Words Per Minute, too!).
The funny thing about Stacey is that we seem to think the same thoughts, but he actually voices them. The last night of Food Blog South, we were at a fancy dinner and the chef was describing in great detail how he prepared each dish, then he got to the part about describing the polenta. I was thinking "ok, got it, fancy grits" but I just about shot ice water out my nose when Stacey leaned in at that exact moment and whispered with a playful smile "Okay, now that would be grits…"
When I saw this recipe on his food blog, Southern Bite, I knew I had to bring it to you. Better yet, I knew I had to make Stacey bring it to you (I just love it when a man does the work, don't you?) and so I asked and he graciously agreed. I know you'll enjoy getting to know Stacey as much as I did. Who knows, maybe he's your twin, too?
Hello to my Southern Plate family! First let me just say how honored and overwhelmed that I am able to share this simple, but yummy recipe with y'all. When Christy asked me to do a guest post, I was happier than a hog in slop to share one of my recipes with SP, but being able to share this particular recipe makes it even better, because it's my Mama's.
You know, I was thinking the other night about what profound things I could share with you all and thinking about this recipe and it just kinda hit me. Just being able to share my food and the food of generations of my family with others is exactly why I do a food blog. All this "thinking" surrounded what would have been my great-grandmother's birthday; she would have been 98 years old on the 2nd. And (yes, I just started a sentence with "and" – I'm a rebel like that) I guess it was all this that made me realize why I take the time out of my day to work up recipes or reinvent old ones to share. I don't often get an opportunity to share with folks what amazing people my ancestors were, but here in this format, I can share a part of them with others in the food they prepared and shared with their family. My sweet Bigmama passed away without anyone getting her recipes and I guess in some way as a food blogger I am able to capture and share my family's food for generations to come.
This recipe is a special one for me to be able to share because it involves several very special people in my life. For years my Mom had always served this gooey deliciousness any time she made potato soup. We never really had a name for it. It was just that ham-bread-stuff. Not long after my wife (Heather) and I began dating in high school, she got the chance to taste this ham-bread-stuff. It quickly became her favorite thing for Mom to make and she requested it frequently. And (oops there I go again with that "and") by frequently I mean all the time. She even dreamed about it. But Heather wasn't satisfied with it not having a name. One night during a dream about it she called it Top to Bottom Ham and Cheese Bread and shared the crazy title with us the next day. The name stuck and we've been calling it that ever since.
To my Southern Plate Family: Y'all enjoy!
To my sweet, sweet friend Christy: Thanks for all you have done for me and all you have done and continue to do for families and for Southern food!
To get started, you'll need: two loaves of crusty french bread, 2 cups of finely shredded sharp cheddar cheese, 1 cup of mayo, about 9 ounces of thinly sliced smoked turkey, and about half on a medium sized onion thinly sliced.
Slice the two loaves and bread in half.
Next, combine the mayo and cheese.
Now spread the cheese/mayo mixture on both sides of both loaves of bread.
Place the turkey and onion on top.
Not everyone in my family is a big fan of onions, so you can leave them off if you want.
Wrap the sandwiches in aluminum foil and bake at 350 degrees for 15 to 20 minutes or until the cheese is melted and the sandwiches are heated through.
Ingredients
2

loaves crusty french bread

2

cups

finely shredded sharp cheddar cheese

1

cup

mayo

9

oz

roughly thinly sliced smoked turkey

1/2

medium onion

thinly sliced
Instructions
Cut the loaves of bread in half lengthwise as if you're going to make a sandwich.

Combine the 1 cup mayo and 2 cups shredded cheddar cheese in a bowl and spread on both sides of both loaves of bread.

Place thinly sliced onion and turkey in each sandwich to your liking.

Wrap sandwiches in aluminum foil and and bake in 350 degree oven for 15 to 20 minutes or until until cheese is melted and the sandwiches are heated through.
Nutrition
Not all who wander are lost.

-JRR Tolkien

Submitted by Kristin. Submit your quote by clicking here. (I'm always looking for new quotes and don't worry about whether or not it's a quote I already have, that just means I need it again 🙂 )