Big Fat Greek Taters are a favorite in my house and I think the'll be in yours as well!
My husband is a meat and potatoes type guy. Before we met, he was very basic in his food choices but being married to me (bless his heart) has forced him to expand his horizons. He tried to stick with the "potatoes and Mac and cheese are my only vegetables" attitude for as long as he could but a few years back I sat down and said "You're over forty now, your body would appreciate a green bean every now and then." This is what good wives say, right? 😉 To that, I added "You know, everything you eat doesn't have to be your favorite."
Apparently, that was a light bulb moment for him because these days, he eats broccoli, green beans, the occasional cabbage, and his favorite side dish is asparagus. Now with each of these, his favorite way of having them cooked is roasted in olive oil. We have become olive oil devotees in our house. So from time to time I still make his lifelong favorite, roasted red potatoes. Only now, they're roasted, too, seasoned just right and roasted in olive oil with a squeeze of lemon to brighten things up a bit. Red potatoes are my absolute favorite for this recipe because of the added garden fresh flavor that comes from the skins but you can use whatever type of potato you have on hand.
You'll need 5-6 medium sized red potatoes. Red potatoes are my favorite for this but any potato will work. You'll also need Olive oil, Oregano, Kosher Salt, and a bit of Lemon Juice.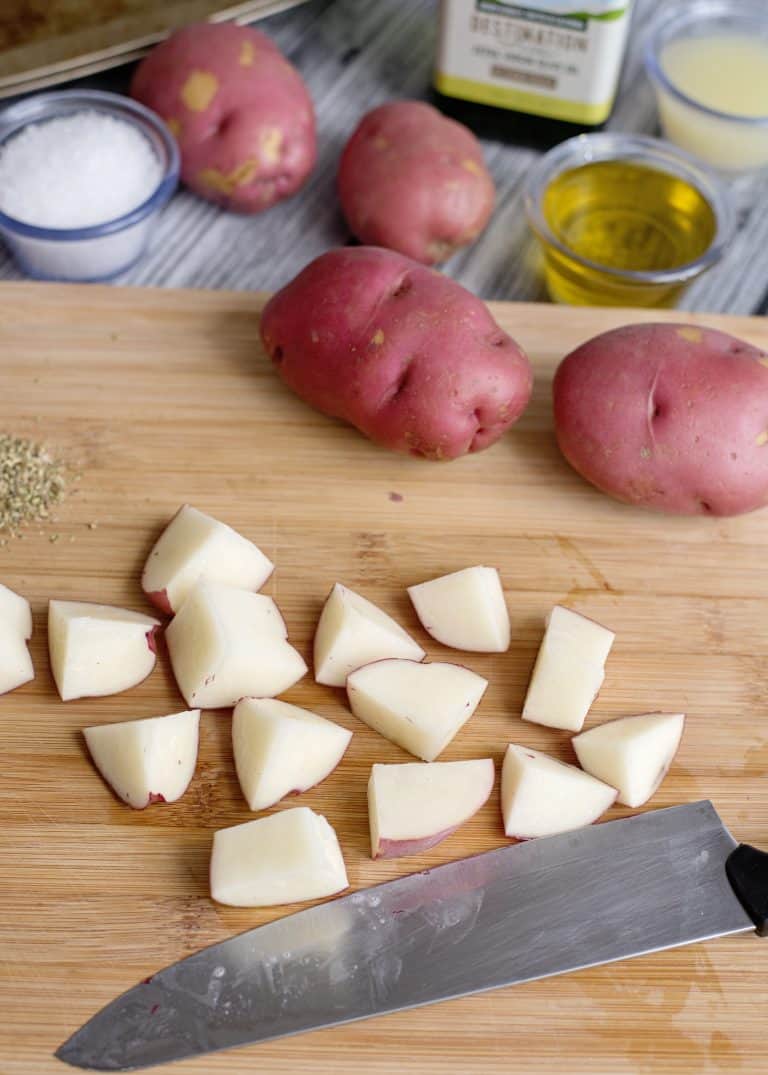 Chop your potatoes up into bite sized pieces. Make sure to leave the skins on so they will be extra flavorful.
Spread potato chunks out in a single layer on a rimmed baking sheet.
Drizzle with oil and lemon juice, toss to coat. (I just use clean hands to toss them around a bit, then wash my hands again). Sprinkle with oregano and salt. Big Fat Greek Taters coming up!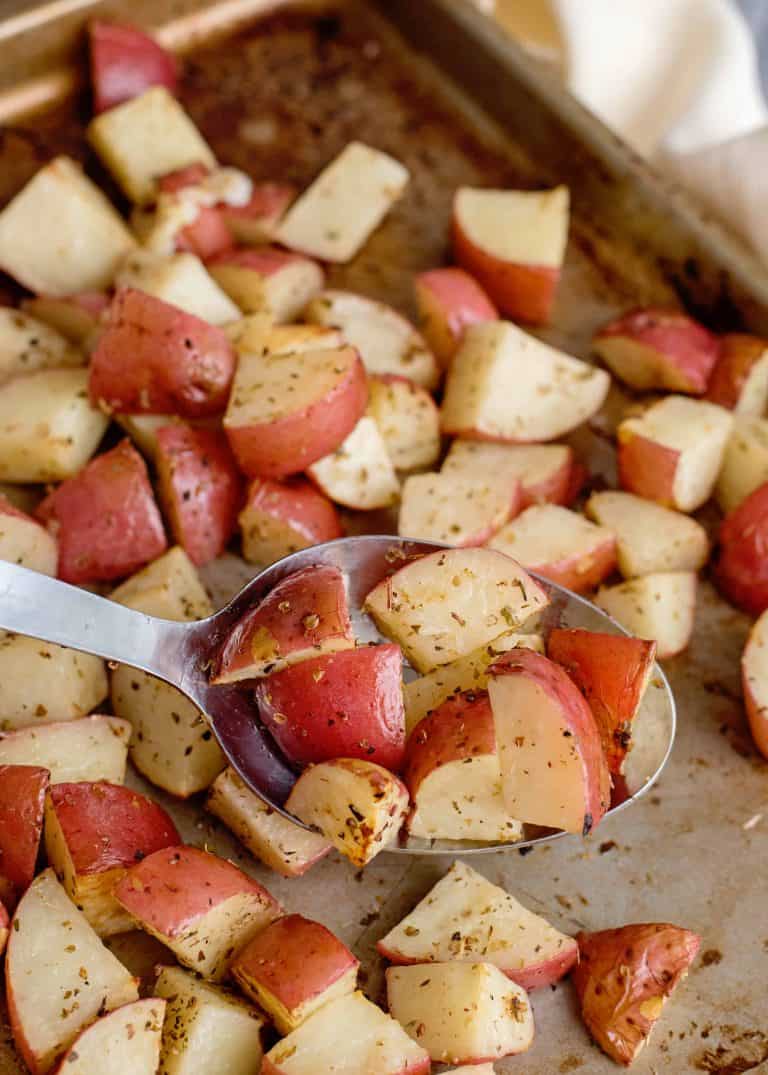 Bake at 375, stirring halfway through, until lightly browned at the edges and tender, about thirty minutes.
Big Fat Greek Taters are ready to enjoy!
Ingredients
5-6

medium

red potatoes (about two pounds), washed with skins still on

2-3

tablespoons

olive oil*

1-2

tablespoons

lemon juice

1

tablespoon

dried oregano

1

teaspooon

kosher or himalayan salt
Instructions
Preheat oven to 375. Cut each potato into bite size chunks. (do not peel potatoes)

Place potato chunks in a single layer on a rimmed baking sheet. Drizzle with olive oil and lemon juice. Stir to coat, then sprinkle with oregano and salt.

Bake, stirring halfway through, until tender and lightly browned at the edges, about 30 minutes. Enjoy!
Notes
*This recipe first appeared in my second cookbook, Come Home To Supper. In the original the recipe called for 2-3 teaspoons of olive oil rather than tablespoons. I'm more generous with the olive oil these days but you can use more or less if you prefer. 
This recipe featured on Meal Plan Monday and Weekend Potluck! You may also enjoy: How To Perfectly Roast Any Vegetable
Click here to see all of my picture quotes.
Follow me on Instagram to see them first.
Yum