My easy lemon parmesan chicken recipe includes tender baked chicken breast marinated in lemon juice with a flavorful herb and parmesan cheese topping.
This is a fabulously flavored lemon parmesan-crusted chicken recipe. For me, it's so bright and just feels like summer on a plate. I actually based this recipe on a parmesan-encrusted tilapia recipe in my second book, Come Home To Supper, because my husband liked that so much. Note: this recipe is pretty far off the path of the tilapia one so if you want to make that, check out the original in my book.
This low-carb baked chicken recipe is easy as can be to pull together and most of the "work" is just waiting on it to cook. The first step is to marinate the skinless chicken breast in the lemon juice for about an hour so it soaks up that tangy lemon flavor. Then we cook each chicken breast in a skillet until brown. The final step is to mix together the cheese topping ingredients, add them to each breast, and bake! Our topping includes shredded parmesan cheese, dried basil, mayonnaise, and salt. I just know you'll love the taste of the tender lemon-flavored chicken breast with the crunchy and creamy cheese topping.
This is one of those chicken recipes that makes a great weeknight supper, Saturday lunch, or Sunday dinner to add to your files. I've included lots of serving suggestions below, but this main dish tastes delicious on a bed of mashed potato if I do say so myself. Y'all ready to cook? We gotta eat eventually, so let's get started…
Recipe Ingredients
Boneless skinless chicken breast
Mayonnaise
Grated parmesan cheese
Dried basil
Bottled or fresh lemon juice
Salt
Unsalted butter
How To Make Lemon Parmesan Chicken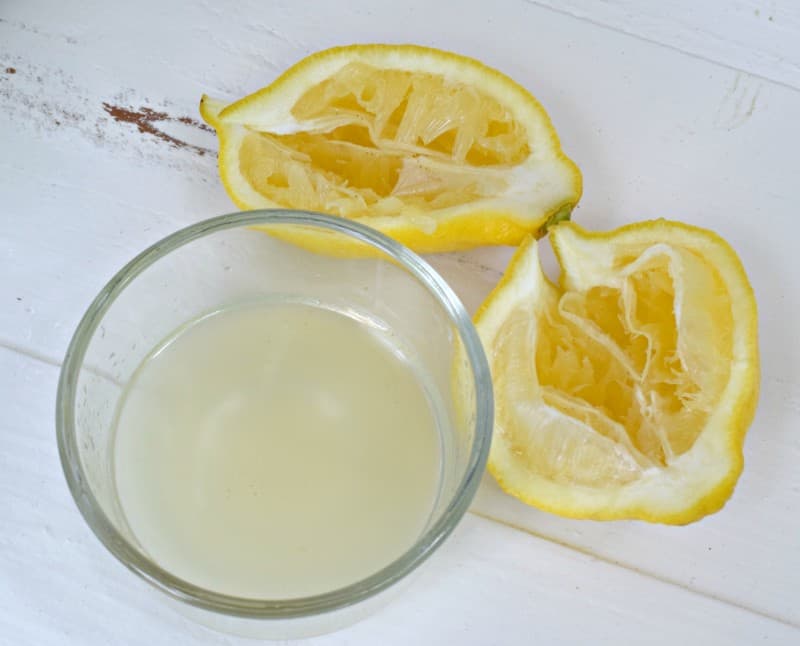 Cut your lemon and squeeze out the fresh lemon juice.
Now listen, don't freak out over the size of the lemon. Any lemon will work. If it's small, you'll have a little less juice, if it's big you'll have a little more juice. No big deal either way. If you don't want to buy a lemon, you can use bottled juice. Remember, you are the boss of the recipes in your house.
Place chicken and lemon juice in a zipper seal bag and seal.
Place this bag in the refrigerator, turning every now and then (when you think about it) for about an hour (or so).
You don't have to put your lemon slices in the bag but I do because, well because I want to. I think it helps with the flavor.
Before you get started cooking your chicken, place shredded parmesan cheese, mayonnaise, 1/2 of the butter, dried basil, and salt in a mixing bowl.
Stir together until thoroughly combined.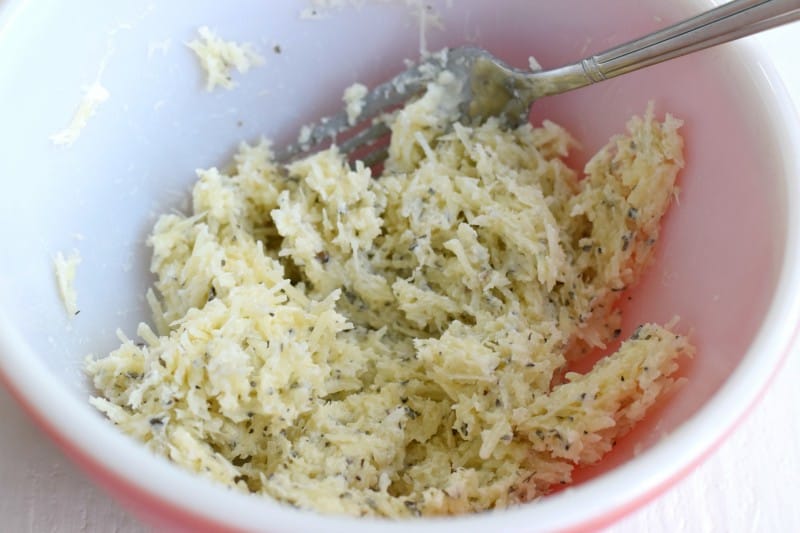 When the parmesan mixture is all stirred up together it will look like this and you may think, "that is not enough cheese for all of this chicken", but it is. It really, really is.
Time to cook!
Place the remaining butter in a large skillet over medium heat and let it melt.
Add chicken (lemon juice and all) and cook until lightly brown on both sides and no longer pink in the center, turning once during the cooking process.
This will take anywhere from 15 to 20 minutes or so, depending on how thick your chicken is and the temperature of your stove eye or burner for the non-Southerners out there.
Here is our cooked chicken breast.
Once the chicken is fully cooked, transfer it to a baking dish or a rimmed baking sheet.
I am using this enamel pan that also happens to be the perfect size for a batch of biscuits. Check it out on my Preston Rolls post if you'd like.
Spread your cheese mixture over the top of each piece of chicken.
Place this in a 350-degree oven for about 10 minutes to finish off the chicken.
Now you may be thinking, "that cheese is going to melt and go everywhere". But it really isn't. This mixture is gonna sit happily, melt, and pretty much stay put. Don't believe me? See below!
Serve your lemon parmesan chicken immediately.
I like to include some extra lemon slices or a lemon wedge or two in case folks want to add a little extra burst of citrus to theirs.
Storage
Store leftovers in an airtight container in the fridge for up to 4 days. I recommend reheating briefly either in the oven or air fryer to get a crispy topping again.
Recipe Notes
If you're using bottled lemon juice, 3 tablespoons will work.

If you're using fresh

, don't chuck out the

rind. Instead, add some

to the marinated

.

For garlic lemon chicken, add 2 minced garlic cloves or 2 teaspoons of garlic powder to the cheese mixture.
I'm just using shredded parmesan cheese, but you can grate fresh parmesan cheese as well.
For extra flavor, substitute the dried basil for Italian seasoning.

For extra crunch, add a handful of regular

or

to the

.
Recipe FAQs
Can I use a different cut of chicken?
Yes, you can use bone-in chicken breasts or chicken thighs if you like. However, you'll need to watch it and adjust the cooking time according to when your chicken gets done. I can't tell you the cooking time for other cuts because I always just use boneless skinless breasts but you got this!
How do you serve lemon chicken?
There are so many ways to serve lemon chicken:
Check out these other easy chicken recipes:
Broccoli and Cheese Stuffed Chicken Breast
Fried Chicken Cordon Bleu, Southern-Style
3-Ingredient Ritz Cracker Chicken
Blackened Chicken Recipe With Cheese Topping
Ingredients
3-4

boneless skinless chicken breasts

1

lemon

plus one for garnishing if you like

1/2

cup

unsalted butter at room temp

1/2

cup

grated parmesan cheese

3

tablespoons

mayonnaise

1/2

teaspoon

salt

1/4

teaspoon

dried basil
Instructions
Place chicken breasts in a gallon zipper seal bag. Juice lemon and pour juice into the bag. Seal and place in the refrigerator for about an hour, turning every now and then.

3-4 boneless skinless chicken breasts,

1 lemon

Place 1/4 cup of butter in a large skillet over medium-high heat until melted. Add chicken breasts (and juice in the bag) and cook, flipping as needed, until browned and no longer pink in the center (15 to 20 minutes).

1/2 cup unsalted butter at room temp

In a small bowl, stir together the remaining butter (1/4 cup), mayo, parmesan cheese, salt, and basil until fully blended.

1/2 cup grated parmesan cheese,

3 tablespoons mayonnaise,

1/2 teaspoon salt,

1/4 teaspoon dried basil,

1/2 cup unsalted butter at room temp

Remove cooked chicken from skillet and place on baking sheet. Spread the cheese mixture evenly over the top of each chicken breast. Place in a 350-degree oven for about 10 minutes or until cheese is melted.

Serve with slices of fresh lemon, if desired.
Video
Nutrition