Buttermilk Congealed Salad
This buttermilk congealed salad recipe is the definition of a Southern delicacy. The fruity-flavored creamy Jello salad is so refreshing to dive into on a hot summer's day.
You might be wondering what exactly is a congealed salad. Often called Jello salad, it's a retro Southern treat that became popular in the 1930s when food was scarce and gelatin was cheap. Door-to-door salesmen carried a wide array of it and my grandmothers used to delight in purchasing a multitude of what was likely the only convenience food they could afford.
The popular Southern side dish is made with flavored gelatin (such as Jello), fruit, vegetables, and/or nuts. Some options include cream cheese and sour cream rather than buttermilk, chopped walnuts or pecans for an extra crunch, and celery or carrot for a refreshing alternative. People usually serve it in a molded shape but scooping it in an ice cream dish is just fine too!
Now, my version of congealed salad includes buttermilk, strawberry gelatin, and crushed pineapple. The combination of the tropical pineapple with the salad's creamy and crunchy texture is divine. Congealed salad is very popular in the South, and in particular around the holidays, so I highly recommend giving it a go. It's so easy to make with just a few simple steps.
You can also use whatever gelatin is your favorite, whether that's peach, orange, cherry, lime, or strawberry like me. If you're going for a Christmas theme, I highly recommend using strawberry, cherry, or lime jello. Enjoy!
Recipe Ingredients
Buttermilk
Gelatin (I use sugar-free gelatin, but you can use whatever you prefer).
Whipped topping (I use Cool Whip)
Crushed pineapple can
Helpful Kitchen Tools
How To Make Buttermilk Congealed Salad
Place pineapple and juice in a pot.
Bring them to a boil.
Add gelatin powder.
Mix well, then remove the gelatin mixture from the heat.
Add buttermilk.
Stir ingredients together.
Now we're going to let this cool for 20 to 30 minutes.
Next, stir in the whipped topping.
Until it looks like this!
Now refrigerate to your desired texture (I recommend at least four hours or overnight).
Now it's time to serve!
I just pop my salad in glasses, but if you use a mold you can slice it like a cake.
You can also opt to add some whipped cream on top if you like.
But I'm going to dig in as is! Yummo!
Storage
This congealed salad can be stored, covered, in the fridge for up to five days.
Recipe Variations
If you like, you can add some chopped celery, chopped walnuts, or chopped pecans to your congealed salad. I'd add up to 2 cups in total.
Another option is to add more canned fruit with the pineapple, like canned mandarin oranges or fruit cocktail.
Remember you can use whatever jello you like. Lime jello is one of the most popular congealed salad flavors!
Recipe FAQs
What does congealed salad mean?
Congealed salad is a salad made from gelatin combined with fruit, vegetables, and/or nuts.
When did congealed salads first become popular?
Congealed salads first became popular in the Southern United States in the 1930s.
Can you freeze congealed salads?
No, it's best not to freeze this buttermilk salad. Because it contains gelatin, it won't freeze properly. Fortunately, it lasts up to five days in the fridge.
How do you unmold a congealed salad?
If you want to go the traditional route and use a mold or bundt pan, first spray the mold with nonstick cooking spray before adding the ingredients. Then to remove the buttermilk salad from the mold, I recommend placing it in a shallow pan filled with hot water. Take a sharp knife and carefully separate the salad from the mold around the edges. Then after a couple of minutes, turn the mold upside down and deposit the salad onto a serving plate. If it doesn't come out, repeat this process.
Can you make this congealed salad ahead of time?
Yes, it's best to refrigerate the buttermilk salad overnight. So making it one or two days in advance is actually recommended.
Is congealed salad the same as gelatin salad or Jello salad?
Yes, all of these salads refer to the same dish.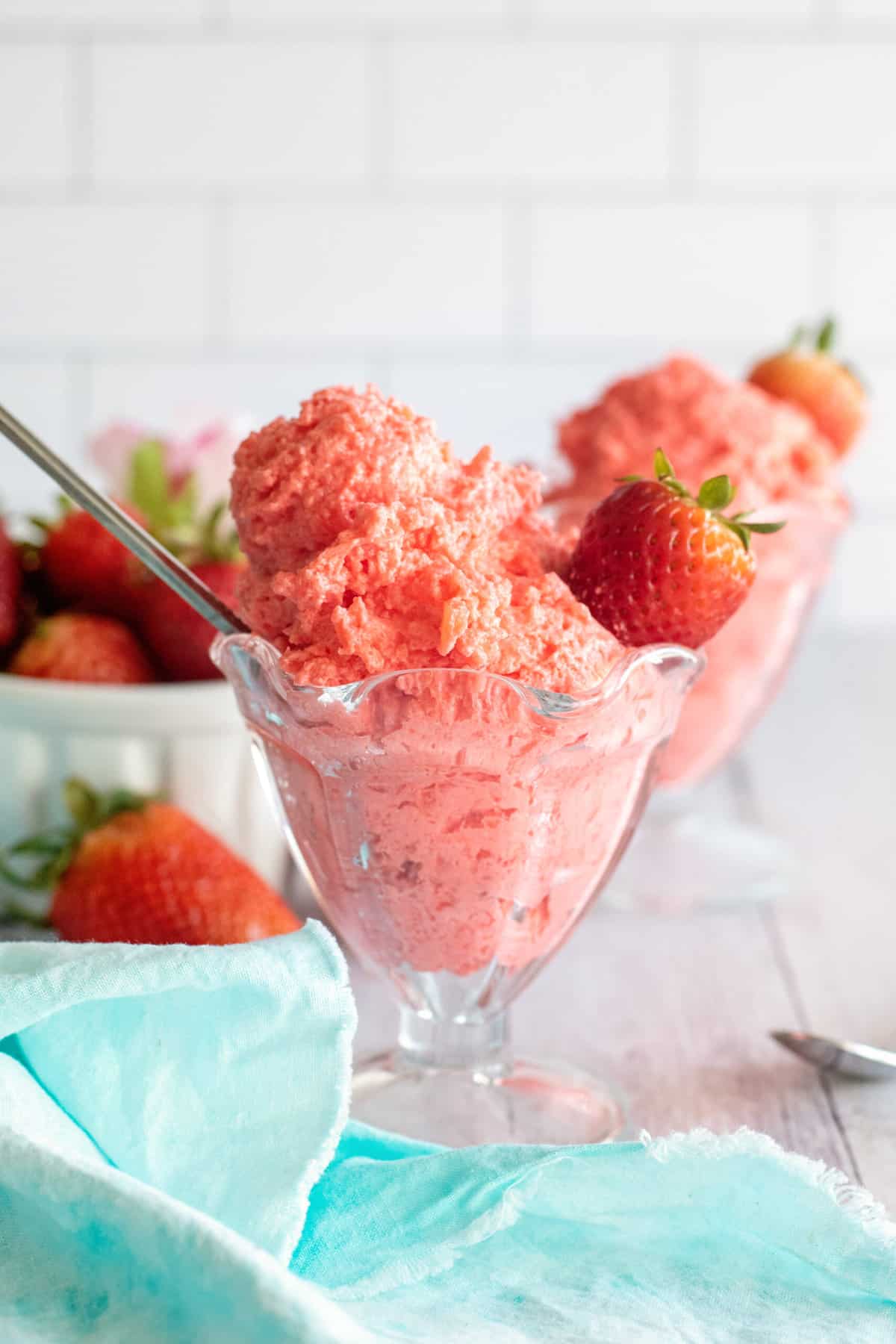 Ingredients
1

20-ounce can

crushed pineapple

2

cups

buttermilk

8

ounces

whipped topping, thawed

2

small boxes

gelatin of your choice

y
Instructions
Heat pineapple in juice and bring to a boil.

1 20-ounce can crushed pineapple

2 small boxes gelatin of your choice

Remove from heat, add buttermilk, and stir.

Allow it to cool for 20 to 30 minutes.

8 ounces whipped topping, thawed

Refrigerate to your desired texture. I recommend four hours or overnight.
Nutrition
You may also enjoy these other holiday salad recipes:
Fresh Fruit Salad with Lemon Honey Dressing
Grandmamas Holiday Fruit Salad
Fruit Salad With Vanilla Pudding