Twinkie Cake (No Bake Recipe)
This easy Twinkie cake recipe starts with a layer of soft and creamy Twinkies before you add sweet vanilla pudding, refreshing fruit pieces, fluffy whipped topping, and crushed nuts to make the ultimate no-bake summer dessert.
I have one of my dear readers, Miss Mary Anne, to thank for sending me this Twinkie cake recipe. This isn't a cake that tastes or looks like a Twinkie. It's in fact made with Twinkies, which is even better, am I right?
A little look at the history of Twinkies
Did you know Twinkies have been around since 1930? They were invented by bakery manager, Jimmy Dewer at Continental Baking Co. in River Forest, Illinois. He named them Twinkies after being inspired by a "Twinkle Toe Shoes" billboard. The American snack cake is famous for its airy golden sponge cake and fluffy vanilla cream filling. But the first Twinkies actually had a banana cream filling, before changing to vanilla during WWII when they rationed bananas. Today, about 1,123 Hostess Twinkies are produced every minute and you can get them with vanilla, chocolate, and banana filling year-round.
This easy Twinkie cake recipe is a no-bake refrigerator cake, making it the perfect summer dessert. It includes a layer of halved Twinkies, which is topped with vanilla pudding, crushed pineapple, banana slices, whipped topping, and crushed nuts. It's so easy to make as all you have to do is construct the layers, which takes no time at all. Then you pop it in the fridge to set and let the flavors mingle together.
I don't think you'll find a more refreshing summer cake. The combination of the sweet vanilla pudding, fruit pieces, fluffy whipped cream, and soft cake just melts in your mouth, leaving you wanting a second slice… and a third. Trust me, I know! Luckily, this no-bake Twinkie cake is so simple to make that you can enjoy the fruits of your labor sooner.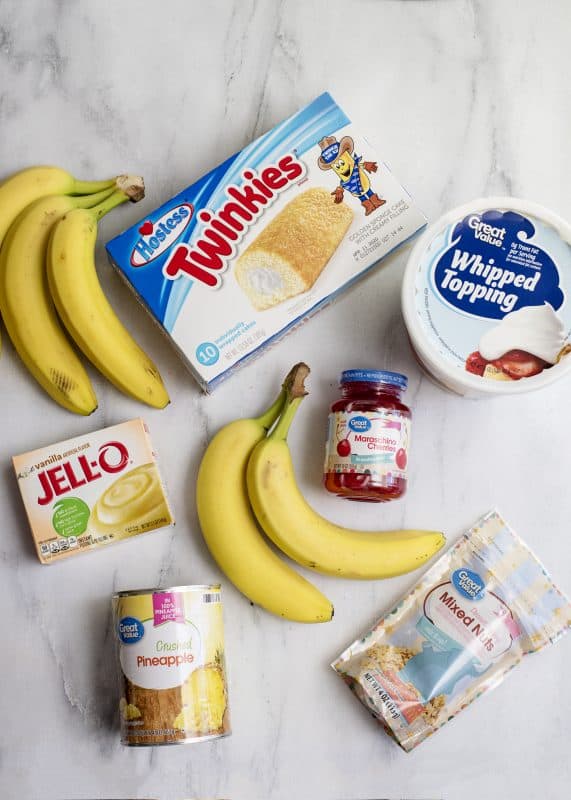 Recipe Ingredients
Twinkies
Bananas
Frozen whipped topping (like Cool Whip)
Vanilla instant pudding mix
Crushed pineapple
Maraschino cherries
Chopped nuts
How to Make Twinkie Cake
Slice each Twinkie in half lengthwise.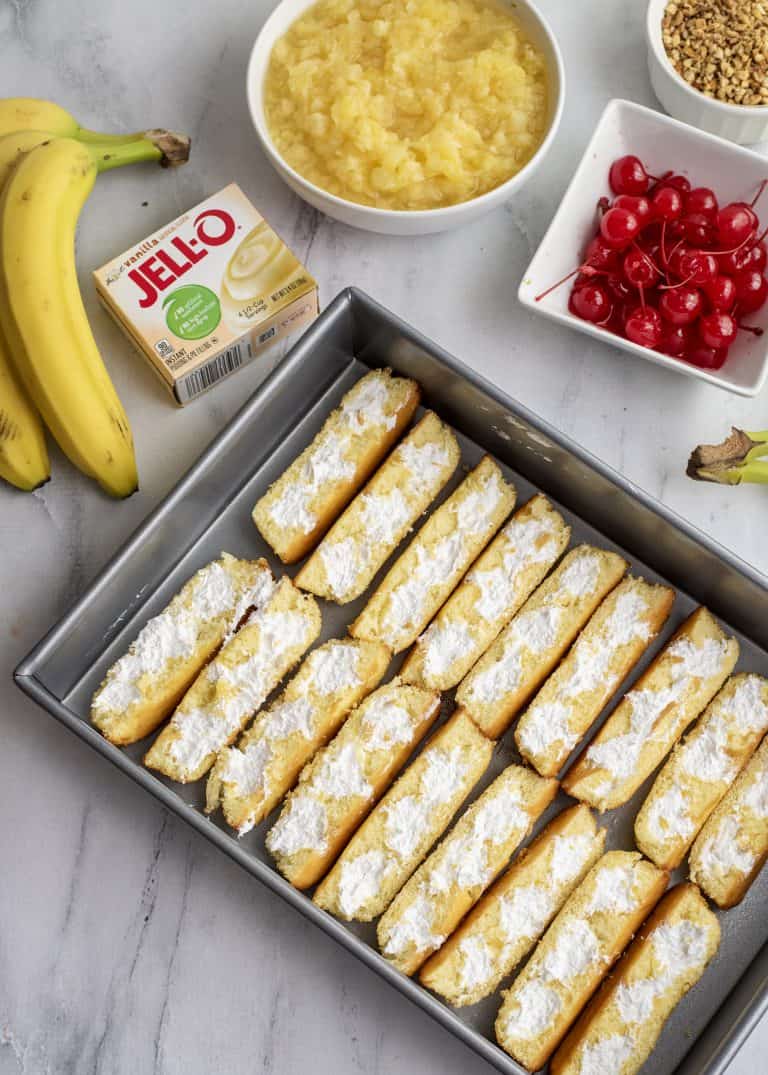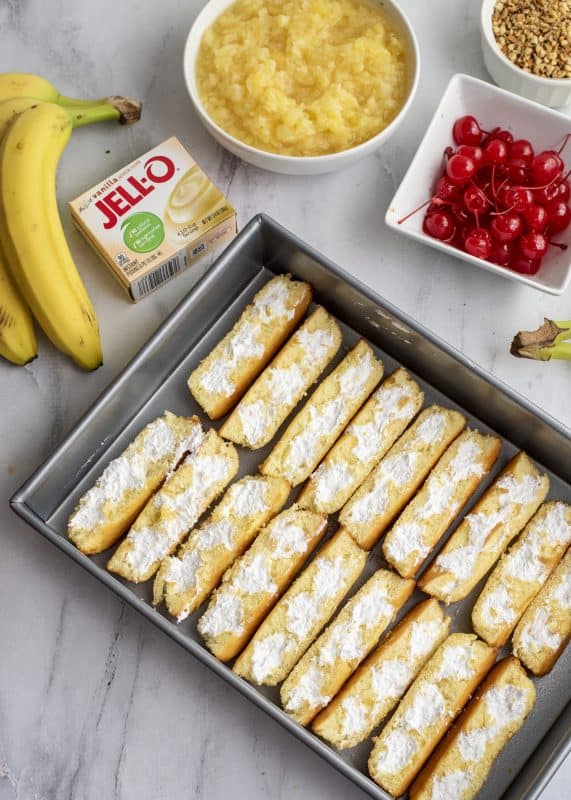 Place the cream side up in a 9×13-inch baking dish.
You'll only need nine Twinkies for this and the box comes with ten.
Miss Mary Anne says that the last one is to enjoy with your coffee and I say Miss Mary Anne is wise beyond her years 😉.
Next, you're going to mix up your pudding.

We just do this according to package directions.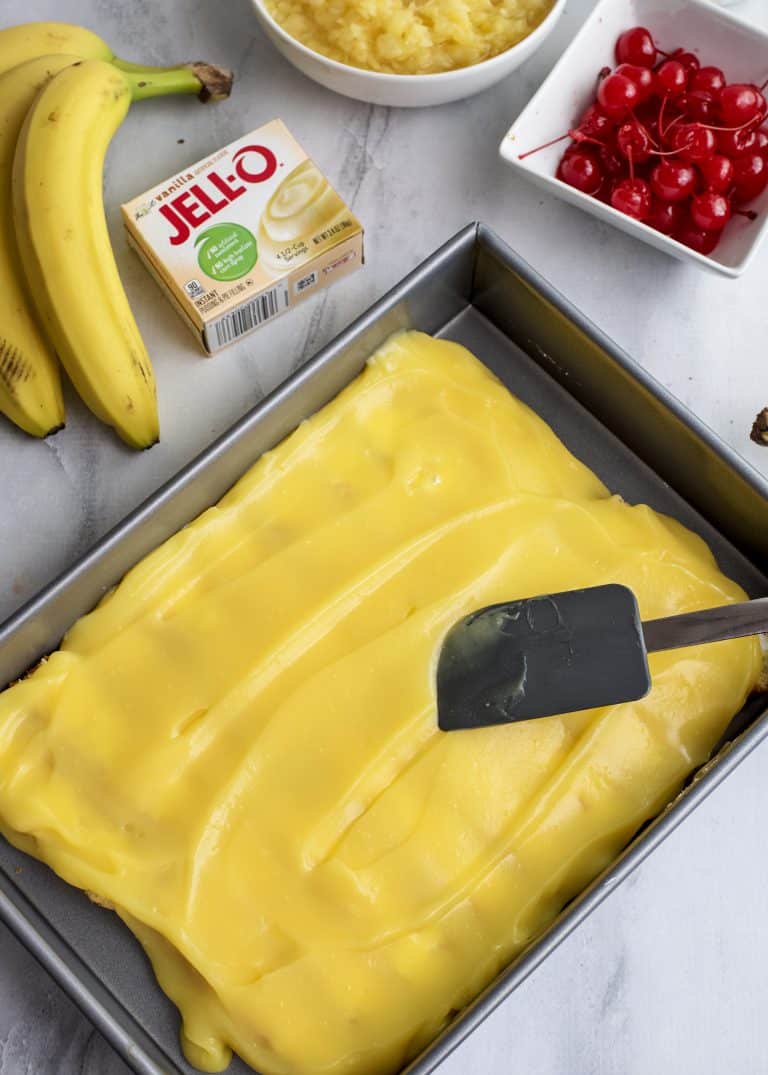 Spread that pudding over the top of your Twinkies.
Drain your pineapple and spread it over the top of your pudding.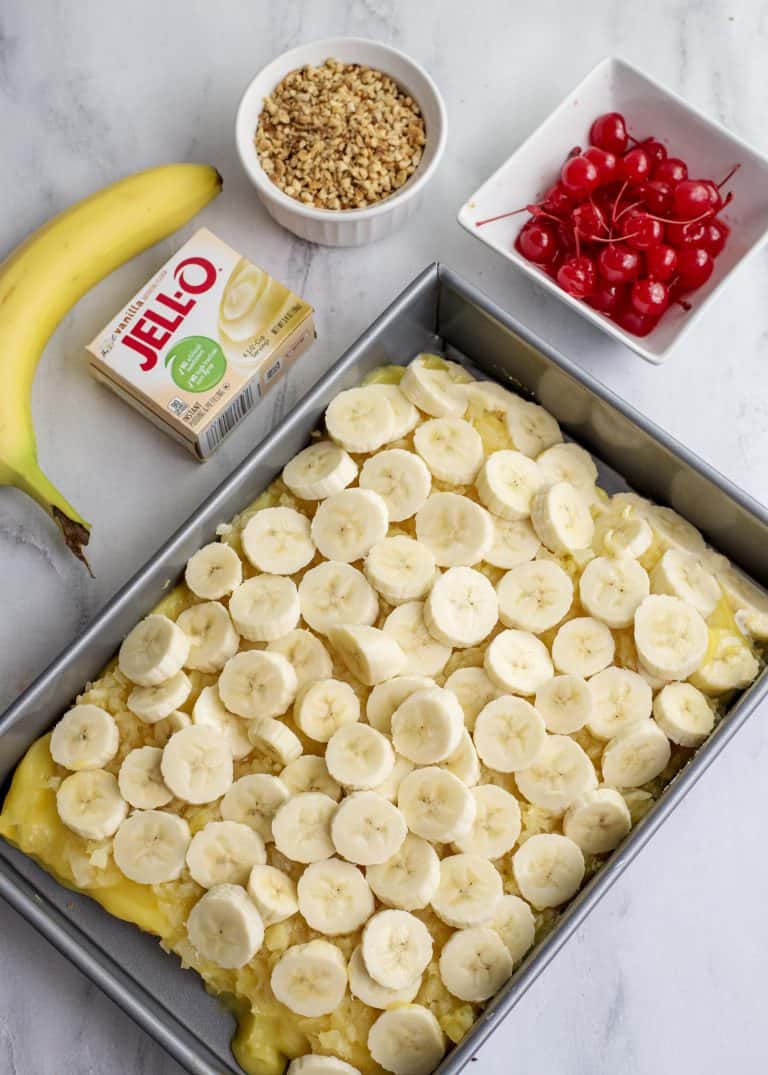 Slice up a WHOLE BUNCH of bananas over the top of that.
Isn't it pretty? If you only have a few bananas that's fine, use as many or as few as you want.
Now spread whipped topping over the top of that.
Cover and refrigerate for several hours.
If you want, sprinkle the top with chopped nuts.
I served each slice with a nut topping and cherry.
Isn't it pretty?
Excuse me while I dig into this delicious layered Twinkie cake.
Storage
Store leftover cake covered in plastic wrap or in an airtight container in the fridge for up to 3 days.
Recipe Notes
You can use any kind of chopped nuts on top of the cake, like the mixed nuts I'm using, chopped pecans, or chopped walnuts. Otherwise, omit them completely.
If you're in a rush, the cake only really needs to sit in the fridge for a minimum of an hour to set.
To make a strawberry Twinkie cake, substitute the pineapple and banana for strawberry pie filling instead. I am SO trying this next time! I'd then serve it with a strawberry garnish instead of the cherry on top.
Speaking of, you can use any kind of fruit you like in this Twinkie cake. Maybe you want to do just sliced strawberries? Or canned mandarin oranges? Let your imagination run wild!
Recipe FAQs
Can I substitute another cake for the Twinkies?
Yes, you can simply use a layer of pound cake, homemade vanilla cake, or a simple boxed yellow cake mix if you like.
Can I make my Twinkie cake ahead of time?
Absolutely! Feel free to make your Twinkie cake the day before and let it sit in the fridge overnight so all those flavors soak into the Twinkies. YUM.
Check out these other summer cake recipes:
Easy Mandarin Orange Cake (a.k.a. Pig Pickin Cake)
Ingredients
1

box

Twinkies

4

large bananas

1

20-ounce can

crushed pineapple, drained

1

5.1-ounce box

vanilla instant pudding mix

mix with milk according to box directions

1

12-ounce container

frozen whipped topping, thawed

maraschino cherries and chopped nuts for garnish, optional
Instructions
Remove Twinkies from wrappers and cut each in half lengthwise from top to bottom.

Place Twinkie halves in a 9x13 baking dish with the cream side facing up. Prepare pudding according to package directions and spread over Twinkies.

1 5.1-ounce box vanilla instant pudding mix

Spread pineapple over pudding, top evenly with banana slices, spread whipped topping over all, and sprinkle with nuts if you like.

4 large bananas,

1 20-ounce can crushed pineapple, drained,

1 12-ounce container frozen whipped topping, thawed

Cover and refrigerate for several hours.

To serve, top each slice with a cherry if you like. Enjoy!

maraschino cherries and chopped nuts for garnish, optional
Nutrition
This post was originally published in 2010. I updated the photos in 2020.
Most folks are about as happy
as they make up their minds to be
~Abraham Lincoln
This recipe is featured on Meal Plan Monday and Weekend Potluck 😁