Today I'm bringing you a recipe from a member of our Southern Plate family, Miss Mary Anne. A few weeks ago she sent me a message
and asked if I'd ever had twinkie cake. I messaged her back that I'd heard of it but never had or made it myself and I sure would love her recipe if she'd be willing to share! Being as sweet as she is, she emailed it right away and I got the ingredients and made it the very next day for my mother and father in law. It was every bit as delicious as Miss Mary Anne said it would be and when I asked her if she'd mind if I shared it she replied "I would be glad for you to share it, it's too good to keep."
Miss Mary Anne says "I watched my aunt make this at a family reunion many years ago when my youngest was just a baby. He is now 46 years old!"
Thank you, Miss Mary Anne, for allowing me the honor of sharing your recipe with the rest of the Southern Plate Family!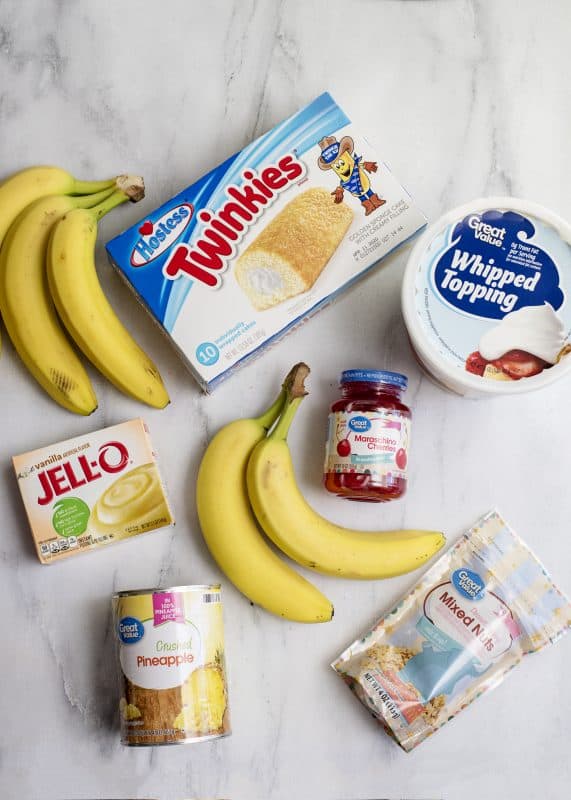 You'll need: Twinkies (I was going to get the generic ones but they were out), Bananas, the big thing of whipped topping, the big thing of pudding mix, the big can of crushed pineapple, and some cherries and chopped nuts for the topping.
I'll put the actual sizes at the bottom in the recipe.
You know when I went to buy these bananas I bought thirteen bananas and it was only $2.23? Isn't that amazing? One of the reasons why I love recipes that use bananas so much, you can be generous and there is no guilt!
I love to get the little bags of this nut topping when I can. It comes in a bag or a can (brand has never mattered to me at all) and it makes the prettiest top on the cake. It is totally optional though.
Slice each twinkie in half lengthwise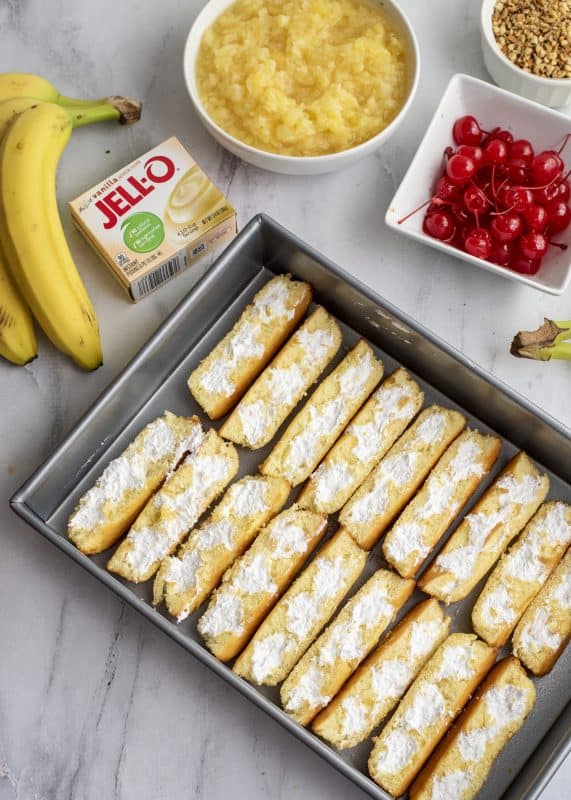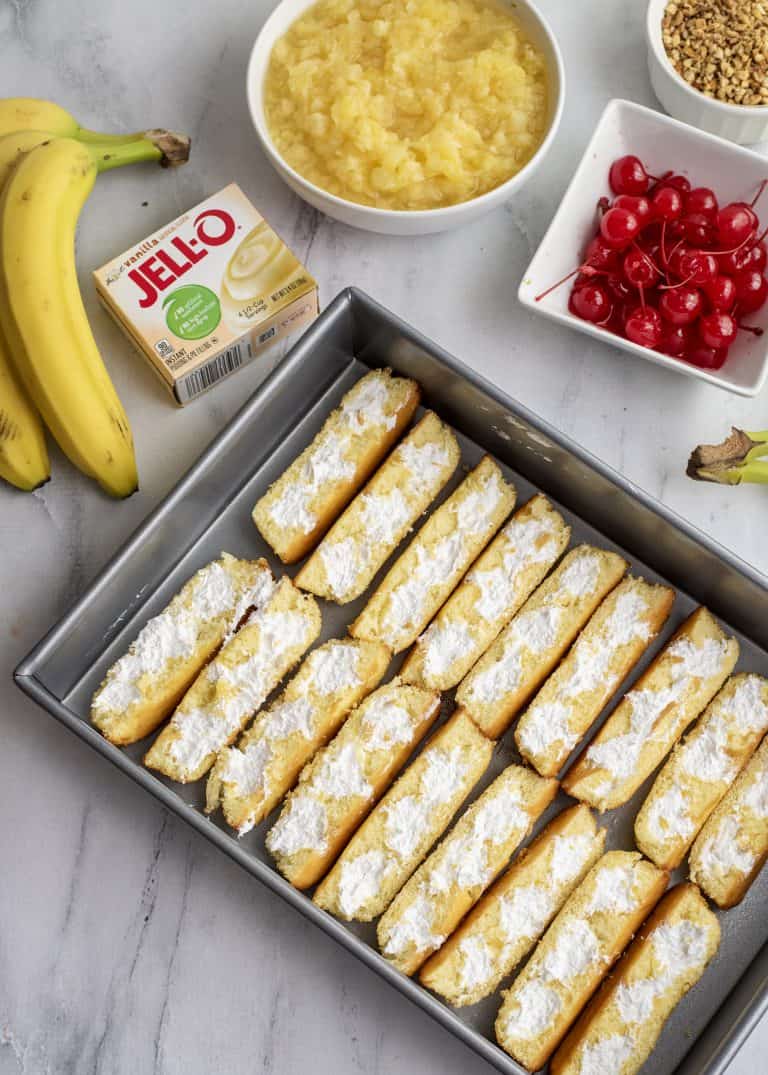 Place the cream side up in a 9×13 inch pan. You'll only need nine twinkies for this and the box comes with ten.
Miss Mary Anne says that last one is to enjoy with your coffee 😁. Christy says Miss Mary Anne is wise beyond her years 😉
Next, you're gonna mix up your pudding.

We just do this according to package directions.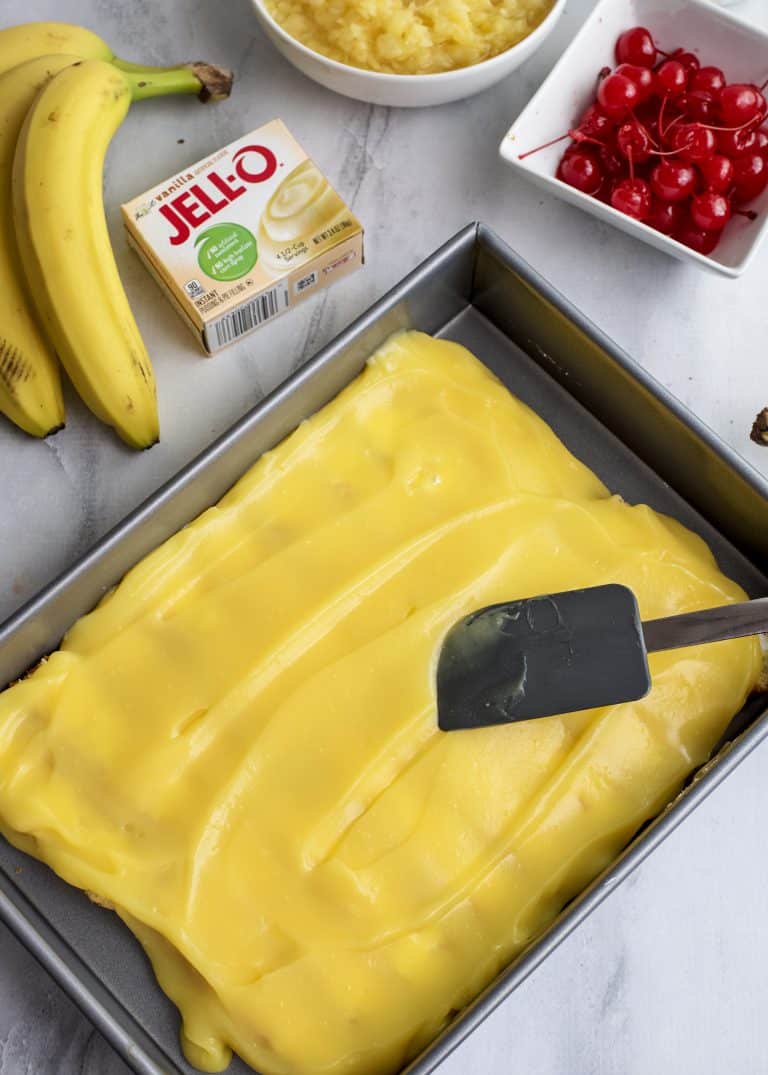 Spread that pudding over the top of your twinkies.
Drain your pineapple and spread it over the top of your pudding.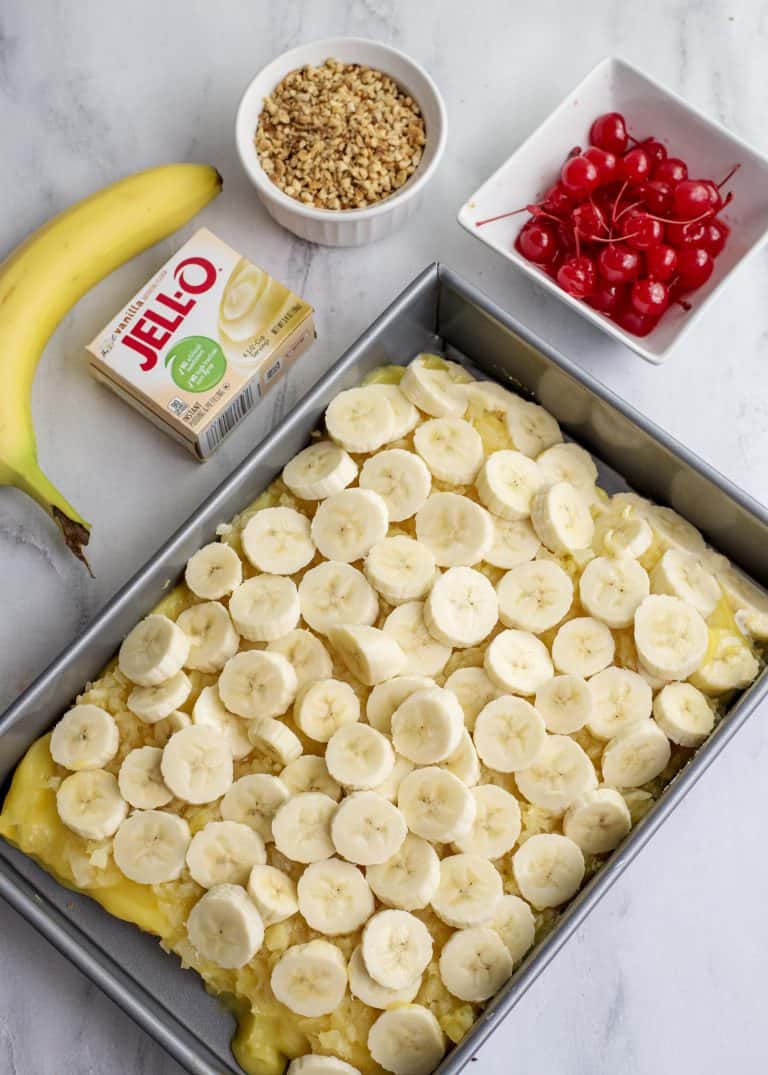 Slice up a WHOLE BUNCH of bananas over the top of that. Isn't it pretty? If you only have a few bananas that is fine, use as many or as few as you want.
Now spread whipped topping over the top of that. Cover and refrigerate several hours.
If you want, sprinkle the top with chopped nuts.
I served each slice with a nut topping and cherry. Isn't it pretty?
Thank you Miss Mary Anne! This was absolutely delicious!
Ingredients
1

box

of 10 Hostess Twinkies (9 for cake, one to have with coffee or tea)

4

large bananas

1

20 oz

crushed pineapple, drained

1

5.1 oz

box Vanilla instant pudding

mixed with milk according to directions on box

12

oz.

Frozen Whipped Topping, thawed

You may have a little extra and you can just use that as well

Maraschino cherries and pecans for garnish

optional
Instructions
Remove Twinkie cakes from wrappers. Cut each in half lengthwise from top to bottom.

Place Twinkie halves in 9 x 13 baking dish with cream side facing up. Prepare pudding according to package directions. Spread over twinkies.

Spread pineapple over pudding. Top this evenly with banana slices. Spread whipped topping over all and sprinkle with nuts, if you like. Cover and refrigerate several hours.

To serve, top each slice with a cherry, if you like. Enjoy!
Nutrition
This post was originally published in 2010. I updated the photos in 2020.
Most folks are about as happy
as they make up their minds to be
~Abraham Lincoln
I've used this one before but I find that the good ones could always stand to be repeated.
This recipe is featured on Meal Plan Monday and Weekend Potluck 😁