Today Mama is sharing her Chocoholic Cake recipe with us. Sit a spell, visit with Mama, and get a great recipe! We sure are glad you're here 🙂 ~Christy 
This is one of those cakes that are best saved for special occasions.  It is a little more expensive than most cakes to bake but really easy and well worth the money.  This cake is extra chocolatey with chocolate cake mix, pudding mix, and also chocolate chips.  I love the addition of pecans but you could substitute walnuts or leave the nuts out all together.  You would never believe that this cake starts with a cake mix.  I used Swiss Chocolate cake mix but you could use any chocolate cake mix.  That just happened to be the one that jumped out at me at the store.  Also, I proved one other thing for you.  I purposely went to the grocery store because my husband had bought light sour cream by mistake.  I didn't think it would work well in a cake so I made the 15 mile round trip to go and get regular sour cream.  I looked the sour cream over and checked the prices on different brands.  This brand happened to be on sale.  Can you imagine my shock when I got home and started to get the ingredients together.  I had bought light sour cream too!  I figured it was meant to be.  Someone wanted to prove to me that you could use it with good results.  So I took the plunge and went ahead with my baking and kept my fingers crossed.  I was so surprised when the cake was done and there was no obvious difference.  I even tasted it for you to be sure.  No difference!  This cake would be great without the glaze but the addition of chocolate glaze takes it over the top.
If you have a chocolate lover in your family, this would be the perfect birthday cake.  I first tasted a similar cake when I went to our quilt retreat.  I asked for the recipe several times but never got it and was so happy when I happened to find it printed on a piece of junk mail.  I tried it immediately and it was very similar to the one a friend had brought to our retreat.  I'm not sure why she didn't share her recipe.  She may have been busy and forgot or just didn't want to share it.  I think food is made to be enjoyed and shared.  The same goes for recipes.  That was the goal of Southern Plate in the beginning.  Sharing our southern heritage through our cooking.  I hope that you are enjoying sharing in our journey.  We have sure enjoyed the friendships we have made through Southern Plate.  Thank you for taking time from your life to share in ours.  We really do appreciate you!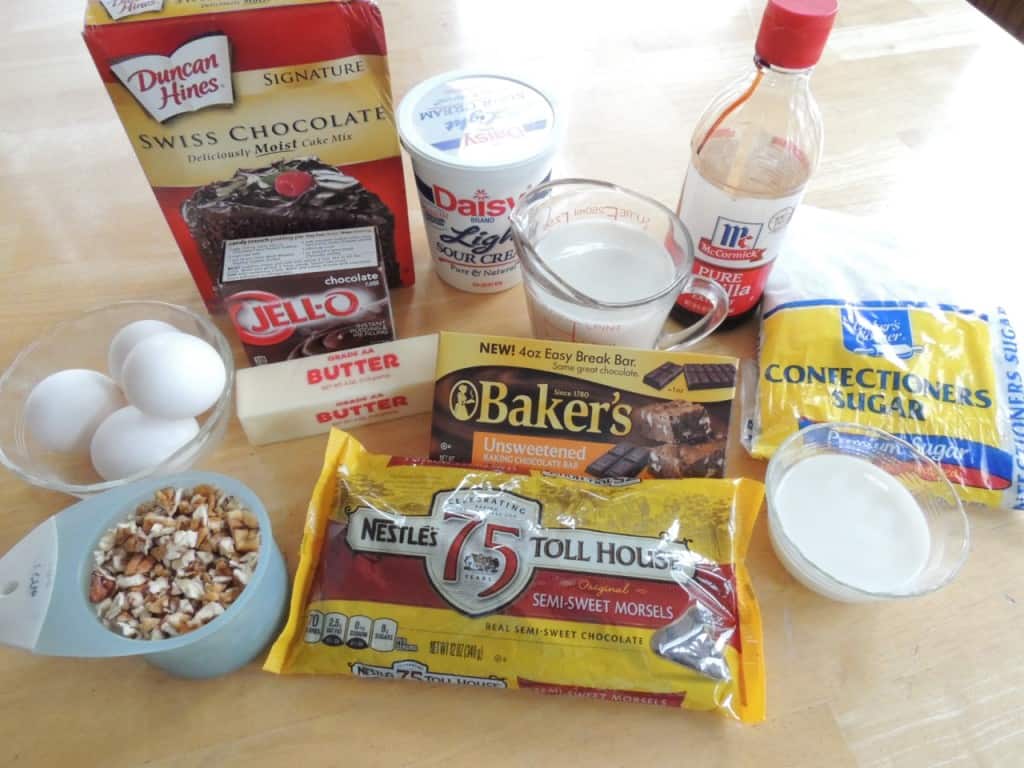 We have quite a line up of ingredients!  They include: Chocolate Cake Mix, Chocolate Instant Pudding, Milk, Sour Cream, Eggs, Pecans,  and Semi-Sweet Morsels for the cake.  Icing ingredients are Unsweetened chocolate bar, powdered sugar, butter, milk, and vanilla extract.
Before you get started, spray a bundt pan with cooking spray and set aside.
Combine cake mix, pudding mix, milk, sour cream and eggs in mixer bowl. Beat on low speed until blended and add pecans and chocolate morsels.  Stir into batter and pour into prepared pan.
Bake for 55 to 65 minutes or until toothpick inserted into cake comes out clean.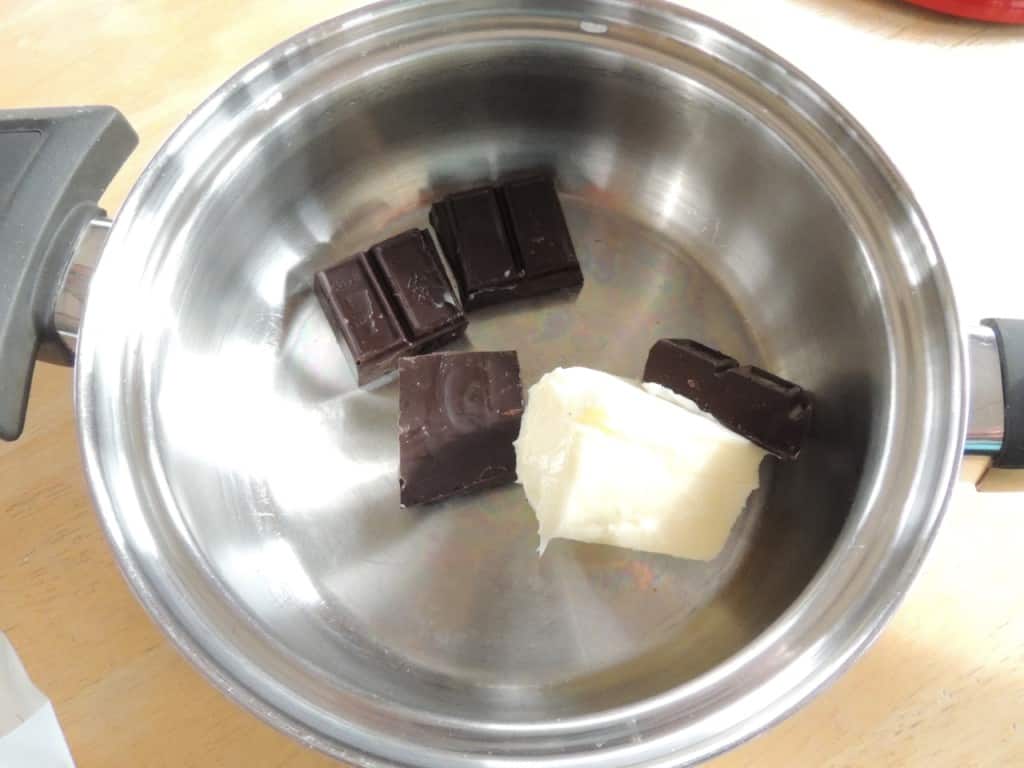 Now we will make the icing!  Over low heat, melt 2 oz. of baking chocolate and butter.  Stir occasionally to prevent scorching.
This is the chocolate that comes in bars near the chocolate chips and is labeled "Baker's Chocolate".
If you'd rather not add this extra fuss to the recipe, you can also just buy a can of pre-made dark chocolate icing and heat that in the microwave for about 45 seconds until it is pourable. 🙂
Back to our icing…
Look at how smooth and delicious this looks already.
Add confectioners sugar, milk, and vanilla until thin enough to drizzle over  cake.
Doesn't this look heavenly.  Can you tell I'm a chocolate lover?
Just look at this beauty.  This is definitely a cake dressed to impress.  And it helps that the flavor does not disappoint.
Ingredients
1

pkg. chocolate cake mix

1

pkg.

3.4 oz chocolate instant pudding mix

1

cup

milk

1/2

cup

sour cream

4

large eggs

1

cup

chopped nuts

2

cups

12 oz. semi-sweet chocolate chips

Glaze

2

oz.

unsweetened chocolate baking bar

1

and 1/2 cups sifted powdered sugar

2 to 3

tablespoons

milk

3

tablespoons

butter

1

teaspoon

vanilla extract
Instructions
For Cake:
Preheat oven to 350 degrees. Grease a 12 inch bundt pan by spraying with cooking spray or smearing with solid shortening.

Combine cake mix, pudding mix, milk, sour cream, and eggs in large mixing bowl.

Beat on low speed until moistened and then on high speed for 2 minutes.

Stir in chocolate chips and nuts.

Pour into prepared pan.

Bake for 55 to 65 minutes or until wooden pick inserted in cake comes out clean.

Cool in pan for 15 minutes and remove from pan onto cake plate.
For Glaze*
Melt baking bar and butter over low heat in a heavy duty saucepan, stirring until smooth.

Remove from heat.

Stir in powdered sugar and milk until thin enough to drizzle over cake.

Add vanilla extract.

Drizzle over top of cake.

*As a shortcut for the icing, use a can of store bought dark chocolate icing. Remove lid and seal and heat in microwave for 30-45 seconds, or until pourable. Stir well and then drizzle over finished cake.
Put "Eat Chocolate" at the top of your to-do list today. That way, at least you'll get one thing done!
~Anon
You might also enjoy this recipe! Oreo Stuffed Brownies
Yum