Back when I first started Southern Plate, I had an email from a reader asking if I could do a recipe for fried okra. Well, y'all know I'll eventually get to everything and here it is!
Fried okra is a truly delicious side dish. It seems no matter the time of year, whether it be frozen or fresh, okra always adds that "fresh from the garden" taste to any meal. Around these parts, you can find it pre-breaded in the freezer section and some places even sell cups of it hot alongside chicken nuggets and such at lunch. Although I have no complaint if I am getting okra (no matter how it is prepared), my all time favorite form of okra is prepared at home, with this recipe.
Funny Story About Okra:
When we were teens, my parents used to go out of town on the weekends a lot. I was about seventeen when they were gone to Nashville for the weekend. In my teenage wisdom I decided I would invite all of my friends over and have a dinner party.
This was before my cooking days had really taken off and my experience didn't reach beyond cracker dumplings and frozen pizzas. So I decided that spaghetti would be a good choice (seemed easy enough, right?). I used store bought sauce and put it on first thing in the morning, adding plenty of ground beef. However, the sauce didn't look appealing or labor intensive enough. I wanted to fancy it up a bit and impress everyone with my grand culinary skills. I remembered my home economics teacher telling us that we should serve food in a variety of colors in order to have a more appealing meal. Well that made sense, I'll just add some more colors to the sauce! So in went some corn and okra.
That evening, my friends were quite surprised (and I was confused that they weren't as impressed as I thought they would be) when I served them spaghetti with okra and corn in the sauce! We still laugh about that and shake my head at my seventeen year old self. God love her, she had good intentions.
What Is Okra?
For anyone that isn't from the South and used to making Fried Okra you may be wondering what the heck is it? Some people are surprised to hear it's technically a fruit not a vegetable like our friend the avocado. Okra is the fruit of the Abelmoschus esculentus plant which is a member of the Mallow family Now isn't that a mouthful! If you are interested in ready more about Okra here is an overview.
Ingredients to Make a Recipe for Fried Okra are:
Eggs
Cornmeal (self rising or plain, either is fine)
Salt
Pepper
Fresh or frozen okra (I am using frozen), If using fresh okra, go ahead and slice it up into bit sized pieces.
Vegetable oil
Full printable recipe at bottom of post
How to Make A Yummy Fried Okra Recipe: Step by Step Instructions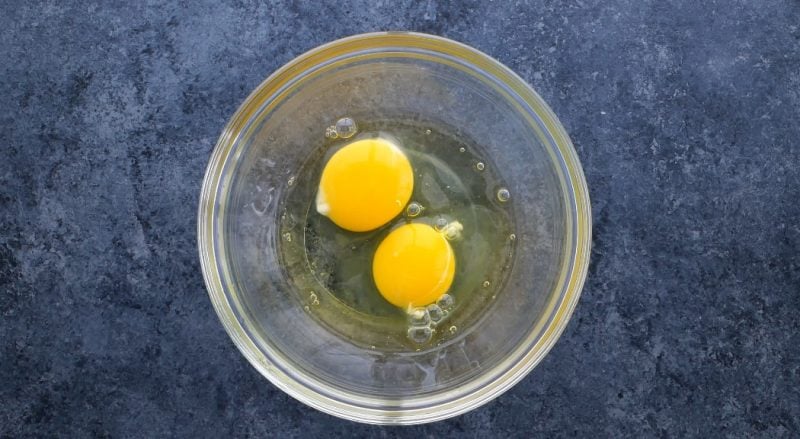 Add eggs to a medium sized bowl
Add buttermilk to the eggs
Mix them up real good.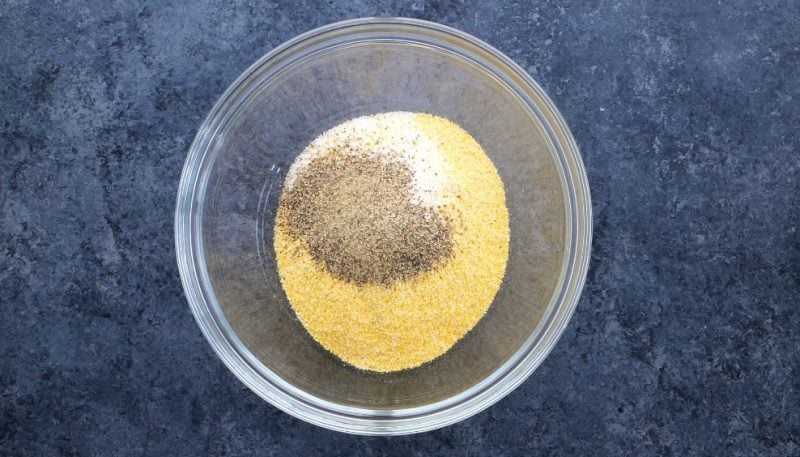 Combine dry ingredients (salt, pepper, cornmeal) in another medium sized bowl and mix that up.
Coat the okra with the egg/buttermilk combo
Then transfer to the dried mixture and coat until covered
Place about 1/4 cup oil in skillet and heat over medium heat for three to five minutes.
Add the vegetable oil in the pain and heat up until you add a piece of okra and get some sizzlin'. Then you know its hot enough to add the coated okra.
With a slotted spoon add the rest of the okra
Keep skillet on medium heat (if in a hurry, you can cook this on medium high heat, just watch it a bit closer).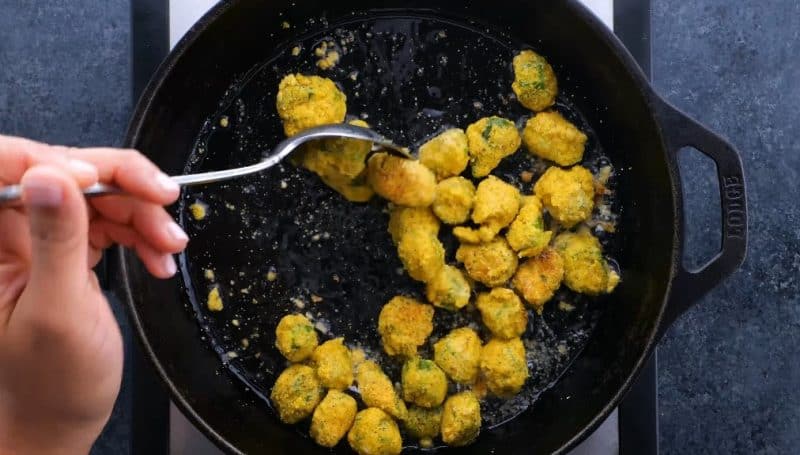 Stir it occasionally (every two or three minutes) for about twenty or twenty five minutes or so, until crisp and browned.
Remove cooked okra with a slotted spoon and place into serving bowl.
DEVOUR with some Comeback Sauce! (This is the good stuff!)
Ingredients
2

eggs

1/2

cup

buttermilk

1

teaspoon

salt

1

teaspoon

pepper

1

cup

cornmeal

self rising or plain

Approx 4 Cups Okra

fresh or frozen, sliced

1/4

cup

vegetable oil
Instructions
Thaw okra. Combine eggs and buttermilk. Combine salt, pepper and cornmeal in separate bowl. Coat okra with egg/buttermilk mixture and then transfer to dry mixture and coat. Heat approx. 1/4 cup oil in skillet until hot. Dip okra from bowl with slotted spoon into oil. (Leave the extra cornmeal in the bowl and throw away.) Stir occasionally and cook until okra is brown and crisp. Take out of oil with slotted spoon.
Nutrition
You may also enjoy these Southern recipes:
Southern Biscuits Recipe A Classic With Only 3 Ingredients
Southern Cubed Steak and Milk Gravy
Hoe Cake Recipe Southern Style From Mama