Stuffed Pepper Casserole Recipe (Easy and Delicious)
Easy as can be! This stuffed pepper casserole recipe takes the classic flavors and ingredients of stuffed green peppers, then turns them into a cheesy comfort food dish that is irresistible.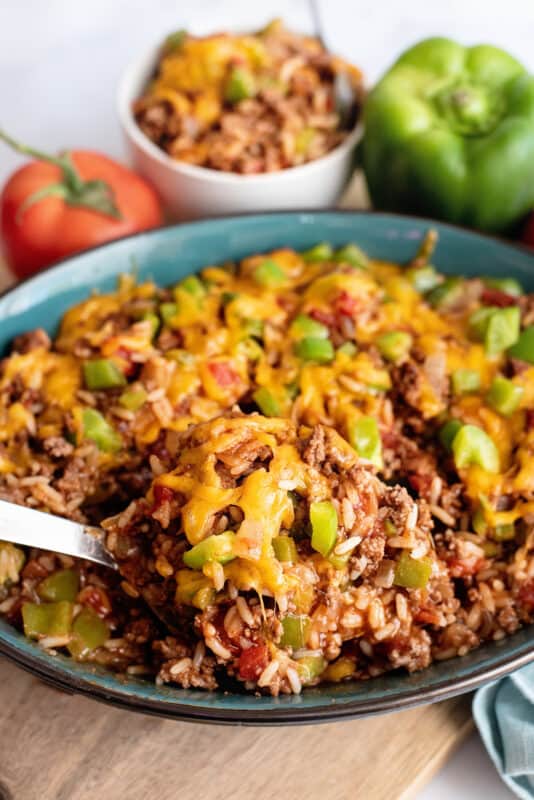 While I'm calling this a stuffed pepper casserole, it's more of a deconstructed stuffed pepper dish. Yep, there's no stuffing needed! Instead of stuffing the filling into the peppers, the bell peppers here are sliced, sautéed, then mixed with the other ingredients. So technically, I guess this should be called an unstuffed pepper casserole with the flavors of its kissin' cousin classic stuffed peppers.
Here are all the reasons why I loved this stuffed pepper casserole:
It takes just one pot and one casserole dish to make this casserole. You can even cook the rice in the same skillet to save time.
It's so quick and easy to make. All you have to do is cook the ingredients in a skillet, let it simmer, and then cook for 20 minutes. This dish makes the perfect weeknight meal, as it's prepped, cooked, and ready to eat in about 45 minutes.
This casserole is gluten-free and can easily be vegetarian with a couple of switches. Just substitute the ground meat for tofu, a can of white beans, or your favorite meat substitute, and don't sprinkle with cheese.
Are you now convinced to try this stuffed pepper casserole instead of traditional stuffed peppers? Let's get cooking!
Recipe Ingredients
Ground beef or ground turkey
Small onion – diced
Minced garlic
Salt
Pepper
1 can tomato soup
2 cups cooked rice. (make it low carb with our riced cauliflower)
Medium diced tomato
3 large green peppers – diced
Shredded cheddar cheese
In a large skillet, brown the hamburger meat (whether that's ground beef, ground turkey, or ground chicken), onion, and minced garlic until the meat is brown. Drain if needed.
Add in the salt, pepper, tomato soup, rice, diced tomatoes, and bell pepper.
Mix well and allow the mixture to cook for 10 -15 minutes.
Spoon the mixture into a casserole dish.
Top with the shredded cheese.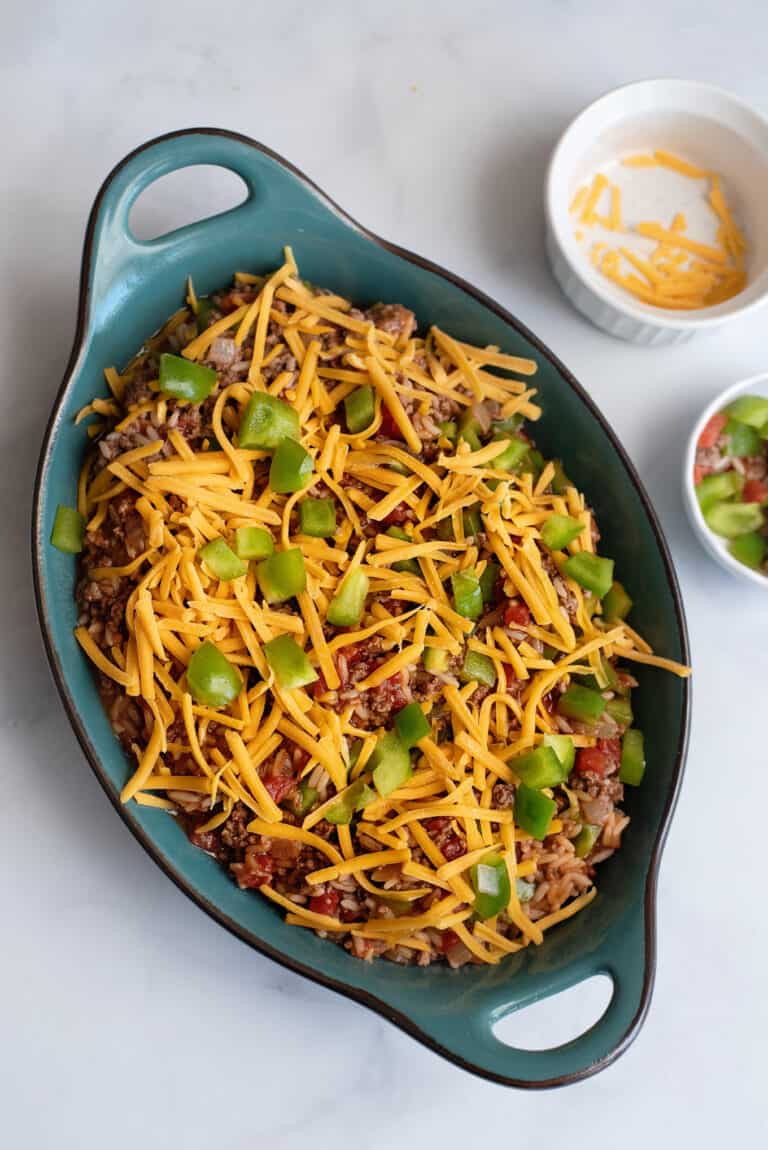 Optional: top with a few leftover green pepper pieces.
Bake at 350 for 10 minutes to melt the cheese.
Storage
Store any casserole leftovers in an airtight container in the fridge for up to 5 days. This casserole is the perfect dish to make ahead of time.
You can also store leftovers in an airtight container in the fridge for up to 3 months. Thaw in the fridge overnight and reheat in the microwave. You might want to spruce it up with a little hot sauce or just salt and pepper to taste.
Recipe Notes
Serve your casserole with chopped fresh cilantro or parsley and creamy Greek yogurt.
Use your favorite cheese in this casserole recipe, whether that's a combination of cheddar cheese and pepper jack cheese, or something milder like mozzarella cheese or Monterey Jack.
You can use a combination of

red, yellow, and

in this dish. You could also add additional vegetables like frozen spinach or chopped zucchini.
To make this into a low-carb casserole, substitute the rice for cauliflower rice.
Speaking of, you can use whichever rice you prefer, like brown rice, long-grain rice, or even quinoa.
If you want to add more spices to this dish, go for a teaspoon of chili powder and cumin for a Mexican-inspired addition or a teaspoon of Italian seasoning.
Turn your leftovers into stuffed pepper wraps for lunch the next day. Delicious!
Recipe FAQs
What do you serve with stuffed pepper casserole?
This casserole is a hearty main dish already. But if you like, you can serve it with a refreshing green salad or a side of cornbread.
Here are more comforting casserole dishes to make this week:
Cabbage Casserole Recipe Oven or Slow Cooker
Green Bean Casserole Rich, Creamy With The Perfect Crunch
Cornbread Casserole Recipe Simple and Savory
Ham Egg and Cheese Casserole (Insta Pot or Oven!)
Ingredients
1

lb

ground beef

or ground turkey

1

onion

small, diced

1

tsp

garlic

minced

1

tsp

salt

1/2

tsp

pepper

1

can

tomato soup

2

cups

rice

cooked

1

cup

diced tomatoes

3

green peppers

large, diced

1

cup

shredded cheddar cheese
Instructions
In a large skillet, brown the hamburger meat, onion, and minced garlic until the meat is cooked through. Drain if needed.

1 lb ground beef,

1 onion,

1 tsp garlic

Add in the salt, pepper, tomato soup, rice, diced tomatoes, and bell pepper. Mix well and allow the mixture to cook for 10 -15 minutes.

1 tsp salt,

1/2 tsp pepper,

1 can tomato soup,

2 cups rice,

1 cup diced tomatoes,

3 green peppers

Spoon the mixture into a casserole dish, top with the shredded cheese (optional: top with a few leftover green peppers), and bake at 350 for 10 minutes to melt the cheese.

1 cup shredded cheddar cheese
Nutrition
Calories:
551
kcal
|
Carbohydrates:
63
g
|
Protein:
24
g
|
Fat:
22
g
|
Saturated Fat:
10
g
|
Trans Fat:
1
g
|
Cholesterol:
73
mg
|
Sodium:
754
mg
|
Potassium:
773
mg
|
Fiber:
3
g
|
Sugar:
7
g
|
Vitamin A:
816
IU
|
Vitamin C:
59
mg
|
Calcium:
188
mg
|
Iron:
3
mg