Friends, today I have something you need in your life and that something is this ridiculously simple decadently delicious cake. Recipes like this grew in popularity during hard times in our history when ingredients for typical cakes grew scarce. This one doesn't need any milk or even eggs! It is kind of the fluffy cake version of my Mama's Chocolate Cobbler.
Don't let the simple ingredients fool ya into thinking this is a run of the mill cake, though! Deeply chocolate and fluffy yet fudgey, it is similar to a Devil's Food cake. We like it without icing as a great snack cake but you can add in some simple frosting to make it a dessert worthy of any table.
You'll need: all purpose flour, cocoa powder, sugar, baking soda, salt, cinnamon, vanilla, vegetable oil, vinegar, and water.
Stir together all of your dry ingredients first.
Now y'all know I'm all about dumping it all in a bowl and going for it but in this recipe it makes a difference. If you stir all your dry ingredients together first your batter comes together smooth as can be in no time at all. Once, I wasn't paying attention and put it all in a bowl at once and I liked to never have gotten out all those lumps!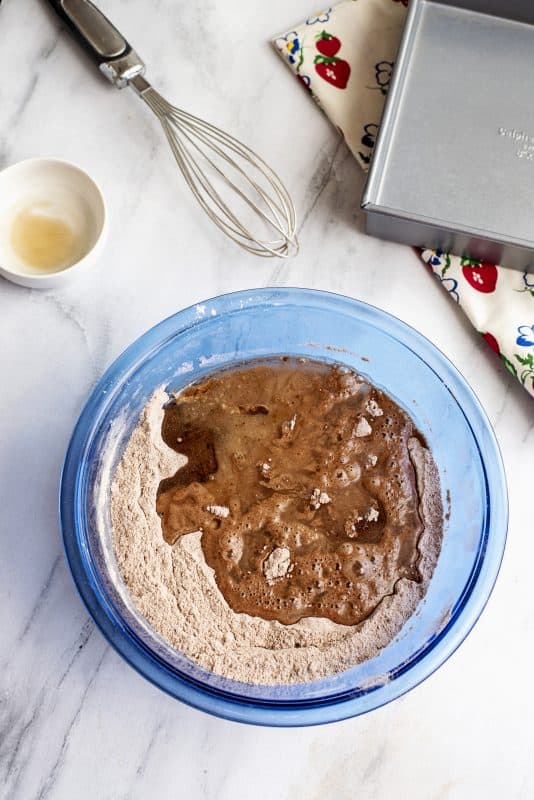 Once your dry ingredients are mixed together, add in all of your wet ingredients.
Give that a stir until well combined.
Pour into a greased 8×8 baking dish.
This batter is heavenly!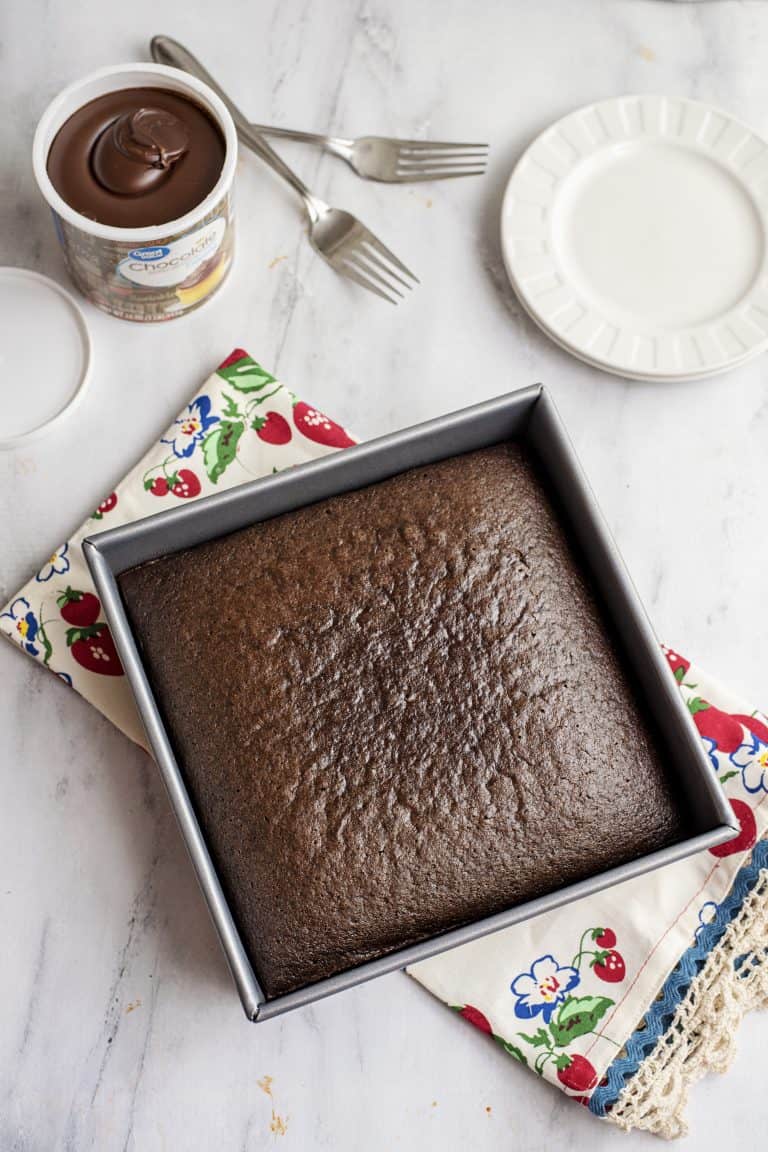 Bake at 350 for 30-35 minutes, or until a toothpick inserted in the center comes out clean.
Now at this point your house smells like dark chocolate cake and this is where we cut into it and eat it warm!
But somedays we wanna take perfection up yet another notch.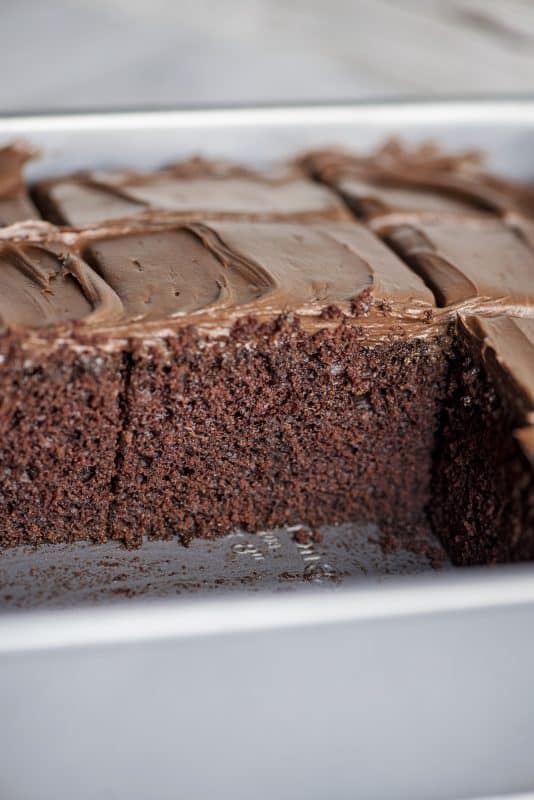 Look how dark and fluffy this is! I just topped it with a can of frosting but you can whip up a homemade frosting, glaze, or sprinkle a little confectioner's sugar over the top.
Look at this pretty little slice. Just waiting for you to eat it!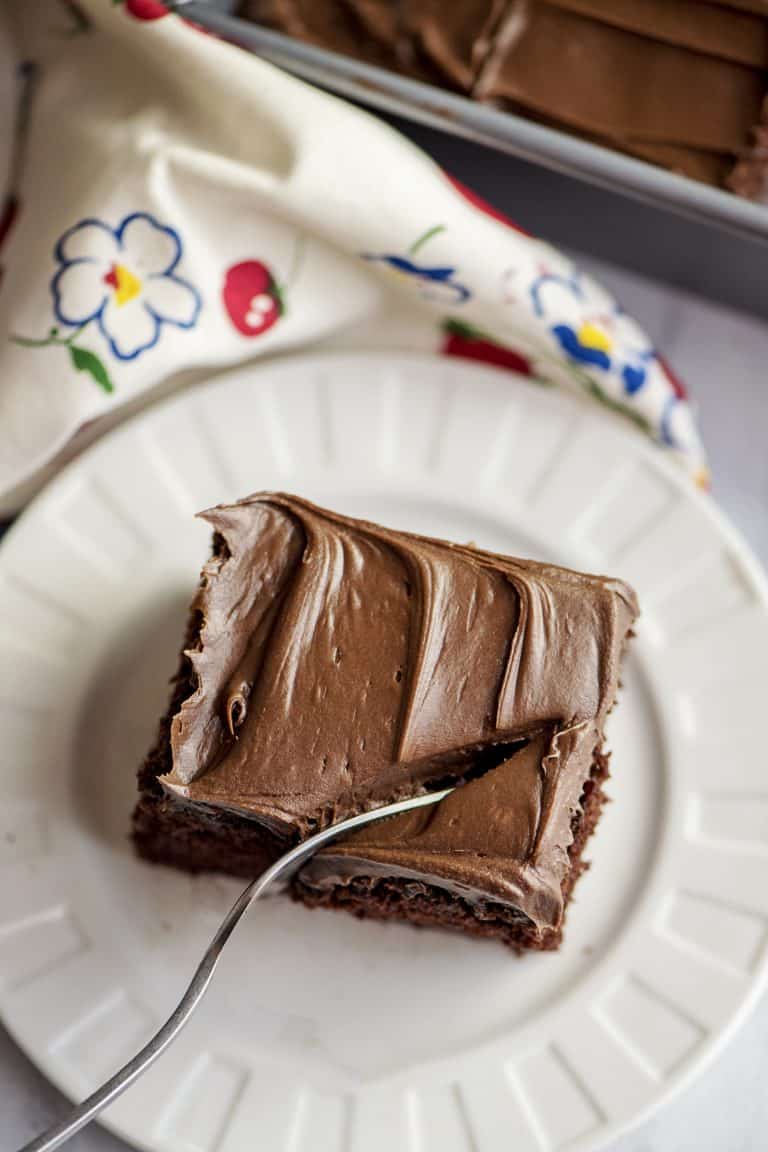 There ya go!
Have a WONDERFUL afternoon, friends!
Ingredients
1 1/2

cups

all purpose flour

1/3

cup

cocoa powder

1

cup

granulated sugar

1

teaspoon

baking soda

1/2

teaspoon

salt

1/2

teaspoon

ground cinnamon

1

teaspoon

vinegar

2

teaspoons

vanilla

1/3

cup

vegetable oil

1

cup

water
Instructions
Preheat oven to 350 degrees. Spray an 8 inch baking dish with a non stick spray.

 

In medium sized mixing bowl, stir together the flour, cocoa, sugar, baking soda, cinnamon and salt. 

Add in the vinegar, vanilla, oil and water and stir until well combined. Pour the batter into the baking dish.

Bake for 30-35 minutes, until a toothpick comes out clean. Eat warm or cool completely and frost, if desired.
This post featured on Weekend Potluck and Meal Plan Monday.
Yum