Using pantry staples, this Southern-style chocolate gravy recipe is so quick and easy to make and tastes absolutely incredible served with homemade biscuits.
Does a chocolate gravy recipe sound a bit odd to you? Well, for me, a professed chocolate lover, nothing with chocolate is ever ruled out but I was intrigued as to what this recipe would taste like when I whipped it up. For me,
this
is perfect:
not too rich, but has that silky smooth chocolate flavor I adore.
Chocolate gravy's roots are in the South for sure. Anywhere from Louisiana to Tennessee has claimed its origin even dating back to the 16th and 17th centuries. Anything that lasted that long just has to be good!
A Little History About the Chocolate Gravy Recipe
In days of old, with flour in abundance and other resources scarce, biscuits made a great breakfast and filling snack any time of day. Sweets were not a regular occurrence, so waking up in the morning to find fresh buttermilk biscuits and a boat of chocolate gravy was a wondrous treat. It was poured over the buttered flaky biscuits, then the tender bread soaks it up and as I found out when I tried it – you are then on your way to heaven no matter what the day has in store for you.
Here is the old-fashioned chocolate gravy recipe I used. Don't try this unless you want the flavor to linger in your mind for the rest of your life. It was purely divine. Also, scroll down to find some suggestions about what else you can do with this special biscuit and chocolate gravy recipe.
Recipe Ingredients
Sugar
Flour
Unsweetened cocoa powder
Milk
Butter
Put the dry ingredients (the sugar, flour, and cocoa) in a heavy saucepan.
Add the milk.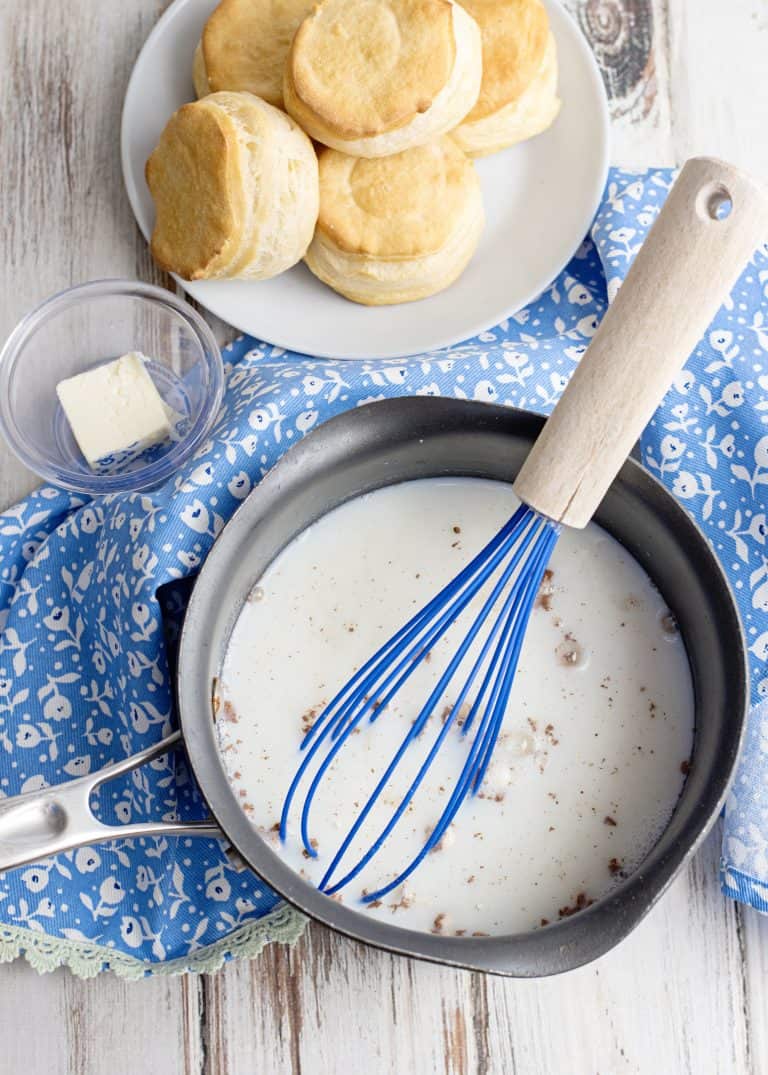 Whisk together well.
It will be a little lumpy but those will cook up so don't worry. Just keep stirring. We want to stir this constantly, over medium heat. The goal is to bring it slowly to a boil.
We need to be careful though because if you stop stirring it the milk will scorch rather easily.
When it comes to a low boil, turn the heat off and continue stirring for a minute or two. This will thicken up rather suddenly to the consistency of a thin gravy.
Add butter and stir well.
Pour your chocolate gravy into a gravy boat and then get ready to pour it over your warm biscuits.
If you're looking for a homemade biscuit recipe, here it is!
I hope you can smell this. If not, get into your kitchen and make up some quick!
Chocolate gravy is super easy, but such an indulgent taste! Scroll down to see what you can do with this delightful dessert.
Storage
Store chocolate gravy leftovers in an airtight container in the fridge for up to 4 days. Just reheat in the microwave before serving.
Recipe Notes
Use whichever cocoa powder you prefer in this gravy recipe. I like the natural unsweetened cocoa powder but if you like Dutch-process cocoa powder, go for it!
For more flavor, add a teaspoon of vanilla extract and a pinch of salt at the end, just before serving.
Recipe FAQs
What else can you do with this chocolate gravy recipe?
Well, I wasn't quick enough to get a picture of this but add some custard filling in the biscuit or some vanilla ice cream for a chocolate gravy eclair or ice cream sandwich. YUM! You could also serve it over buttermilk pancakes, vanilla ice cream with fresh strawberries, or a slice of pound cake. The possibilities are endless with this beautiful creamy chocolate sauce aka gravy.
You may also like these other delicious dessert recipes:
Grandma Pear's Flaky Chocolate Icing
Chocolate Cobbler Recipe Food Allergy Options
Chocolate Depression Cake No Milk or Eggs!
Ingredients
1

cup

white sugar

2

T

flour

1

T

unsweetened cocoa powder

1 1/4

cups

milk

1

tablespoon

butter
Instructions
Combine everything except the butter in a heavy saucepan. Bring to a boil, stirring constantly to prevent scorching.

1 cup white sugar,

2 T flour,

1 T unsweetened cocoa powder,

1 1/4 cups milk

Once boiling, cut the heat down and stir for a minute more (it will get pretty thick rather suddenly). Take off the heat and stir in the butter.

To serve, pour over homemade biscuits. I tear my hot biscuit up in a bowl first and then pour it over.
Nutrition