In case you haven't noticed, there is an awful lot of high falootin'ness going around in the foodie world today and I try to keep as much distance between myself and anything high falootin' as possible, because that's just how I like to live. Occasionally though, we all have high falootin' days.
Sometimes I like to have a bit of lettuce to pretty up my sandwich and every now and then I find my pinky sticking up as I go to take a swig of tea. It happens to the best of us so with me being at the bottom rung, I'm certainly not immune. So if you're feeling a little falootin' today, I just thought I'd warn ya that you're gonna have to come down a few notches in order to appreciate the wonder of this recipe.
You see today, I have achieved my highest culinary dream. I have reached the pinnacle of delicious greatness! I have climbed the highest mountain and crossed the raging seas and I have returned with:
BANANAS IN RED STUFF!
Alright, I know, I could do better on the name. But the thing is, I've been calling it that for as long as I can remember and whenever you ask someone "Hey you know that banana stuff at Shoney's" they always reply "Oh yeah, you mean bananas in red stuff?". So today, on Southern Plate, we're just gonna call it what it is and anyone with eyes can see that it is Bananas in Red Stuff.
If you are familiar with the Shoney's breakfast bar you know how wonderful this stuff is. It's the belle of the ball. Light tasting, slightly sweet, filling, and refreshing, I've longed (literally, longed) for the recipe for years. Then a few years back me and Mama found ourselves talking about it yet again. We've gone over all sorts of possible scenarios from diluted jello to a grenadine based sauce. The thing is, though, it has to be simple for a restaurant like Shoney's to turn it out on the scale that they do and restaurants are notoriously creative when it comes to creating dishes using what they already have on hand. It dawned on us, what is Shoney's specialty? Strawberry pie. So what would they have on hand at all times? Strawberry glaze!
Oh goodness folks, we've hit pay dirt! Here's the recipe, I hope you make it soon.
Now here are the ingredients, but stay with me here because we're not going to just combine the two. There is another step in between.
You'll need: Strawberry Glaze and Bananas. You want your bananas to be ripe, but not overly ripe because we want a little firmness left in them.
And now we need to talk about glaze. Lots of places offer this "red stuff" near the strawberries and there are tons of different brands and such. You can even get it sugar free. My original plan was to get sugar free because I love this stuff so much that I wanted to be able to eat as much as I wanted. Normally, this plan works for me HOWEVER, the sugar free glaze tasted nothing like the regular glaze. It wasn't bad, it was just very different (okay so maybe I described it as tasting like hair, but I admit nothing). It was so different that I actually ended up throwing it away and going back to the store for the regular glaze. So I'm gonna recommend you get the regular glaze to make this. You understand, right?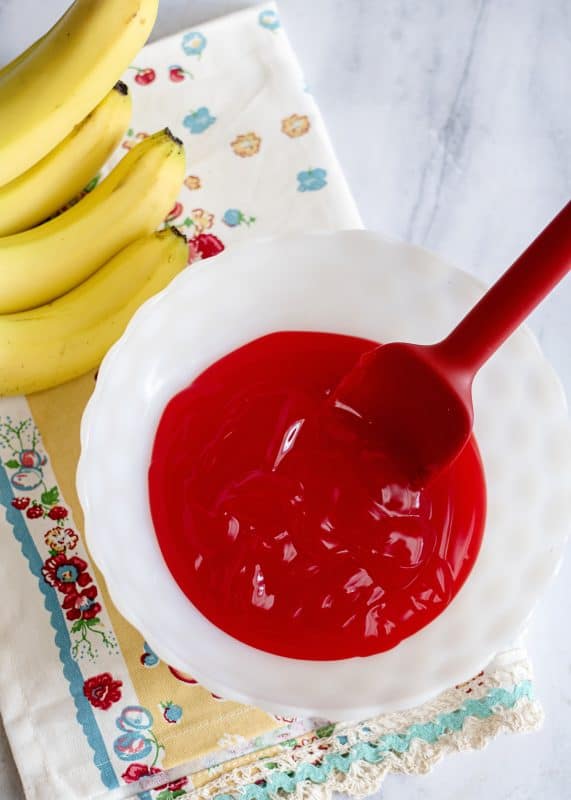 Pour your glaze into a mixing bowl.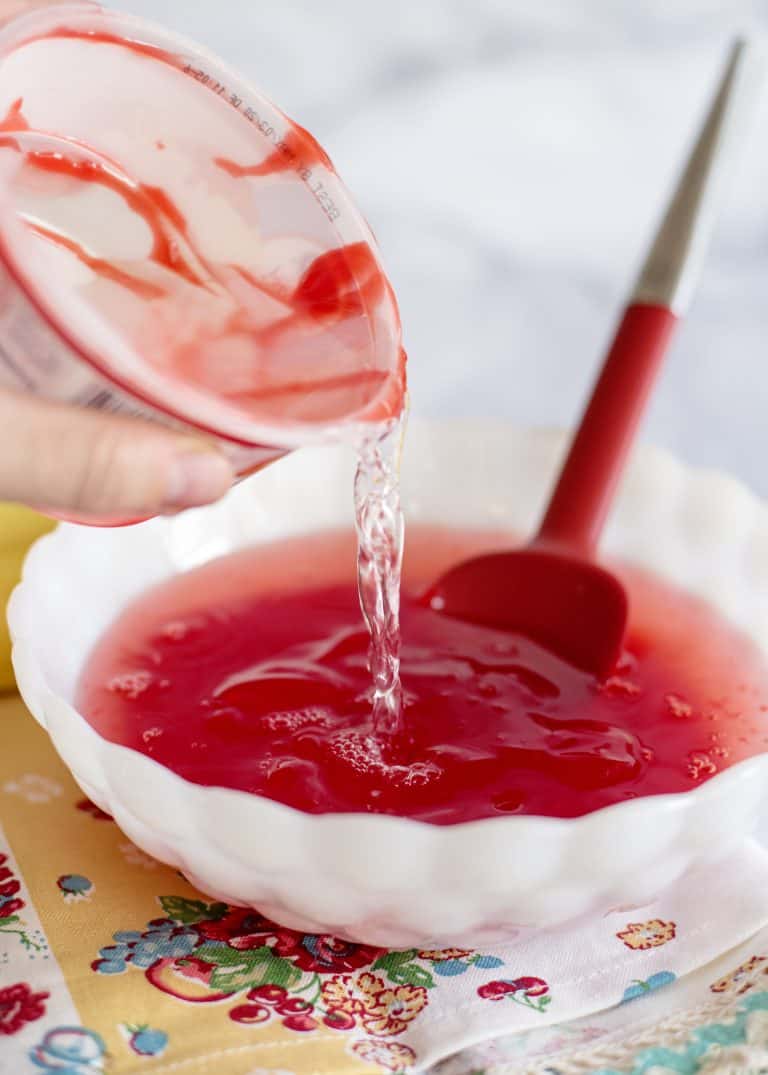 Using the container the glaze came in, fill it up with cold water and pour that in the mixing bowl as well.
Now mix this on medium speed until completely blended.
It really helps to do this with an electric mixer because its just globby and slightly annoying to do it with a spoon. Apparently glaze and water are like siblings, they only get along when forced to. 🙂
Now I know a few folks just about keeled over at the first part of the recipe when they saw I was using strawberry glaze. You see, I get occasional comments about using products that contain dye or preservatives or whatnot and I think some people just about go into full on hyperventilatin' at the very thought.
Me? Aww, I'm good. I figure, look at all of these preservatives and coloring, see how well a twinkie is preserved over the years? Imagine what that will do to you! I mentioned this at breakfast this morning and one of my friends said "We can eat this and look just like we got botox!". I imagine its a sight cheaper, too.
To each his own, most especially when it comes to dietary choices. I'll support any decision you make regarding your diet or what you feed your family, I'll even cheer you on with my Southern Plate themed pom poms because I like you and I think you're awesome from start to finish. But this is my little corner of the web and I'm pretty happy with my bananas in red stuff, if it keeps a few wrinkles off my face and has me looking as good as a twinkie after a hundred years then thats just another bonus!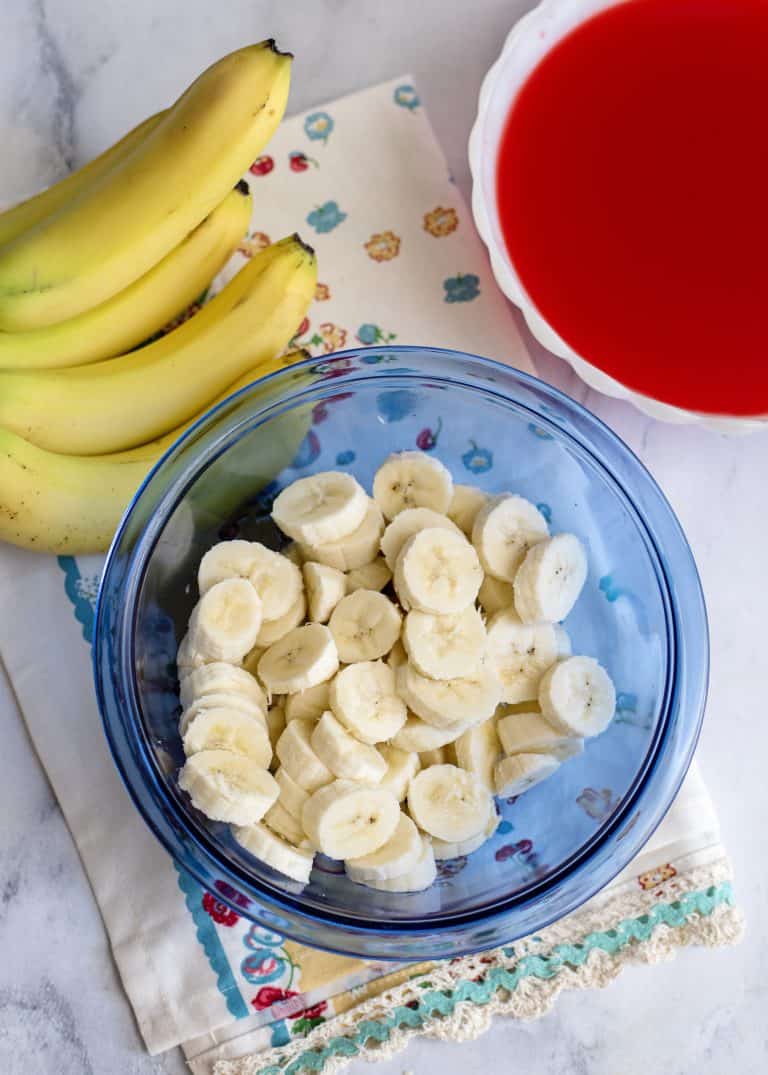 Now slice your bananas into a medium bowl.
Make the slices kinda thick so they will hold up better when you are stirring them up in our next step.
I gotta tell you a funny story about me and slicing bananas. About two years ago I was making homemade banana pudding on a local tv station. Mama called me after it aired and said "Christy, why did you use a butter knife to slice your bananas?".
I thought this was a silly question and told her "Well, its what we always used at home to slice them."
She said "Christy, I made you use a butter knife because you were little and I didn't want you to cut yourself. I think you're old enough to use a sharp knife now."
~snickers~ I had never thought of it that way!
So if you are reading this, I just want you to know that you are probably old enough to move up to the sharp knife now, too!
Now pour your red stuff over the bananas in your bowl.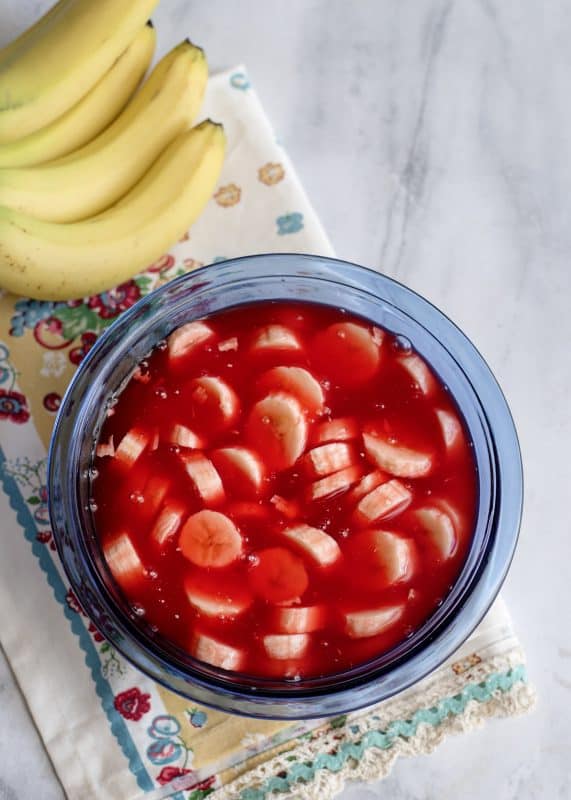 And give them a good stir to coat. Cover with foil or saran wrap and place in the refrigerator for a few hours or until well chilled. Oh this is gonna be so good!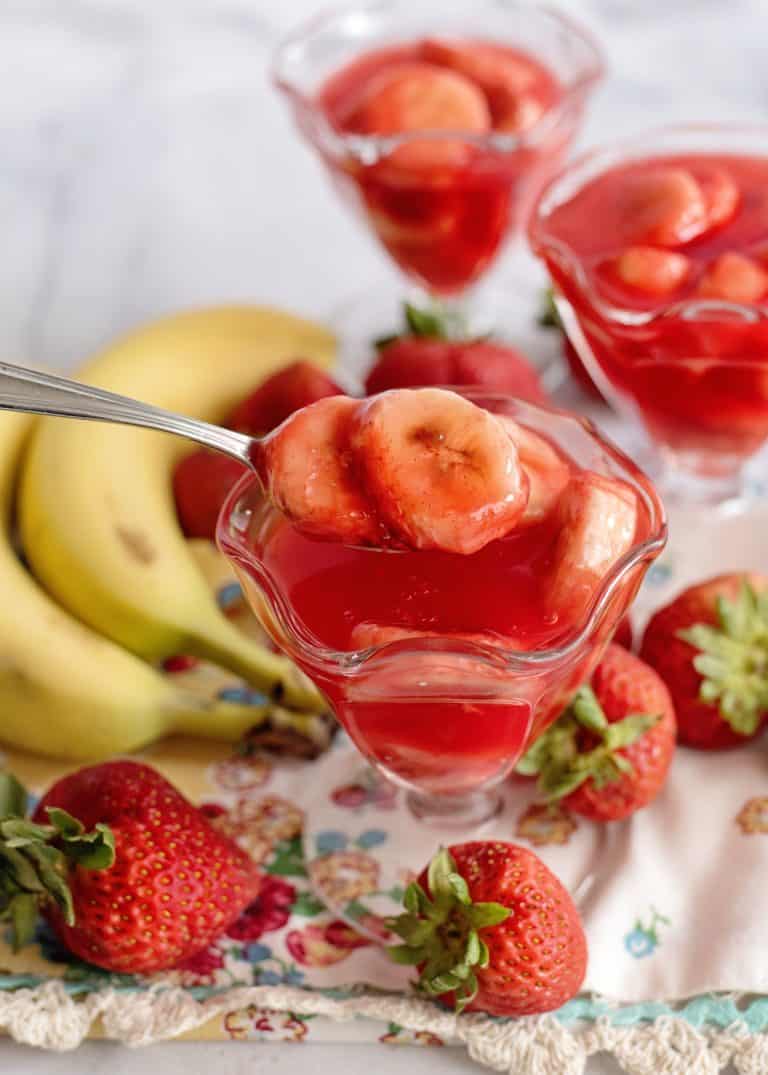 Just for you, I dished it all out into pretty little dessert dishes to take a photo and spent a few minutes pretending I wasn't going to eat it all myself. 🙂
Ingredients
4-6

medium bananas

1

container strawberry glaze

About ten ounces
Instructions
Place glaze in medium mixing bowl. Fill empty glaze container with water and pour that in bowl as well. Mix with electric mixer until completely blended.

Slice bananas in thick slices into bowl. Pour glaze over and stir to coat.

Cover and place in refrigerator several hours to chill. Serve cold.
Notes
This post was originally published in 2011 and I updated the photos in 2021. Enjoy!
Nutrition
This would also be excellent as a dessert topping. Serve it on top of slices of pound cake, on top of pancakes, ice cream, the possibilities are limitless. I just like to eat it on it's own!
Do you have a super simple recipe that you just absolutely love?
I'd love to hear about it in the comments section below!
Now here is a man with an attitude of appreciation for anyone who cooks for him!

My husband is well known at church as appreciating Southern cooking – any and everyones Southern cooking. His famous line is "The worst I ever had was delicious". That comes from a man that will eat whatever I put in front of him and really appreciate it. ~Submitted by Alice McKinney

Submit your quote by clicking here.

This recipe featured in Meal Plan Monday and Weekend Potluck