All you need is four ingredients to make a batch of these delicious melt-in-your-mouth cream cheese mints. They are so quick and easy to make and they're destined to disappear in a flash!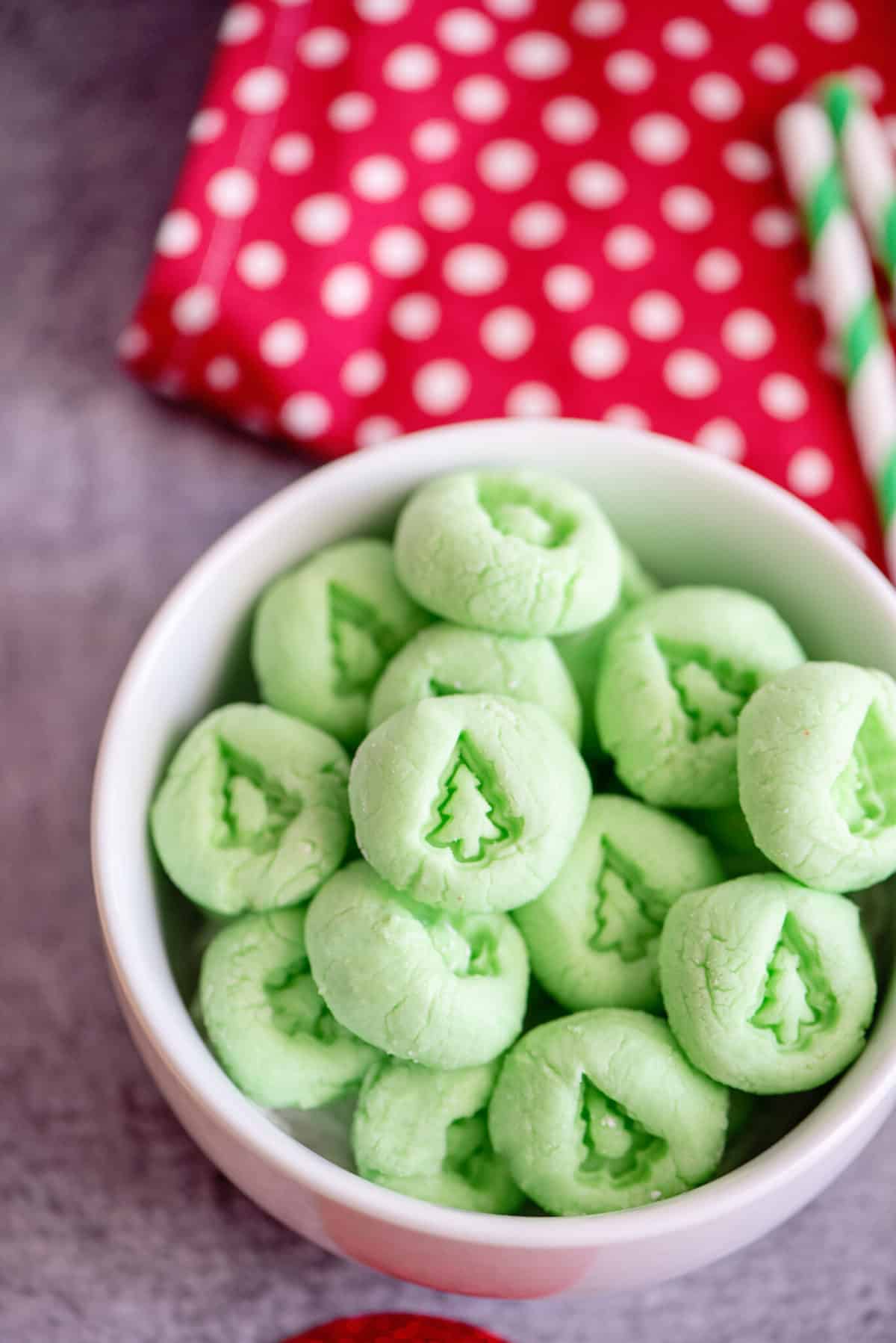 In case you're new here, I'm a big fan of quick and easy but oh-so-delicious recipes, and this cream cheese mints recipe ticks all of those boxes. All you need to do is mix up the four ingredients in a bowl, pinch off bits and roll them into a ball, and stamp or flatten them out a bit to make the mints.
Cream cheese mints and wedding mints are the same things. So if you like, you can keep them simple with stamps as I did or color them if you want to. Check out this gel icing color set here. Make them pink or baby blue for a shower, or a special someone's favorite colors for a birthday party. Whatever cranks your tractor or keeps your tractor idle, whatever your desire!
These mints are totally irresistible. They're sweet, creamy, and will absolutely melt in your mouth. I guarantee they won't last long in your house!
Recipe Ingredients
Confectioner's sugar
Butter
Cream cheese (visit this post for our easy homemade cream cheese recipe).
Peppermint oil
How to Make Cream Cheese Mints
Place your room temperature butter and cream cheese in a large bowl and add the peppermint oil.
P.S. Peppermint oil smells good. If you get some on you, don't touch your eyes but dab a bit behind your ears and on your wrists ;). Look at you! Now you smell like a candy cane! How can that not make you smile? ~GRIN~
Cream that together with an electric mixer until it is nice and fluffy looking.
Gradually add in your confectioner's sugar.
This is code for "dump it all in at once".
Beat the mess out of it until it is well blended, scraping down the sides if need be.
Now, it is going to seem dry as a bone at first and you're going to think this is never in a million years going to come together.
Then two minutes later you'll exhale and say "Oh! There it is!".
If, for some odd reason, it is too dry (I blame aliens), add a tablespoon or two of milk and beat again.
It should be like stiff cookie dough. Only it's not cookie dough. It's even better. Because you can eat it without people freaking out over salmonella.
To color your cream cheese mints
If you're only using one color, you can add it while mixing the other ingredients. Otherwise, separate the dough into as many bowls/colors you like. Then add a drop of gel or liquid food coloring to each bowl. Here is a link to a a more natural food coloring kit on Amazon or if you want to make your own food dyes check this video out: Make your own dyes.
Opt for red and green at Christmas, pastel yellow and pink for Easter, or even pastel blue or pink for baby shower mints.
Mix well until each bowl looks like this.
Then you want to make little one-inch-ish balls of the cream cheese dough.
Roll 'em in some more confectioner's sugar and then place on waxed paper or parchment paper or aluminum foil – whichever you grab first or whatever falls out of the pantry.
Now it is time to press them down with your finger, the tines of a fork, or some little stamps.
Of course, you can leave them as little balls if you want, too, and just call them snowball mints.
In a rare stroke of high maintenance-ness, I decided to use little stamps…
Okay, I actually couldn't find the little stamps I wanted so I made them. But it really was easy because I am one with the glue gun!
How to Make Stamps for Baking or Crafts
I went looking for actual small stamps but was unable to find any. Okay, I found some but they only came in a set and that set was $29.99 so I didn't feel the least bit tempted to buy it. After coming up empty-handed while shopping for the easy solution, I had to get creative. Some of the best options are often found this way.
So, I had these tiny decorative buttons that I'd purchased at Hobby Lobby in the craft section (I've also seen the exact same set at Michael's in the kid's craft section by the foam craft stuff and I think this is the same thing here on Amazon) and I bought some little shaker pegs and hot glued those puppies onto the end of them.
Boom, instant mint stamp :).
You can use regular buttons (tree-shaped if you like), the tines of a fork, the bottom of a glass, or even carve a shape out of the bottom of a carrot if you want – although the carving a carrot thing is a bit too time involved for me to go there just to make a few cream cheese mints. If it were me and I didn't have the stamps I made, I'd just press them lightly with my fingertip to flatten a bit.
If you end up having a stamp (or using a fork), just gently press the design (or tines of a fork) into the confectioner's sugar and then into the mint.
Look how precious my Easter cream cheese mints look :).
Here are some festive cream cheese mints…
And Valentine's Day-themed mints as well. They truly are the perfect treat for any occasion.
Here's what they look like without any coloring too.
Now, if my Grandmama were alive, she'd take one look and say, "Well, God love it!"
Because God loves babies and mints – of course!
Now, let your cream cheese mints sit out for a few hours to dry.
I flip them over after about an hour or so to help speed the process. They are ready when you pick them up and they don't feel tacky. Store them in a sealed container in the fridge or at room temperature if you are going to eat them in a day or two.
Storage
Store your cream cheese mints in an airtight container in the fridge for up to 14 days. You can also store them in the freezer for up to 12 months. Thaw in the fridge overnight before enjoying.
Recipe Notes
Peppermint oil is usually found at Walmart or on Amazon during the fall baking season. You can also find it at places like Michael's, Hobby Lobby, and JoAnn in addition to specialty bakeshops and such. I have seen Peppermint Oil at health food shops as well. It only costs a few dollars and will last ten forever.
But please note that peppermint oil is very strong. Use sparingly and if you get it on your fingers, don't touch your eyes! Also, make sure the package specifically says for candy and baking. I have heard a lot of the essential oil companies (DoTerra and Young Living) sell oils that are food grade and safe for consumption – I'm not talking about those here. I have never used them and have no idea if they are equivalent in strength or flavor. You are welcome to try but just know that if you go that route, you're going rogue and it may or may not end up being the same recipe as this.
If you're not a fan of mint, you can play around and try a different flavor extract if you like. Try simply vanilla extract or almond extract.
Instead of balls of dough, roll the dough into a log and cut the cream cheese mints into little squares that resemble butter mints. You can also use a candy mold if you have one handy or pipe the dough onto the parchment paper. Your recipe, your rules.
Here is a link to a a more natural food coloring kit on Amazon or if you want to make your own food dyes check this video out: Make your own dyes.
Check out these other bite-sized treats:
Candied Peanuts (2 Ingredients Only)
Potato Candy Recipe Made The Ole Fashioned Way
Recipe For Easy Chocolate Fudge
Oreo Cookie Balls (3 Ingredients Only)
Servings:
80
1-inch mints
Ingredients
8

ounces

softened cream cheese

3

tablespoons

softened butter

7-8

cups

powdered sugar

start with 7, reserve 1 cup for dipping later

4-6

drops

peppermint oil
Instructions
Place the softened cream cheese, butter, and peppermint oil in a large bowl. Beat with an electric mixer until fluffy.

8 ounces softened cream cheese,

3 tablespoons softened butter,

4-6 drops peppermint oil

Add 7 cups of confectioner's sugar and beat again until it's a dough-like consistency. It will seem stiff and dry at first but after a minute or two it will come together. If it is too dry to form balls after you are done mixing (this is rare), add in a tablespoon of milk and mix again.

Form into small one-inch balls and place on waxed paper.

Roll each ball in the confectioner's sugar and flatten slightly with your fingertip, a fork, the back of a spoon, or a tiny seasonal stamp.

Allow mints to dry for a few hours before storing. If they will be eaten in a day or two, I leave them out at room temperature in an airtight container. For longer storage, place in the refrigerator.
Remember, you can easily tint with food coloring to match the occasion if desired. Wedding shower, baby shower, holidays, etc.
Nutrition
"The only normal people are the ones you don't know very well."
~Alfred Adler