These Candied Peanuts taste like a homemade version of Boston Baked Bean peanut candy, if you've ever had that, only better. You'll love them.
I just got done making these candied peanuts and they are SO GOOD and SO EASY and SO inexpensive (Best part yet!) that I thought I'd share them with you all quick like before I had to head out to speak at the chapel service in a local elementary school. Please pray that what I say makes sense and what needs to be heard is heard today 🙂
Recipe Ingredients:
Also some water but we're unusually blessed in that most of us reading this have that readily available at all times.
These raw peanuts are purchased on the aisle right next to the pecans and such, but at a fraction of the cost of other nuts like pecans – another reason to love this recipe.
To begin with, place sugar and water together in a nice pot and stir it up a bit.
Put this over medium heat and stir constantly until the sugar is dissolved.
Note: I am making a triple recipe in all of these photos. You won't have this many unless you triple the recipe as well.
Like this.
Now add your peanuts.
No, we're not going to remove those skins. They'll be just fine and besides, we aren't into high maintenance food. We have enough on our plates as it is without going around looking for more to add. When times are busy, I have a strict policy of not adding one more thing. If anything happens, it's me taking something off my to-do list rather than adding more in.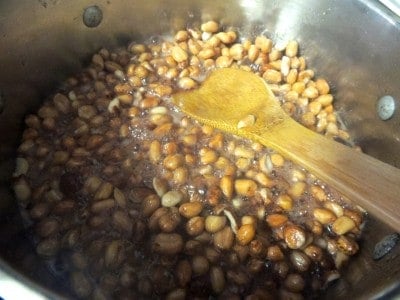 Put this back on medium heat and cook for about half an hour, until the liquid has all evaporated and you're left with sugar coated peanuts. I promise this will happen 🙂 Stir constantly during this.
See? Told ya!
Now spread this out onto an ungreased cookie sheet…
But Christy, did you say UNgreased cookie sheet?
Why yes. Yes I did.
Place this in a 300 degree oven for thirty minutes, stirring after every ten minutes.
Note: I am making a triple recipe in all of these photos. You won't have this many unless you triple the recipe as well.
Remove from oven, allow to cool, and package in bags or airtight containers.
Mama just puts hers in little mason jars.
Enjoy!
Now go see how many pairs of jeans your son has and make sure they're all clean so you can get some sleep tonight 🙂
Ingredients
1

cup

sugar

1/2

cup

water

2

cups

peanuts

raw, skin on
Instructions
Preheat oven to 300. In a medium saucepan, combine sugar and water. Place over medium heat and stir until sugar dissolves.

Add peanuts to sugar water and continue to cook over medium heat, stirring constantly, until the peanuts are completely sugar coated and no sugar syrup remains, about thirty minutes.

Pour out onto ungreased cookie sheet and spread out a bit. Bake for 30 minutes, stirring every ten minutes. Allow to cool on cookie sheet and then store in sealed container.
Nutrition
You may also like these snack recipes:
Candied Pecans Recipe: Family and Friends Favorite
Recipe for Caramel Corn Great Snack or Gift
"What sunshine is to flowers, smiles are to humanity. These are but trifles, to be sure; but scattered along life's pathway, the good they do is inconceivable."
~ Joseph Addison
Submitted by Jenny. Please click here to submit your positive or encouraging quotes.