Monkey Bread With Cream Cheese Stuffing
This monkey bread with cream cheese includes biscuits stuffed with cream cheese and covered in cinnamon, brown sugar, and pecans. It's the most delicious and sweet breakfast or dessert to indulge in today.
Does the above description make anyone else drool or just me? This monkey bread with cream cheese recipe I'm sharing today is a deluxe version of the classic monkey bread recipe. It takes a few minutes more but really amps it up a notch and makes a great breakfast danish! We tend to have it for dessert or a special evening snack, though.
Now, some monkey bread recipes include a cream cheese glaze. But we're going one extra step and stuffing each piece of biscuit with cream cheese. The cream cheese isn't sweetened, so it creates the perfect balance between the sweetness of the brown sugar. The other ingredients include biscuits, cinnamon, white sugar, butter, and pecans. They combine to make a quick, easy, and delicious pull-apart bread that you can pop into the oven in minutes!
Each flaky yet soft biscuit piece is covered in cinnamon and sugar and stuffed with cream cheese. Then they're placed in a bundt pan in a caramelized sauce made from butter, brown sugar, and pecans. Oh my goodness, my mouth is watering already just thinking of that delicious praline sauce.
The best part is, when you share this with family and friends, they'll be in for a surprise when they pick up a biscuit and it's filled with gooey cream cheese.
Recipe Ingredients
Pecans (optional)
Grands Jr biscuits
Cinnamon
Brown sugar
White sugar
Cream cheese (check out this post to learn how easy it is to make cream cheese at home).
Butter
How to Make Money Bread with Cream Cheese Stuffing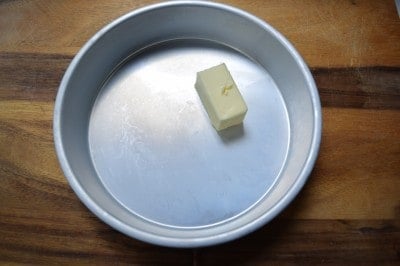 Lightly grease a 9-inch round cake pan with cooking spray.
Place 1/2 a stick of butter (1/4 cup) in the cake pan and put this in the oven while it preheats just to give the butter time to melt.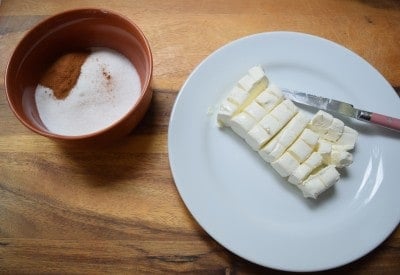 In a bowl, stir together the cinnamon and sugar.
On a plate, cut your cream cheese into 24 to 28 cubes.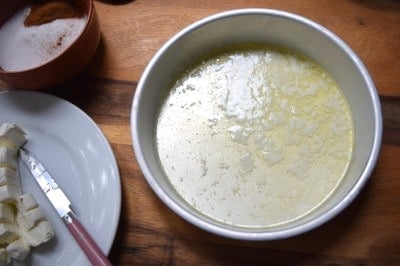 Oh, look! Our butter has done gone and melted!
Isn't it nice when something does what we want it to?
Enjoy this moment while it lasts because goodness knows we don't get many of these.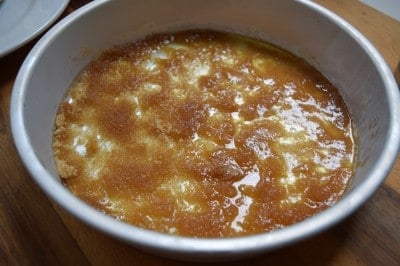 Sprinkle your brown sugar all over the top of that.
Now add your pecans.
Now take each biscuit and tear it into two layers.
Oh look, here are some cute little biscuits all torn into layers and then some whole biscuits up at the top awaiting their fate!
Once they're all layered up, put a little cube of cream cheese in the center of each one.
Y'all, this isn't all of the layers for one pan, it's only half of them. Just wanted to point that out.
Then, fold the biscuits into little balls to cover up the cream cheese and press them a bit to seal them closed.
Now just roll them around in the cinnamon sugar mixture.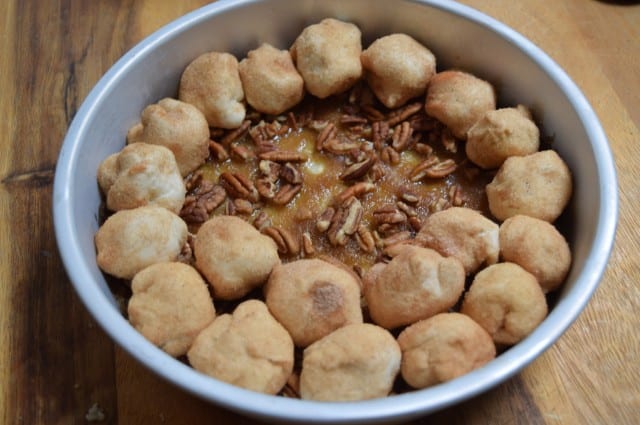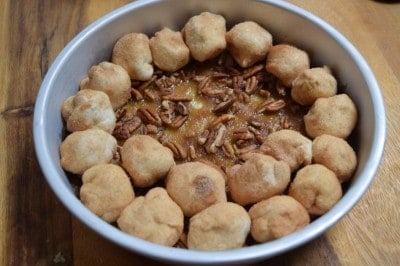 Arrange them on top of your pecans in the pan.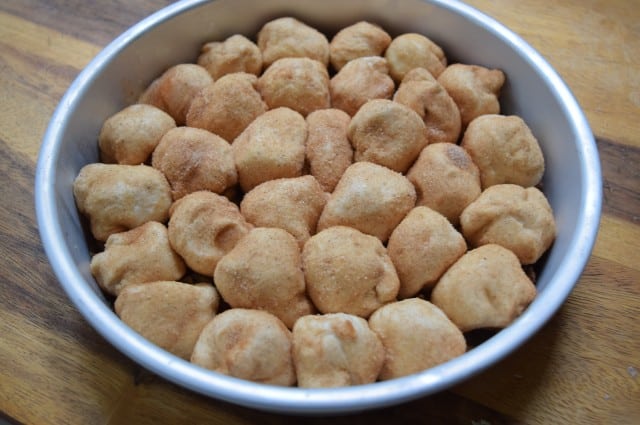 Do this until your pan is full.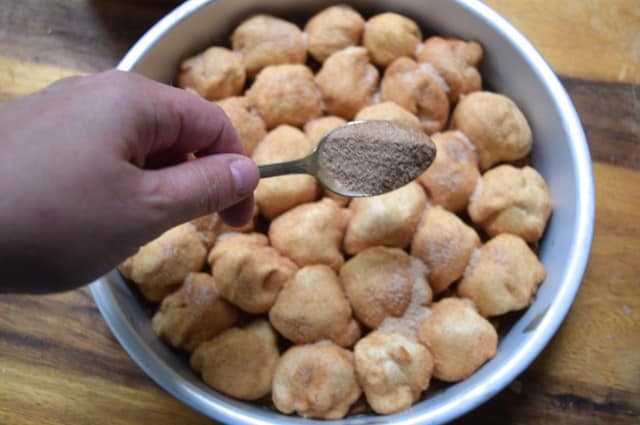 Sprinkle a few more tablespoons of the cinnamon sugar mixture over your bread.
Cut up the remaining butter and scatter that over the top.
This is only 1/4 cup of butter but when you cut it up into little pieces it looks like I'm dropping 2 pounds on this thing doesn't it?
Bake this in a 350 oven for 35 to 40 minutes, or until lightly browned all over the top.
Remove from the oven and let cook for 5 minutes before turning it out onto a plate.
Keep in mind that you have tiny little molten cream cheese centers so for some of us that means letting it cool, for others it means eating it as soon as possible!
Storage
Store leftovers in an airtight container in the fridge for up to 3 days. You can also wrap portions in foil and place them in the freezer for up to 3 months. Thaw overnight before reheating in the oven or air fryer.
Recipe Notes
You can use any type of pan to make this stuffed monkey bread, including the traditional bundt cake pan or a 9×13-inch pan.
You can substitute pecans for walnuts in this recipe or omit the nuts completely.
Alternatively, add sliced apples, pears, raisins, or chopped berries on top of the pecans before adding the dough balls.
If you want even more sweetness, you can drizzle a simple vanilla glaze over the top of the monkey bread before serving.
Recipe FAQs
What is monkey bread sauce made of?
The monkey bread sauce is like a caramelized pecan praline sauce, made with butter, brown sugar, and pecans. It's so good, y'all.
What kind of nuts go in monkey bread?
The best nuts for monkey bread are pecans and walnuts.
Monkey bread gets its name from the way you break off pieces of dough with your fingers like a monkey grooms a friend! Yes, really.
How do you make chocolate cream cheese monkey bread?
Sprinkle chocolate chips before adding the biscuit balls to the cake pan and on top before baking.
Check out these other fun breakfast recipes:
Overnight Stuffed French Toast
Ingredients
15

Grands Jr biscuits

1 large can and one small can or 2 large and cook the extras

1/2

cup

butter

1

cup

white sugar

1

cup

light or dark brown sugar

1

tablespoon

ground cinnamon

1

cup

pecans

8

ounces

cream cheese

straight from the refrigerator
Instructions
Preheat oven to 350. Prepare a 9-inch cake pan by lightly greasing it with cooking spray and placing 1/4 cup of butter (half of a stick) in it. Put this in the oven while it preheats just until the butter melts.

Remove the pan from the oven and sprinkle the brown sugar over the melted butter. Sprinkle pecan pieces on top of that. Set aside.

1 cup light or dark brown sugar,

1 cup pecans

In a small bowl, stir together the cinnamon and white sugar. Set aside. Cut cold cream cheese into 24 small cubes and set aside.

1 cup white sugar,

1 tablespoon ground cinnamon,

8 ounces cream cheese

Divide each biscuit into two layers. Place a cube of cream cheese in the center of each layer and fold the biscuit dough around it, pressing to seal the cream cheese in. Roll each cream cheese-filled dough ball in the cinnamon sugar mixture and place them close together on top of the pecans in the cake pan. Repeat until the pan is full.

Sprinkle a few tablespoons of the remaining cinnamon sugar mixture over the dough balls. Cut the remaining butter up into small pieces and scatter over the top of all of this.

Bake at 350 for 30 minutes. Remove from oven and allow to cool for 5 minutes before turning out.
Nutrition
"Be strong when you are weak, brave when you are scared, and humble when you are victorious."
~Unknown