Learn how easy it is to make this Make Ahead Breakfast Quiche ahead of time and have it ready to reheat whenever you like!
We really like to get as much protein as possible with our breakfasts and quiches are a great way to do that. Years ago, I noticed that local grocery stores sold precooked quiches in their refrigerated deli section with instructions on how to heat up a single slice at a time. I picked one up and brought it home and enjoyed a delicious protein rich breakfast every morning for a whole week on that one quiche! Once that one ran out I started to make my own, which was even better since I could customize it.
A breakfast Quiche is one of the simplest things you could make, especially when you use store bought crusts. Take your favorite meats – or leave meats out entirely – add some veggies if you like and top with a little cheese. The egg mixture brings it all together in this wonderful blend of flavors and textures. Bake them fully ahead of time and store in your fridge for a quick breakfast when you need one. I also grab a slice for lunch from time to time and we have had this for supper on more than one occasion.
With our first ever RV trip planned (we are renting an RV, how fun!), I've already added a few pre cooked quiches to our menu because although we will have a full kitchen, I want to spend as little time as possible using it.
There really is no limit to what you can add to a quiche in terms of ingredients. In this particular one we are using Cooked and crumbled turkey sausage (I LOVE Jennie-O brand that comes in a roll, it is just perfect and while we only eat turkey sausage now our son eats all kinds and he still prefers that brand to traditional sausage), frozen cubed hash browns (my husband's request), and cheese. Of course you'll always need eggs, milk, and some salt and pepper.
For the crust I like to use refrigerated crusts that you roll out into your pan or just a frozen pie crust all ready to go. A regular crust will work just fine for this one but if you wanted to get a deep dish one you could double the eggs to fill it.
Place your pie crust in your plate or just sit out your frozen pie crust if that is what you are using. Put filling ingredients inside. I am using turkey sausage, hash browns, and cheese. I'll add more cheese in a minute so you'll see that in other pictures. I tend to use this recipe to "use up" shredded cheese that is lingering in my fridge from other recipes. 
The complete recipe is at the end of this post in a printable recipe card.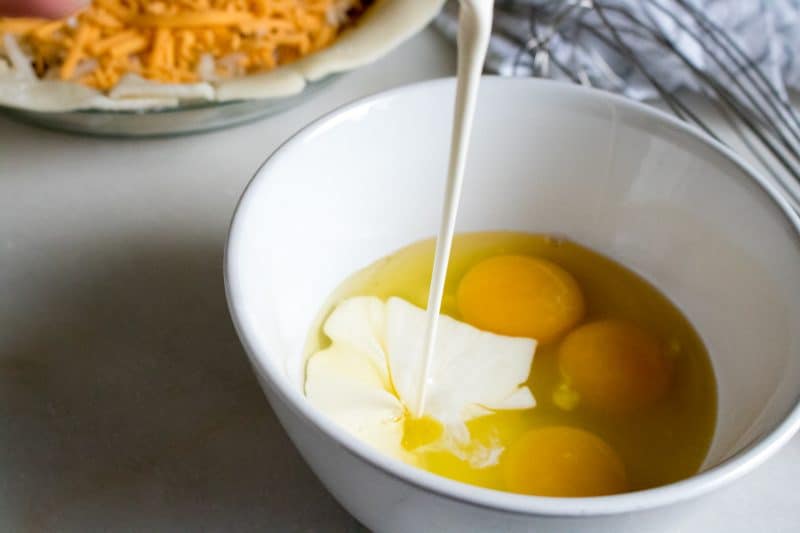 Place your eggs, milk, salt, and pepper in a medium mixing bowl.
Beat 'em til they're well blended. 
Pour this over your crust. 
Top with cheese of your choice or whatever cheese you have on hand. This is where I like to clean out the refrigerator so sometimes I use cheddar, sometimes mozzarella, sometimes a blend of both. 
All done and ready to go in the oven! 
Pie can be served warm immediately or allow to cool, wrap in foil, and store in the fridge.
This also freezes well, just make sure you wrap it up really well. My favorite freezer tip is to go ahead and cut the pie into slices and freeze those individually.
To reheat just take a single piece and microwave it until heated through, about one minute (depending on your microwave).
Enjoy!
Ingredients
store bought pie crust

regular, not deep dish

1

cup

turkey sausage

cooked and crumbled

1

cup

frozen diced hash browns

1

cup

shredded cheddar cheese

3

eggs

1/2

cup

whole milk

half and half, or heavy creamer

salt and pepper to taste
Instructions
If using refrigerated roll out crust, roll it out into a 9 inch pie plate. If using a frozen crust set it out on the counter.

Evenly spoon or otherwise place sausage, hash browns, and cheese into pie crust.

In medium bowl place eggs, milk, salt, and pepper. Beat with a fork until well blended. Pour over ingredients in pie crust.

Bake at 350 for 40-45 minutes or until lightly browned on top. Quiche might still have a tiny bit of jiggle in the middle but it will set once you take it out.

Serve warm immediately or allow to fully cool, wrap in foil, and store in fridge for quick heat up meals throughout the week.
Notes
This will keep for up to a week in the fridge. To reheat, take a single slice and place on a microwave safe plate. Heat in microwave until heated through, about one minute.
This also freezes well, just make sure you wrap it up really well. My favorite freezer tip is to go ahead and cut the pie into slices and freeze those individually.
Nutrition
The past is valuable to you as a guidepost, but dangerous if you use it as a hitching post. 
~unknown