Crock Pot Lasagna just might become your "go to" recipe!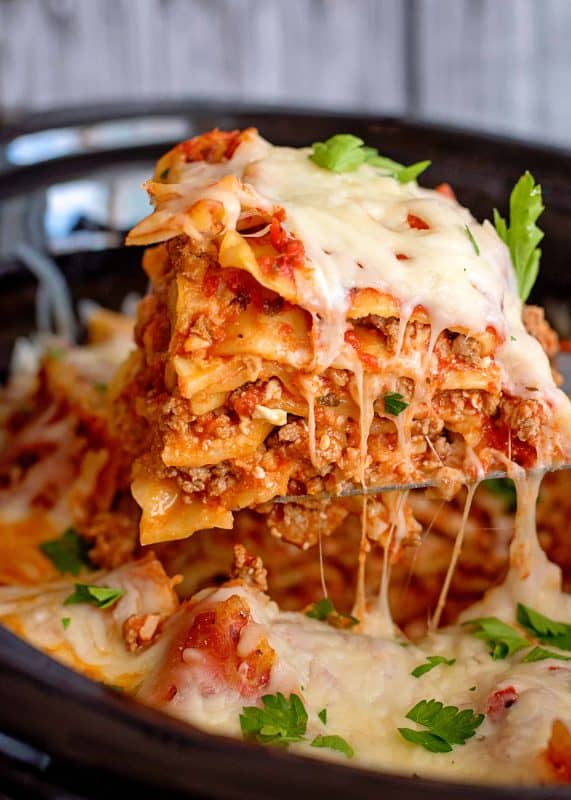 I am a HUGE lasagna fan. It was one of the first suppers I "cooked" as a kid, although I didn't actually do anything. Mama would assemble a lasagna the night before and put it in the fridge, uncooked. Since lasagna takes so long to cook, my job was getting it in the oven when I got home from school so it would be ready in time for supper.
Most of the time that went off without a hitch…
Most of the time that went off without a hitch but I will tell you that Mama quickly learned not to cover it in plastic wrap! How many of y'all know how strong the smell of burning cling wrap is from firsthand experience? A distracted tween is not the best at following the details in instructions. She only did that once, though. From then on, she covered it in foil just in case I forgot to remove it. Do you have any fun kitchen mishaps like that? I find that most of us have a kitchen story or two from our early days of cooking and from time to time we make a new mistake memory that is worth retelling in our later years, too!
I'd love to hear them in the comments if you have any you're willing to share!
Whenever I make a lasagna today, I make mine in the crock pot. There is no need to cook the noodles ahead of time and I usually have precooked beef in my freezer so it's just a matter of assembling it in the morning and turning the slow cooker on. My husband comes home to a delicious smelling house and all I have to do is serve it up. If you've never made crock pot lasagna, you may find yourself making it this way from here on out!
Recipe Ingredients:
Spaghetti sauce of your choice
Lasagna noodles
Cooked ground beef
Mozzarella
Cottage cheese*
*If you don't want cottage cheese you can substitute ricotta. Go with what makes you happy! Those are the only substitutions I've ever made myself to this recipe so I can't recommend any others.
In a medium bowl, stir together both cheeses.
If you haven't browned your beef yet, now is the time to brown and drain any grease from it.
Now let's assemble our lasagna! Spread a layer of sauce in the bottom of your slow cooker. I use a 6 quart slow cooker for this recipe. Sprinkle about 1/3 of your ground beef over that followed by cheese. Then add more sauce. Break up lasagna noodles to cover this (see photo)* and then repeat until all of your ingredients are used. I usually end up with three layers and for cooking, I end with sauce and top with more cheese before serving. Cook this on low for 6-7 hours.
*Important. To help your lasagna come out prettier, alternate which direction each layer of noodles go. Trust me on this! You can see a demonstration of this in the photos above.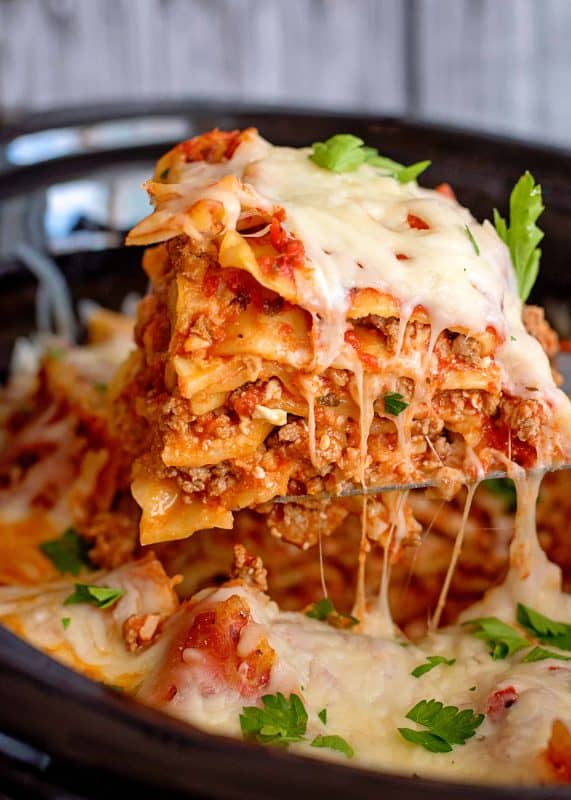 I like to top with more cheese right before serving, but if your brood isn't as into cheese as mine, you don't have to add anymore. My husband likes cheese so much that his beloved grandmother used to always accuse him of being part rat!
Put this on the menu as soon as you can! You won't regret it.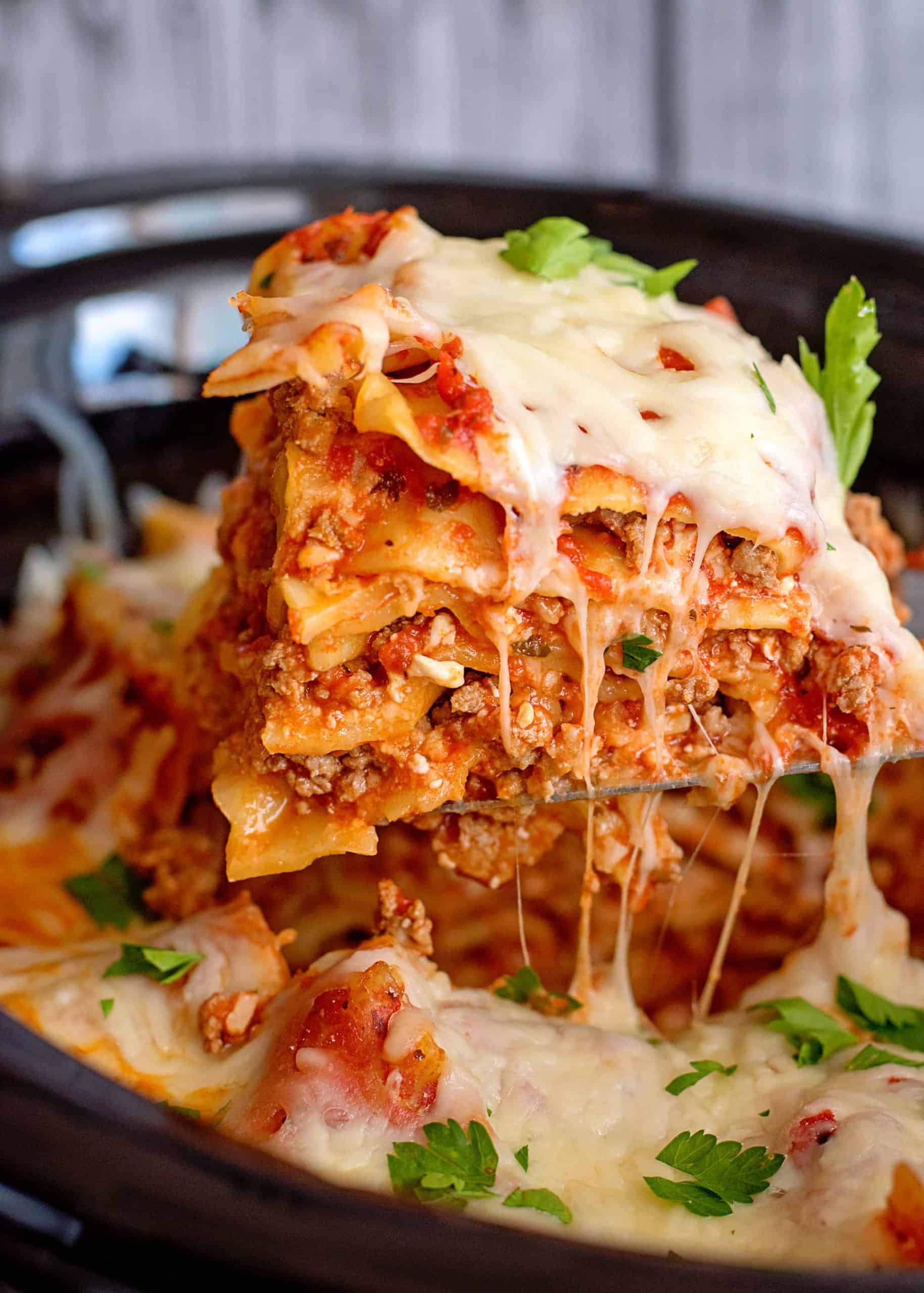 Ingredients
1

(16 oz) box

lasagna noodles

16

oz

cottage cheese

2

lbs

ground beef

cooked and drained

2 - 26

ounce

cans or jars of spaghetti sauce

2

cups

mozzarella

1-2

cups

additional mozzarella to top before serving

optional but wonderful
Instructions
In bowl, stir two cheeses together until well combined. Spoon a layer of sauce in bottom of crock pot.

Add about 1/3 of the cheese mixture on top.

Sprinkle small amount of ground beef over top of cheese. Top with a layer of noodles, breaking to make them fit. Be sure to alternate which way the noodles go with each layer. Top noodles with another layer of sauce.

Repeat process until all ingredients are used, ending with sauce.

Cover and cook on low 6-8 hours. You can also cook it on high for about 2 1/2 - 3. It cuts better (prettier) if you turn off the slow cooker and let it sit for about fifteen minutes before serving.

If desired, top with another layer of mozzarella before serving.
Nutrition
You may also enjoy these recipes:
Low Carb Lasagna Stuffed Chicken
Crock Pot Lasagna from 2008
I'd love to hear from you in the comments section below!