Crunchy Refrigerator Salad
Crunchy Refrigerator Salad
I love cold vinegar salads like my Fire and Ice Salad. I could honestly dive into a vat of that stuff, but that salad really needs to be eaten within a few days and I was looking for something that would last longer in the fridge so I could always have it on hand. So I developed this Crunchy Refrigerator Salad as a spinoff salad using veggies that will stay crunchy longer, with a light coating of a dressing based on the same principle – but with a little added kick .
Let's get mixing!
You'll need: Matchstick carrots (or diced, or baby, or crinkle cut), an onion, coleslaw mix, and some broccoli and cauliflower florets.
AND…
Some sugar, white vinegar, Italian dressing mix (dry), and a little water.
Now for anyone who has never had a salad like this Crunchy Refrigerator Salad before, you might think that the sugar will make it sweet but it doesn't. The sugar is just there to offset the vinegar slightly. It is still a good vinegar taste to it, but with this amount of sugar, it keeps your face from puckering 🙂
Chop your onion.
I had to do this when my husband was home, know why? Because I can't reach the plates!
I keep asking him to put one of each type of dish on the counter before he goes to work but with all he is juggling right now, he often forgets.
This is not the best time to be married to me 🙂
Remind me, if I ever build a home to make a wheelchair accessible butler's pantry.
Dump all of your veggies into a large bowl along with onion. Mix that up pretty good.
Mix together water, vinegar, sugar, and Italian dressing mix.
Pour your dressing over the salad.
Stir until well coated.
This isn't going to seem like enough dressing but as it sits, the veggies will create more water and we will stir it every now and then until it is ready to eat. You'll be surprised!
However, if you want to add more, add an extra 1/4 cup of water, 1/4 cup vinegar, and 1/4 cup sugar.
Note though, that I do not do this because my goal is to just have a light coating on the veggies.
Cover that and let it sit out for an hour.
Stir really well and then refrigerate all day or overnight.
Eat this Crunchy Refrigerator Salad whenever you like!
This will keep for up to a week and makes a great snack, side dish for supper, or quick lunch!
I'm eating some right now 🙂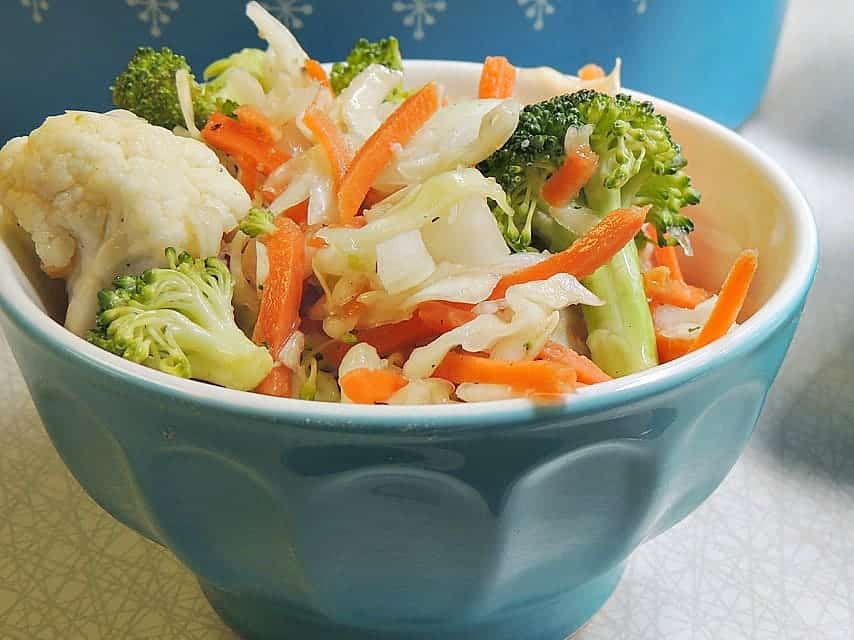 Ingredients
14

ounces

coleslaw mix

12

ounces

broccoli and cauliflower florets

10

ounces

matchstick carrots

or 1 cup and 1/2 of diced carrots

1

onion

chopped
Dressing
1/2

cup

water

1/2

cup

sugar

1/2

cup

white vinegar

.7 ounce package of dry Italian Dressing Mix

enough to make 8 ounces of dressing
Instructions
In very large bowl, combine all vegetables.

In 2 cup measuring cup, pour water, vinegar, sugar, and dressing mix. Stir for a few minutes until well combined and sugar begins to dissolve (it won't dissolve completely at this point).

Pour dressing over vegetables and stir well to coat. Cover and let sit at room temp for one hour. After one hour, stir again, cover and place in the fridge for several hours or overnight.

Before serving, stir well. Will keep in fridge for up to a week. It actually gets better as the week goes on!
Nutrition
You may also enjoy these summer salad recipes:
Tomato Onion and Cucumber Salad
Cucumber Salad Creamy and Delicious
Low Carb Broccoli Cauliflower Salad
I know what it is to be in need, and I know what it is to have plenty. I have learned the secret of being content in any and every situation . . .I can do everything through him who gives me strength.
~Philippians 4: 12-13