Today I'm going to show you how to make black eyed peas, from dried beans, using your slow cooker. These beans cook perfectly and all you have to do is toss 'em in and go about your business!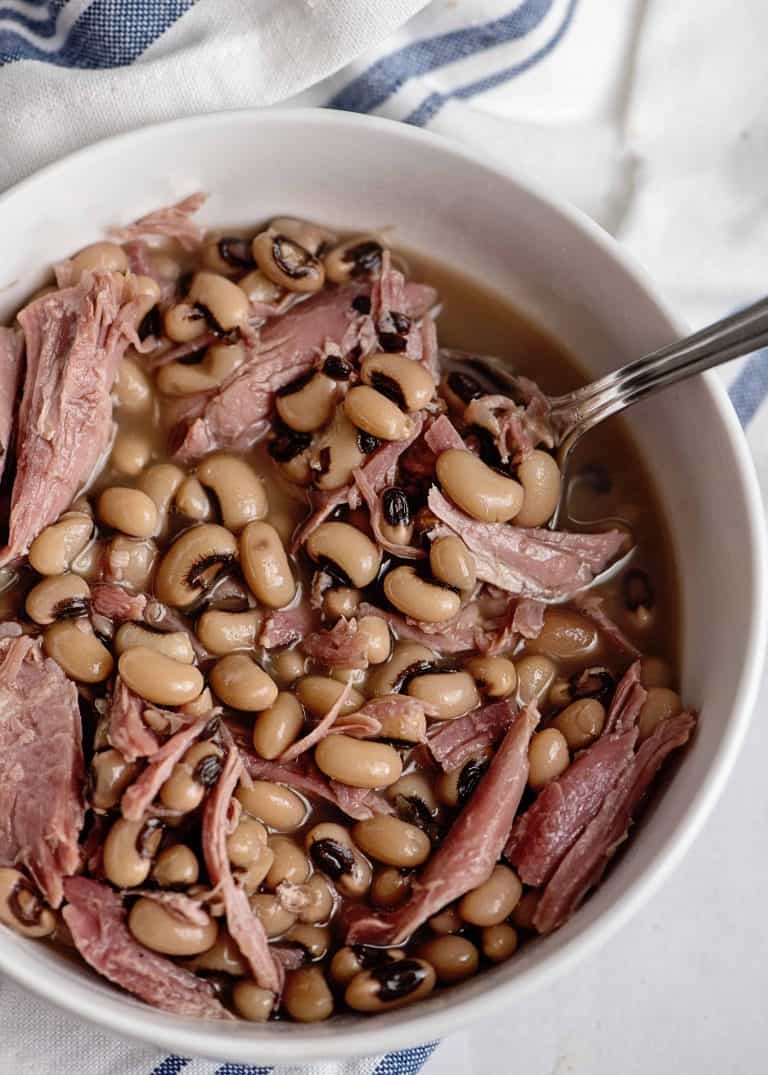 With a new year upon us, Southerners start thinking about that special first big dinner, with all of it's symbolic dishes that tradition tells us will bring wealth and good fortune in the coming year. Black eyed peas for good luck (the amount of good luck is supposed to be directly related to how many peas you eat) and collard or turnip greens for wealth, again with the amount eaten directly proportionate to how much wealth you will receive.
Of course, I don't believe that because I'm not a believer in luck and I know a pot of greens isn't going to bring me money, but I'll sure stick with this meal as a means of honoring tradition – and getting a plate full of my favorites, to boot!
The ingredients are simple: Dried black eyed peas, salt, and a smoked turkey leg. I buy these in packs of two from Walmart but often Sam's has them cheaper in packs of three.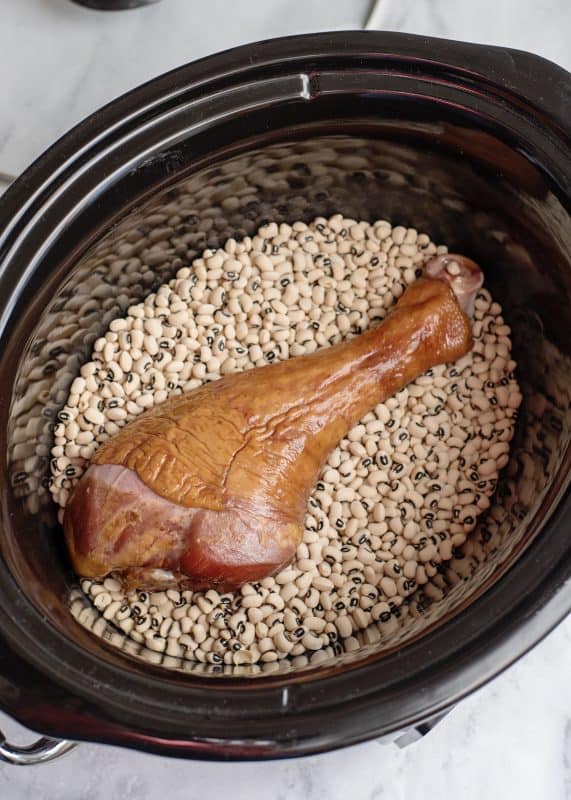 Place turkey leg and dried peas in your slow cooker.
I am using a 6 quart slow cooker here.
It is always a good idea to "sort" your beans before adding to the pot. Sometimes you'll find a small stone in the bag. Some brands have several. To sort them, just pour them into your hand a bit at a time, look at them to make sure they're all beans, and then toss them in the pot.
Add salt. It takes a good bit of salt to make beans. I add a tablespoon for this whole pot.
Add enough water to cover everything.
Put your lid on and turn that puppy on low for 8-10 hours or overnight is fine if you want to have them for lunch the next day.
The turkey will be very tender and easy to pull off and shred before adding back to the pot.
Oh goodness, that is some good stuff!
If you are making these for New Year's Eve dinner (usually served around lunchtime), you can put them on before you go to bed at night an let them cook on low until you're ready to serve.
Servings:
4
a lot of beans
Ingredients
12-24

ounces

Dried Beans of your choice

Smoked turkey leg for seasoning

1

tablespoon

salt

6

quart

slow cooker
Instructions
Place turkey leg in slow cooker. Sort beans and pour on top of turkey.

Add salt.

Completely cover with water and fill slow cooker to within one inch of the top.

Cover and cook on low for 8-10 hours or overnight if having for lunch the next day.
Nutrition
Complete your meal by adding the following:
Traditional new year's day meat is some type of pork. However, we don't eat pork anymore and we've found smoked turkey to be an excellent substitute!
"Do not take to heart all the things that people say."
~Ecc 7:21