Made with just 5 ingredients (including a box cake mix), this easy coconut poke cake recipe is oh-so-moist, sweet, and a traditional Southern holiday cake.
Around these parts, we call this my Daddy's coconut cake, because he's a coconut lover and it's his favorite cake at Christmas time and Easter. Luckily, none of us complain because it's just divine beyond compare. It's another great refrigerator cake recipe, which means you can make it up to three days ahead of time and then let it sit in the fridge. It will just grow moister and more delicious with every passing minute. There's nothing like tender and moist coconut topping on a soft and fluffy piece of cake.
Coconut around the holidays is a tradition in the South, especially coconut cakes! Back in the old days that was the only time of the year you could get such an exotic thing as coconut in these parts (well, in Alabama anyway). So, it's no surprise this coconut poke cake recipe is just one of four on my blog! You can also check out my Grandmama's coconut cake with 7-minute frosting, my key lime coconut sheet cake, and Miss Patsy's too easy coconut cake.
You only need 5 ingredients and a little bit of time to whip up this coconut poke cake. Once you bake the yellow cake mix, you're going to poke holes in the warm cake and top it with a deliciously creamy and sweet combination of ingredients: sugar, whipped topping, sour cream, and coconut. Then you let it chill and let all of those delicious flavors soak into the cake. It's no wonder it's a family favorite right? My mouth is already watering over here, so let's get bakin'!
For the complete listing of all recipes I have posted to the Holiday Baking Category (including gift mixes), click here.
Recipe Ingredients
Yellow cake mix
Flaked coconut (you can use any kind of coconut, including canned coconut).
Sour cream
Whipped topping (such as Cool Whip)
Sugar
How to Make Coconut Poke Cake
We're making a coconut sheet cake today, so prepare your pan by lightly greasing it with cooking spray.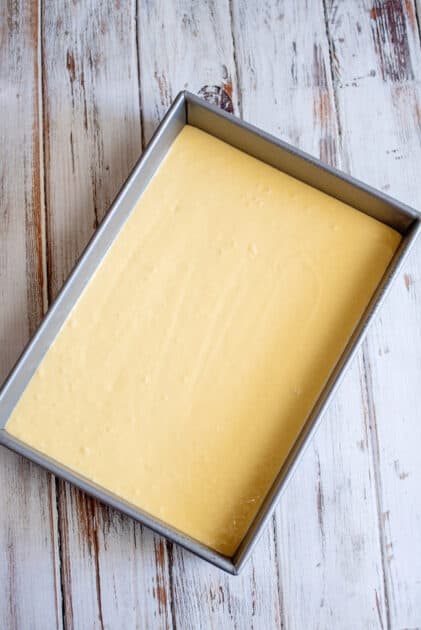 Then you're going to need to bake a yellow cake. Just get a boxed mix like I do or use your favorite recipe.
The cake isn't that important as the icing is our key player here. I used a yellow boxed mix and made the cake batter according to the package directions.
While the cake is warm, we need to assemble our whipped cream topping. So place all icing ingredients (sugar, coconut flakes, whipped topping, and sour cream) in a mixing bowl.
Mix until well blended.
Poke holes in the warm cake with a fork.
Cool cake in the pan for about 10 minutes and then spread the icing over the top of the entire cake.
Spread over, cover, and refrigerate!
You can make this as a layer cake but I find it is much easier to deal with (and store in the fridge) as a sheet cake.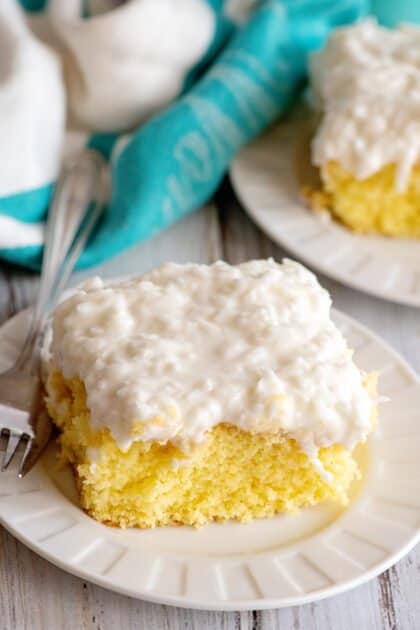 YUM!
Storage
Store leftovers covered in the fridge for up to 5 days.
Because there's sugar in the frosting, the cake will also freeze well for up to 3 months. Thaw in the fridge and then bring to room temperature before serving.
Recipe Notes
You can use the box cake mix (including white cake mix) or pound cake recipe of your choice. You could even use a chocolate cake mix

to make

and top the cake with shaved chocolate. YUM. Or how about a strawberry cake mix with fresh strawberries?
If you like, you can toast some coconut flakes quickly in the oven (keep an eye on them as they brown quickly) and sprinkle the toasted coconut over the poke cake before serving.
For added coconut flavor, add 1.5 teaspoons of coconut extract to the whipped cream topping.
Some coconut cake recipes substitute sour cream and sugar for 1 can of coconut cream (NOT coconut milk, folks). If you prefer this method, go ahead. Another option (if that's too much coconut flavor) is to opt for a can of sweetened condensed milk instead.
Check out these other holiday favorites:
Southern Plate's Must-Make Christmas Cookies
Coconut Macaroons Recipe (3 Ingredients Only)
Easy Pumpkin Pie Recipe From Scratch
Ingredients
1

box

yellow cake mix

2

cups

sugar

1 1/2

cups

whipped topping

16

ounces

sour cream

12

ounces

shredded coconut
Instructions
Prepare the cake batter according to the package directions and bake it in a 9x13-inch pan.

Combine the sugar, sour cream, whipped topping, and shredded coconut in a mixing bowl. Blend well and chill.

2 cups sugar,

1 1/2 cups whipped topping,

16 ounces sour cream,

12 ounces shredded coconut

Poke holes all over the top of the warm cake and pour the coconut mixture over the cake (after it has rested in the pan for about 10 minutes).

Cover well and refrigerate for 1-3 days before serving. Store in refrigerator.