A few weeks ago (my goodness, how this month has flown by!), I brought you my Granny Lela's Fried Peach Pies and promised you an easier way. I may get distracted, but I always try to follow through so here is that post for those of us who don't have time or perhaps just don't have the desire to make our fried pie dough from scratch.
Most folks who make fried pies have taken this shortcut at one time or another and although it does yield a bit different result, I can guarantee it is still just as delicious and will certainly draw no complaints from those lucky enough to sample the wares! It'll also takes away any waning excuses you may have for not making these little hand held beauties so lets stop dilly dallying and get to it!
You'll need: Cooking oil, lemon juice, cinnamon, bit of margarine, sugar, and some dried fruit. This is for the filling.
Lets talk dried fruit.
Peaches are pictured up top but you can use apples, apricots, peaches, or dried fruit of your preference. Most of this tutorial is going to use apples but you're going to see a photo or two with peaches in it. Don't fret over it, the procedure is exactly the same no matter which dried fruit you use.
To read more about the history of dried fruit in the South, visit my previous fried pie post.
~looks around to make sure the coast is clear and then leans in to whisper~
If you want, you can just substitute pie filling and bypass the next several steps. Shhhh! Let's keep that between us.
Note: Peaches are pictured but the procedure is the same for apples.
To begin with, place your dried fruit in a pot and cover with two cups of water. Bring to a boil.
If you are using apples, you may find that your fruit needs about 1/2 cup more of water. There seem to be a lot more apples in that bag than there are peaches!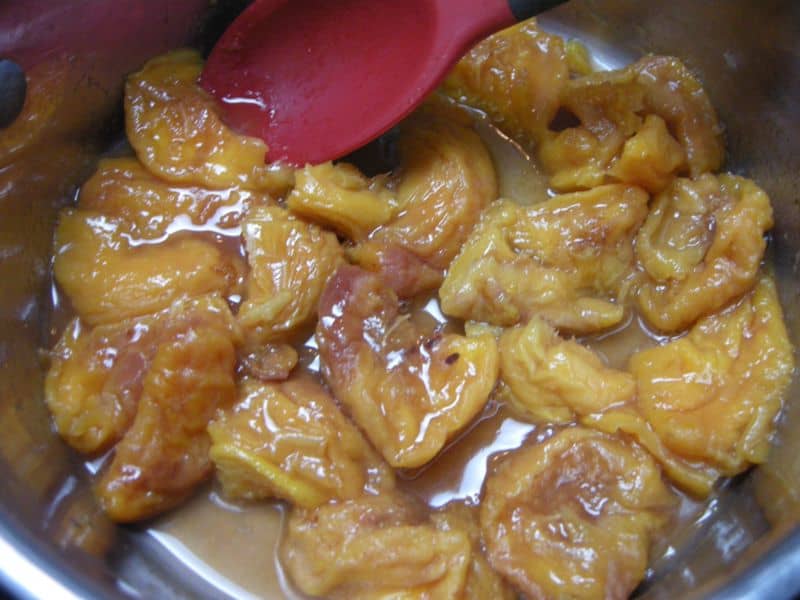 Bring that to a boil and then reduce heat and simmer until they are tender and soft. This will take about twenty minutes.
To test, moosh one with a fork and see if it is able to mash up a bit, like a cooked potato. If so, you're ready.
Apples will be a bit firmer than peaches but that's okay.
Turn off the heat and add margarine…
Add sugar
I know that looks like an obscene amount of sugar but it is only a cup
YES, you CAN substitute Splenda!!! ~does happy dance~
Add cinnamon
If you are making apple pies, add just a bit of allspice too!
I'd add 1/4 of a teaspoon. Anytime you are baking with apples and using cinnamon, just a pinch of allspice really makes your cinnamon flavor*POP*. Allspice amplifies cinnamon to that delicious degree that you smell when you go to cinnamon roll places or restaurants specializing in Apple Pie. Take a whiff of this amazing spice and you'll understand!
Add  splash of lemon juice.
I would have added a great deal less if I wasn't trying to capture the moment on film!
Stir all of that up really well.
Then have a little fun mooshing it.
I use a potato masher but you can use a fork if you like, or pretty much anything else that works.
Open a can of biscuits and place them on a floured surface.
Pretend you see a can of biscuits here.
I was doing this tutorial while being interviewed for the paper so it was a bit awkward, actually posing for a *real* photographer while taking photos myself and talking up a blue streak. The talking up a blue streak wasn't awkward at all though.
Whenever I need to use a floured surface, I roll out a bit of waxed paper and flour it. Super easy cleanup. Y'all know I'm all about the easy.
🙂
Sprinkle a little flour over them and roll out to make a six inch circle with your rolling pin or a glass.
You can read why this rolling pin is so special on my post about Mama Reed's Teacakes.
Voila!
You know my high school french teacher is beaming with pride that I remembered that word. I also remember how to count to three and say Merry Christmas ~grins~That was a well spent two years, huh?
Place a little filling on half of your circle, being sure to keep it away from the edges.
Wet your fingertips and run them around the outside edge so it will stick when you seal your pie.
Like this.
Crimp the edges with a fork.
Pour about 1/2 inch of oil into a skillet (I'm using my cast iron but you don't have to) and heat on medium heat for five minutes or so.
This ensures that your oil is hot enough to sear and cook the pies rather than just soaking into them (prevents greasiness).
Place your pies carefully in the oil and cook for a minute or two on each side until browned. Remove to paper towel lined plate.
Gaze at your lovely creations and think about whose day you want to make a little brighter!
Start with yourself.
~winks~
Easy Fried Pies

Ingredients

6-7 ounces dried fruit (I used peaches, can use apples, apricots, or other dried fruit)
1 cup sugar
2 cups water
¼ cup butter or margarine
1 T lemon juice (optional, but I use it)
½ tsp cinnamon (optional, but I use it) - if using apples, I add ¼ tsp Allspice too
10 - 15 flaky layers biscuits

Instructions

Place dried fruit in a pot and add water. Bring to a boil and reduce heat to simmer until fruit is tender. Add other ingredients and mash together with a potato masher or fork. Set aside while dough is prepared.
Roll each biscuit out on a floured surface into a five or six inch circle. Place two tablespoons of filling in each. Wet the edges and fold over, crimping with a fork.
Cook in oil which has been heated on medium heat, until browned on both sides, turning as needed. Remove to paper towel lined plate.
Burn the candles, use the fancy dishes. Don't save it for a special occasion. Today IS special.

~Southern Plate Reader, Vickie. To submit your quotes, click here.
Thank you for taking the time to read Southern Plate. I hope you have a day every bit as wonderful as you are!
Gratefully,
Christy
Yum