I call this ham and potato casserole recipe embarrassingly easy. Using just 4 ingredients, it's the perfect cheesy, creamy, and hearty supper.
Today, let's make a dinner that will give you more time with your family at the dinner table and less in the kitchen. When I say this cheesy ham and potato casserole is embarrassingly easy, I mean it. All you need is two boxes of scalloped potatoes, some leftover ham, milk, and butter. Yep, that's it! Mix the ingredients together and your casserole will be ready in just 20 minutes.
Now, my long-time readers know I have issues with instant potatoes. But just keep in mind that I am also a mother and have no issues with shortcuts that get us all sitting down to dinner! Bear with me, I promise this casserole recipe is delicious and you won't even remember you're eating instant potatoes. It's thanks to that flavorful and creamy cheese sauce.
It makes a great breakfast or a post-holiday dinner. Make it after Christmas or Easter to use up any leftover ham. Alternatively, make a turkey and potato casserole recipe with leftover turkey from Thanksgiving dinner. No matter the combo, you and your family are sure to enjoy this scrumptious casserole with cheese sauce.
If you're on the hunt for more recipes that use leftover ham, check out this post.
Recipe Ingredients
Milk
Butter
Scalloped potatoes
Leftover ham
How to Make Ham and Potato Casserole
Pour sliced potatoes into a baking dish lightly greased with cooking spray.
Pour your sauce powder (included in the box) over the potatoes and add butter if your potatoes call for it.
Next, add the diced ham to the casserole dish.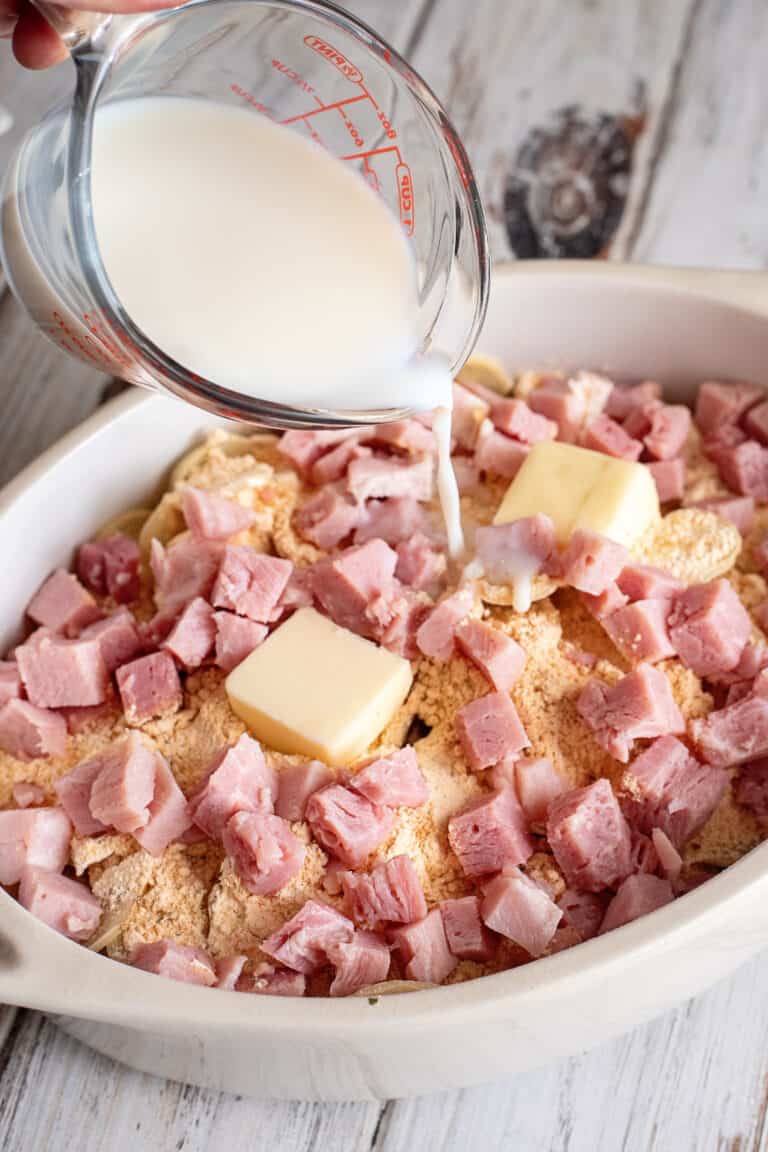 Pour in milk…
And then the hot water.
Your ham and potato casserole will look a little something like this, so we want to give that a good stir.
Voila!
Now bake according to box directions. My box has me baking at 450 for 20 minutes.
When you are done baking it, the sauce will still be a little thin but after it sits a few minutes it will get nice and thick and yummy!
Enjoy!
Storage
When stored in an airtight container, will last in the fridge for up to 4 days and in the freezer for up to 2 months. Reheat in the microwave or briefly in the oven.
Recipe Notes
If you don't have leftover ham, just head to the deli and purchase a few slices of lunch meat ham and have them cut it thick, then

make your own

. Any pre-cooked ham slices will do. I imagine this would be just as delicious with ground beef, cooked bacon, and chicken.

I am using two

boxes because I am making a big 9×13-inch

. 1 box yields an 8×8

, while 2 boxes yield a 9×13

.

You can use any of these boxed-type potatoes. I use scalloped potatoes in a cheesy sauce but you can also use the au gratin or whatever type you like. Feel free to use the store brand as well! This is easy because all you are going to do is prepare them according to the directions on the box and then just toss your ham in.
You know you can even throw some green stuff in this if you'd like! I've done it with green beans, chopped bell pepper, and frozen peas before to make a complete meal and it was great.
For additional flavor, add

1 teaspoon of

sweet paprika and sprinkle with finely chopped chives or fresh parsley,

or even chopped

,

before serving.

For an even creamier

, substitute the milk for

.
Recipe FAQs
What do you serve with ham and potato casserole?
Serve this cheesy ham casserole as either a hearty main dish or a side dish. As a main, serve it alongside a simple green salad or some roasted vegetables. On the other hand, pair it as a side with roast chicken, some scrumptious turkey breast, or pork chops.
Check out these other easy-peasy recipes using leftover ham:
Old-Fashioned Ham Salad Recipe
Jiffy Cornbread Casserole With Ham and Cheese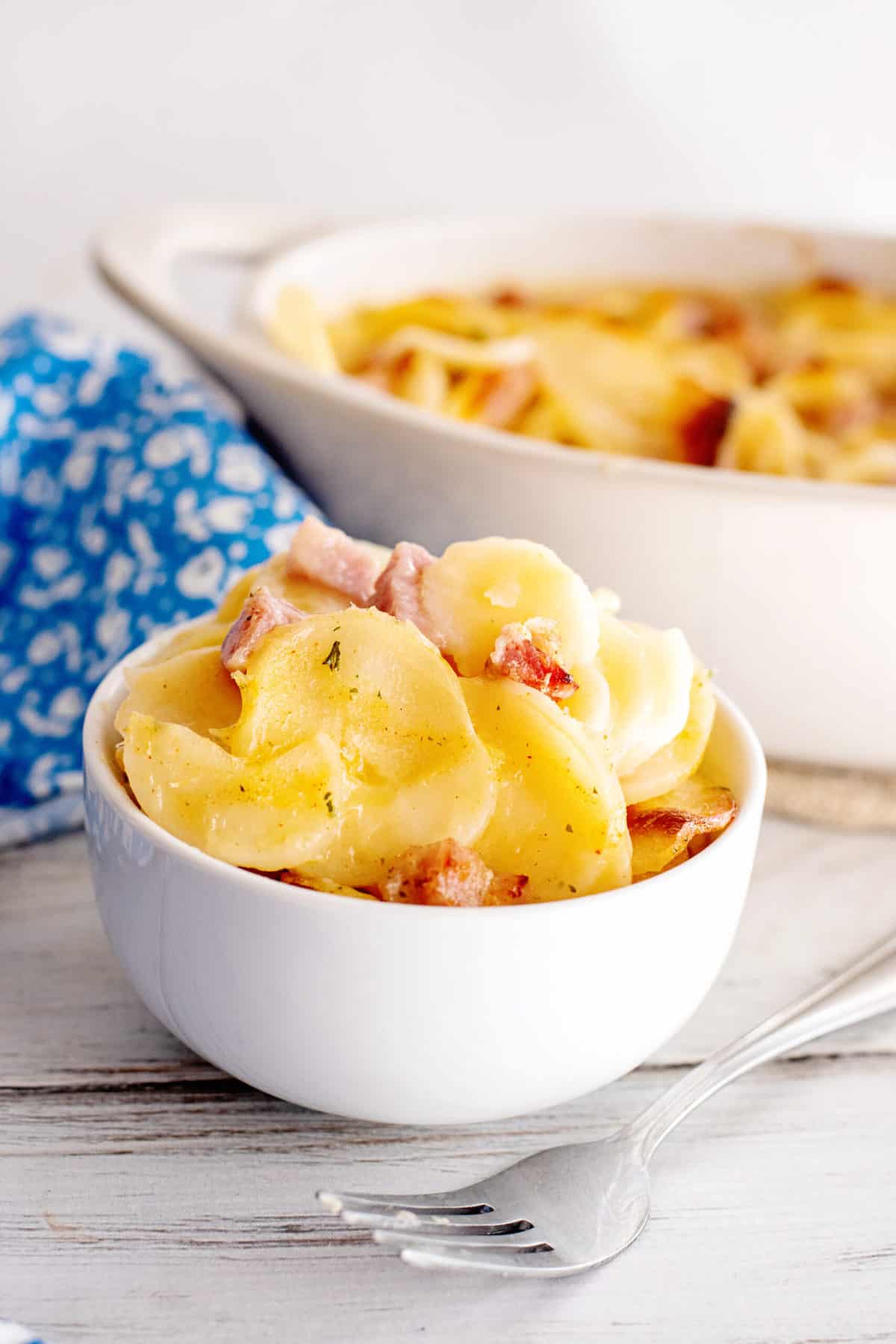 Ingredients
1-2

boxes

scalloped or au gratin potatoes

leftover ham

box ingredients (usually milk, butter, and water)
Instructions
Place potatoes in a casserole dish and then add the sauce packet and butter. Next, add the chopped ham, milk, and water. Give these ingredients a good stir.

1-2 boxes scalloped or au gratin potatoes,

leftover ham,

box ingredients (usually milk, butter, and water)

Bake according to package directions.
The only difference between stumbling blocks and stepping stones is the way in which we use them.
—Anonymous
Submitted by Southern Plate Reader, Dawn. Submit yours by clicking here!