Freezer Apple Pie: learn how to make delicious apple pies and bake them straight from your freezer!
One of my favorite things to bake for folks I love the most is an Apple Pie. I have a special recipe that we just love, it's unlike any other, and several times a year I head out to buy the assortment of apples needed and come home to spend some time in this labor of love with a perfect apple pie to show for my efforts at the end of the day.
For the longest time, the thought kept popping into my mind "I wonder if I could freeze these?". I wanted to be able to make several at one time and then have Apple Pies at the ready when the need arose or for gift giving. Being gifted a homemade Apple Pie seems about the coolest gift around in my mind. And that is how this  Freezer Apple Pie was born 🙂
I finally set out to experiment and have had wonderful success with freezing and baking these so I'm now ready to share my techniques with you! With this being apple season, now is the perfect time to prepare some holiday pies and store up for treats throughout the season.
Actual ingredients are listed in the recipe card for  Freezer Apple Pie at the bottom of this post.
Peel and slice your apples. I like to slice mine in "chips" so that they stack better and help my pie maintain it's shape. I use at least two different types of apples and make sure at least one or two of those are a Granny Smith, but the others are usually sweeter apples (your choice). The sweeter apples tend to break down a bit in the baking of the pie but the Granny Smith helps to maintain a pretty pie shape. I really like the flavor of different types of apples cooked together.
The bowl on the right has apple juice and lemon juice in it. As I slice my apples I put them in there and toss them a bit every few apples to prevent browning.
The bowl on the left has corn starch, sugar, and spices. Once all of my apples are peeled and chipped, I stir them to coat in the liquid they are in and then pour the dry mixture over all of them and stir until it is evenly distributed and my apples are coated.
Now we're ready to assemble our delicious Freezer Apple Pies!
I am using some disposable pie tins I purchased at Wal Mart. I didn't want my pie plates stuck in the freezer and also wanted the lids that came with these to help make freezing easier.
Fill each crust with seasoned apple chips.
Top with another pie crust.
For the crusts, I am using roll out pie crusts that are store bought. Pillsbury makes the name brand of them but mine are the generic Kroger or Walmart brand. You can certainly make a homemade crust if you like but I like these just fine and feel confident enough in my homemade pie crust skills that I have nothing to prove to anyone – plus I'm supporting the wonderful person who came up with the idea of making roll out pie crusts and that just gives me the warm fuzzies (or maybe it's knowing I'm going to have apple pie soon…).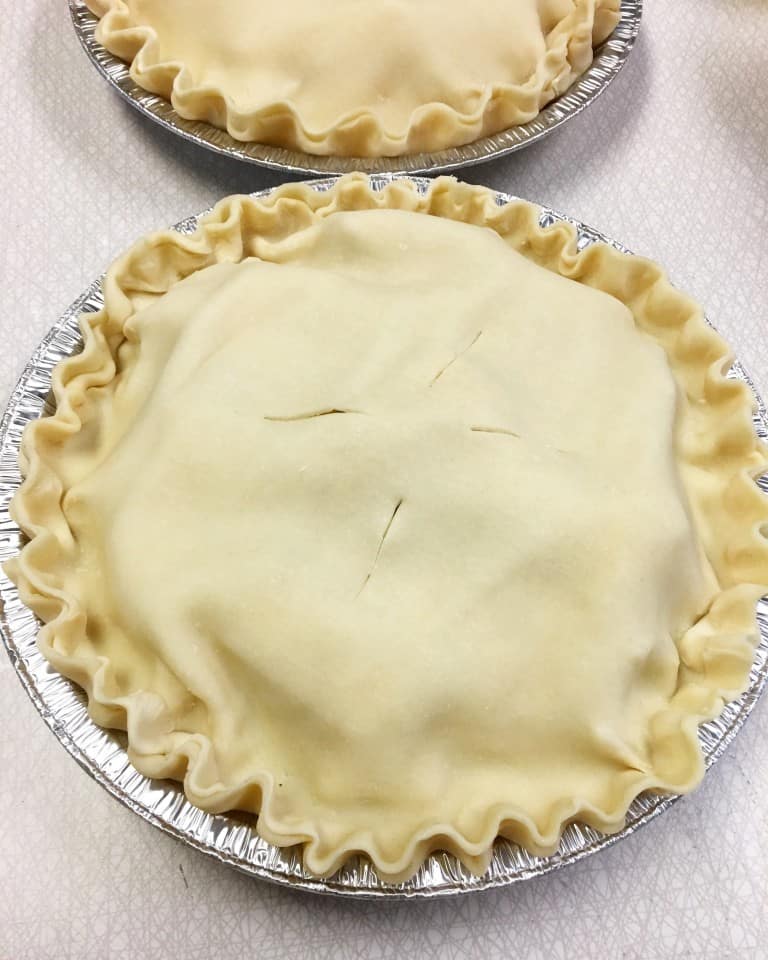 Crimp the edges with a fork or your fingers. Cut four slits in the top of the pie.
Don't get caught up in trying to make your homemade pie look like the ones in stores. That's silly. Why do we cheapen a homemade baked good by trying to make it look store bought? Get in there and make that thing look homely and homemade and be proud of it!
Now you need to seal and freeze these pies right skippy like!
How to Freeze: I place the plastic lid that came with the pie plate on top and then put it in a FoodSaver bag and vacuum seal it. If you don't, wrap them very heavily in aluminum foil (several layers) and freeze immediately no matter how you seal it.
Storage Time: If you wrapped in foil, bake  Freezer Apple Pie within one to three months for optimum freshness. If you sealed in a FoodSaver bag, try to bake within 6 months to a year. These are my own personal guidelines, feel free to decide for yourself what time frame you think is best.
Below is the recipe to bake the pies from frozen. This recipe has been altered somewhat to ensure the best possible outcome for freezing but works fine if you would like to bake the pies as soon as you make them. Please see the baking instructions for frozen or fresh pies in the recipe card below.
But most importantly, bake yourself this Apple Pie as soon as possible! 
I just know you'll love it. 🙂
Ingredients
1

Package Pilsbury Roll Out Pie Crusts

or generic

9-10

apples

two different kinds, one Granny Smith

¼

Cup

Apple Juice*

2

Tablespoons

Lemon Juice

¾

Cup

Sugar

¼

Cup

plus 1 Tablespoon Corn Starch

dash of salt

1

teaspoon

Vanilla

1

teaspoon

Cinnamon

½

teaspoon

Allspice
Instructions
Roll one pie crust out into pie plate. Place lemon and apple juice in large mixing bowl along with vanilla. Peel and chip apples into that bowl, pausing every now and then to stir them to coat in juice.

In separate bowl, combine all dry ingredients and stir to blend. Pour dry ingredients apples and juice and stir well to coat.

Fill pie crust with apple mixture. Dip a brush or fingertip in water and run around the edge of the crust before placing the other crust on top of it. Crimp the edges together with a fork or your fingers. Cut four slits in top of pie crust.

If you are using a disposable pie plate, top pie with the accompanying lid. Carefully seal pie in a FoodSaver bag or wrap really well in foil. Note: how well the pie is sealed determines quality of the pie once baked. Freeze immediately.
To bake frozen pie.
Unwrap frozen apple pie. If desired, brush top with melted butter and sprinkle about a tablespoon of sugar over.

Place fully frozen apple pie on a baking sheet in the center of oven. Preheat oven to 425. Watch to see when oven reaches preheated temperature. Once oven reaches 425, set timer for fifteen minutes.

After that time is up remove pie from oven, reduce temperature to 375, cover the edges of pie in foil, and return to oven. Continue baking for 50-60 minutes, or until pie is lightly browned on top and bubbly inside.
To bake a fresh (just made) pie:
Preheat oven to 425. Place pie on baking sheet in oven and bake for 15 minutes. After that time is up remove pie from oven, reduce temperature to 375, cover the edges of pie in foil, and return to oven. Continue baking for 40-50 minutes, or until pie is lightly browned on top and bubbly inside.
Notes
*Apple juice is not something we normally have at our house so I buy a package of apple juice boxes to keep in the pantry when I need it for cooking. I also use apple juice whenever white wine or cooking wine is called for in recipes. It's a very versatile and flavorful ingredient!
Nutrition
"If you wish to make an apple pie truly from scratch you must first invent the universe." ~Carl Sagan