Before I get to these delicious Pickled Onions … If you're on Facebook or Pinterest, I'd sure appreciate it if you could use one of those buttons above. Thank you!
Pickled Onions and Cornbread: A Meal Fit for the Hard Core Southerner
I'm going to start this post out with a disclaimer: half of you will hate even the thought of this recipe, but the other half will take one bite and set about doing paperwork to rename all of your children after me.
Pickled onions are not for the novice who is new to Southern food. These are hardcore, for old school Southern tastebuds – but oh will they make those buds sing! Would you believe that I had them for the FIRST TIME this past weekend? We went to a restaurant in Nashville with the kids and they brought out a bowl of pickled onions and hot cornbread, still in the cast iron skillet it was cooked in. I reached for a wedge of cornbread and put it on my plate where I topped it with a spoonful of pickled onions. Not knowing what to expect but trusting the instinct of my Alabama roots, I dug my fork in to get a bite full of hot bread and onion….
…and tasted all that was reverent and good in the world of old fashioned soul food.
Giving Thanks for Good Food
I started praying over the food right then and there. "Oh LORD! We thank you for this meal." ~Shoveled another bite in~ "Dear God, thank you for this food that is so good, oh Lord it's still warm and these onions are so crisp and sweet…" ~shoveled in another bite~ "We thank you so much for letting us take this trip and getting to spend this .." ~reaches for more onions~ "time together!" After a moment, I just about started speaking in tongues, it was so good. But then I got to thinking that if I kept on describing it to God, He might just come down to join me and then I'd have to give Him most of it because, that is the only nice thing to do considering all of the exceptions and forgiveness he's had to pipe out on my account. I paused and noticed that my kids and husband were just looking at me, blank faced.
I encouraged them to eat.
One child took a timid bite of the spicy cornbread and put it down. "That tastes weird." My husband waved his hand over the plate "I'm just not into that kind of stuff, you can have mine." My other child just continued watching me in disbelief and looking at the cornbread trying to figure out if I saw something he didn't.
Apparently, I did. Oh good gravy, it was amazing!
The Aroma Is Well…Different 🙂
As soon as we left the restaurant I called Mama and Grandmama and by the time I was home I had a recipe.
My husband came in yesterday while I was cooking a big pot of pintos (definitely not one of his favorites, he won't even eat them) and said "What is that SMELL?" Note that this was said in the tone that let you know he left out "horrible" before smell because he knows it will get him killed. ~sighs~ I get that a lot from him. Bless his heart, he doesn't know any better. He's good hearted but terribly uncultured when it comes to an appreciation for po' folk food.
"Pintos" I replied "If you don't like that you might wanna hurry back to work because I'm about to get some cider vinegar boiling." You've never seen a man eat lunch so fast in all your life. I made up a quick pan of Mexican cornbread (my mama's recipe is in my first cookbook) and come suppertime I had a spread so good it's a wonder my ancestors didn't rise up from the grave at the smell of it!
My husband texted "Do I need to stop and get anything on the way home?" That is his code for: are you going to serve that stuff I smelled earlier for supper?
I texted back "Well I made a big pot of pintos, mexican cornbread, and pickled onions for supper – so you might wanna grab takeout for you and the kids :"
Sometimes we gotta do what we gotta do.
But What Does Grandmama Think?
These onions are heavenly. I sent a pint jar of them to my 81 year old Grandmother yesterday along with a quart jar of pintos. She called at 5 this morning. "Did you try it yet Grandmama?"
"LORD Yes! Done had me two bowls! That was the best stuff. Lord oh that was so good. You fixin' to put these pickled onions up on your website?"
"Yes Grandmama, I'm putting it up today!"
To Make This Pickled Onions Recipe You'll Need:
Salt
Garlic Powder
Black Pepper
4 sweet onions (Preferably Vidalia)
Cider Vinegar*
Sugar
White Vinegar Vs Apple Cider
You can use white vinegar instead of Cider so if you prefer the taste of white, I'd recommend you go with that instead. I want to try them with white next time but I did love the extra little tang cider vinegar gave it.
Kosher Salt as An Option
You see my Kosher salt up there? My friend Jyl turned me onto that a year or so ago and I've fallen madly in love with it. It really does taste amazing and it doesn't cost a lot, so it's an easy switch especially in this pickled onions recipe. I still use regular old iodized salt, too, but am using Kosher more and more these days out of personal preference.
How to Make Pickled Onions Real Quick Step by Step
In a medium saucepot, place vinegar, sugar, salt, and garlic powder.
Stir that up well and put over medium high heat to bring it just to a boil while you cut up your onions…
Keep a watch on it and stir it often.
Peel your onions and slice them into rings.
I cut my rings in half, too, to make them easier to eat.
You could even dice them if you want.
It's your kitchen, you're a big boy/girl, and the only rules are the ones you decide to make 🙂
Oooh look! Our cider mixture is boiling! Now, if you or anyone you know has their sinuses stuffed up, alls ya gotta do is invite them into your kitchen and have them stir this pot 🙂 Actually, cider vinegar is an old folk remedy for many an affliction.
But if someone decides onions are outselling a vegetable they represent they are liable to launch a pr campaign talking about how onions are causing brain damage or some such. Sadly, that really is how this works most of the time.
Remove pot from heat.
Dump your onions in and stir them to coat.
At first, it will seem like there are way too many onions but just let them sit for about five minutes and they will wilt a bit.
Like this. Now stir that again and let sit just a few minutes more.
Until they look kinda like this. Now place all of these in a container and cover it to put in your fridge.
If you do not cover it, your sinuses will clear each and every time you open your fridge, which is good or bad depending on how stuffed up you are 🙂 Come to think of it, maybe this is a good springtime recipe in the south when our world is coated in that lovely yellow dust…
Voila! My refrigerated onions all ready to make my stomach happy!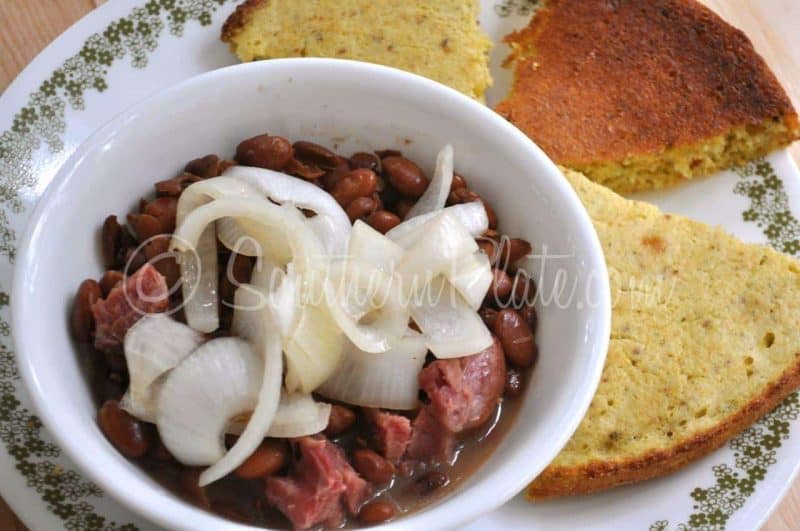 These are wonderful served as a side or as a topping on beans, hot cornbread, etc.
Just git ya some!
Ingredients
4

medium sized sweet onions

such as Vidalia

2

cups

Cider Vinegar

can use white vinegar

1

cup

white sugar

1

teaspoon

salt

I use kosher

1/2

teaspoon

black pepper

1/4

teaspoon

garlic powder
Instructions
Place all ingredients except onions into sauce pot over medium high heat. Bring just to a boil while stirring often.

While cider is coming to a boil, peel onions and slice into rings. Separate each ring.

When mixture comes to a boil remove from heat and add in onions. Stir and allow to sit for five minutes,or until onions have wilted down into vinegar some. Stir again and let sit for another five minutes.

Place in container, cover, and refrigerate until well chilled and ready to serve. Serve as a side relish or a topping on pinto beans, cornbread, etc.
Nutrition
You may also like these recipes:
Can with me! Green Tomato Relish *Video*
How To Make Squash Relish Joining A Food Co-op
Red Beans and Cornbread; Online Potluck of Recipes!
THESE CAN WELL. FOR INSTRUCTIONS ON CANNING, CLICK HERE TO VISIT MY CANNING TUTORIAL.
A GREAT BIG THANK YOU to everyone who takes the time out of your day to chat with me in the comments. Getting to hear back from you is my favorite part of Southern Plate!
Do you have any memories of pickled onions? How often did you dine on beans and cornbread growing up (it was weekly at least at my house)? I'd love to hear from you in the comments, or just drop a Hidy!
Gratefully,
Christy
It requires less character to discover the faults of others
than it does to tolerate them.
~J. Petit Senn