Crockpot Italian Beef Sandwiches
Crockpot Italian beef sandwiches are a summer staple around here! Enjoy this easy, set-it-and-forget-it meal that your whole family will love!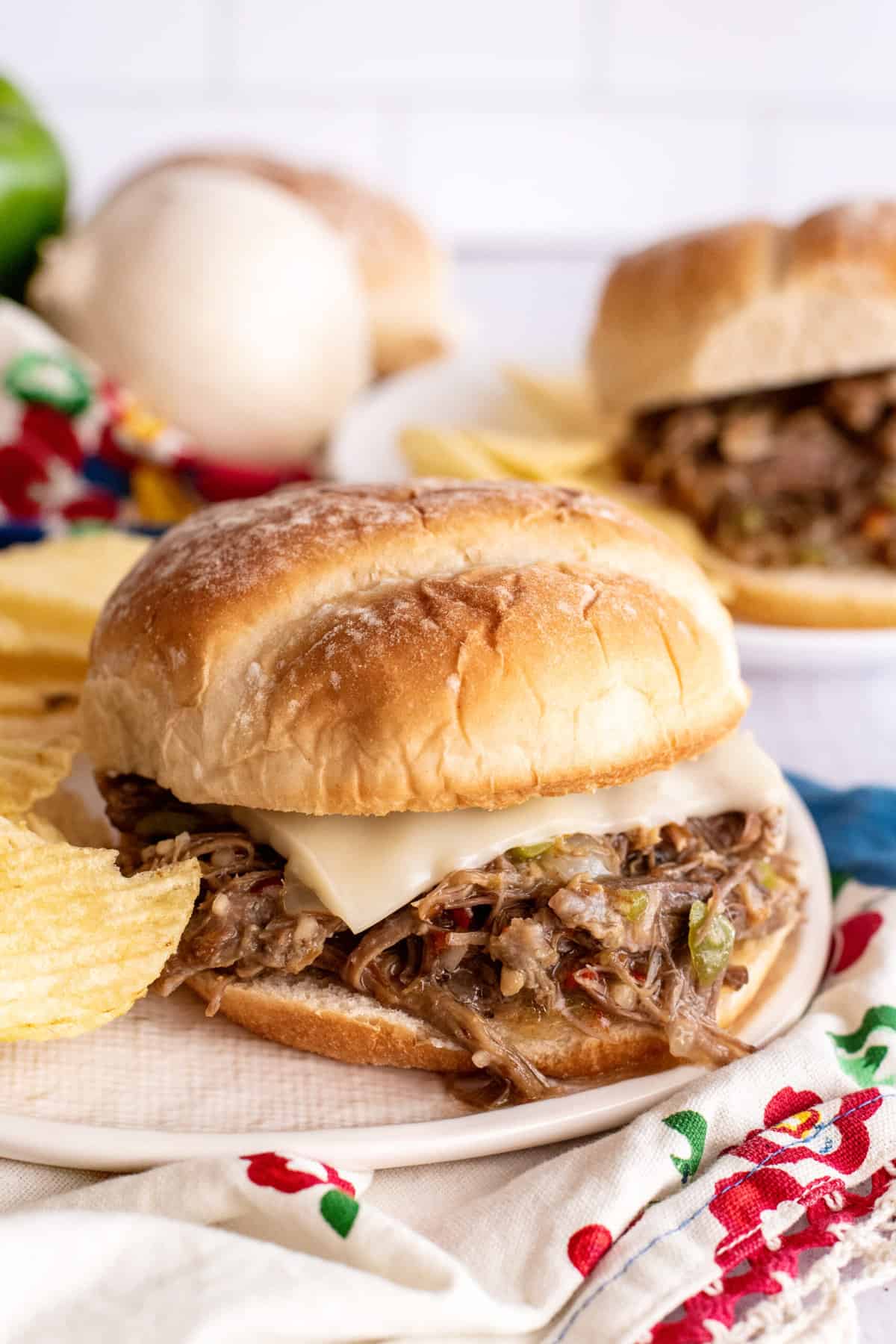 Let's make some Crockpot Italian Beef Sandwiches. These are SUPER easy and are always a crowd pleaser! I love taking them over to a tailgate or potluck because they stay nice and warm in the slow cooker until everyone is ready to eat. These also make a great weeknight supper or game day meal at the house and leftovers heat up like a dream.
You hungry yet? Lets get on in that kitchen and cook us up some grub!
Crockpot Italian Beef Sandwiches Ingredients
You'll need: Beef Roast, can of beef gravy….AND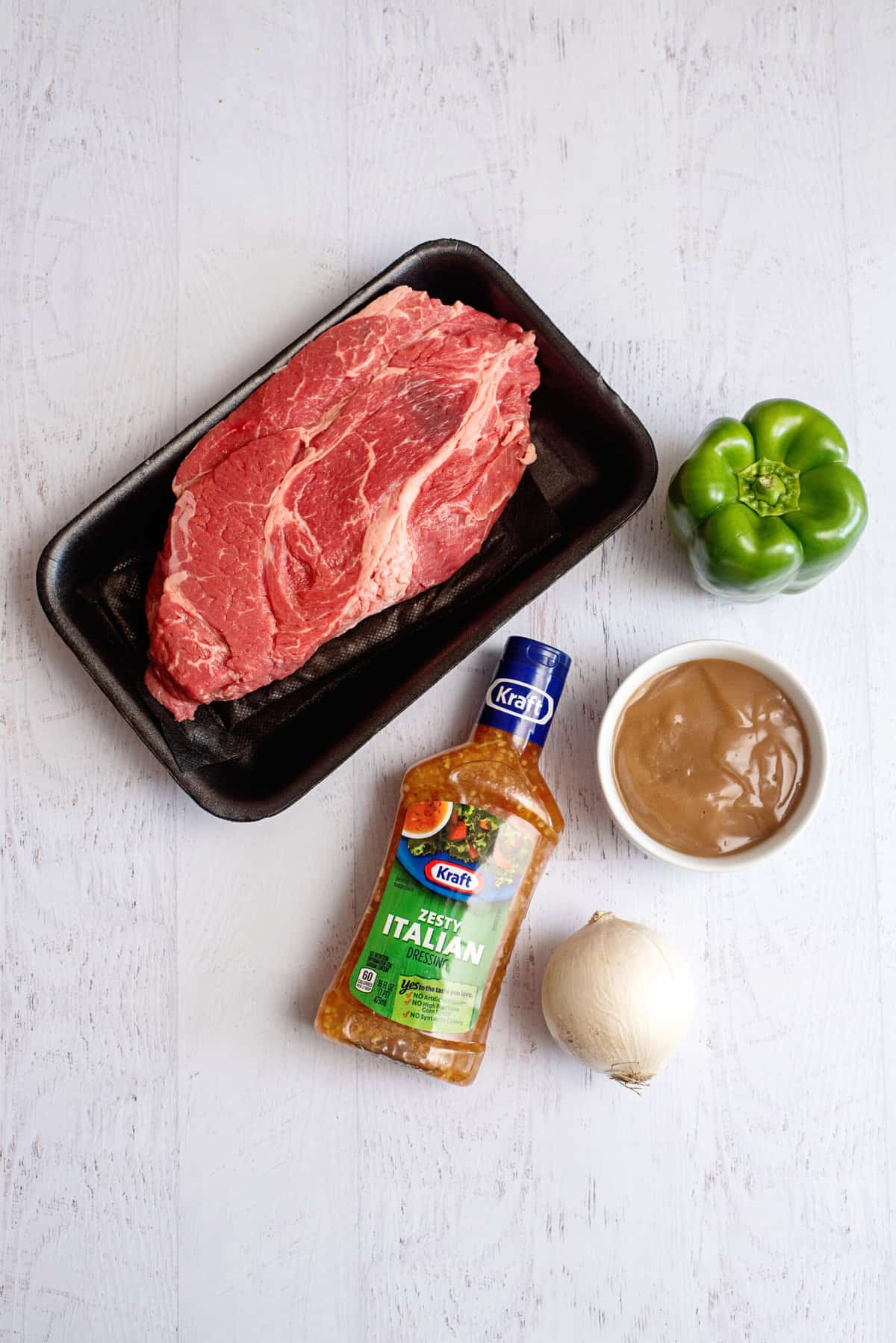 1-2 bottles of Zesty Italian Dressing.
You're also going to need 1-2 Bell Peppers and 1 Onion.
I say "1-2" bottles of dressing and "1-2 bell peppers" because it really depends on how much you like them and how much flavor you want from them. Me? I could drink a bottle of Italian dressing and eat every bell pepper you put in front of me. I only used one bottle in this but I sometimes add another half bottle or so just to up the zingy flavor.
Helpful Kitchen Tools
Place your beef roast in a slow cooker (my favorite kitchen appliance!) and cover with can of beef gravy.
Looking for a great crock pot or need a new one after years of use? We love this one! Super reliable, gets the job done every time!
Put lid on and cook on low 7-8 hours or high 3-4 hours.
* Note that you are not using your Italian Dressing now.
After it has cooked all day, remove the roast, drain off and discard all juices, shred the meat and return to the slow cooker.
Add in entire bottle of Zesty Italian Dressing and give it a good stir. The "Italian" in crockpot Italian beef sandwiches!
Chop up your onion and bell pepper and place in a skillet over medium high heat to brown slightly, until your onions are caramelized and your bell pepper is tender.
I don't add anything to this but if your skillets tend to stick, you might want to add a tablespoon or so of cooking oil before adding in your veggies.
Now like I said, cook until that gets tender or do like me
and cook it until you get tired of fooling with them and want to get on with things.
Add them in with your beef and give it a good stir.
Place slow cooker on warm setting until ready to serve.
Serve your crockpot Italian beef sandwiches on buns, topped with mozzarella cheese.
Italian Beef Sandwiches: FAQs
What type of bread should I use for the buns?
For very best results, use a brioche bun. You can find these at almost any grocery store. If you want to try a different direction, a hoagie roll would be delicious as well. If you can't find either, whatever bun you prefer will do the trick!
What type of beef should I use?
A chuck roast is our favorite cut of beef to use for this recipe. If you want to try another cut, consider rump roast.
What other toppings can I add?
Feel free to get creative! Try mayonnaise, horseradish, salt and pepper, Worcestershire sauce, aioli, mustard, and/or banana peppers.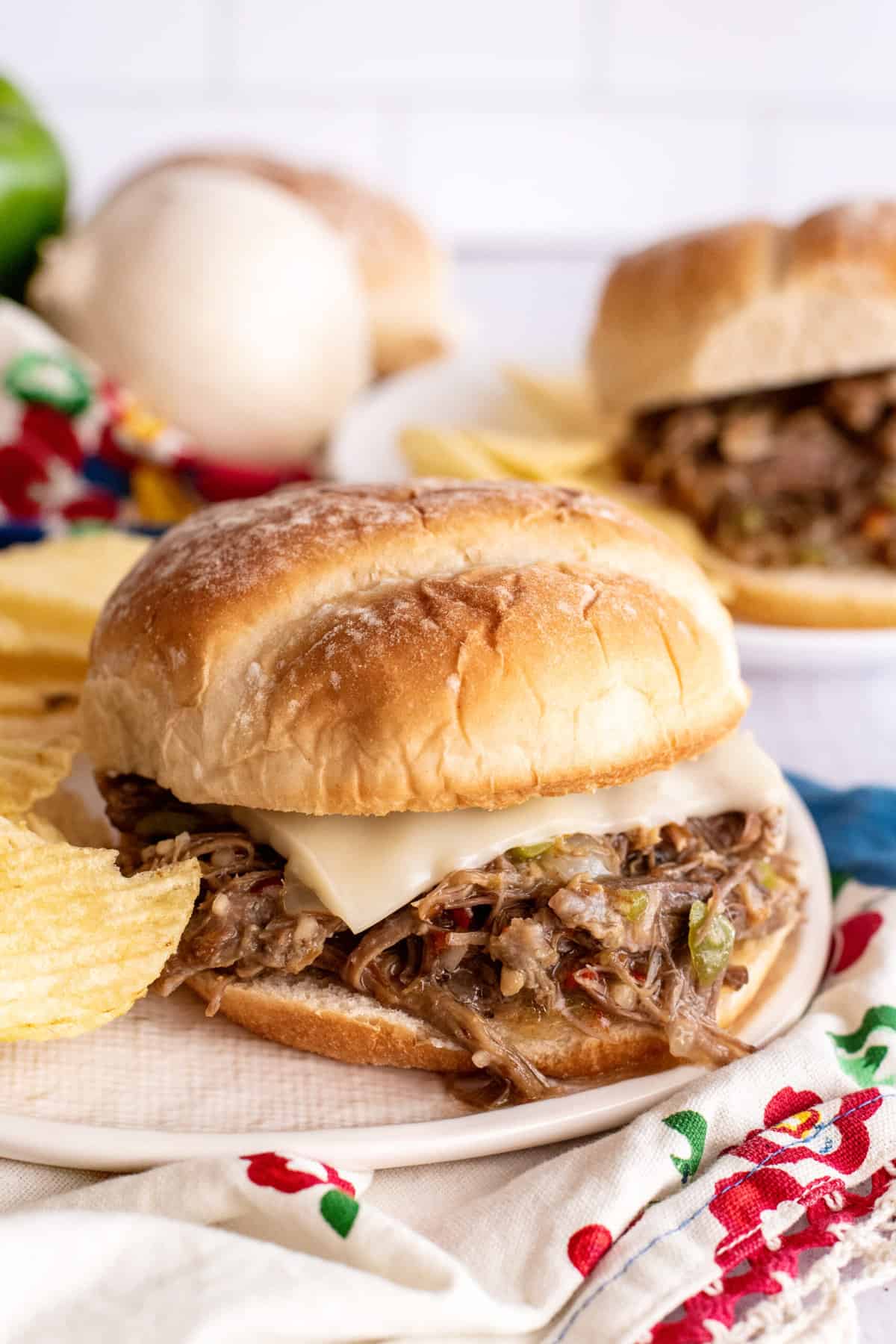 Ingredients
Beef Roast

Pot roast, chuck roast, sirloin roast, top roast, etc. Whatever kind you have, just not eye of round

1

can beef gravy

1

bottle Zesty Italian Dressing

1

Onion

chopped

1-2

bell peppers

chopped
Instructions
Place roast in slow cooker and pour can of beef gravy over. Cover and cook on low 7-8 hours or high 3-4 hours.

Remove roast from slow cooker and discard juices. Shred meat and return to slow cooker. Pour bottle of dressing over meat and stir.

In large skillet, place onion and bell pepper. Sauté over medium high heat until tender. Stir into beef mixture.

Cover and place on warm until ready to serve. Serve on buns and top with mozzarella cheese.