Today, My Mama (Janice) shares memories from her childhood and a family recipe for Scalloped Potatoes, to boot!   ~Christy
This is from my Mama, Janice:
This dish is an old comfort food recipe.  Whenever I make it, I'm taken back to my early teenage years.  Every Friday after my mother and stepfather got off work, we would go to my Uncle Charlie's cafe, The Dixie Belle.  He ran the cafe (it was too small to be called a restaurant) with my Aunt Rachel. It was a family cafe or diner as they would probably call it now.  They always had a typewritten page inserted into the menu with a paper clip that listed the plate lunch choices for that day.  I don't remember how much a plate lunch was but it couldn't have been much.  There were usually five of us, my stepfather, mother, grandmother, sister and myself.  We looked so forward to going out to eat.  Usually it was the only time we went each week.  Four times a month.  It was a real special treat for all of us.  I imagine it was especially nice for my mother and grandmother since they didn't have to cook.
Plate lunches usually had a choice of three meats, five or six vegetables (one of which was always cole slaw) and corn bread or roll.  When I got lucky scalloped potatoes were on the menu as one of the choices.  I had never had these before starting to eat there.  We usually had our potatoes fried, mashed, or stewed.  Just the name promised something special and I was never disappointed.   They were always so creamy with the stringy cheese sauce.  I savored every bite.  I hadn't thought about our little trips to The Dixie Belle until I started making this recipe for you.  Then, before I knew it I was 12 years old again and eating with my family.
Food has a way of bringing people together and making wonderful memories that are triggered when we least expect it.  Just a smell or mention of a particular recipe brings it all back to us.  I guess that it why I have never taken sitting down with family to eat for granted.   My husband and I still make it a point to go out to eat almost weekly.  Sometimes it is somewhere special but just as often it is to Sam's Club for a hot dog.  Either is just fine with me.  Just getting time to sit and talk over a meal is a real treat. Not having to wash dishes just puts the icing on the cake!  I think sitting down to eat at home or out is a time for going over our day and reconnecting.
I hope you enjoy this old comfort food recipe as much as I do.  And remember when you finish, have a little something sweet to top it off.  That's what we always did at Dixie Belle.  Food, family and a little something sweet.  Some of life's greatest joys.
This is our lineup of ingredients today-Potatoes, onion, butter, flour, cheese, milk and salt and pepper. Note: You can use prepackaged shredded cheese or shred your own like I did.  I usually like to shred my own because it makes the dish a bit creamier.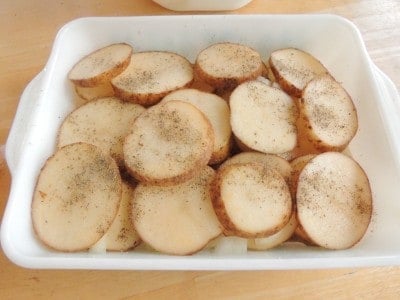 Wash potatoes and slice into 1/4 inch thick slices.  Layer potatoes and onions in casserole dish that has been coated with cooking spray. I used a 1 and 1/2 quart Pyrex or other oven proof dish.
Now I didn't peel my potatoes.  You can if you had rather but it was just easier to wash them and slice them.  I really like the peels on my potatoes.  I only used four potatoes since that filled up my dish and left room for the sauce.  I sure didn't want it to bubble out in the oven.  I would hate to have to clean up that mess!
Melt butter over medium heat and stir in flour, salt and pepper until blended.  Cook, whisking constantly for one minute.
Slowly stir in milk and continue to cook until milk is hot.
This is my little granddaughter helper and cheese rat, Elle.  She was out of school and helping me with this recipe.
I think she ate more than she helped!
Remove milk from heat and stir in cheese until well melted.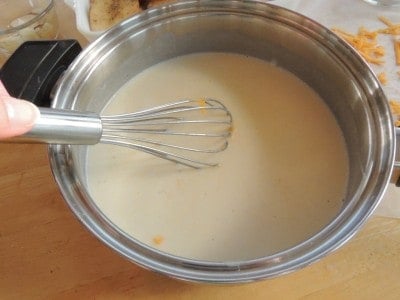 This is what the melted cheese and milk mixture will look like.  Isn't that pretty?  I also use this same mixture on 2 cups  cooked macaroni and then bake it in the oven for about 20-25 minutes.  It is wonderful macaroni and cheese.
Pour mixture over potatoes and onions and cover in foil. 
Bake at 400 degrees for 1.5 hours. I know that seems like a lot but that is what I do.
 Dig in for a delicious creamy dish that goes well with almost anything!
Ingredients
4

medium potatoes

washed and sliced into 1/4 inch slices

1/2

cup

chopped onion

salt and pepper to taste

3

tablespoons

butter

3

tablespoons

flour

1/2

teaspoon

salt

2

cups

milk

8

ounces

mild cheddar cheese

shredded
Instructions
Preheat oven to 400 degrees. Spray an 8X8 casserole with cooking spray.

Layer 1/2 of potatoes into prepared dish. Top with onions.

Top with remaining potatoes and salt and pepper to taste.

In a medium saucepan, melt butter over medium heat and stir in flour.

Add salt and stir constantly with whisk for one minute.

Slowly stir in milk.

Cook, stirring constantly, for approximately 5 minutes or until milk is hot and slightly thickened.

Remove from heat and add shredded cheese. Stir until cheese is melted.

Pour over the potatoes and cover with foil.

Bake for 1 and 1/2 hours in oven.
Nutrition
"If people sat outside and looked at the stars each night, I'll bet they'd live a lot differently."
~Bill Waterson
You might enjoy this recipe:
Click here to follow me on Instagram.