You will be over the moon about this Moon Pie cake! It's a refreshing refrigerator summer cake recipe with multiple layers, starting with soft Moon Pies, then creamy vanilla pudding, sweet caramel syrup, fresh banana slices, and whipped topping.
There aren't many snacks as synonymous with the South as a Moon Pie. If you have no idea what a Moon Pie is, you're in for a treat! Chattanooga Bakery has made these little treats since 1917. They include a marshmallow filling sandwiched between two graham cracker cookies with a flavored coating. The five main flavors are banana, strawberry, chocolate, vanilla, and salted caramel. Plus, during Mardi Gras, you can get orange and coconut flavors too.
With the marshmallow fluff center, they're similar to a whoopie pie (here's my homemade whoopie pie recipe with cream cheese instead of marshmallow filling). Traditionally, they were accompanied by an RC Cola and this was called "the working man's lunch" because they were cheap, filling, and gave hardworking men the energy to get back to it. Moon Pies make many things awesome including childhood. So I thought hey, let's make a Moon Pie cake recipe! I totally made this recipe up as I went along but it turned out awesome!
Which flavor to choose…
Now, I am using banana-flavored Moon Pies because they are my favorite (closely followed by vanilla and chocolate). Any flavor you want works perfectly well in this cake, so go with whatever cranks yer tractor. This is a no-bake cake with multiple layers. We start with the Moon Pie pieces, add the pudding, and then refrigerate. Then we add caramel syrup, banana slices, whipping cream, and more caramel because why not?
This Moon Pie cake recipe is so easy to make and a great refrigerator cake for your next gathering. It's a surprisingly light-tasting dessert that isn't as kill-you-sweet as you think it is, but oh my goodness is it good! The flavors complement each other perfectly and you keep going back for just one. more. bite.
If you like this, try my caramel banana pie recipe next. It uses many of the same flavors, including bananas, dulce de leche (caramel sauce), and whipped cream in a graham cracker crust.
Recipe Ingredients
Moon Pies
Bananas
Caramel syrup
Cook & Serve Vanilla Pudding (here's my homemade pudding recipe if you prefer)
Whipped topping
Cherries (optional garnish)
Helpful Kitchen Tool
How to Make Moon Pie Cake
To start with, unwrap six or seven Moon Pies (A box contains six but it takes about 7 to fill the bottom of my 9×13 dish) and cut them into four strips each like this.
Arrange all of those strips, cut side up, in a baking dish.
Cook your pudding according to the package directions.
Pour it over the Moon Pies.
Aww, look at 'em. All comfy cozy, relaxing in a pudding bath.
Life is good for y'all, isn't it?
Now cover this with foil and refrigerate it until it is cold.
I just made it in the evening and let it sit in the fridge overnight.
And the next day…
Take your caramel and do a generous zigzag over the Moon Pies.
Slice bananas on top of the caramel.
Now take another Moon Pie and cut it into smaller bite-sized pieces.
Then cover the cake with the entire tub of whipped topping.
Voila!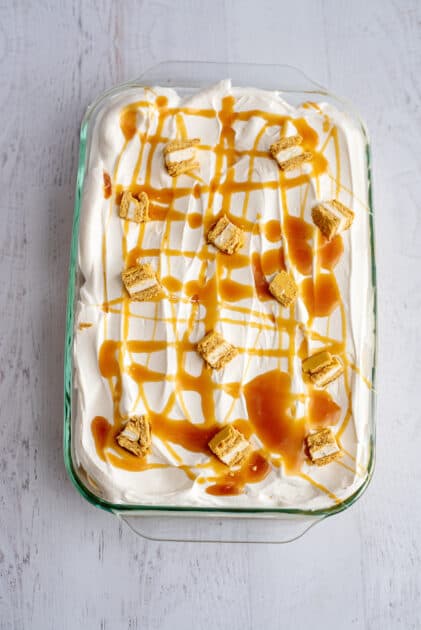 Zig some more caramel zags on top and sprinkle with the little Moon Pie pieces.
Okay, so I didn't sprinkle. I placed. Do what your gut tells ya here. Either one still gives you a Moon Pie cake in the end and this puppy is FABULOUS!
Now grab your spatula…
Look at all of those layers!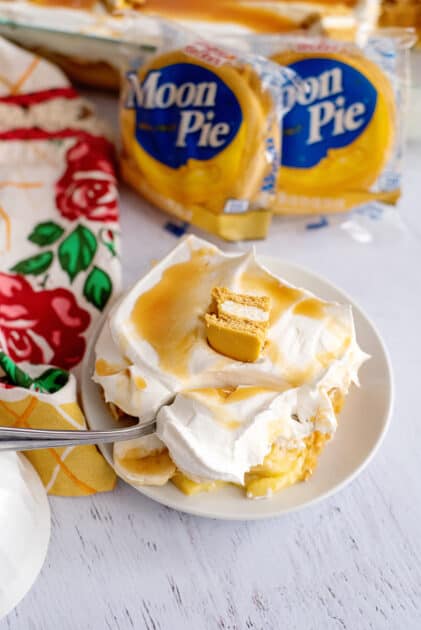 And dig in. Enjoy!
Storage
Store leftovers covered in plastic wrap or in an airtight container in the fridge for up to 3 days. Because of the whipped topping, I don't recommend freezing.
Recipe Notes
You can use any flavor of Moon Pie, just make sure you get the regular size. If you aren't familiar with them, they have minis, double-deckers, and I think even triple-deckers. You could use the double and triple-deckers if you like and it will take fewer to make this, but if you go with minis it is gonna take a whole lotta Moon Pies!
Adapt this recipe to suit you and your favorite flavor as well. For example, if you use chocolate Moon Pies with that delicious marshmallow fluff and chocolate coating, use chocolate sauce instead.
Check out these other delicious refrigerator cake recipes:
Ingredients
8

Moon pies

pick your favorite

16

oz

whipped topping

one tub

5

oz

vanilla pudding

cook and serve

5

bananas

12

oz

caramel syrup

1 bottle
Instructions
Cut 7 Moon Pies into four strips. Place the strips, cut side up, in the bottom of a 9x13 baking dish or cake pan.

Prepare pudding according to package directions and pour it over the Moon Pies while still warm. Cover dish with foil and refrigerate until cold.

Top the Moon Pies with a generous drizzling of caramel sauce. Slice bananas on top, spread whipped topping over these, and then finish with another generous drizzling of caramel.

16 oz whipped topping,

12 oz caramel syrup,

5 bananas

Chop up the remaining Moon Pie into bite-sized pieces and scatter pieces on top. Cover again and refrigerate until ready to serve (can serve immediately but gets better after an hour in the fridge).
Nutrition
Calories:
380
kcal
|
Carbohydrates:
65
g
|
Protein:
5
g
|
Fat:
9.5
g
|
Sugar:
58
g
"Be happy. It's one way of being wise."
~Sidonie Gabrielle Colette