8 Make Ahead Summer Cakes
Here are some fantastic summer cakes to make in advance this summer and store in the fridge. So you have less time baking and more time soaking up those sensational summer moments with your family.
Summertime and the grilling is easy! With so many of us cooking out, visiting friends, and hosting get-togethers, a cool summer cake that can be made well ahead of time is great to have on hand for a fuss-free and refreshing dessert! Today I'm bringing you a compilation of some great refrigerator summer cakes. Many of the scrumptious cakes I feature below you can easily make two or three days ahead of time.
There are lots of poke cakes with whipped cream toppings instead of buttercream and cream cheese frosting. But each of them is so delicious.
If you're looking for more summer desserts to enjoy this summer, check out these 12 summer pie recipes.
Check out all of the great links below by clicking on the names.
8 Summer Cakes You Can Make Ahead
This Twinkie cake recipe truly features it all! There are layers of Twinkies, fresh bananas, crushed pineapple, and vanilla pudding. On top is whipped topping and crushed nuts. Simply refrigerate for several hours and then serve with a cherry on top!
Well, that topping looks familiar! This chocolate sundae cake is for the chocolate lovers out there. It includes a dark fudgy chocolate cake that you poke with holes and cover in chocolate syrup like it's a chocolate sundae. Then we place it in the fridge so the syrup deliciously soaks into the fluffy cake. Top with whipped topping, crushed nuts, and a cherry and enjoy every decadent bite of chocolate sundae cake.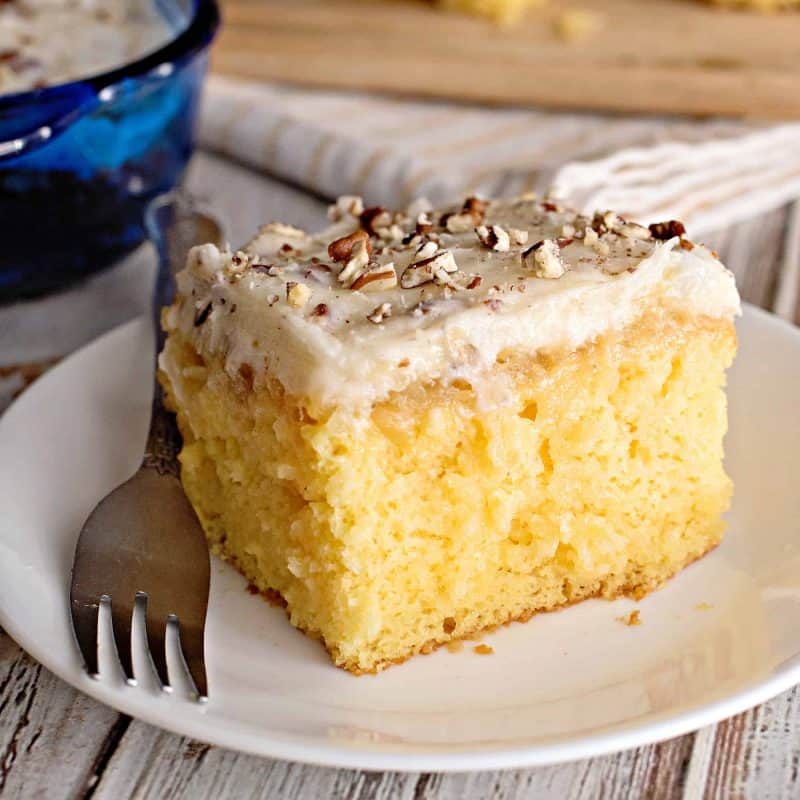 A popular version of icebox cake, this summer cake recipe is said to have been the King's favorite. The sweet cake is made with a yellow cake mix as well as a pudding mix to make it extra moist and tasty. Once again, you poke holes in the cake, but this time we're pouring over a crushed pineapple mixture. On top is a pecan and cream cheese frosting.
Icebox cakes are actually the best summer cakes, as they last in the fridge so much longer than regular cakes. Check out my lemon icebox cake and icebox fruitcake as well. Our icebox lemon cake includes cream cheese, vanilla pudding, milk, lemon juice and lemon zest, whipped cream, and vanilla wafers.
Another day, another poke cake. Butterfinger Cake is a deliciously decadent dessert. It starts with a chocolate cake, which we cover in a combination of condensed milk and caramel topping. Then there's a layer of Butterfinger crumbs, a layer of whipped cream, and a sprinkle of Butterfinger crumbs on top.
If you like, swap the Butterfinger for your favorite candy bar, like Snickers, Mars, or Kit Kat.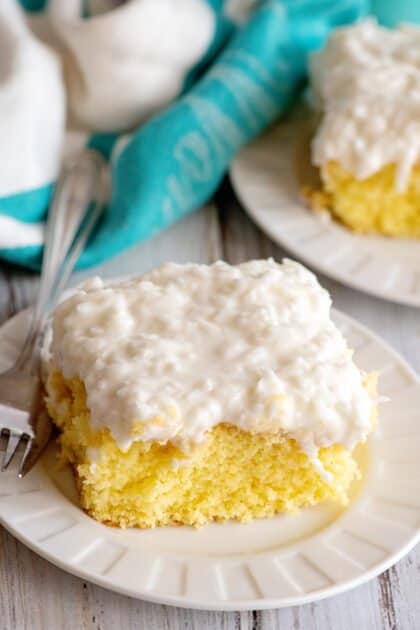 Coconut cake is a traditional Southern holiday cake. This coconut poke cake recipe needs just 5 ingredients: yellow cake mix, sour cream, whipped topping, sugar, and coconut flakes. You poke holes in the cake, layer on the creamy coconut topping, and let it sit in the fridge to soak into the cake. Coconut cake is so deliciously sweet and moist.
Mandarin orange cake is a Southern classic. In fact, we call it pig pickin' cake down South as it makes a pig out of all of us because of all that delicious summer fruit! It's so easy to make and a frequent dessert at family gatherings, potlucks, and the like. All you need is a yellow cake mix and mandarin oranges to make the cake batter and each cake layer (I do 3). Then we add frosting between each cake layer, which includes a combination of whipped topping, vanilla pudding, and crushed pineapple. YUM!
We can't have a summer cakes post without a cake that uses fresh fruit, right? This strawberry cake is another poke cake. But this time, we infuse the white sponge cake with strawberry jello. We then add whipped cream on top and fresh strawberries. You can also adapt this recipe to suit you! Make a lemon cake with lemon jello and lemon zest on top. Use raspberry jello and fresh raspberries, or cherry jello and any fresh berries you have on hand. The choice is yours.
This key lime is such a fresh cake to make in the summer. Its ingredients include yellow cake, sweetened condensed milk, coconut milk, key lime juice, whipped cream, sugar, lime zest, and coconut flakes. So sweet, so refreshing. Don't miss this summer cake recipe!
Do what you can, where you are, with what you have.
~Robert Schuller
Submitted by Amy. Submit your quote by clicking here.