Today I'm sharing a fun little recipe with you with a bit of cooking "Magic" involved. This delicious Magic Lemon Cherry cheesecake starts out with the cake on the bottom and cheesecake layer on top but they switch places during the cooking. A lemon cake mix is an excellent complement to the light cheesecake layer and cherry pie filling tops it all off to perfection. I love that this is a refrigerator cake and a lighter tasting dessert, not overly sweet but just enough, with a flavor that promises Spring is coming!
To make this, you'll need: Lemon Cake mix (and ingredients to prepare it according to package directions), Ricotta Cheese, Eggs, Sugar, Vanilla, and Cherry Pie Filling.
The cheesecake part is going to taste lighter than what you are used to with cream cheese cheesecakes, since this one uses Ricotta instead.
~Printable recipe at the bottom of this post~
Prepare your cake mix according to package directions and pour it into a greased 9×13 pan.
Combine all of the other ingredients except for the pie filling and blend them well with an electric mixer. Spoon that all over the top and gently spread to cover.
Well cover as best as you can. I pretty much did it :).
Bake this at 350 for one hour or until the center springs back when lightly pressed.
Allow to cool completely and then top with cherry pie filling. Cover and place in the refrigerator until well chilled.
ENJOY! These slices come out pretty and perfect every time, just like the one below.
Bring a little sunshine into your life with this Magic Lemon Cherry Cheesecake. 
Ingredients
1

box lemon cake mix

prepared according to directions (I usually get Duncan Hines, but any brand will do)

32

ounces

Ricotta Cheese

4

eggs

1

cup

sugar

1

teaspoon

vanilla

2

cans good quality cherry pie filling

I usually grab Comstock brand
Instructions
Preheat oven to 350. Pour prepared cake batter into a greased 9x13 baking dish.

In a large mixing bowl place ricotta, eggs, sugar, and vanilla. Beat with an electric mixer until well combined. Drop this by spoonfuls over the top of the cake batter, trying to distribute as evenly as possible.

Place cake in oven for 1 hour, or until center springs back when pressed lightly with your finger. Remove cake from oven and allow to cool completely. Top with cherry pie filling. Then, cover and place in the refrigerator until thoroughly chilled. Serve cold.
Notes
Note: With the topping this will just barely fit in a standard anchor hocking 9x13 pan. If you have one that is a little deeper you may want to use it but definitely don't use one that is a bit more shallow than the average pan. This dessert is not really super sweet, but just right.
"Any man's life will be filled with constant and unexpected encouragement if he makes up his mind to do his level best each day." 
~Booker T. Washington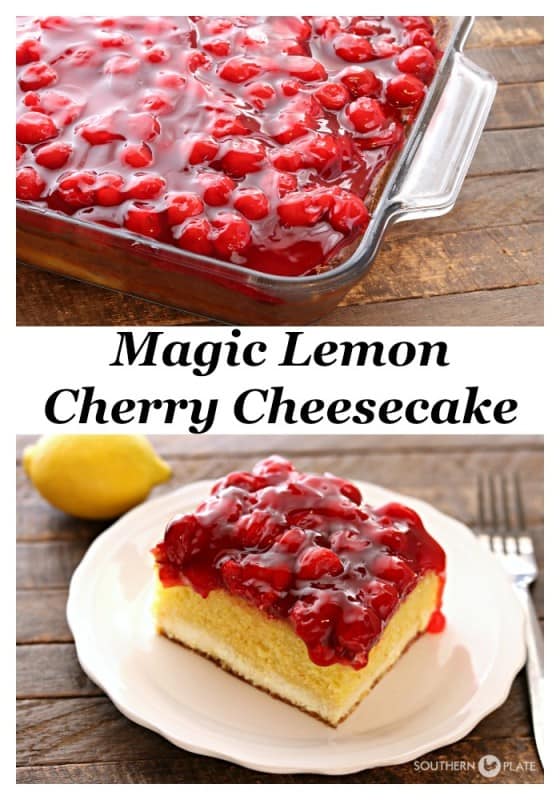 You might also enjoy this recipe! Coca Cola Cake
Yum