Oven Baked Potatoes With Bacon
The only thing better than perfect oven baked potatoes is when they're served alongside crispy bacon. This oven roasted potatoes recipe is great as a side dish or it will make your morning when served with eggs.
Today I'm sharing an oven roasted potatoes recipe that makes my mornings ten times easier. I love to do this for my son from time to time. Using just one pan, it's a handy dandy, fuss-free way to cook bacon and fry potatoes at the same time. And I don't know about you but I need more handy dandy and fuss-free things in my life!
I love that I don't have to stand over a skillet to cook this dish. Plus, both the oven baked potatoes and bacon are done at the same time. The crispy roasted potatoes cook up wonderfully flavorful because as the bacon cooks, it provides the oil for the potatoes to fry in. We all know how much I love to cook with bacon grease!
You also only need four ingredients for this oven roasted potatoes recipe: bacon, potatoes, salt, and pepper. In just 30 minutes, you'll have perfect roast potatoes (crispy potato on the outside, soft on the inside) and a batch of crispy bacon.
While this is great in the morning with a side of eggs, it also makes the perfect side dish. I've included some serving suggestions below, but it's the perfect accompaniment to main meals like roasted chicken, steak, or turkey breast. Yep, it would also be such a yummy side dish to enjoy these holidays!
Now, let me show you an easy peasy way to make some bacon and potatoes!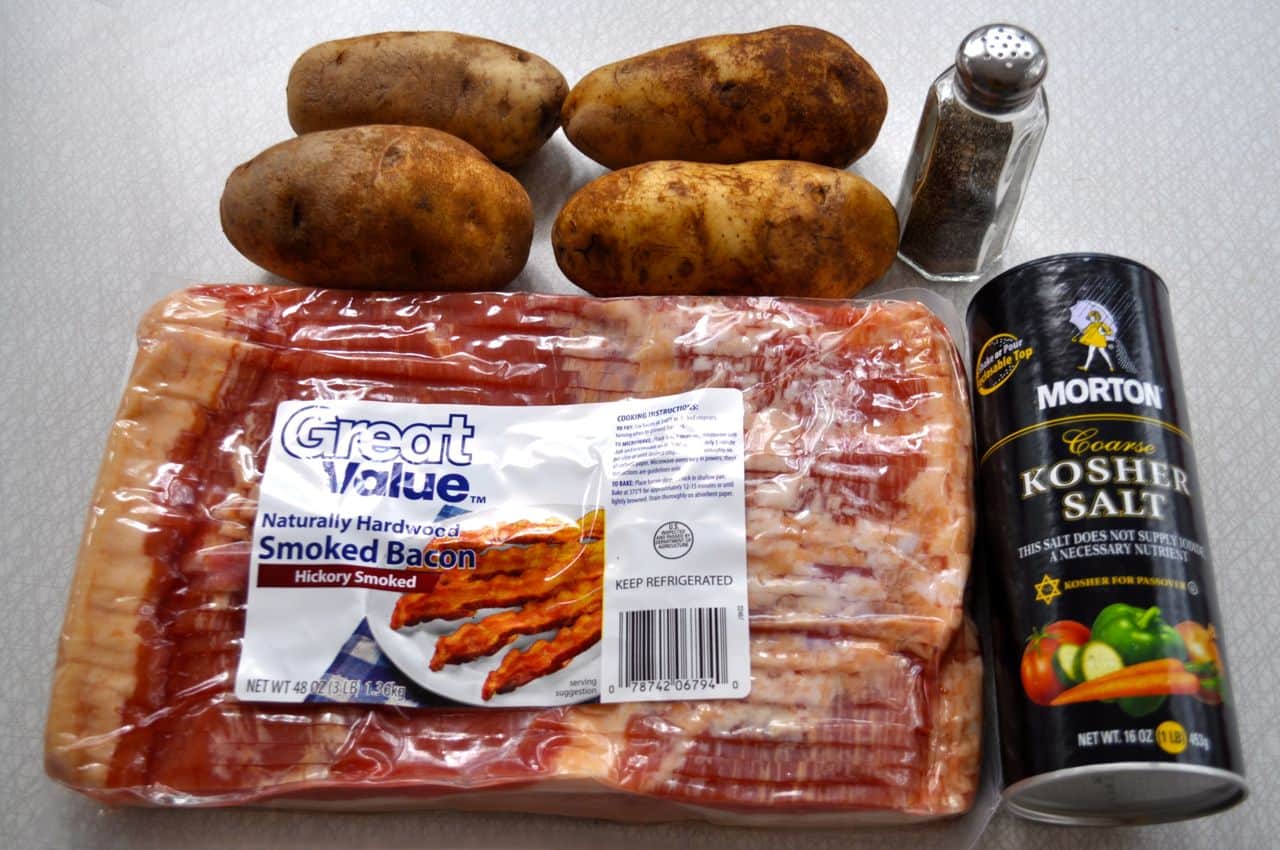 Recipe Ingredients
Bacon
Kosher salt

(or

, just not table salt)

Pepper
2 large baking potatoes, or 4 small-medium ones
Chop your potatoes into large chunks.
Arrange your bacon slices on the outside of the pan and potatoes on the inside.
Sprinkle a little kosher salt and pepper on potatoes and give them a stir.
Place this in a 400-degree oven and bake for about 30 minutes, stirring the roasting potatoes every 10 minutes or so and flipping the bacon.
Once done, remove to a paper towel-lined plate to absorb any grease and ensure you get that delicious crispy skin and serve! Enjoy your perfect baked potato and bacon dish!
Storage
You can store leftover baked potatoes and bacon in an airtight container in the fridge for up to 5 days. When it's time, reheat your bacon and potatoes quickly in a skillet or in the air fryer to make them nice and crispy again.
Recipe Notes
You can also add 1 medium onion (cut into quarters) to your baking dish.
Looking for more flavor? Toss the potatoes in 1 clove of minced garlic

(or a teaspoon of

)

, a teaspoon of thyme,

a teaspoon of

,

or a teaspoon of rosemary before adding to the baking dish.
In the last 15 minutes of cooking, sprinkle your oven baked potatoes with parmesan cheese or shredded cheddar cheese.

As a side, serve your

and

dish

with a dollop of sour cream and a sprinkle of chives, chopped green onion, or chopped parsley.
I personally used turkey bacon, but you can use whichever type of bacon you prefer. You just need to ensure you grease your baking tray beforehand; either with non-stick cooking spray or olive oil.
It's totally up to personal preference whether you peel your potatoes or leave them with the skin on.
Recipe FAQs
What are the best potatoes to use?
I recommend using Yukon gold potatoes for this crispy oven roasted potatoes recipe. You could also use small white or red potatoes if you like.
Check out these other perfect potato recipes:
Roasted Sweet Potato Wedges Recipe
Loaded Twice Baked Potato Recipe – Freezer Friendly!
Homemade Mashed Potato With Evaporated Milk
Garlic Mozzarella Mashed Potato Recipe
Ingredients
2

large baking potatoes

chopped

1

teaspoon

kosher salt

1/4

teaspoon

ground black pepper

8

strips thick-cut bacon
Instructions
Preheat oven to 400°. On a large, rimmed baking sheet coated with nonstick cooking spray, toss potatoes with salt and pepper. Arrange the bacon around the edges of the baking sheet.

2 large baking potatoes,

1 teaspoon kosher salt,

1/4 teaspoon ground black pepper,

8 strips thick-cut bacon

Bake until potatoes are tender and bacon is thoroughly cooked, about 30 minutes. After the first 15 minutes of cooking time, flip the bacon using tongs and stir the potatoes.
Notes
I only use turkey bacon in this, it turns out perfect but you need to spray your pan with cooking spray first 🙂 
Nutrition
"To be able to find joy in another's joy: that is the secret of happiness."
~George Bernanos
Submitted by Jenny. Add your quotes to our collection by clicking here.