Made with sugar, milk, peanut butter, vanilla, and honey, this old-fashioned peanut butter candy is like an irresistible cross between taffy and fudge and will have you coming back for more.
Old-fashioned peanut butter candy is a quick candy recipe that was a standard back in the golden days of school cafeterias. This recipe is from a time when the lunch ladies were usually the mama of someone you knew. And the hallways were slowly filled with the smell of soup stewing and bread rising as we watched the clock longingly and our stomachs got steadily louder the closer we got to lunchtime.
To make my peanut butter candy, you'll need peanut butter, honey, powdered milk, vanilla, and confectioner's sugar. This is a classic peanut butter slice recipe with very basic (and few) ingredients that relies heavily on what was once considered "commodity" foods.
Fortunately, it's super easy to make. Just mix all of the ingredients together until a dough forms. Then we roll the dough into two logs, leave them in the fridge for an hour or so to chill, and then cut them into slices. Add a dusting of confectioner's sugar and your peanut butter slice candy will be ready to eat.
It's peanut buttery good with the texture of taffy but without the stickiness. Kind of a peanut butter chew flavored heavily by peanut butter, milk, and honey: all favorite flavors in my house! If you like creamy fudge and peanut butter, you're just going to adore this recipe. Plus, this homemade peanut butter candy makes a great holiday gift or teacher gift, if you need another reason to try it out. Let's get to it!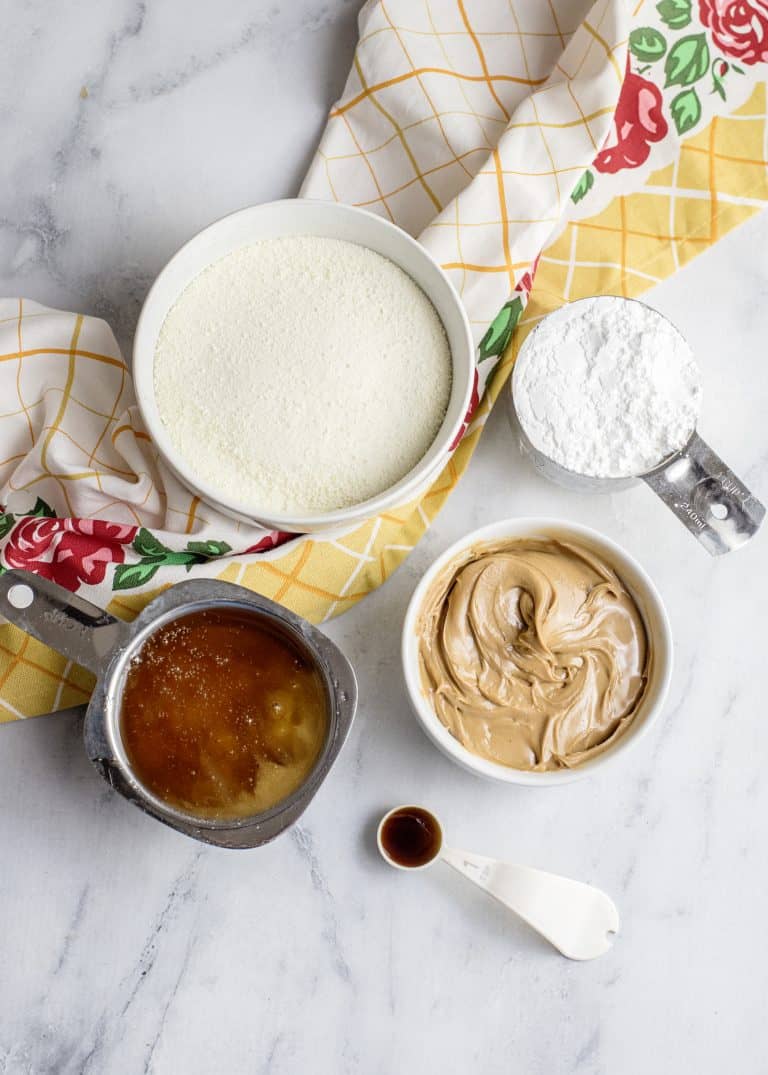 Recipe Ingredients
Honey
Powdered milk
Peanut butter
Vanilla
Confectioner's sugar
How to Make Peanut Butter Candy
Take all ingredients and put them in a big old mixing bowl.
Mix the peanut butter mixture right up.
You want to mix this, scraping down the sides if needed, until it is well blended and a stiff dough is formed.
Put that dough on a large plate and knead it a few times with your hands just to help it all stick together.
If you have a pinch of it to taste, I won't tell. It's awfully good!
Separate that into two halves and roll them out into two logs.
Wrap those in plastic wrap or place them in a large plastic bag and seal them.
Place this in the fridge until it is well chilled. This is going to depend on your refrigerator. An hour-ish or so will probably do it.
Once cold, slice into 1/4-inch slices.
Dip those into a little confectioner's sugar so that they won't stick together when you put them on a plate.
Enjoy this old-fashioned creamy, chewy peanut butter slice candy!
Storage
Store homemade peanut butter candy leftovers in an airtight container in the fridge for up to 10 days. If you're stacking them, add parchment paper between the layers to avoid them sticking together.
You can also freeze the candy for up to 3 months. Just thaw them in the fridge before serving.
Recipe Notes
You can substitute corn syrup, maple syrup, or even pancake syrup for the honey if you would like or need to. I know honey can be on the expensive side these days so do what you need to do.
Besides coating them in powdered sugar, you can add sprinkles, chocolate chips, crushed nuts, or a melted chocolate coating if you like. The chocolate-covered peanut butter candy will give it a Reese's Peanut Butter Cup flavor.
Recipe FAQs
Do I need to refrigerate the candy dough?
You don't HAVE to, but I strongly recommend you do, even for just an hour. The refrigerated dough holds its shape so much better than soft dough.
Can I use a different kind of nut butter?
You can use any kind of creamy nut butter, like natural peanut butter (just give it a good stir to distribute the oil), almond butter, nut-free sun butter, and cashew butter. If you use chunky peanut butter, just know it will change the texture of the peanut butter candy.
You may also like these peanut butter recipes:
3-Ingredient Peanut Butter Cookies
Peanut Butter Brownies with Peanut Butter Fudge Icing
Peanut Butter Cheesecake Cookie Bars
Chocolate Peanut Butter Balls (No Baking Necessary)
Ingredients
Candy
1

cup

powdered sugar

1.75

cups

powdered milk

1

cup

honey

1

teaspoon

vanilla extract

1

cup

creamy peanut butter

extra powdered sugar for dipping
Instructions
Place all candy ingredients into a large mixing bowl. Beat with an electric mixer until well incorporated and a dough is formed.

1 cup powdered sugar,

1.75 cups powdered milk,

1 cup honey,

1 teaspoon vanilla extract,

1 cup creamy peanut butter

Remove from the bowl and knead a time or two with your hands. Separate into two halves. Roll each half into a ball and then into a log. Cover each log with cling wrap or place them in a large zipper seal bag. Refrigerate until thoroughly chilled.

Slice into 1/4 slices and dip each slice in confectioner's sugar before serving. Store remainders in the refrigerator.

extra powdered sugar for dipping
Nutrition