If you have my book, Come Home To Supper, this recipe for Ranch Fried Chicken Tenders is listed as "Flavorful Fried Chicken" on page 83.
My family has cow fits when I make fried chicken tenders of any kind. It's like a national holiday or something and while they light up with delight at seeing the holiday show up when they least expect it, I stand around shaking my head, wondering what the big deal is.
But I know what it is – rarity. I hardly ever fry chicken. Why? ~shrugs~ I just don't like to. It's just not my favorite thing to do, plain and simple. However, this fried chicken is flavorful and simple to make and you'll probably only need to look at the recipe the first time you do it. I've even included a list of "Pro tips" at the bottom of the post to ensure fried chicken tender success. This chicken is great on it's own, with a Fast Italian Cucumber Salad as pictured, or dipped in comeback sauce. Of course, the traditional sides of mashed potatoes and creamed corn wouldn't hurt either.
Ingredients to make these Fried Chicken Tenders Are:
Vegetable oil (for frying) I use refined coconut oil* but you can use whatever you like.
Packet of Ranch Dressing Mix
All Purpose Flour
2 Eggs
About 2 pounds (give or take) of boneless skinless chicken tenders.
You can just cut some boneless skinless chicken breasts in strips if you like. You can also take it from yard bird to table but I can't walk you through that because the folks who think meat grows on styrofoam trays will freak out 🙂
What Vegetable Oil Should I Use to Fry?
I personally use coconut oil to be a bit healthier as this is a stable oil with a high heat point which means it doesn't break down at high temperatures to more unhealthy fats. It is high in saturated fat but the saturated fats from plants are not the same as saturated fats from animal fat so some studies say its a better option. I used the refined kind as I am not a big fan of a strong coconut taste but they have unrefined as well. This is a solid at room temp but when you apply heat, it liquifies easily.
You can use Ghee or lard or animal fats to fry if you like.
Other options for healthier oils are Avocado Oil, or some people use Olive Oil. But I find this loses its flavor when heated for a long time and it tends to break down at higher and longer heating temps and times so this may decrease its wonderful healthy benefits. I stick to using olive oil to drizzle on foods after they are cooked or I use a little in a pan for coating.
How To Make Ranch Fried Chicken Tenders
Stir together ranch mix and flour.
In another bowl, beat the eggs.
It's not often that we have an opportunity to willfully beat things and goodness knows that living with the nonsense we do in today's world we have the need to from time to time, so really get into this if it makes you feel better. I understand.
Pour your oil to a depth of about 1/2 inch or so (it can be less if you are short on oil) in a large skillet and place this over medium high heat for a few minutes until it is good and hot. If you are using coconut oil it will go in as a solid and melt for you right away on the medium high heat. You can tell it is hot by dropping just a pinch of flour into it. If the flour bubbles a bit, it's ready. Reduce heat to medium and prepare your chicken.
Dip each tender into the egg on both sides, and then into the flour on both sides. Gently place in oil and cook until browned on both sides and no longer pink in the center, turning as needed.
Remove to paper towel lined plate to drain before serving.
Oh Mercy! This is good stuff!
And if you really want to take your chicken over the top, click here to get this super easy Come Back Sauce recipe!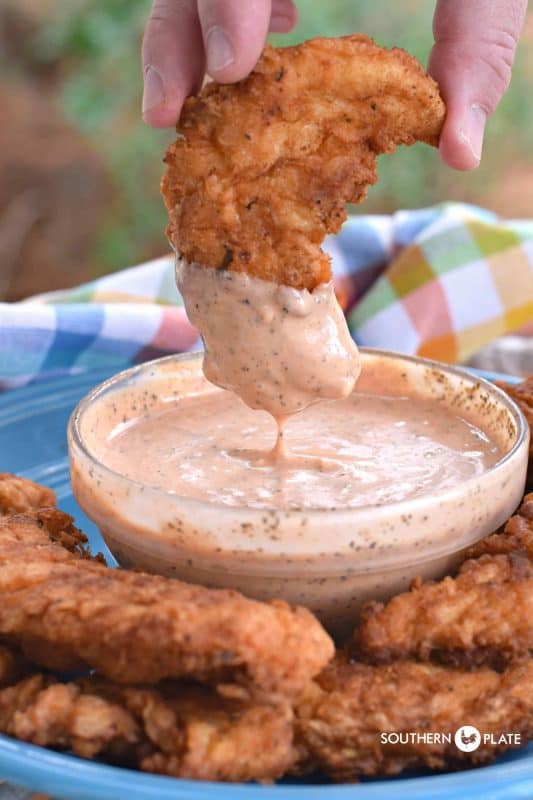 Be sure and check out my Pro Tips on Frying chicken below the recipe!
Ingredients
1

cup

all purpose flour

1

package

1 ounce dry Ranch Dressing Mix

2

eggs

2

pounds

boneless skinless chicken breast tenders

vegetable oil

for frying, I use coconut oil but you can use what you like.
Instructions
Pour oil to a depth of about 1/4 inch and place over medium - medium high heat while you prepare the chicken.

Stir together flour and ranch dressing mix in a shallow bowl.

Crack eggs into a separate bowl and beat well with a fork.

Dip each piece of chicken into eggs to coat, then dredge in flour mixture on both sides.

Check the oil to see if it is hot enough (see pro tips in post on how to do this) and reduce heat to medium.

Place breaded chicken pieces into the oil a few at a time, being careful not to overcrowd the skillet. Cook until browned on both sides and no longer pink in the center, turning as needed.
Nutrition
Tips On How To Fry Chicken:
The secret to frying chicken that isn't greasy is making sure your oil is hot enough. That is why I allow my oil to preheat on medium high for a few minutes, then check it, and turn it down to medium before I add my breaded chicken.
To see if your oil is hot enough, drop a small pinch of flour into it. If the flour bubbles, the oil is hot enough. To avoid it being too hot turn it down to medium heat and wait a minute before adding your chicken.
If you really love the breading, double dip your chicken! Set up an extra bowl of milk and dip your chicken in that, then the flour, then the egg wash and flour mixture again. Think of that first dipping as creating a "glue" that is going to help adhere that breading mixture to the chicken.
Fight the gunk – Breading chicken can be a gunky process as the flour and egg wash builds up on your fingertips fast and the flour mixture itself can get pretty gunked up, making it hard to coat your chicken. Fight this by letting the egg wash drip off the chicken for a few seconds before moving it to the flour mixture, and washing your hands in between each batch (not each piece, but every five or six pieces). I wash my hands a LOT when I'm breading anything. If you find your flour mixture tends to get gunky more often than not, try only using half of it at a time, so that you can add in a fresh batch when the need arises.
Paper towel lined plates are a must – always always always let your chicken sit on a paper towel lined plate for a few minutes to get rid of any persistent surface grease and have the best crunchy chicken experience.
Frying bone in chicken is easy and hands off when you let your oven do all the work. Check out my recipe for doing just that by clicking here.
If you could kick the person in the pants responsible for most of your trouble,
you wouldn't sit for a month.
~Theodore Roosevelt
Yum