Make creamed corn from scratch in just 15 minutes with my easy creamed corn recipe. The juicy corn kernels are cooked in a scrumptious buttery cream sauce to make the perfect quick and easy side dish.
I love love love fresh fried corn. It is worth every bit of the time spent shucking, silking, cutting, scraping, and cooking. I also love that frozen corn you get in the butter sauce too. But sometimes I don't have time to make creamed corn from scratch and buying that pre-made stuff costs a fortune if you're feeding a crowd, which is where this recipe comes in. This is the perfect happy middle between the two. Super easy because you begin with frozen corn and it tastes like what those corn-in-butter-sauce people were trying to model theirs after. Oh have mercy, this stuff is so good!
So, all you're going to need to make my easy creamed corn recipe is frozen corn kernels, heavy cream, butter, salt, and pepper. Plus my secret ingredient: sugar to bring out the corn's sweetness. Now, this side dish is going to be ready in 15 minutes. All you need to do is melt the butter in a skillet, stir in the corn, cream, and sugar, and season with salt and pepper. That's all there is to it!
Who needs canned creamed corn when you have my easy creamed corn recipe, right? There's just something about the juicy corn covered in a buttery cream sauce that's irresistible. I've included lots of serving suggestions below, but this side dish is very versatile. Another reason to love this quick and easy recipe, right? Okay, let's get cooking, y'all.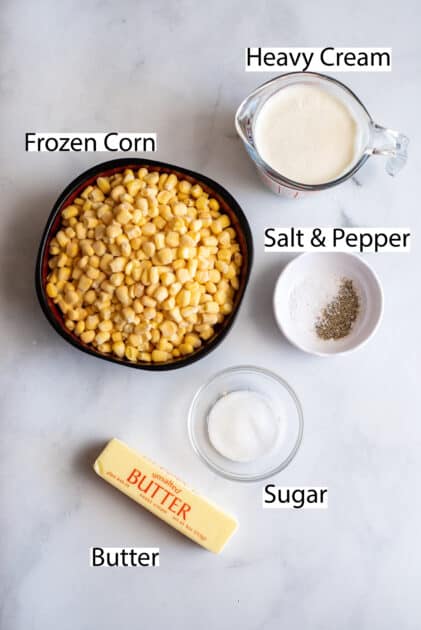 Recipe Ingredients
Frozen whole-kernel corn
Heavy whipping cream
Unsalted butter
Salt
Black pepper
How to Make My Easy Creamed Corn Recipe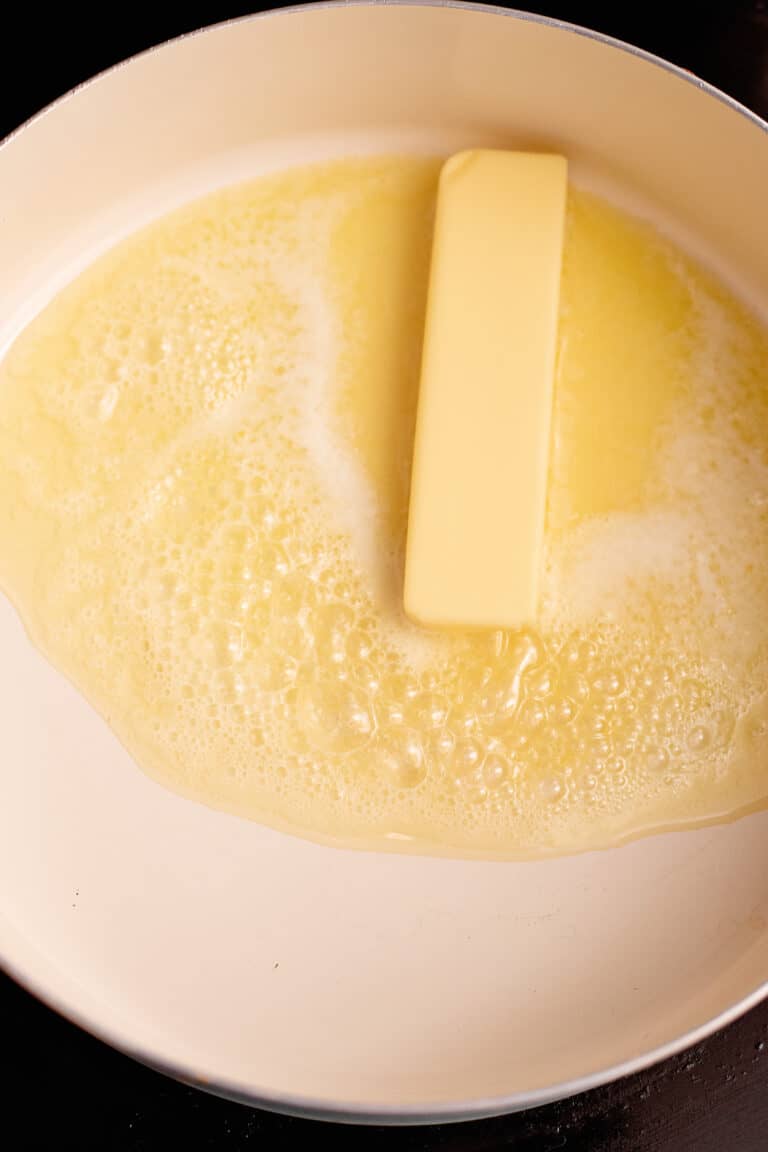 Melt your stick of butter in a large skillet.
Add in your frozen corn.
Stir that up and let it cook for a few minutes until the corn thaws a bit.
Add cream to the corn mixture.
Oh my goodness gracious alive, this stuff is heavenly.
Do you ever add whipping cream to your coffee? Pure dairy/java heaven.
I like to add in just a tablespoon of sugar now as well to really bring out the sweetness of the corn and cream.
Season with salt and black pepper according to your taste.
I like a good bit of salt but you may not.
Give that a good stir and continue cooking until the corn is cooked through and the mixture is thick (10 to 15 minutes).
It will look a little like this when ready to serve to your hungry family.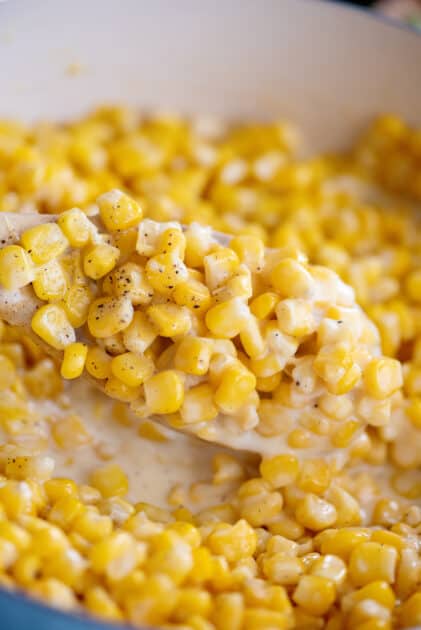 Now grab a spoonful of that delicious cream corn…
And enjoy it as a side dish with the main dish of your choice, like Southern fried chicken.
Storage
Store leftover creamed corn in an airtight container in the fridge for up to 4 days. Reheat in the microwave or on the stovetop.
You can also freeze homemade creamed corn for up to 3 months. Thaw in the fridge before reheating as above.
Recipe Notes
You can use canned corn if you like, I just prefer frozen corn kernels. You can also use fresh corn kernels, but you'll need about 8 ears of sweet corn.
If you want to give your creamed corn a little kick, add a pinch of cayenne pepper and a pinch of ground nutmeg. Trust me, this combo is good!
Another popular seasoning to add to homemade creamed corn is 2 sprigs of fresh thyme or a couple of teaspoons of dried thyme. Stir this in when you add the salt and pepper.
For cheesy creamed corn, serve with a sprinkle of freshly grated parmesan cheese or shredded cheddar cheese.
Recipe FAQs
What do you serve with creamed corn?
There are endless ways to serve creamed corn:
Can I make creamed corn in advance?
Yes, your cooked creamed corn will last in the fridge for up to 4 days, so feel free to make it ahead of time. Then when it's time to serve, quickly reheat it in the microwave or on the stovetop.
Check out these other tasty corn recipes:
Baked Corn on the Cob With Herb Butter
Superfast Corn Succotash Recipe
Ingredients
32

ounces

frozen whole kernel corn

1

stick

unsalted butter

1

cup

heavy cream

1

tablespoon

sugar

salt and pepper to taste
Instructions
Place butter in a large skillet over medium heat to melt.

32 ounces frozen whole kernel corn

Stir and continue cooking over medium heat for a few minutes, until mostly thawed.

Add whipping cream, sugar, and salt and pepper to taste.

1 cup heavy cream,

1 tablespoon sugar,

salt and pepper to taste

Continue cooking over medium heat, stirring constantly to prevent the cream from scorching, for 10 to 15 minutes, until the corn is cooked through and the sauce is thick.
Nutrition
"The grass is not, in fact, always greener on the other side of the fence.
No, not at all. Fences have nothing to do with it.
The grass is greenest where it is watered.
When crossing over fences, carry water with you and tend the grass wherever you may be."
– Robert Fulghum