This creamy cheese ball recipe is made with three different types of delicious cheese and seasonings, wrapped up in a smooth ball covered in crunchy pecan pieces.
Aunt Louise's cheese ball recipe. Louise was my Grandmama Lucy's sister. She always had a twinkle in her eye and a mouth that curved up every so slightly at the corners, as if she were going to burst into a smile at any moment. She was a good-hearted person who, like my grandmother, had lived a hard life but always came out on top because she chose to focus on the good instead of amplifying the bad.
This is an unusually good homemade cheese ball, perfect for a holiday party, a potluck, a family get-together, or as an appetizing snack before a meal. For best results, smile as you make it, and think of the folks you love!
Now, let's talk about the ingredients. Our creamy cheese mixture is made by beating together onion or garlic powder, salt, cream cheese, butter, feta cheese, Worcestershire sauce, sharp cheddar cheese, and mayonnaise. Oh yeah, when I say it's both deliciously cheesy AND creamy, I mean it. Once they're all mixed together, all you need to do is shape it into a ball and roll it in crushed pecan pieces.
Let it set in the fridge for a couple of hours and your cheese dip is ready to serve to family and friends alongside some crackers. Alright, let's get making this quick and easy cheese ball recipe!
Recipe Ingredients
Onion powder or garlic powder
Salt
Cream cheese (check out our easy recipe for homemade cream cheese here).
Unsalted butter (or use salted butter and omit the salt).
Feta cheese
Worcestershire sauce
Sharp cheddar cheese
Mayonnaise
Helpful Kitchen Tools
How to Make My Cheese Ball Recipe
Grate sharp cheddar cheese and set aside, covered, at room temp for about an hour.
Let cream cheese come to room temp as well.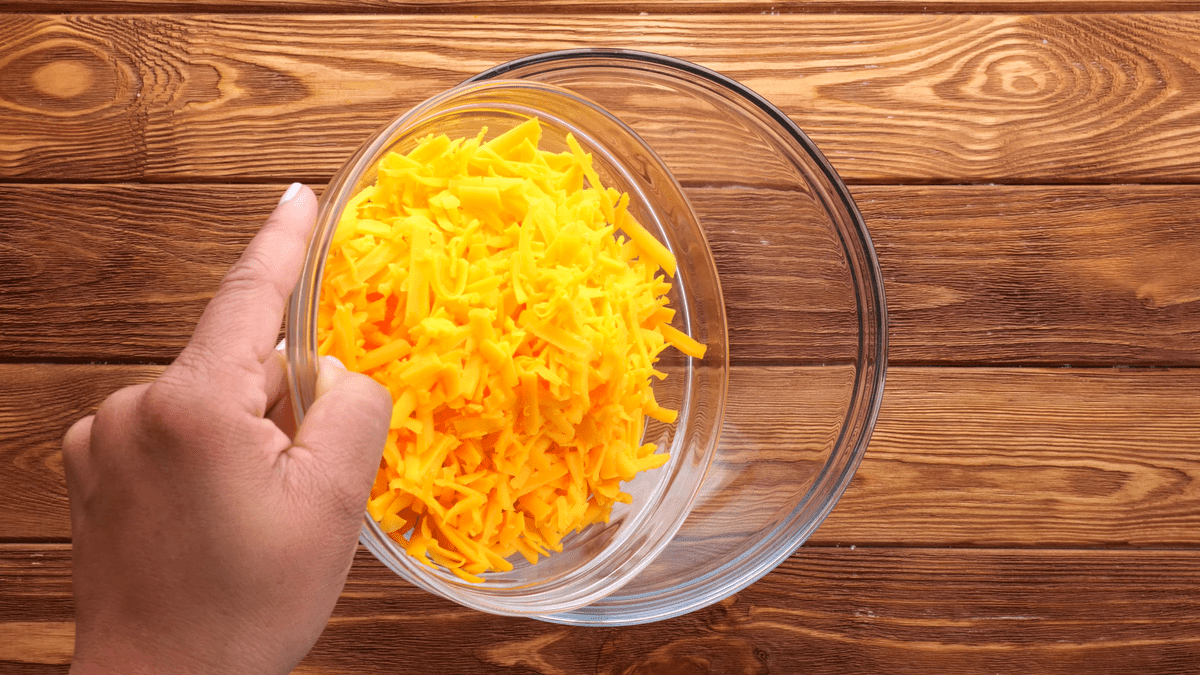 Then put all ingredients into a mixing bowl.
We start with the shredded cheddar cheese…
Then the feta cheese…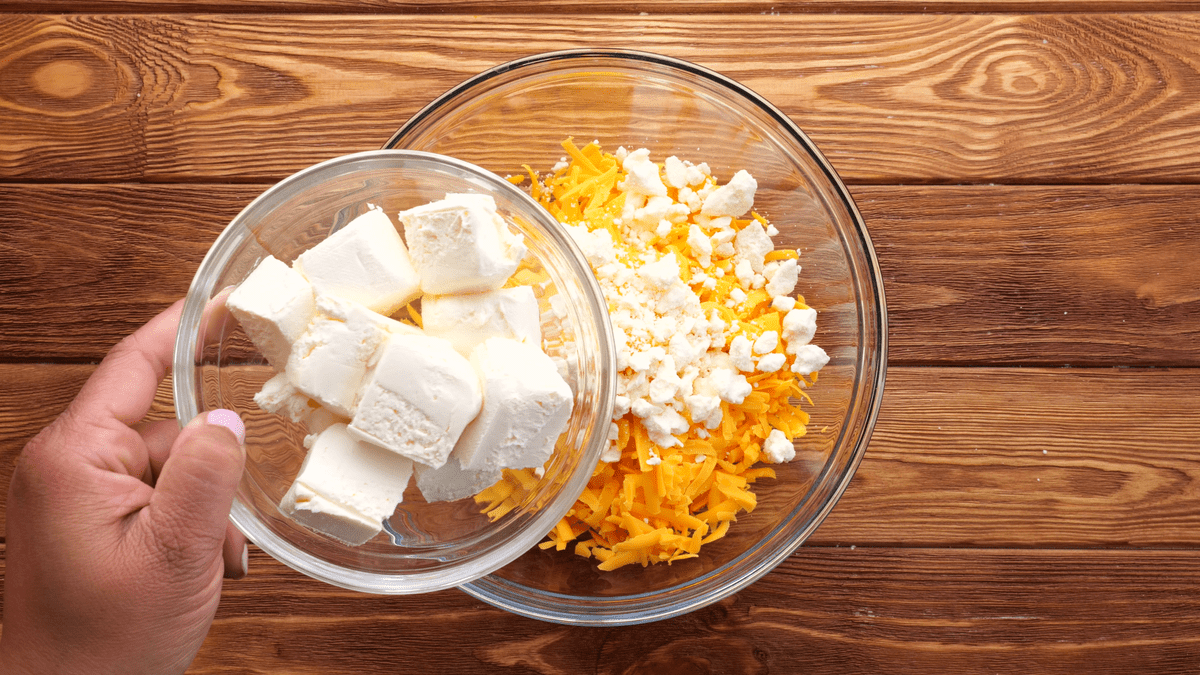 Cream cheese…
Mayonnaise…
Butter…
Worcestershire sauce…
Salt…
And garlic powder.
Mix this right up with an electric mixer (or hand mixer).
Now, this part is totally optional in the recipe for a cheese ball, especially considering how expensive pecans are!
However, if you want, scatter some finely chopped pecan pieces on top of a piece of plastic wrap.
Dump and scrape your cheese mixture on top of the pecans.
Roll it up into a ball a little bit.
Sprinkle pecans on the bald spots.
Wrap the cheese ball up in the plastic wrap and cover it with more plastic wrap if needed.
Then shape it into a smoother ball and refrigerate it for a couple of hours.
Or, if you are in a hurry, pop that cheese ball in the freezer for about 10 minutes.
Ta-da!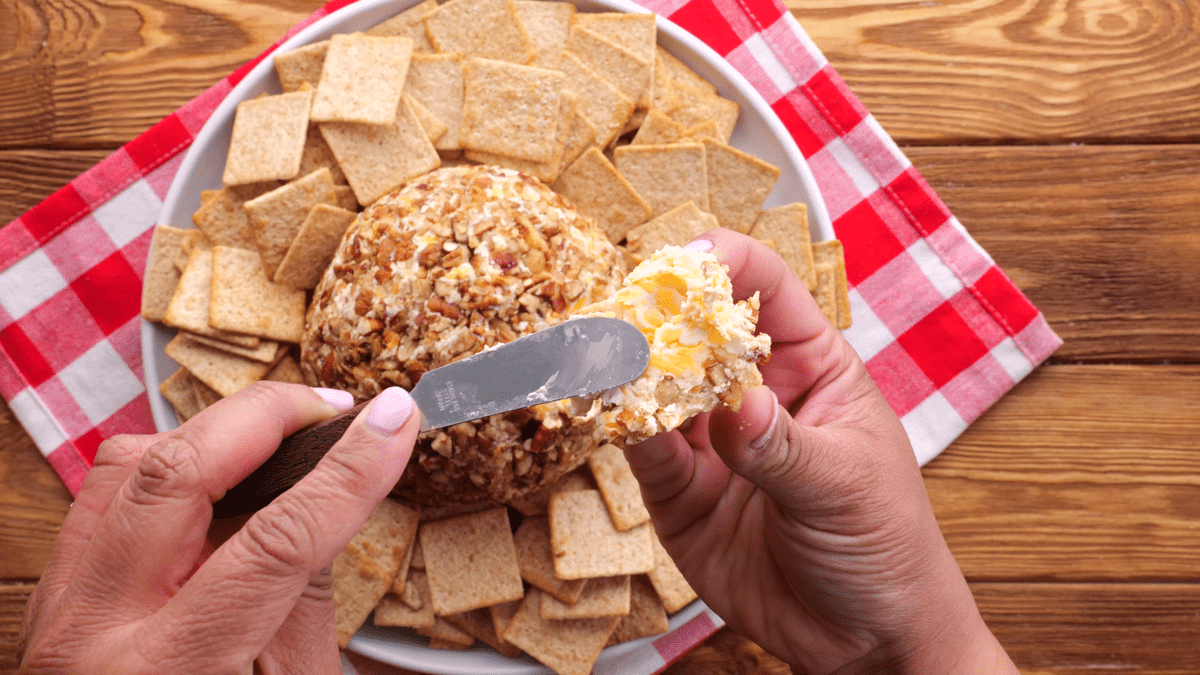 Serve this cheese ball dip with crackers.
Enjoy!
Storage
First, check the freshness of the ingredients. If all is well and the expiry dates aren't soon, you can store leftovers wrapped or in an airtight container in the fridge for up to 2 weeks.
You can also freeze the dip without nuts for up to 1 month. I recommend wrapping it in plastic wrap and then storing it in a freezer-safe ziplock bag. Let it thaw in the fridge and then add nuts before serving.
Recipe Notes
While you need to refrigerate the dip for it to set, I recommend letting it sit at room temperature for about 15 minutes before serving.
I know that pecans can be expensive, so feel free to substitute them for another finely chopped nut, like walnuts, almonds, or even pistachios. Otherwise, omit them completely or use Everything Seasoning instead.
Instead of sharp cheddar, you can use Gouda, mozzarella, or pepper jack cheese. Just whatever you do, don't use pre-shredded cheese!
If you want to add some extra flavor, here are my top suggestions:

Chopped green onion
A teaspoon of hot sauce
1 teaspoon of dried herbs, like dried parsley, dried oregano, or Italian seasoning.
A dash of freshly ground black pepper.
Chopped crispy bacon bits (a few bacon strips will work).
1 finely chopped pear to make a pear pecan cheese ball.
Roll the ball in the finely chopped pecans and 1/2 cup of finely chopped dried cranberries.

When serving, ensure your cheese ball doesn't sit at room temperature for more than 2 hours.
Recipe FAQs
A classic cheese ball is a cheesy homemade dip recipe made with a combination of cream cheese, freshly grated cheese, sour cream, and spices to add flavor. Once you whip the ingredients together, shape it into a ball and roll it in chopped pecans.
Who made the original cheese ball?
It's said that Elisha Brown Jr. made the first cheese ball in 1801 and gave it as a gift to President Thomas Jefferson at the White House. How about that!
Can I replace the feta cheese?
Truth be told, Louise's recipe calls for bleu cheese in place of the feta. If you are a blue cheese person, you should definitely use that. Another option is to substitute the feta completely for 1/4 cup of sour cream, which is the traditional ingredient.
Here are some serving suggestions:
Ritz crackers or the cracker of your choice.
Pretzels
Fresh vegetable sticks, like carrots, celery, or thick radish slices.
Mini bagels
Pita bread
Crusty baguette slices
Just remember to serve the dip with a cheese-spreading knife to avoid broken crackers and a down-right mess!
Can I make my cheese ball in advance?
Absolutely! You can make the cheese ball up to a week ahead of time. However, I'd roll it in the pecans just before serving.
You may also like these cheesy dip recipes:
Homemade Pretzels and Cheese Sauce
Ingredients
8

ounces

sharp cheddar cheese

2

ounces

blue cheese or feta cheese

8

ounces

softened cream cheese

2

tablespoons

mayonnaise

2

tablespoons

softened unsalted butter or margarine

1

tablespoon

Worcestershire sauce

1/4

teaspoon

salt

1/8

teaspoon

garlic powder or onion powder

finely chopped pecans, optional
Instructions
Grate cheddar cheese and allow it to sit at room temp for one hour (cover it so it doesn't dry out).

8 ounces sharp cheddar cheese

In a medium mixing bowl, place all ingredients. Mix until smooth and well blended.

2 ounces blue cheese or feta cheese,

8 ounces softened cream cheese,

2 tablespoons mayonnaise,

2 tablespoons softened unsalted butter or margarine,

1 tablespoon Worcestershire sauce,

1/4 teaspoon salt,

1/8 teaspoon garlic powder or onion powder,

8 ounces sharp cheddar cheese

Turn out onto plastic wrap that has been sprinkled with chopped pecans (can skip the pecans if you like). Shape into a ball and press pecans in to cover, if desired. Wrap in plastic wrap and form into a ball.

finely chopped pecans, optional

Refrigerate for a few hours before serving.
Nutrition
"Christmas, my, child, is love in action.
Every time we love, every time we give, it's Christmas."
~Dale Evans