My 4-ingredient baked onion dip recipe, with flavorful bites of sweet Vidalia onion, takes cheesy to a whole new level.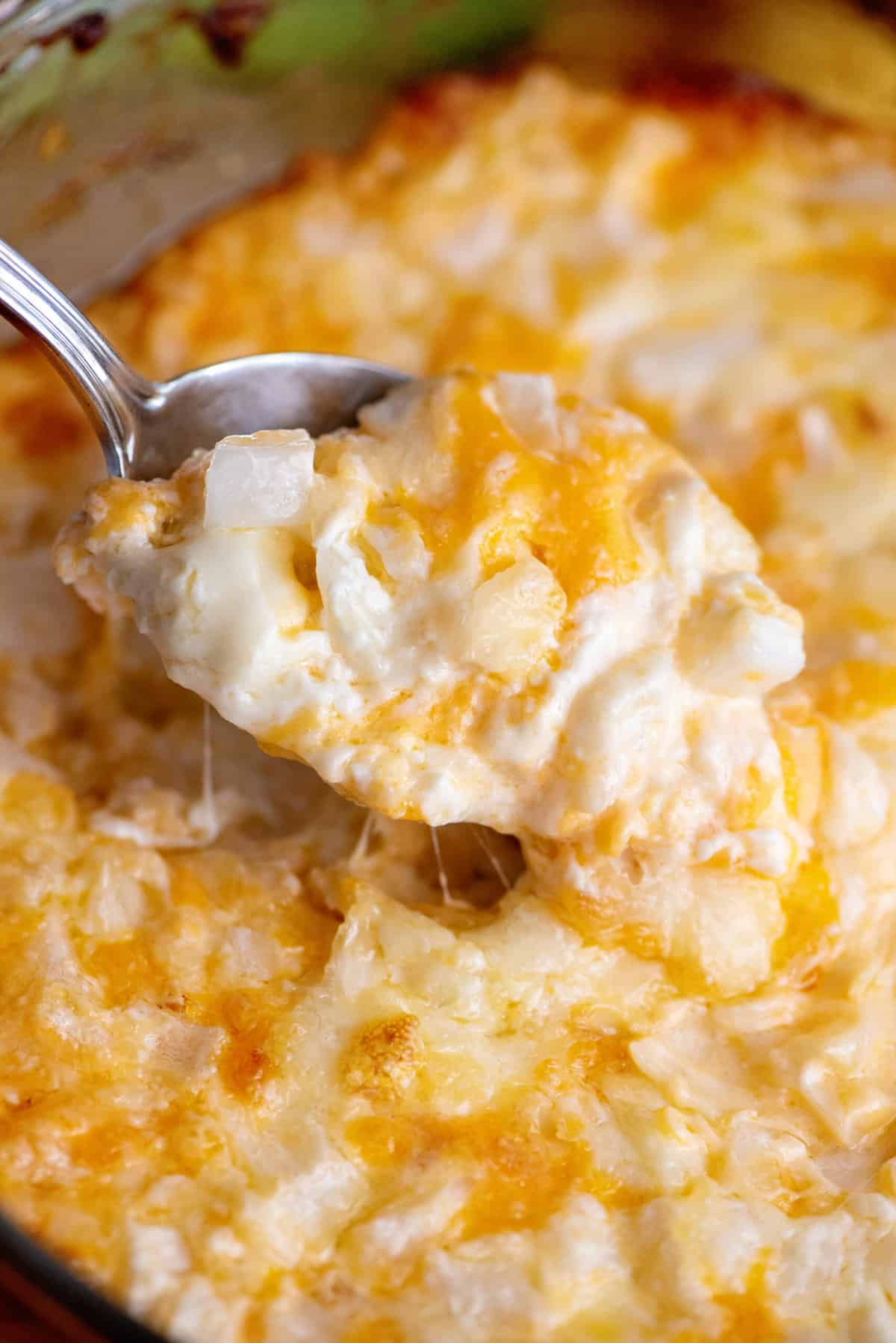 Oh, how I love this baked onion dip recipe. It's ooey, gooey, and so good, y'all. It's guaranteed to get stomachs growling and tongues wagging at your game day party or holiday celebration.
I first had this at a football party a decade or so ago. The hostess had just taken it out of the oven and it was just bubbling so nicely on top of a folded-up dishtowel. I asked her what it was and she immediately started telling me the recipe. I dipped a corn chip into it and decided to keep that bubbly dish company for a little while.
There are all sorts of recipes with all sorts of ingredients out there for this amazingly delicious baked onion dip. But I just streamlined and put together what was needed to make it. In a world that strives to make everything 10 times more complicated than it needs to be, I prefer to simplify things whenever possible.
Here is my recipe for cheesy baked Vidalia dip and all of its 4-ingredient glory. Yep, all you need is sweet Vidalia onion, cream cheese, mayo, and shredded cheese to make the cheesiest and creamiest dip imaginable. It's also super easy to make, with just a little mixing and a little baking before it's time to eat it up!
If you're gonna watch a game this weekend or just want something that's gonna warm your belly, this will do the trick.
Recipe Ingredients
Mayo
Mozzarella cheese
Cheddar cheese
Cream cheese (click here for our homemade cream cheese recipe)
Sweet onion
How to Make Cheesy Baked Onion Dip
Cut cream cheese into cubes and put them into a large bowl.
Place this in the microwave for 30-45 seconds just to soften it.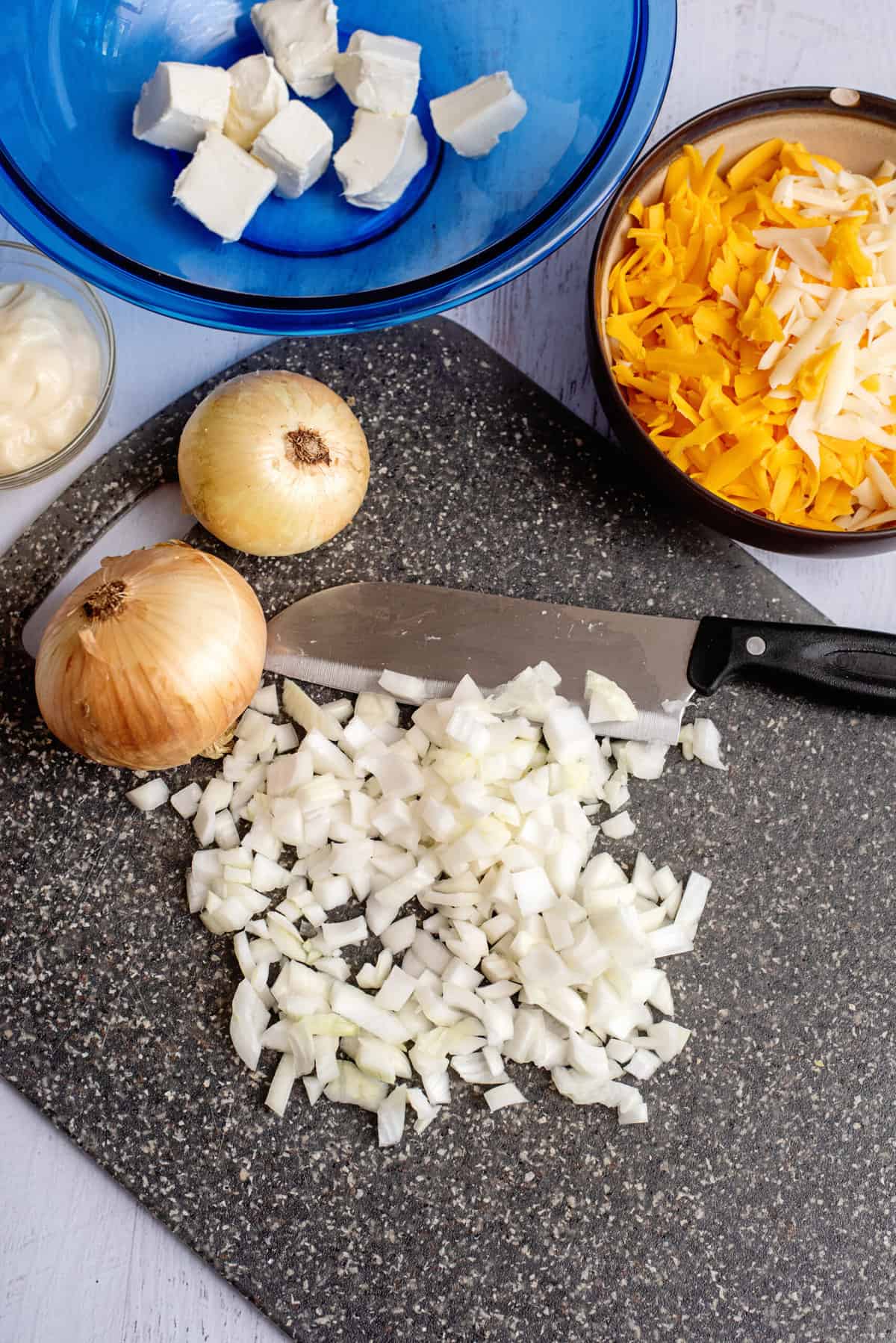 Chop up your onions until you're tired of chopping up onions.
The ideal here would most likely be finely diced onion, but can you really see me sticking with it that long? You can use one of those little mini chopper things for this if you want.
Toss your shredded cheese on top of your cream cheese.
Put some mayo on top of all of that…
And then add the chopped onion to the mixing bowl.
Now it's time to mix the ingredients together.
Spray a baking dish with cooking spray.
Any size works.
Spoon the dip mixture into the prepared dish.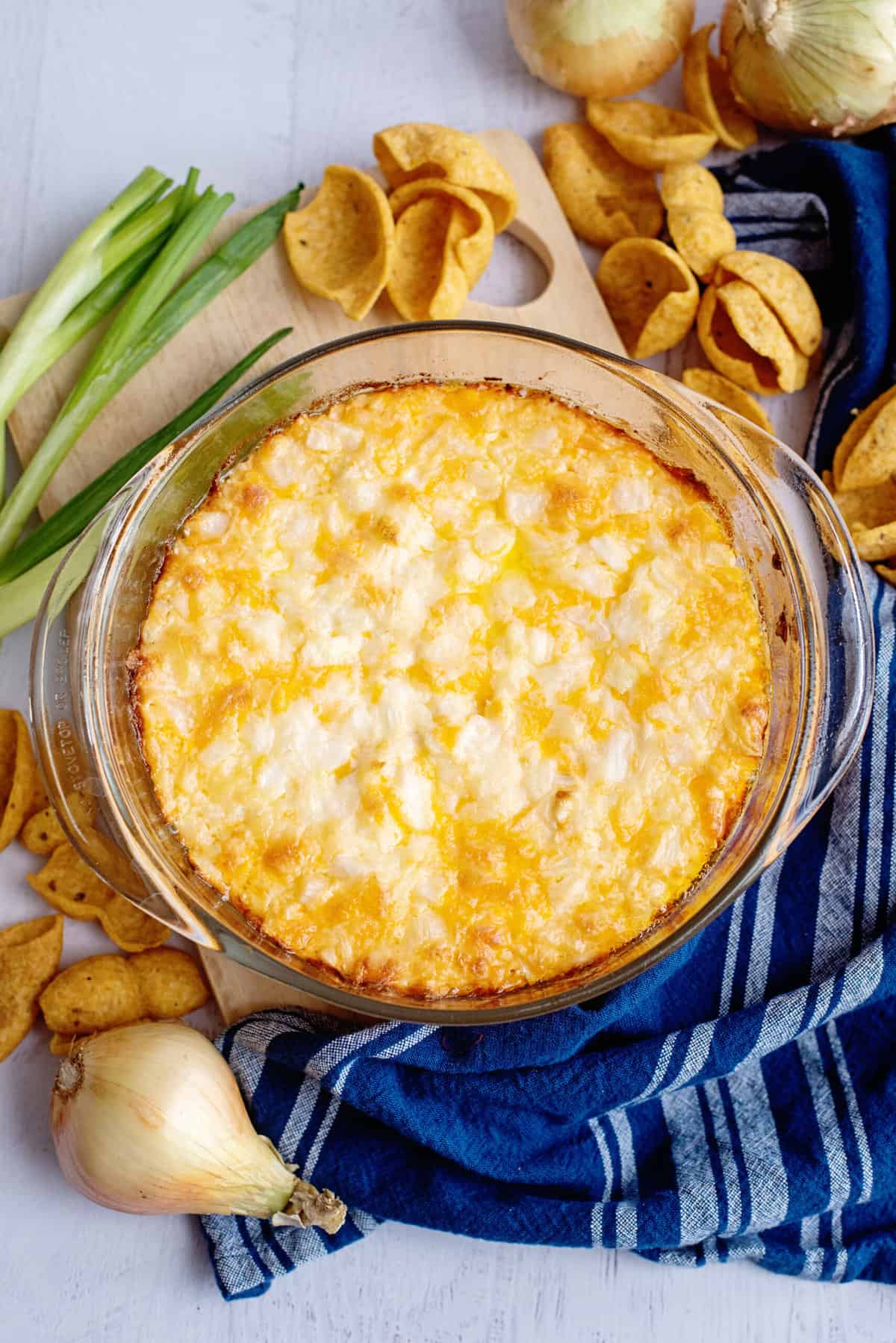 Bake at 375 for 25 to 30 minutes until it looks as deliciously golden brown as this.
Lean into your computer and see if you can smell that.
Uh-huh, you know what I am talking about.
And I know you can hear it bubbling… so my goodness you are just gonna have to make this yourself!
You can serve this with corn chips (I use the scoops kind) or crackers.
Or what the heck, just use a spoon!
Storage
Store leftover dip in an airtight container in the fridge for up to 5 days. Reheat quickly in the microwave, oven, or air fryer to get that crispy top again.
Recipe Notes
I use 1.5 cups of mild cheddar cheese and 1.5 cups of mozzarella cheese, but you can use all cheddar if you like. You might also like to use a combo that includes Swiss cheese, sharp cheddar cheese, pepper jack cheese, or parmesan cheese.

Add a cup of spinach and/or artichoke to make a mix between onion dip and spinach and artichoke dip.
For a little heat, add 1/4 teaspoon of cayenne pepper, 1/2 teaspoon of hot pepper sauce, or a couple of dashes of hot sauce.
For something different, serve your baked onion dip in a toasted bread bowl.
If you want to add some extra flavor, add 2 teaspoons of fresh minced garlic or garlic powder.
Feel free to garnish your dip with freshly chopped parsley or sliced green onion.
Recipe FAQs
Do I have to use Vidalia onions in a baked onion dip?
Ideally, Vidalia onions are my go-to. However, they don't come into season until late spring so just get a white onion and you'll be just fine. Or if you have a yellow onion, saute it a little bit before adding it to the dish. This will make it more of a caramelized onion dip.
Should I use pre-shredded or block cheese?
Okay, I know the pre-shredded stuff is handy to have and I'm a HUGE fan of it. But for this recipe to be its ooiest and gooiest, you have gotta get a block of cheese and shred it yourself at home. They coat pre-shredded cheese in anti-caking agents to prevent it from clumping and that prevents it from melting together completely when you bake it as well. However, if you just really don't want to shred your cheese for this or if you already have pre-shredded on hand and don't want to spend extra money, go ahead and use it and it'll be just fine.
Is French onion dip the same as onion dip?
This onion dip is very different from French onion dip. It's only made with onions, while French onion dip uses a French onion soup mix along with dried onions and beef stock.
How do you make caramelized onion dip?
As mentioned above, to make caramelized onion dip, you'll want to saute the chopped or sliced onions with butter in a skillet until caramelized. You'll want to let them cool slightly before continuing with the recipe as instructed. The cooking time should be roughly the same, as the cheese needs time to melt.
Can I make my onion dip ahead of time?
Yes, you can prepare the dip and store the covered baking dish in the fridge up to 2 days in advance. Let it come to room temperature before baking as instructed.
What do you dip in baked onion dip?
You can serve the baked dip with crackers, corn chips, pretzels, crusty bread pieces, tortilla chips, pita chips, potato chips, or pita bread. Another option is vegetable sticks, like carrot sticks, celery sticks, or zucchini sticks.
When do you serve baked cheese onion dip?
I love to serve it as a game day or dinner party appetizer. But it also makes a delicious Thanksgiving or holiday side dish.
You may also enjoy these delicious dip recipes:
Pumpkin Fritters with Orange Marmalade Dipping Sauce
Ingredients
3

cups

freshly shredded cheese*

4

ounces

cream cheese, cubed

2-3

small Vidalia onions, diced

1/2

cup

mayonnaise
Instructions
Place the cubed cream cheese in a large bowl and microwave for about thirty seconds, just until soft.

4 ounces cream cheese, cubed

Add diced onion, cheese, and mayo to the mixing bowl with cream cheese. Stir to combine.

3 cups freshly shredded cheese*,

2-3 small Vidalia onions, diced,

1/2 cup mayonnaise

Spoon into a greased baking dish (8x8 works fine).

Bake at 375 for 25 to 30 minutes or until bubbly and lightly brown on top.

Serve with corn chips or crackers.
Notes
*I use 1.5 cups of mild cheddar cheese and 1.5 cups of mozzarella cheese, but you can use all cheddar if you like.
Nutrition