Growing up, we had certain treats and goodies that Mama *always* made at Christmas time. We would mark how close the big day was getting based on how far down Mama had gotten on her list of things to make. Inevitably, Cheese Straws made an appearance, usually a bit closer to Christmas Eve. If you've never had a Southern cheese straw, you're missing out! They are sharp, a bit spicy, and filling.
However, most younger folks are put off by cheese straws because they are a bit fussy to make and require a cookie press with a special attachment. Yeah, they are high maintenance things.
So today I'm sharing Mama's cheese straw recipe with you but we're going to go easy on ourselves and make them into wafers instead. All that is requires is rolling the sharp cheese dough into a ball and pressing it lightly with a fork. This is another one of my favorite recipes that utilizes our Kindergarten play-doh skills. 🙂
To make these you'll need: Butter, Paprika (optional), Cayenne Pepper (ground), Borden Sharp Cheddar Cheese, Kosher Salt, and All Purpose Flour.
I am specifically using Borden cheese here because it is delicious, all natural, and is made by a cooperative of over 8,000 family owned dairy farms across the United States. The cheeses they offer include: Mild Cheddar, Mozzarella, Mexican, Swiss, Sharp Cheddar, American, Colby Jack, and more. They are available in singles, shreds, chunks, slices, strings, and snacks! This is creamy, flavorful, delicious cheese made in our homeland and it just makes every dish better.
IMPORTANT TIP: Before making these, place your cheese and butter out and leave them on the countertop overnight to make sure they are completely room temp before attempting this recipe.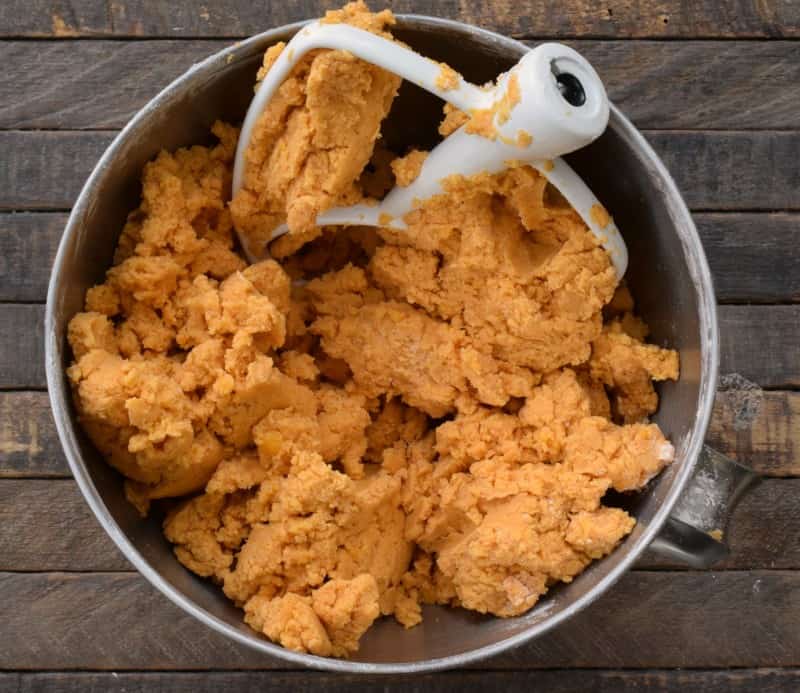 This recipe couldn't get any easier. Dump all of your ingredients into a large mixing bowl and beat with an electric mixer until fully combined. Now listen, at first you are going to think there is no way this is going to combine but if you stick with it (and if you left your cheese and butter out all night like I mentioned) it will combine into a stiff cookie dough like consistency like this.
Note: You are seeing a double recipe pictured here.
Break off a softball size ball of dough and knead it a few times with your hands. Then, pinch off smaller portions (about one inch balls) and knead them each individually before shaping into a ball.
Place these on an ungreased cookie sheet and flatten slightly with a fork.
Bake at 400 for 15 minutes or until lightly browned on the bottom. If you like, sprinkle with paprika as soon as you remove them from the oven (totally optional).
Allow to cool and then store in an airtight container.
Ingredients
1

pound

Borden Sharp Cheddar Cheese

3/4

stick butter

6 tablespoons

2

cups

all purpose flour

1

heaping teaspoon salt

2.5

teaspoons

cayenne pepper

3.5 for even hotter

paprika for dusting

if desired

Let cheese and butter sit on countertop overnight to come to room temp.

Combine all ingredients in a large mixing bowl and mix until well blended and dough is the consistency of cookie dough.

Break off a large softball sized portion and knead it with your hands. Break off one inch size pieces and knead each one a time or two before forming into a one inch ball. Place on ungreased baking sheet.

Repeat until all dough is used.

Using the tines of a fork

press down slightly on each ball.

Bake at 400 for 15 minutes

or until lightly browned on the bottom and dry. Allow to cool and then store in an airtight container.
Special thanks to my friends at Borden Cheese for sponsoring this post. I appreciate their support of my work and their help in bringing you more recipes! Visit Borden's Facebook page by clicking here. Click here to visit them on Instagram. 
You might also enjoy this recipe! Lela's Fried Peach Pies
Yum