Elevate plain buttery moist muffins with the added sweet boost of dried apricots thanks to my easy apricot muffins recipe.
Today I am bringing you a recipe for some wonderful muffins, which have little nuggets of golden deliciousness in every bite. These apricot muffins are great to have on the weekends when you just want to sit and relax before starting the day or for a brunch with an omelet or fruit salad. I have made them the day before and reheated them in the microwave and they taste just like they came fresh out of the oven. Add a spread of butter and you have a delicious breakfast or mid-morning snack.
Now, all you need to make apricot muffins is dried apricots, sugar, butter, sour cream, flour, baking soda, and salt. Basically, the usual baking suspects. The sour cream ensures every bite of muffin is deliciously tender and moist, which is what we all want, right? The instructions are just as simple as the ingredients. Just combine the dry ingredients and wet ingredients separately then together and bake!
Before we dive in, I just wanted to say don't be surprised if the dough doesn't look like a normal muffin batter. It is much thicker but turns out with wonderful results. Once you master this apricot muffin recipe, I recommend trying it with different dried fruit. They would be equally good with dried peaches.
So if you are a muffin lover like me, please give these a try. I know you will not be disappointed.
Recipe Ingredients
Dried apricots
Water
Sugar
Unsalted butter (or margarine)
Sour cream
All-purpose flour
Baking soda
Salt
How to Make Apricot Muffins
Chop apricots with a sharp knife and soak them in boiling water for 5 minutes.
In a mixing bowl, cream butter and sugar until fluffy.
Add sour cream and mix well.
This is what your mixture will look like after you have mixed in your sour cream.
I could have left this picture out but it wanted to be included so much!
Combine flour, baking soda, and salt in a separate mixing bowl.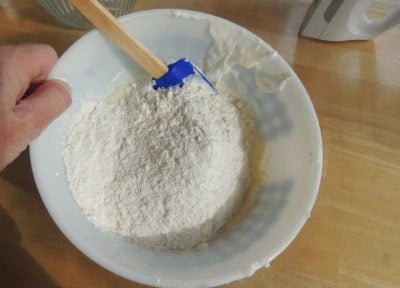 Pour dry ingredients into the batter mixture and fold in until well combined.
Drain apricots and pat dry with paper towels.
Dump those apricot nuggets into your batter.
Now isn't that so pretty?
Like little sunshine pieces just waiting for you to taste.
Stir to incorporate the chopped apricot pieces.
Line a muffin tin with papers and fill each muffin cup 2/3 full.
I had 15 muffins instead of the 12 but that gave me three to eat with no guilt! If a recipe makes extra, the extra should be for the cook to enjoy. At least, that's my way of thinking today.
Bake in a preheated 400-degree oven for 18 to 20 minutes or until lightly golden brown.
Slather with butter, eat, and enjoy! Have a wonderful day!
Storage
Store muffins in an airtight container at room temperature for up to 4 days. You can easily reheat them in the microwave, oven, or air fryer.
Alternatively, store muffins in the freezer for up to 3 months. Thaw at room temperature before reheating as above.
Recipe Notes
You can definitely use fresh apricots instead of dried apricot in this apricot muffin recipe. Basically any fresh or dried fruit will work, so let your imagination run wild!
I recommend using an ice cream scoop to add the muffin batter to each muffin cup, as it's the perfect size to make them 2/3 full.
Don't over-mix the batter! It's meant to be thick, I promise.
If you want to make mini apricot muffins, just cut the cooking time in half.
If you prefer, substitute the sour cream for plain Greek yogurt to make apricot yogurt muffins.
You can also substitute the granulated sugar for brown sugar or use half and half for added flavor.
Speaking of added flavor… sprinkle cinnamon sugar onto each muffin before baking.
Feel free to stir in 1/2 cup of chopped nuts or shredded coconut too (chopped walnuts or chopped pecans work best).
Check out these other marvelous muffin recipes:
Bisquick Blueberry Muffins On A Budget
Gluten-Free Banana Nut Muffins No Dairy or Eggs
Oatmeal Muffins Recipe (Add Your Own Mix-Ins)
Ingredients
1

cup

chopped dried apricots

1

cup

boiling water

1

cup

sugar

1/2

cup

unsalted butter or margarine

1

cup

sour cream

2

cups

all-purpose flour

1

teaspoon

baking soda

1/2

teaspoon

salt
Instructions
Soak diced apricots in boiling water for 5 minutes.

1 cup chopped dried apricots,

1 cup boiling water

In a large bowl, cream sugar and butter until fluffy.

1 cup sugar,

1/2 cup unsalted butter or margarine

Add sour cream and mix well.

Combine dry ingredients in a separate mixing bowl and then stir them into the creamed mixture just until fully mixed.

2 cups all-purpose flour,

1 teaspoon baking soda,

1/2 teaspoon salt

Drain apricots, pat dry with a paper towel, and stir into batter.

Fill greased or paper-lined muffin cups 2/3 full.

Bake at 400 degrees for 15 to 20 minutes or until they test done.
Nutrition
Never let a stumble be the end of your journey.
~Unknown