The Fourth of July is almost here! If you're anything like me, you would rather spend the bulk of your time with friends and family. I love to cook things ahead for this very reason but sometimes I get invited places at the last minute and don't always have time to prepare a dish from scratch to take. So get ready to celebrate with these 4th of July recipes that don't keep you in the kitchen for hours. This post is filled with July 4th Dessert Recipes that will be the talk of any Independence Day celebration!
These Patriotic Jello Jars are so pretty and so good tasting your guests will love them!
Easiest Red Velvet Cookies: These delicious Red Velvet cookies begin with a cake mix!
Ole Glory Haystacks: Traditional haystacks get a red, white, and blue makeover!
Patriotic Cereal Treats Satisfy everyone's inner child with these cute rice krispie treat bars. 🙂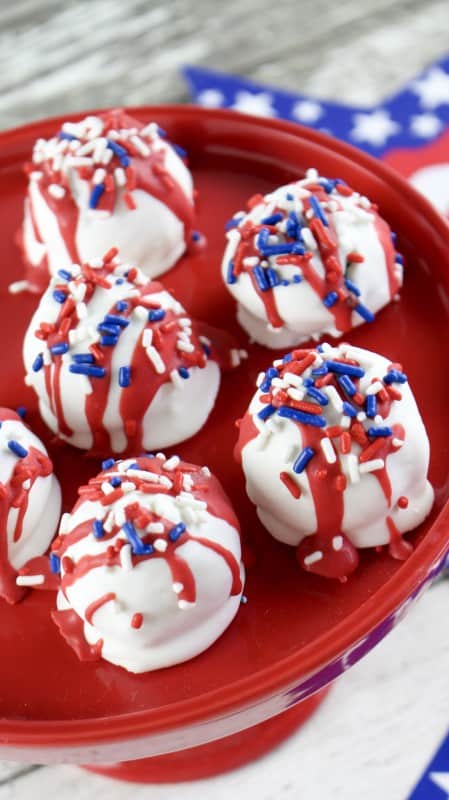 Patriotic Cake Truffles are all the rage and this post shows you how to whip them up in a flash.
Easy Fruit Pie Cookie Bites:In just minutes and a few store bought ingredients you can have these Fruit Pie Cookie Bites!
Red, White, and Blue Spritzers:Wow your friends and family with a drink that stays in layers!
Patriotic Fortune Cookies: Something different for the 4th of July. See what your fortune will be for the rest of the year!
Have a blessed Independence Day!
July 4th AMAZON GIFT Card giveaway
How You Enter:
Go to the Posts Listed Below by clicking on the links below
Make a Comment or Ask a Question About The Recipe In The Comments Section of The Posts Below:
The 3 posts to click on and comment on are
White Chocolate Chip "Big" Cookie
Fourth of July Chocolate Dipped Pretzel Rods
3 lucky people will be chosen to win an Amazon Gift Card 50.00
Here are the rules:
1)The comment/question must be made on one of the posts listed above.
2) The comment/question must be related to something you discovered when you read the post, reviewed the recipe or when you made the recipe or a similar recipe. Tips, tricks, and helpful hints are all welcome. Please read the post/recipe before commenting to ensure your entry is valid.
And if you choose to write a question it must be related to the recipe and truly a question you have where hopefully the answer would be helpful to others reading it. The point of this is to help each other.
3) You can write more than one comment or question on a post but it will only be counted once on each post.
4) You can write one comment or question on each of the posts to increase your chances. If you write a comment or question on each of the posts above then you double your chances of winning!
5) If you made the recipe please rate it out of the 5 stars as this helps people searching find top notch recipes to make.
How will a winner be chosen?
I will check the comments at the end of the day on July 4th at 10PM and the winner will be announced in an email on Monday July 5th.
Winners are chosen at random using random.org and I will email the winners on the 5th. You will have three days to respond by email or an alternate winner will be chosen.
We are not responsible for emails that go into spam or junk folders so please check there and in the email on January 1st or soon after to see if you won.
Good luck to you!
This giveaway closes July 4th, 2021 at 10pm
WINNERS: CONGRATULATIONS TBA on July 5th 2021